I know I just posted a
panini recipe
fairly recently, but this new panini was so good that I had to share it with you guys immediately!
I also know that these pictures are extremely similar to the last set, but there are only so many ways you can photograph a sandwich. The one thing I don't like about paninis is that because everything gets pressed together, whatever's between the bread is almost impossible to show in photos (and what parts you can see look indistinguishable). But I love making and eating paninis, so you'll have to use your imagination a little to see through those pieces of bread to the deliciousness that's in between them! Here's a little help - this is what was inside my sandwich before I pressed it together:
And before someone points it out, yes I'm aware that the onions as pictured above are much more on the burnt side than the caramelized side – I swear I do know how to caramelize onions, but I only had a tiny onion to work with that had been open in the fridge plus I was in a big rush when I made this. Too thin slices + too high heat = burnt onions.
Try not to make the same mistake I did, but if you're really in a hurry, you could leave them out and this panini would still be delicious; I recommend making time to add them in though - caramelized onions make everything better! Plus they can always be made ahead of time and stored in the fridge to add to all sorts of things!
I've also been on a big blue cheese kick lately, adding it to anything I can think of, but I know a lot of you don't like blue cheese (though I cannot understand why!), so you could substitute something like brie or gruyere instead if you like. Your sandwich will have a different flavour profile, but will still be amazing and even more melty!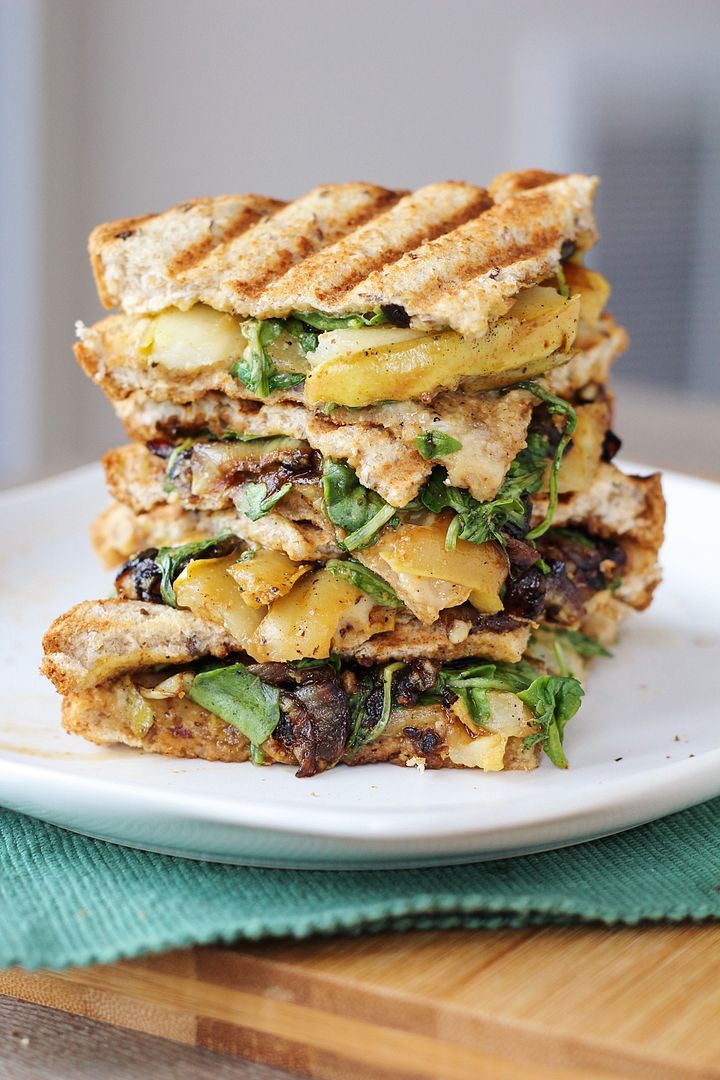 Pear, Blue Cheese, Caramelized Onion, & Arugula Panini
Makes 1 sandwich
Ingredients:
1/2 tablespoon olive oil
1/2 medium-large yellow or red onion, thinly sliced
Salt & Pepper
1 teaspoon balsamic vinegar (optional)
1/2 ripe pear, cored and thinly sliced
2 slices whole grain bread
2 teaspoons honey Dijon mustard
1/2 oz blue cheese, sliced thinly
Handful of baby arugula
Directions:
Heat oil in a medium to large skillet over medium heat.
Add onions, stir to coat with oil, and season with salt and pepper.
Let cook over medium-low heat, stirring occasionally, until onions are soft and caramelized, about 25-30 minutes.
I like to add a splash of balsamic vinegar in the last few minutes of cooking to deglaze the pan and add some flavour to the onions, but this step is optional.
Remove onions from pan, and add sliced pear.
Cook over medium heat for around 3 minutes, until softened and slightly golden coloured.
Remove from heat.
Spread mustard on one slice of bread, top with arugula, onions, pears, and blue cheese, and the other piece of bread.
Heat in a panini press, or if you don't have one, heat the sandwich on a griddle pan (or skillet) with a heavy pot on top of the sandwich to press it into the skillet (I put a can inside the pot to weigh it down), then flip and repeat on the other side.
Serve warm.