The weather has been absolutely gorgeous in Southern Ontario lately and I am loving everything about it (except how hard it is to get work done when you know how nice it is outside)! This past weekend I wore shorts out for the first time this year, the farmer's market was outdoors and even had some local produce available, and I spent some time in the park reading and taking pictures of the beautiful flowers that the April showers brought!
I also made some delicious meals with the veggies and cheese I bought at the market, my favourite of which being this twist on a potato salad.
I was never a big fan of potato salads growing up because I usually had the cold, mayonnaise-covered versions, but warm potato salad is a totally different story. I love this
warm dijon roasted asparagus & potato salad
, and but this green bean, caramelized onion, and blue cheese version might be even better! In this dish, mini potatoes get roasted with green beans until they're both nice and browned up, while onions caramelize on the stovetop at the same time. Then they get mixed together, tossed in a blue cheese dressing, and sprinkled with green onions and a little more blue cheese for good measure. Needless to say, you have to like blue cheese to appreciate this dish!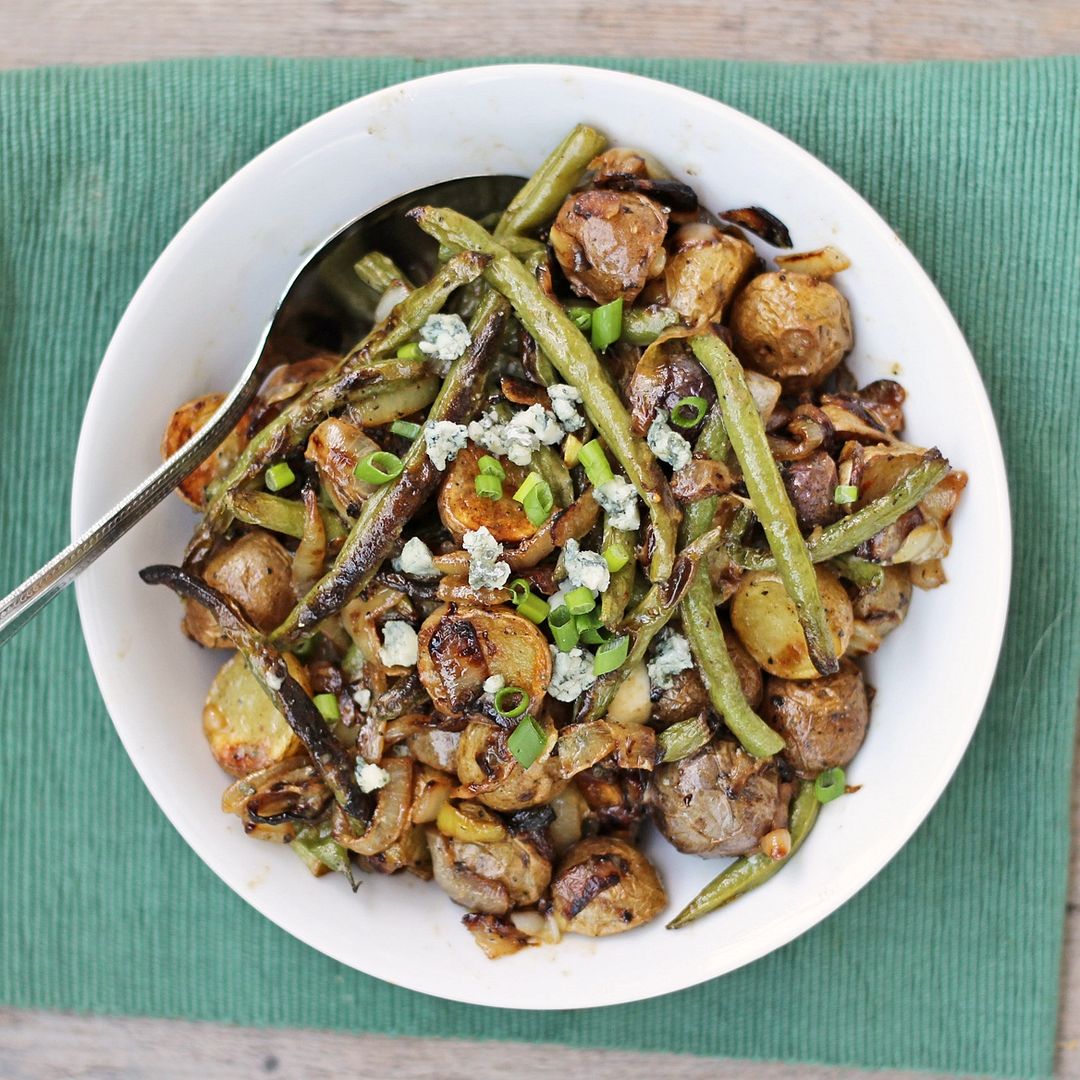 I don't know when potato salad stops being a salad and starts being just roasted potatoes, but whatever you call this, it's so good - you just have to get past the somewhat boring colours that made it hard to look good in photos! This would be a great side dish to go with steak or burgers this summer, but I liked it so much I just ate it on its own!
Roasted Potatoes and Green Beans with Caramelized Onions & Blue Cheese
Serves about 6 as a side dish
Ingredients:
1-1/2 pounds mini potatoes, scrubbed and cut in half (I used a mix of red, white, and blue potatoes)
8 ounces green beans, ends trimmed
5 teaspoons extra virgin olive oil, divided
Salt & pepper
2 medium yellow onions, peeled and sliced
2 tablespoons white wine vinegar
2 teaspoons Dijon mustard
3 tablespoons crumbled blue cheese
Additional blue cheese and sliced green onions for topping
Directions:
Preheat oven to 450°F.
Toss potatoes and green beans with 2 teaspoons oil and season with salt and pepper.
Spread evenly on a foil-lined baking sheet and roast in preheated oven for 25-30 minutes, stirring once, until tender and golden brown.
Caramelize your onions at the same time that the potatoes are roasting.
Heat 2 teaspoons olive oil
in a large skillet over medium heat. Add onions, stir to coat with oil, and season with salt and pepper. Spread onions out evenly across the pan and let cook, stirring occasionally, until onions are soft and caramelized, about 25-30 minutes. Don't stir the onions too often so they can brown, but don't leave them alone long enough to burn or stick to the pan (though I like the burnt bits in this potato salad!)
Meanwhile, prepare the dressing by whisking together the vinegar, Dijon, blue cheese, and 1 teaspoon oil in a small bowl.
When onions and potatoes are both done, combine them in a bowl and add dressing while warm.

Toss to coat.

Serve warm, topped with additional crumbled blue cheese and chopped green onions or chives, if desired.