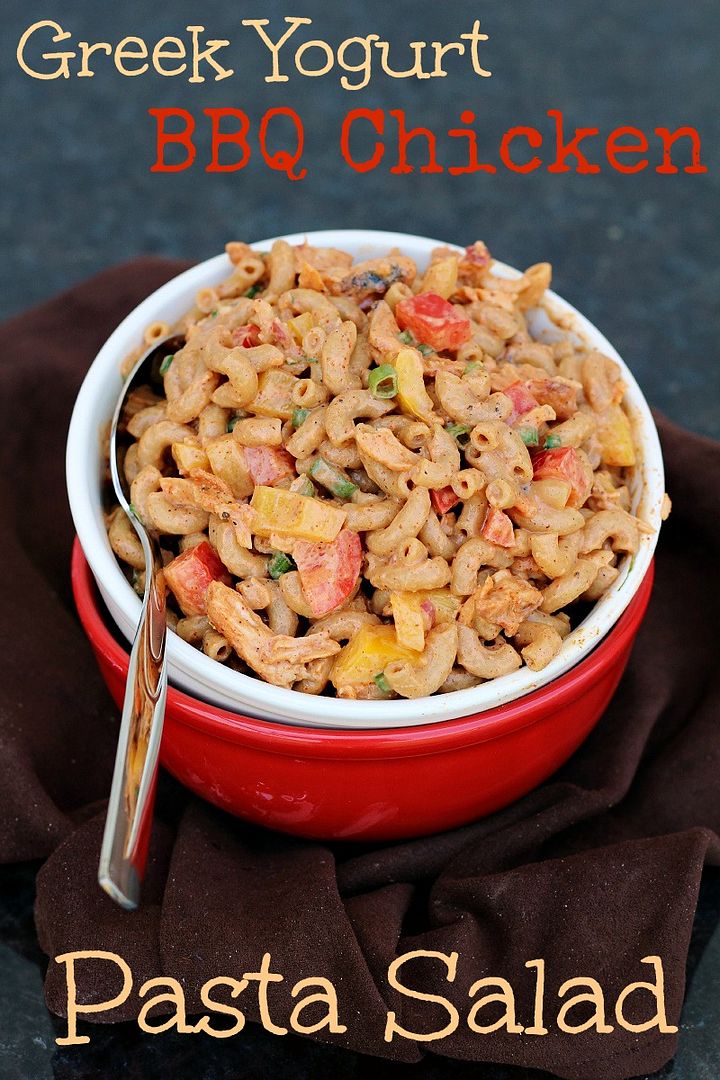 This past weekend was a long weekend for us Canadians, meaning the summer has (unofficially) begun!
And it has definitely felt like summer the past few days; yesterday the temperature went up to about 28°C (around 83F) here in Southern Ontario and I was reminded what it's like to sweat just standing outside (and in my case, just sitting in your apartment too)!
It was perfect weather for sitting outside for a barbeque on Sunday and laying on the beach Monday (though with the lake still freezing cold, we didn't last long on the sand without having a way to cool off)!
With the long weekend for my American friends coming up next, I thought this would be a good time to share a pasta salad recipe – the perfect thing to take with you to a summer bbq or picnic.
And feel free to bring me along too, I need another long weekend already!
This pasta salad is made with all whole wheat pasta, non-fat Greek yogurt in place of mayonnaise, with veggies for nutrition and chicken for protein - but with the delicious creamy BBQ flavour, no one would ever guess it's healthy!
I loved the crunch of veggies and the kick of spice in this pasta salad that's unlike any I've tried before; my boyfriend loved this too and couldn't even tell the pasta was whole wheat or had Greek yogurt.
You could leave out the chicken if you wanted this to be a lighter side dish, but we loved the flavour and texture the chicken added.
And if you're vegetarian, I think black beans would give this a fun southwestern twist!
The Tuesdays after a long weekend are the worst, but thankfully this day's already almost over and I can start counting down the days until the next long weekend!
BBQ Chicken Whole

Wheat

Pasta Salad with Greek Yogurt
Makes around 4-5 large servings or 8-10 side dish servings
Ingredients:
1 375g (13oz) box of whole wheat macaroni
1 teaspoon hot sauce
1/4 teaspoon garlic powder
1/2 teaspoon each salt and pepper
2 teaspoons chili powder
1 tablespoon brown sugar
1-1/2 tablespoons apple cider vinegar
1 small shallot, minced
1 cup non-fat plain Greek yogurt (you can replace part of the yogurt with low-fat mayo if desired, but I used all yogurt)
1/2 cup BBQ sauce
1 red bell pepper, diced
1 yellow bell pepper, diced
4 green onions, chopped
2 cooked boneless skinless chicken breasts, shredded and seasoned with salt & pepper, and tossed with a bit of bbq sauce if desired (or use around 12-14 oz of rotisserie chicken and shred it)
Directions:
Bring a large pot of salted water to a boil.
Cook macaroni according to package directions.
Drain and rinse thoroughly with cold water until cool.
Let drain in colander then transfer back to a large bowl.
Add hot sauce, garlic powder, salt and pepper, chili powder, brown sugar, vinegar, and shallots to the pasta and toss to coat.
Let stand for about 2 minutes to absorb.
Next, mix the Greek yogurt and BBQ sauce together in a small bowl, then add to the pasta and toss to coat.
Stir in diced peppers, green onions, and shredded chicken.
Mix and adjust any seasonings if necessary.
Serve cold or at room temperature.
*Note: Feel free to add a bit of BBQ sauce to leftovers before eating if the sauce dries up at all in the fridge (I didn't really have this problem, but I still liked to stir in a little extra sauce to my leftovers)