After spending the past holiday Monday laying on a beach drenched in sweat, it just seems wrong that today the temperature fell to below zero and there was snow in the air!
Every time I think summer is definitely here to stay this time, Mother Nature turns around and laughs in my face.
I'm still very grateful that we had beautiful weather for our May long weekend though, and I'm hoping that my American friends are able to see some sun and get outside for your holiday Monday coming up!
But whether you're sitting outside around a bonfire or warming up inside by a fireplace this weekend, these s'mores bars will fit right in!
You've probably seen a recipe for s'mores bars before so these are nothing new; they're made up of two layers of chewy graham cracker bars with layers of chocolate and marshmallows sandwiched in between.
I've made versions of them a couple of times in the past and absolutely loved them, but based on my experiences, I've made a few changes along the way to improve them a little.
I added cinnamon and brown sugar to add to the graham cracker flavour more, I replaced some of the milk chocolate with dark chocolate because I find that using all milk chocolate makes them just a bit too sweet and rich for my taste, and while I used to make a full sized recipe in a 9x13-inch pan, this time I used a much smaller pan because buying all that chocolate gets pretty expensive!
I also topped the bars with more marshmallows and chocolate so they look a little prettier on top and people can more easily tell what they are.
And while I've previously used marshmallow fluff as called for in other recipes, this time I couldn't find it anywhere, so I used mini marshmallows instead - which also ended up being much cheaper!
When I bought them I was thinking that they would melt a little to become just like marshmallow fluff, but I apparently forgot my experiences with rice krispie squares which should have tipped me off that the marshmallows would melt a lot more!
So I was a little disappointed when I took my bars out of the oven and didn't see a pretty layer of thick melted marshmallows like I've had in the past using marshmallow fluff, but once I tasted them I realized that I liked these even better – the marshmallow flavour is still there and just gets infused throughout the bar, giving it a sticky gooey texture just like s'mores.
But if you can easily find marshmallow fluff and want that thick layer of fluff (see what I mean
here
), feel free to use it instead!
These are like a portable, less messy, and slightly more refined version of s'mores, so if you like s'mores, I think it's safe to say you will love these.
They were a hit with Ryan's coworkers (from what I hear) – I only ate one myself then had to give the rest away because I knew I would eat them all much too quickly!
If you have Memorial Day get-together plans this weekend, these bars would fit right in!
Hope you have a great (and warm!) long weekend!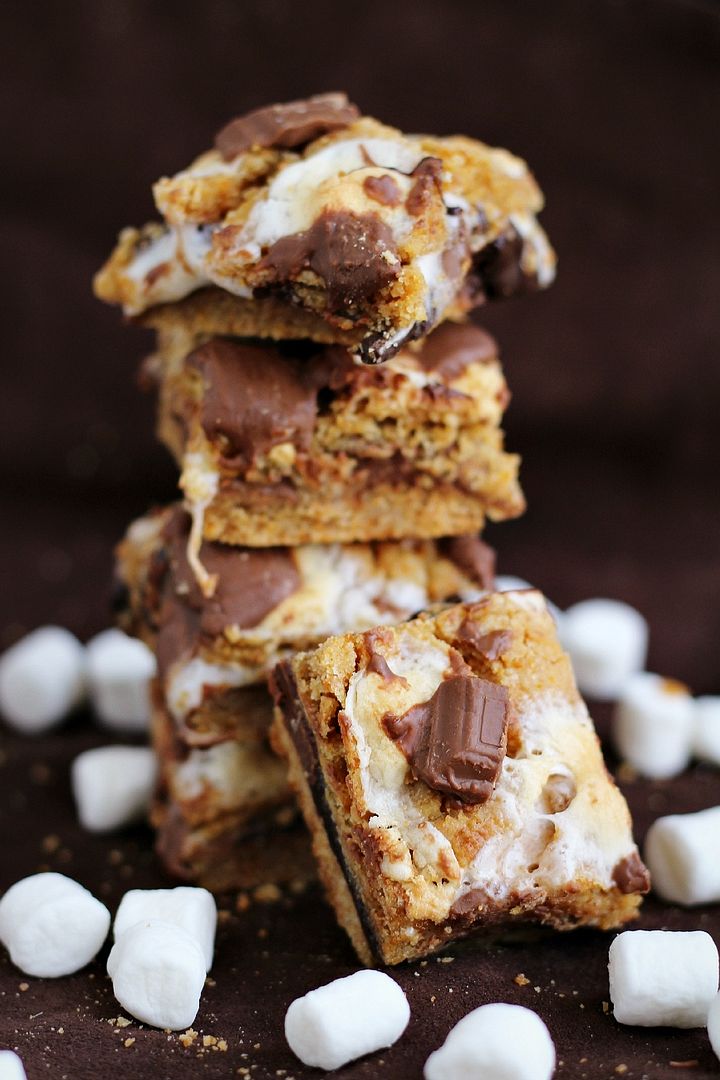 S'mores Bars
Makes one 8x8-inch pan; about 20 bars
Ingredients:
1-1/3 cups all-purpose flour
3/4 cup graham cracker crumbs
1 teaspoon baking powder
1/2 teaspoon cinnamon
1/8 teaspoon salt
1/2 cup unsalted butter, room temperature
1/2 cup sugar
1/4 cup brown sugar
1 large egg
1 teaspoon vanilla extract
2-1/2 to 3 cups mini marshmallows
300g (or 10-11oz) of chocolate bars –

I used three 100g chocolate bars: 2 milk chocolate and 1 dark chocolate.

If you want the taste to be more like classic s'mores, use all milk chocolate.

If you prefer a more grown-up taste, use dark chocolate.

I used a mix of both because I find all milk chocolate to be a little too sweet for my tastes.
Directions:
Preheat oven to 350°F. Line an 8x8-inch baking pan with aluminum foil, leaving an overhang on the edges to lift the bars out later, and spray with non-stick cooking spray.
Whisk together the flour, graham cracker crumbs, baking powder, cinnamon, and salt in a medium bowl.
In a separate large bowl, cream the butter and sugars together with an electric or stand mixer on medium speed until light and fluffy, about 2-3 minutes.
Add the egg and vanilla and beat just until combined.
Slowly add the dry ingredients in three additions, mixing slowly after each addition until a dough forms.
Divide the dough in half.
Press one half of the dough into the prepared pan in an even layer.
Divide your chocolate bars into individual squares, reserve at least 4 squares for later, and spread the remaining squares in an even layer on top of the dough.
Try to get them close together but don't worry too much if there are little gaps.
I alternated the spacing of my milk and dark chocolate squares.
Cover with about 2 cups of mini marshmallows in a tight, even layer.
Top with the remaining half of the dough.
I grabbed pieces of dough, flattened them between my palms, and pieced them together to form one layer, but it would have been easier to roll the dough out in one piece and transfer that on top.
Do whatever works easiest for you.
Here's a picture of what my process looked like:
Bake the bars in the preheated oven for 25 minutes.
Meanwhile, chop your leftover chocolate into smaller pieces and place in the freezer.
After 25 minutes, remove bars from oven, and sprinkle the top with about 1/2 cup of mini marshmallows along with the reserved chocolate.
Return to oven for an additional 5-8 minutes.
Let bars cool
completely
before cutting.
I sped mine along by placing them in the fridge, but it still took at least several hours to cool.
When ready, lift the bars from the pan using the foil, and cut into about 20 squares.
Serve at room temperature or warmed up slightly in the microwave.