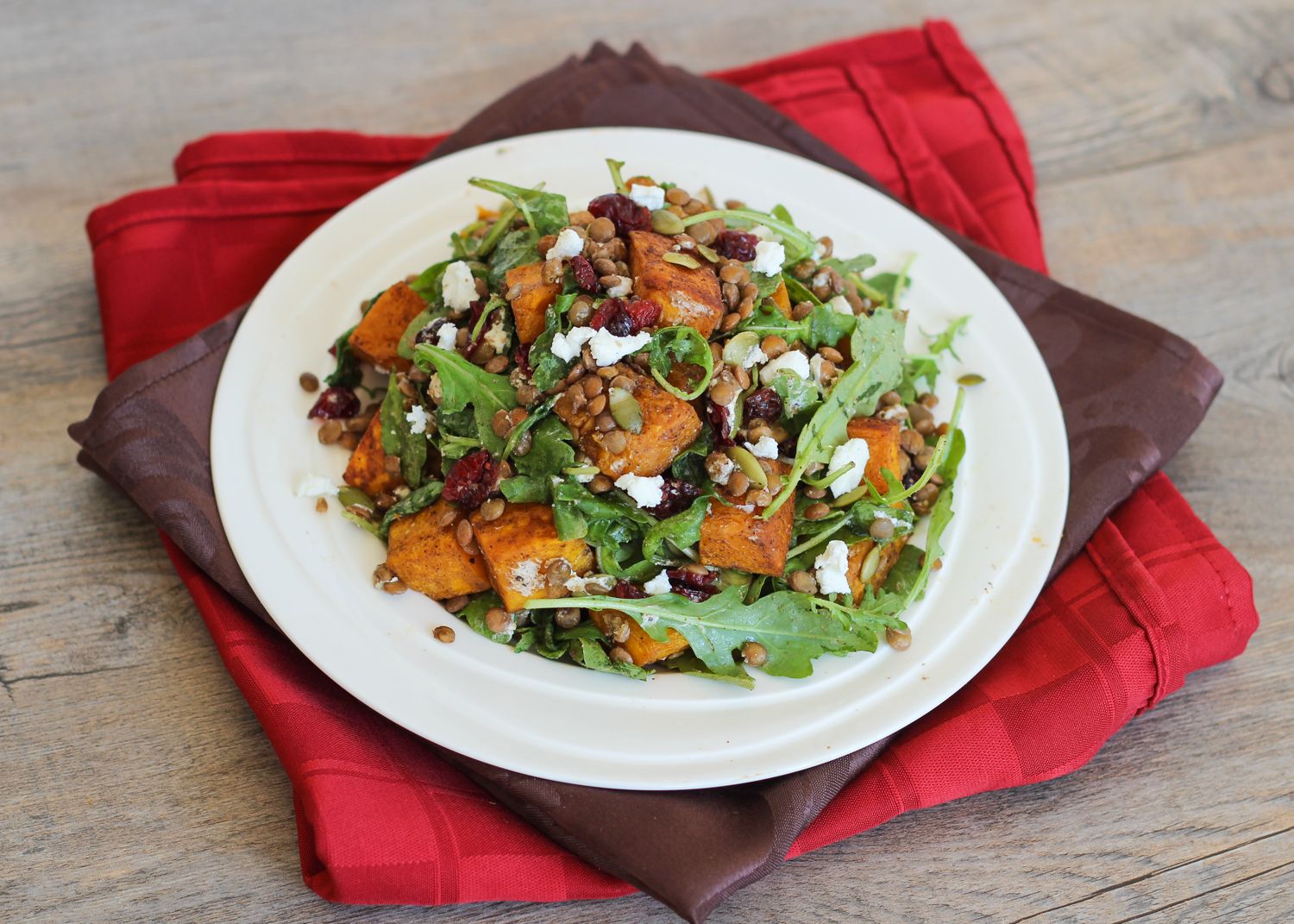 Sorry for the lack of posts lately – two Saturdays ago I travelled up to Northern Ontario to visit family for Thanksgiving and stayed just over a week. I had fully intended to go about my regular routine while I was up there, getting lots of work done, staying caught up with my Feedly reader, and writing a couple blog posts, but before I knew it I was boarding a plane back home and I'd done almost none of the above. I really have no idea where the time went, though I do know I enjoyed it!
As usual, I was spoiled on my trip and almost never had to make any food for myself. The one dish I made the whole week was this squash and lentil salad, which we enjoyed with some butternut squash soup as a nice lighter meal after our big Thanksgiving feast. I offered to make it because I'd been eating it for my lunches the whole week before I left and I loved it so much that it was still on my mind!
Somehow, whenever I'm under pressure to make something for guests, it never turns out as well as when I make it the exact same way for myself at home (or maybe I'm extra critical when I know it's being judged), but everyone still enjoyed it!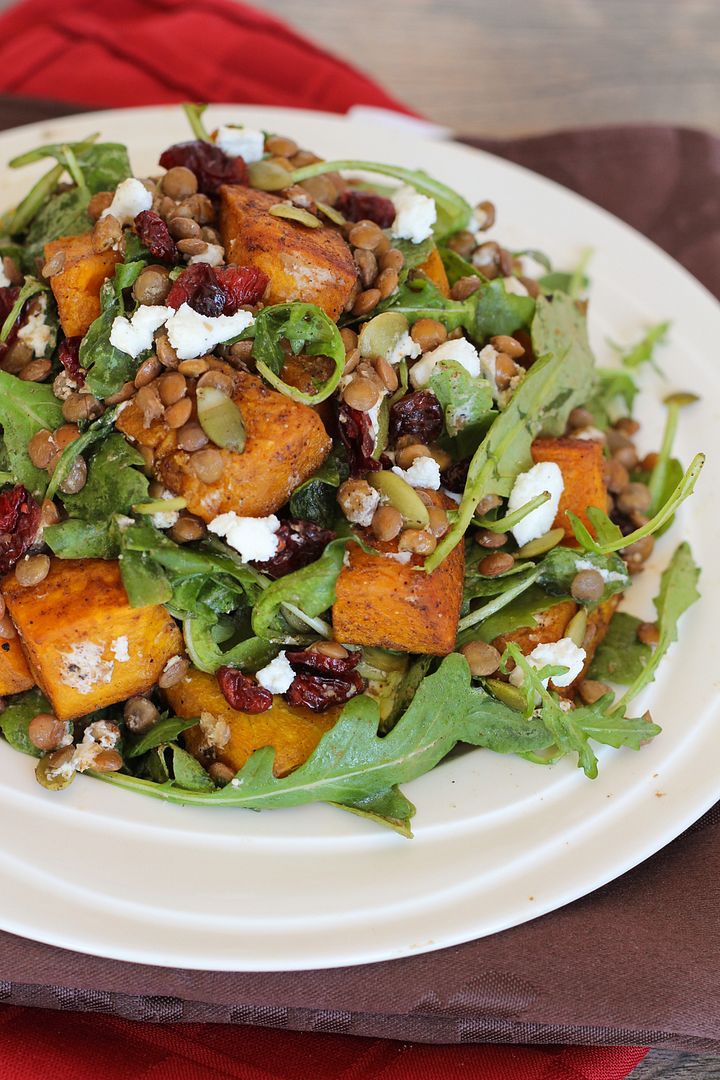 This salad is bursting with fall flavour and is hearty and filling thanks to the lentils and squash, while still feeling light and healthful.
It takes a bit of time to roast the squash and cook the lentils, but other than that everything comes together pretty easily.
I didn't change much from the original
Bon Appetit
recipe
except to add pumpkin seeds and cranberries, which add some crunch, sweetness, and even more of a festive feel to the salad.
I can't believe that now that I'm back, it's already time (or past time) to start thinking of Halloween recipes! It's crazy how fast October is flying by - hope you're all enjoying it as much as I am!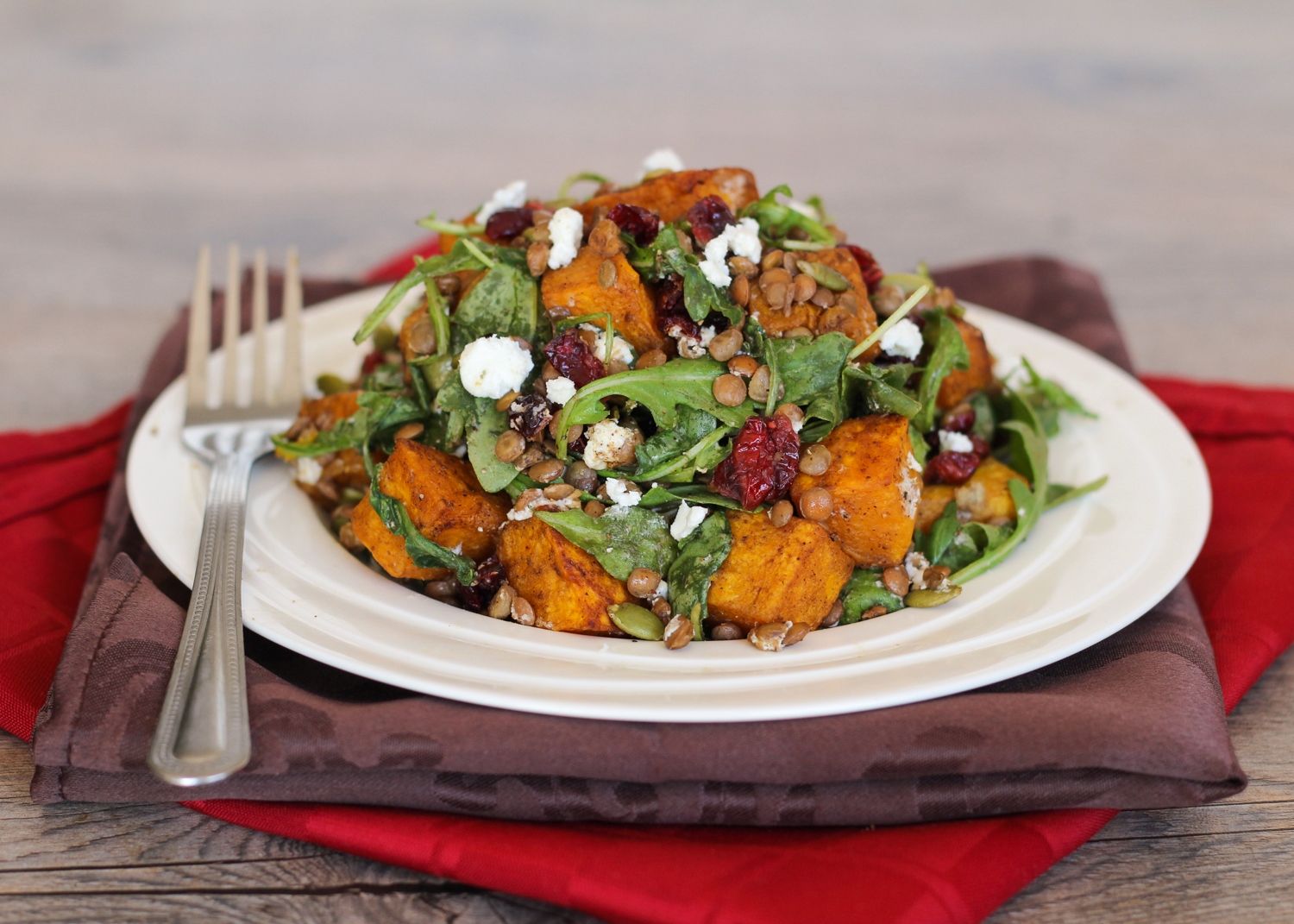 Spiced Squash, Lentil, & Goat Cheese Salad
Makes about 4 large (main) or 8 small (side) servings
Ingredients:
1 large (around 2 pound) butternut squash
3 tablespoons olive oil, divided
1 teaspoon ground cumin
1 teaspoon smoked paprika (or paprika plus a dash of cayenne if you don't have smoked paprika)
1/2 teaspoon salt
3/4 cup green or brown lentils
4 cups baby arugula
3/4 to 1 cup crumbled goat cheese
1/2 cup pepitas (pumpkin seeds)
1/2 cup dried cranberries
1 tablesoon balsamic vinegar
Directions:
Preheat oven to 375
°
F.

Peel butternut squash, remove seeds, and cut into about 1" cubes.

I find it easier to cut squash after microwaving it first – just prick it all over with a fork or small knife and microwave on high for about a minute.

Toss cubes of squash with 2 tablespoons oil, the cumin, paprika, and salt.

Spread squash in an even layer on a foil-lined baking sheet and roast for 20 minutes.

Toss, return to oven, and roast for another 10-15 minutes.

Let cool.
Meanwhile, bring around 3 cups of water to a boil in a medium saucepan.
Add lentils, cover, reduce heat to simmer, and let cook for about 30 minutes, until tender but firm.
Drain and rinse lentils under cold water.
Combine lentils, squash, arugula, about half the goat cheese, pepitas, cranberries, balsamic vinegar, and remaining 1 tablespoon of oil in a large bowl.
Season with salt and pepper.
Divide into servings and top each with remaining goat cheese.