I can't believe it's already time (or past time, actually) to do another monthly recap - September FLEW by! I've been sitting here trying to remember what I actually did this month to talk about in this post and I can't think of a single interesting or exciting thing - I really have no idea where the month went!
Most of my free time has been spent going to fitness classes (lately I've been doing Zumba, step, sculpt, and yoga), trying to keep up with outdoor running (I'm now able to run 5k, though I still hate it!), watching football, and managing my failure of a fantasy team. This is my first year doing fantasy football and now I finally understand why people get so addicted to it but also get so frustrated with it!
The only non-food related things I have pictures from this month are the harvest moon (though you can't really tell in my picture) and a crazy storm we had with lots of lightning. I always love sitting on my balcony whenever there's a storm and trying to capture lightning in a photograph - it's really challenging so I get so excited when I manage to get some lightning in a shot!
The good news is that I did make a ton of food this month, so I still have lots to share with you guys!
Let's start with some of the recipes I made from other sites this month that I loved:
Actually I'll start with a meal my parents made earlier in the month that was probably the best pizza I've ever had. It was topped with figs from my dad's fig tree, goat cheese, onions, arugula, and balsamic reduction. The recipe is from
The Shiksa in the Kitchen
and if you can get your hands on fresh figs, I highly recommend you try this!
The return of football Sundays has marked the return of football food as well! One of my favourite things Ryan and I have enjoyed while we watch the games and constantly refresh the scores on our fantasy teams was this slow cooker bbq chicken. It was super easy to make - you just have to throw some chicken breasts, spices, bbq sauce, and beer in a crockpot and let it cook all day, then shred it up and eat it however you like. The recipe I used is from
How Sweet It Is
and it was delicious - I will definitely be making this again!
I've also made buffalo roasted cauliflower as a healthier football snack a few times this month. I just chop up a head of cauliflower into florets, toss them with a bit of olive oil, salt, pepper, and a buffalo seasoning we got from Buffalo Wild Wings, roast them at 350 for around half an hour, then toss them with some buffalo sauce. Ryan, who claims he hates cauliflower, actually liked this, which says a lot about it!
I loved this turkey and kale pasta bake that I made this month because it gave me healthy and filling lunches for a whole week. You can get the recipe from
ifoodreal
- I followed it pretty closely but threw in some mushrooms one time and zucchini a second time I made it for some extra veggies. This picture was taken of my leftovers which is why the cheese looks weird - I promise this is way tastier than it looks here!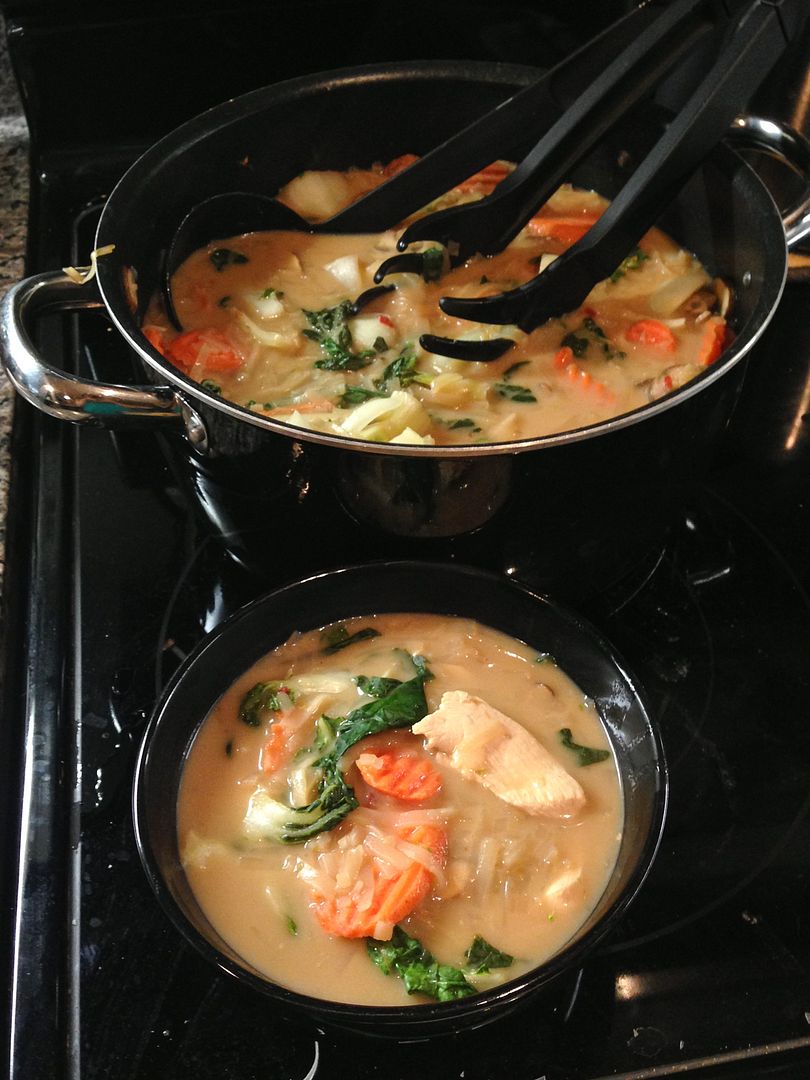 Another new meal I tried this month and loved was this Thai chicken coconut soup, which had chicken, veggies, rice noodles, and a spicy broth made with chicken broth, coconut milk, ginger, and lime. You can get the recipe from
Epicurious
- the only change I made was to use baby bok choy instead of spinach.
I made this Guinness cheddar dip to bring to a division party with my fellow grad students this month. I based it on a recipe from
The Parsley Thief
which I've wanted to try forever, but I made a few changes including adding caramelized onions, leaving out the half and half, using a mixture of white cheddar plus Guinness cheddar instead of regular cheddar, and increasing the amount of Guinness beer from 1/4 cup to 1 cup. The last change was actually a mistake - I had set aside a cup of beer with the intention of starting off by adding a little then increasing the amount to taste, but I forgot and dumped it all in at once. With the addition of the already quite strong Guinness cheddar, this gave the whole dip a very strong (and slightly bitter) Guinness taste, so it didn't turn out quite how I'd hoped, but I still liked it!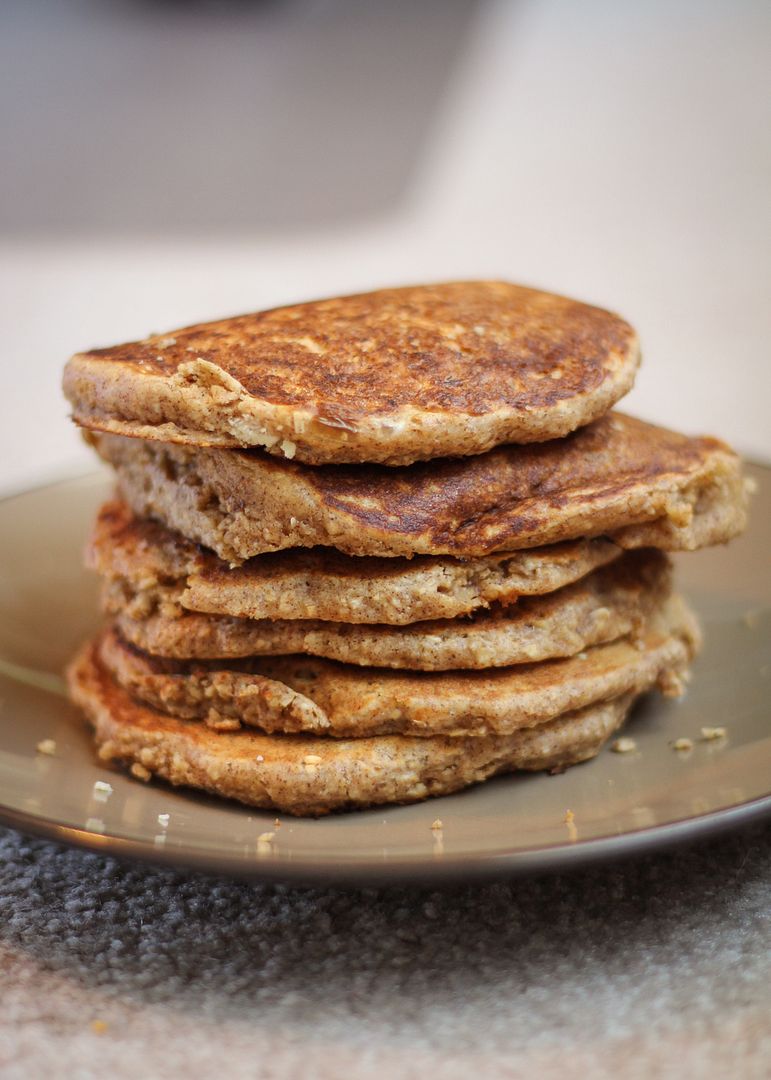 Finally, I made these oatmeal cookie pancakes for Ryan and I to enjoy for breakfast one weekend, and we both loved them. The recipe is from
Yammie's Glutenfreedom
, and they really taste like oatmeal cookies! I added white chocolate chips because that was all I had around, but next time I'd definitely use semisweet. And there will be a next time!
Other things I've enjoyed this month include:
Starting my day with green smoothies!
Peanut butter + cheesecake frozen yogurt with cookie dough on top. I am addicted to frozen yogurt.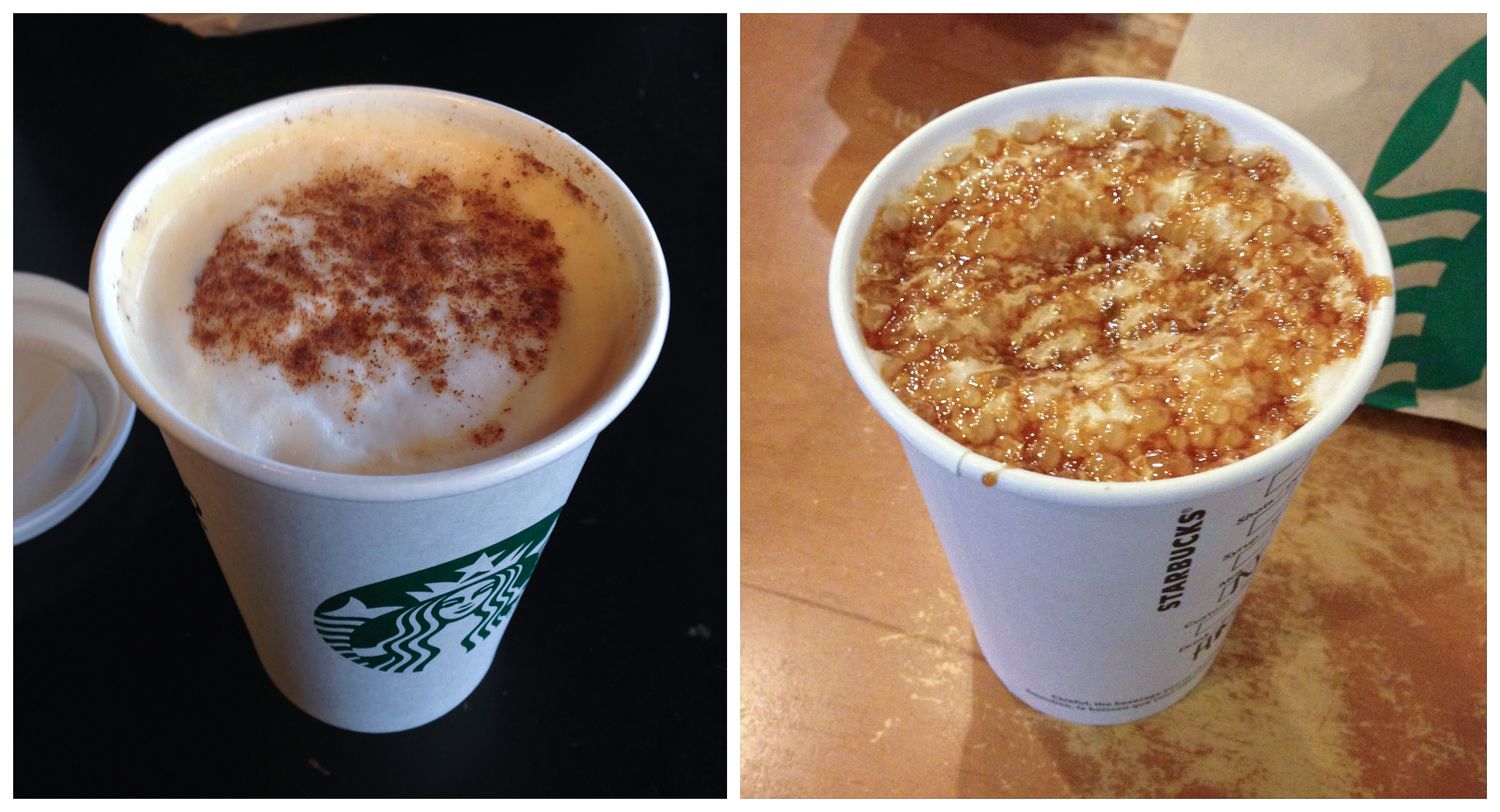 Starbucks dates with my man (and pumpkin spice lattes, of course).
Take out pad thai - probably my favourite type of take out!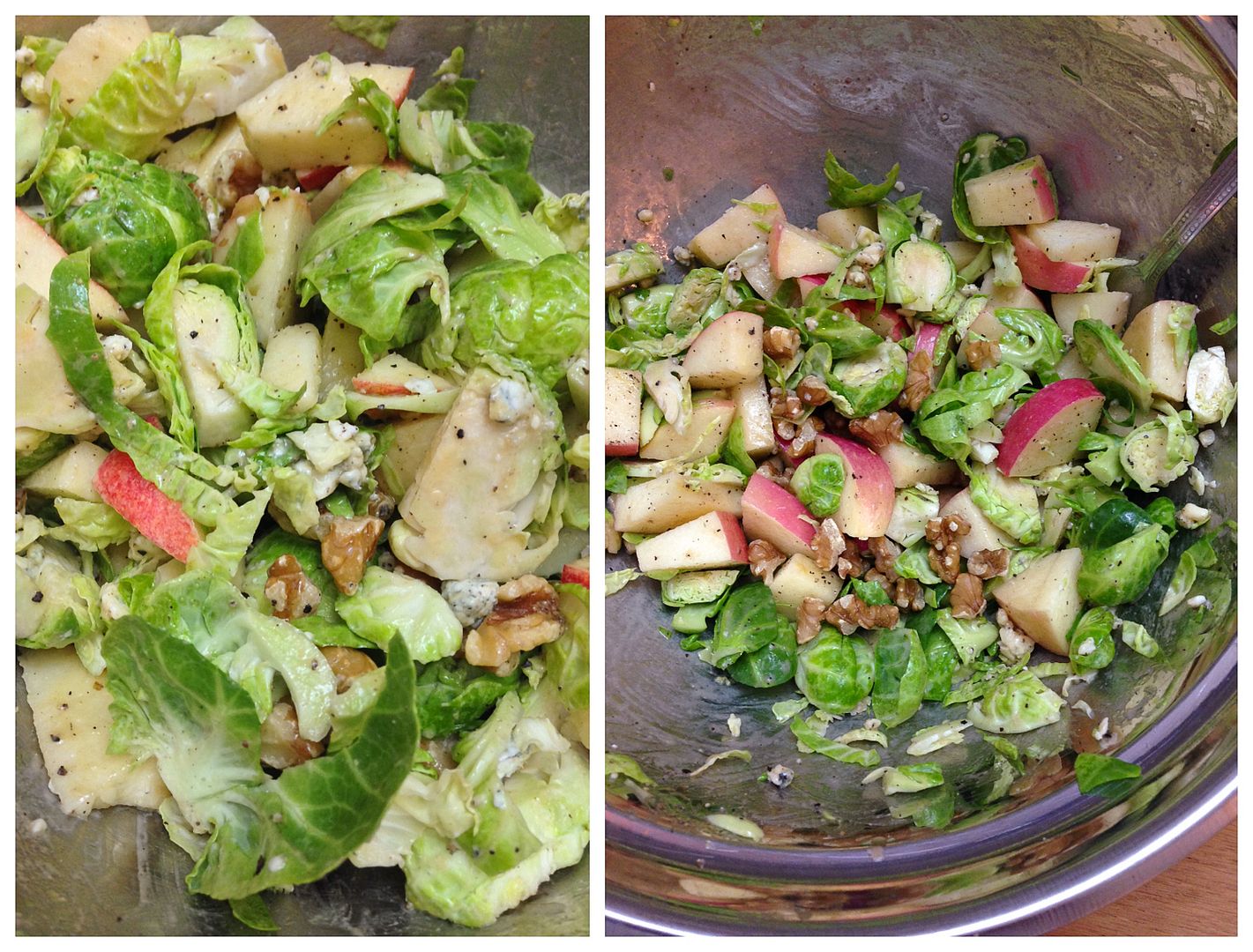 I've been on a huge brussels sprouts kick lately and have been eating them all the time. I've made this salad with raw brussels sprouts, apples, walnuts, and blue cheese more times than I can count this month. So good!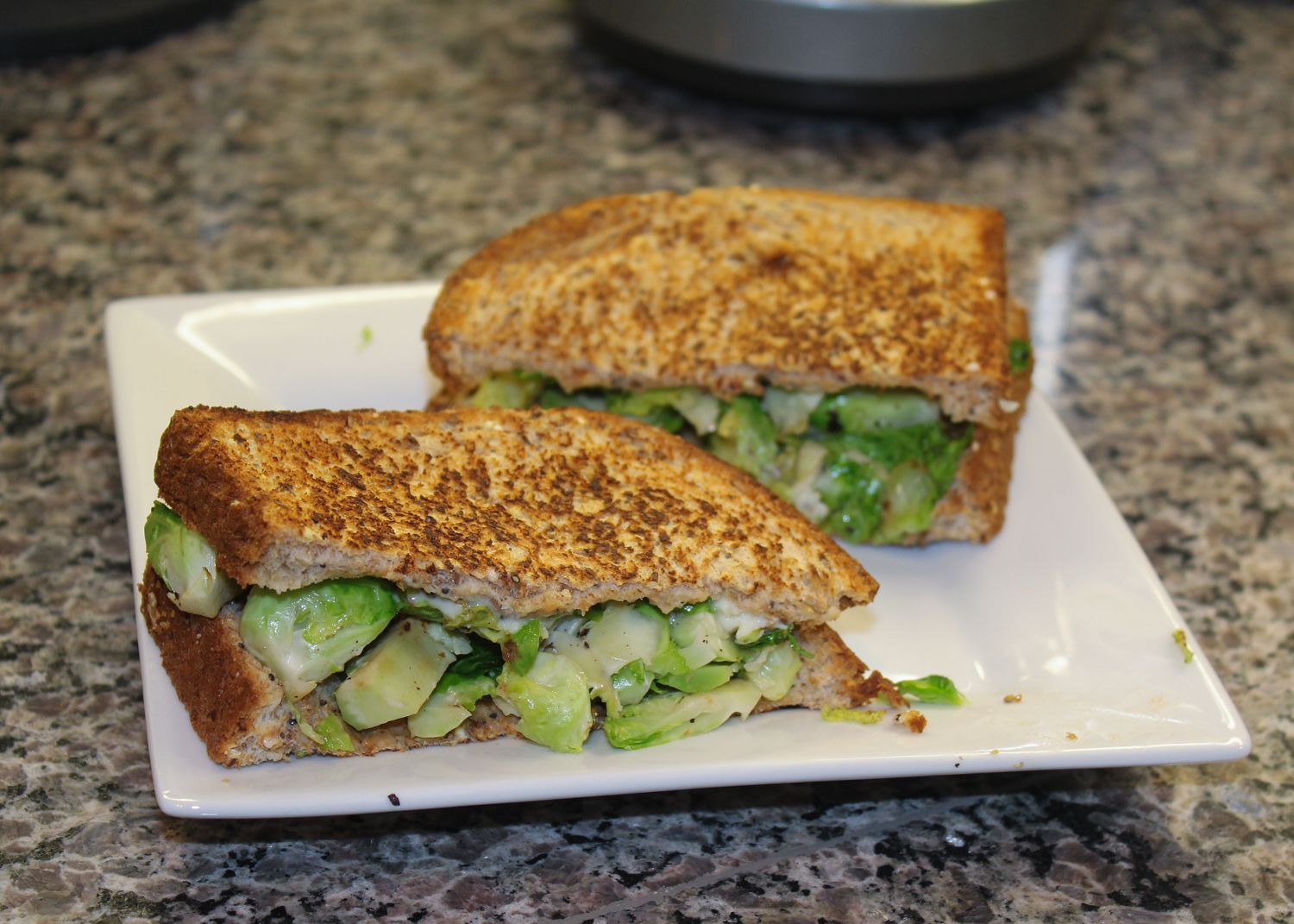 I also made a brussels sprouts and blue cheese "grilled cheese" for a quick dinner one night. I'm obsessed with blue cheese lately!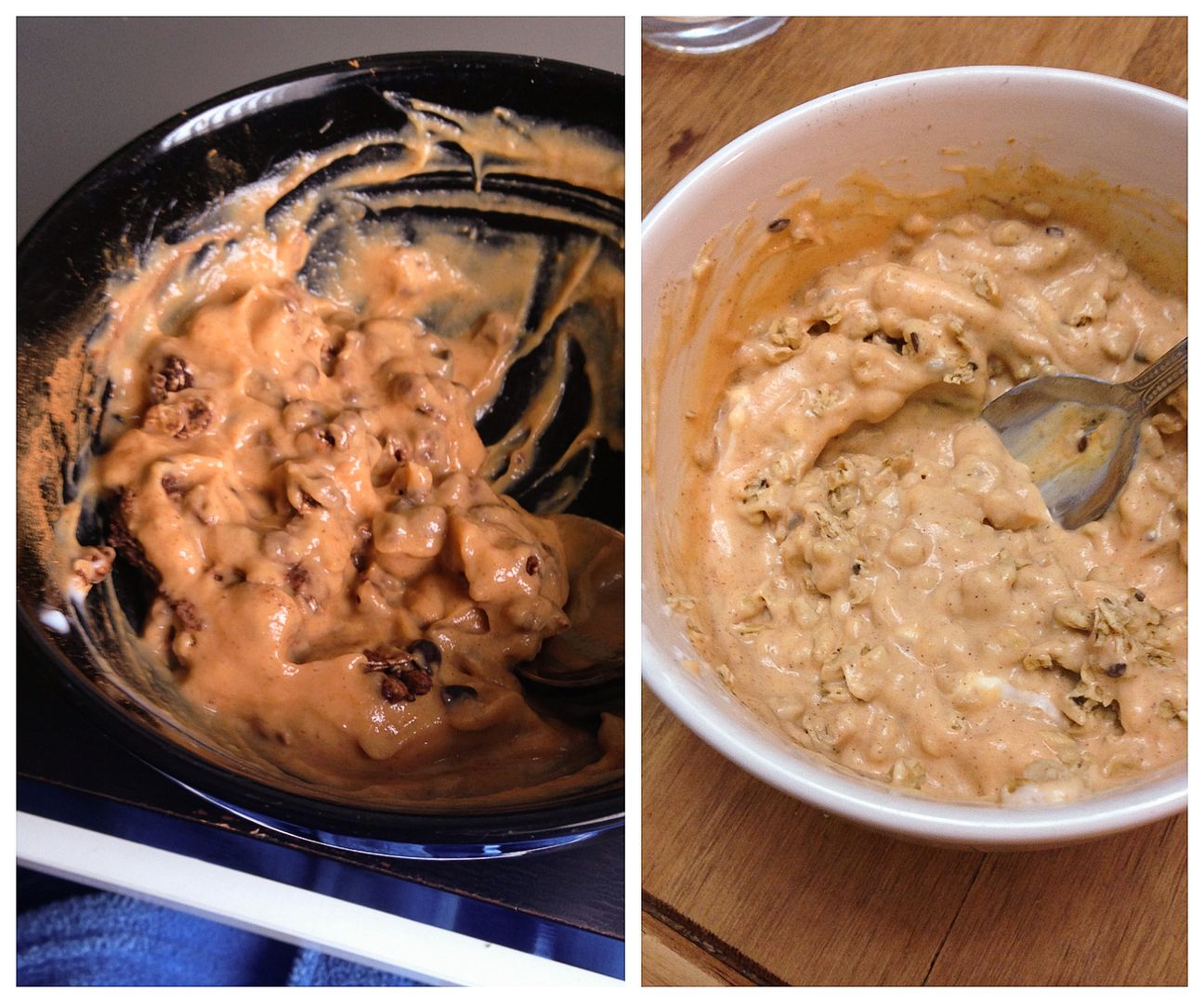 For breakfast, I've been loving stirring pumpkin puree into my yogurt along with a dash of pumpkin pie spice - instant pumpkin pie yogurt! I've been eating it with both
pumpkin flax granola
and
chocolate protein granola
, but the latter is my fave!
Naan pizzas are one of my stand-bys when I need a quick dinner. This one had bbq sauce, mozzarella, and crispy kale - strange but so good!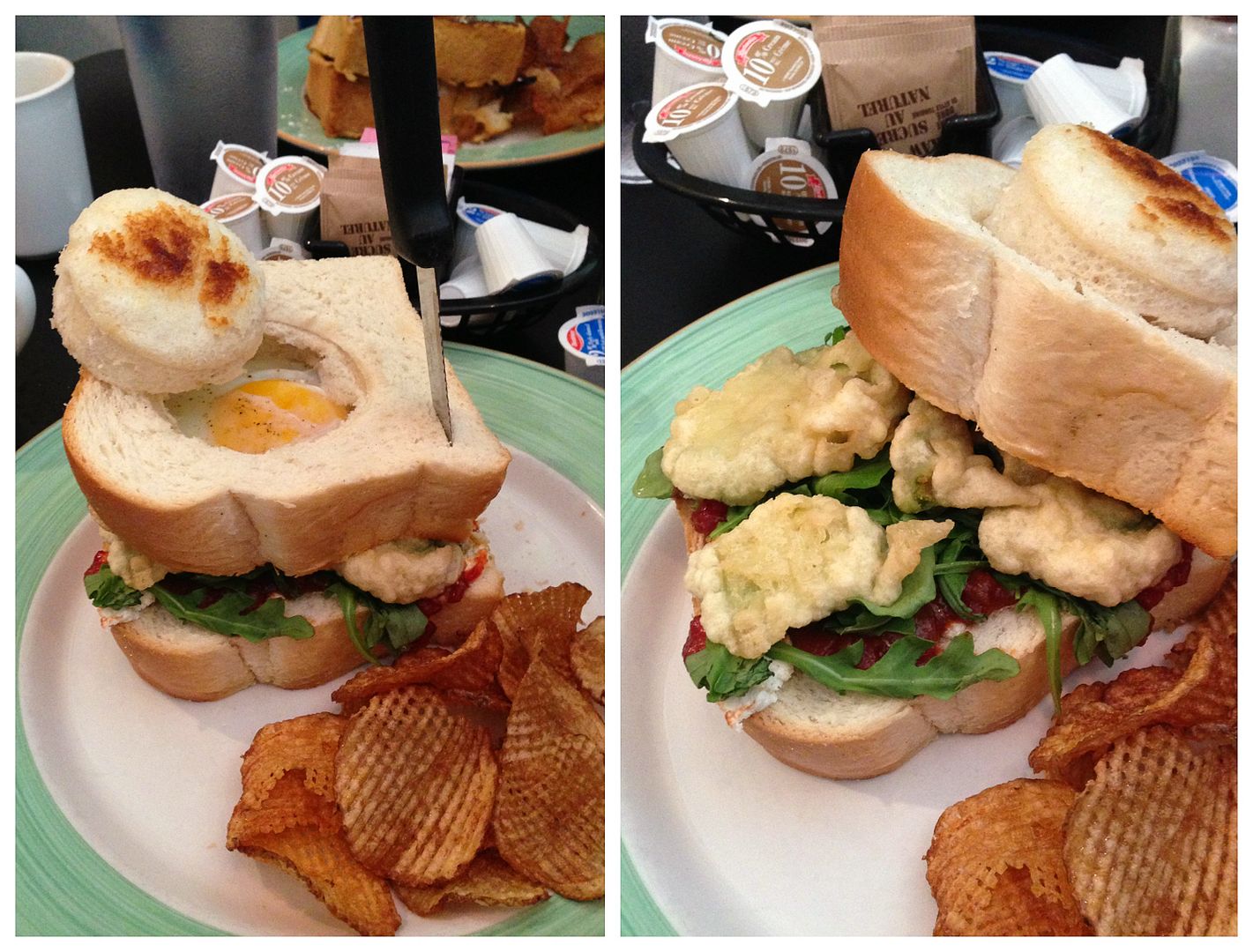 Ryan and I went out for breakfast at the
Early Bird
in London (which has been featured on the show
You Gotta Eat Here
!) and I ordered the toad in a hole, which is an egg fried into a slice of thick bread, served as a sandwich with avocado tempura, tomato chutney, goat cheese, and arugula. I didn't eat the chips or the majority of the bread because this meal was huge, but needless to say, it was delicious - and so creative! If you're ever in London, Ontario, you have to try this place - just bring an big appetite!
I've also been enjoying the return of pumpkin beers lately - I haven't found one I absolutely love yet but there's still lots to try!
That's it for this month - hope you all had a great September enjoying the last bit of summer and getting ready for fall! And happy weekend!