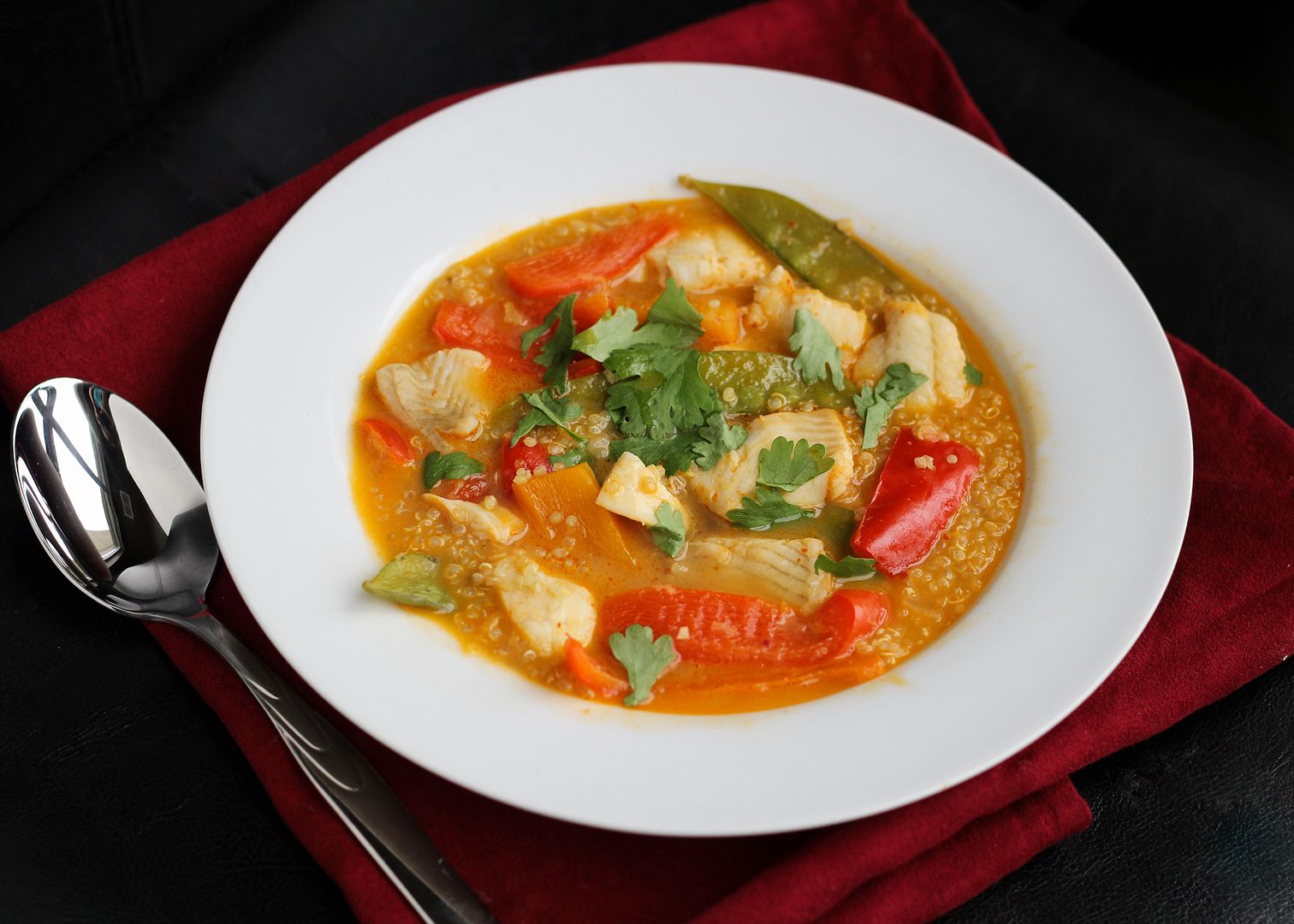 I'm super excited for today's post for two main reasons - first is that this is one of the tastiest dishes I've had in a while, and second is to announce that I've partnered with the
Sustainable Seafood Blog Project
!
The idea of the Sustainable Seafood Blog Project is to unite food bloggers and businesses interested in promoting sustainable seafood choices. When Jessie from
Life as a Strawberry
asked if I'd be interested in joining, I admit that I was a tiny bit hesitant because while I've heard a lot about sustainable seafood lately and know that it's a really important issue, I didn't feel like I was well informed on it enough myself to talk about it with you guys. But after a bit of research, I was happy to find out that there are so many resources out there to help consumers make smart choices, so while the idea of sustainable seafood might sound complicated, it's much easier than you might think!
We've all probably heard about the health benefits of eating fish, but many of us (myself included) are perhaps less aware of the impact certain fishing practises have had on the environment, including overfishing certain species of fish, damaging the environment through harmful fishing methods, and catching unwanted types of fish or marine life.
Without getting into too much detail or trying to sounding too preachy, the idea of sustainable seafood is to support fishing practices that will not damage our oceans or deplete marine life. The infographic below (courtesy of Jessie) summarizes these issues in a much prettier way than I could put together!
I'm happy to say that the two main grocery stores I shop at here in Ontario (
Loblaw
and
Sobeys
) have made commitments to selling sustainable seafood, and in addition, the
Marine Stewardship Council
has made it really easy to identify smart choices when you're shopping by just looking for their seal of approval on the product (see the blue checkmark in the images below).
I still only buy fish (or any meat) when it's on sale because it's usually expensive, but all the products pictured below were on sale and cost just as much or less than the fish without those labels, so it's nice that I didn't have to pay a fortune to choose them (unlike with organic fruits and vegetables)!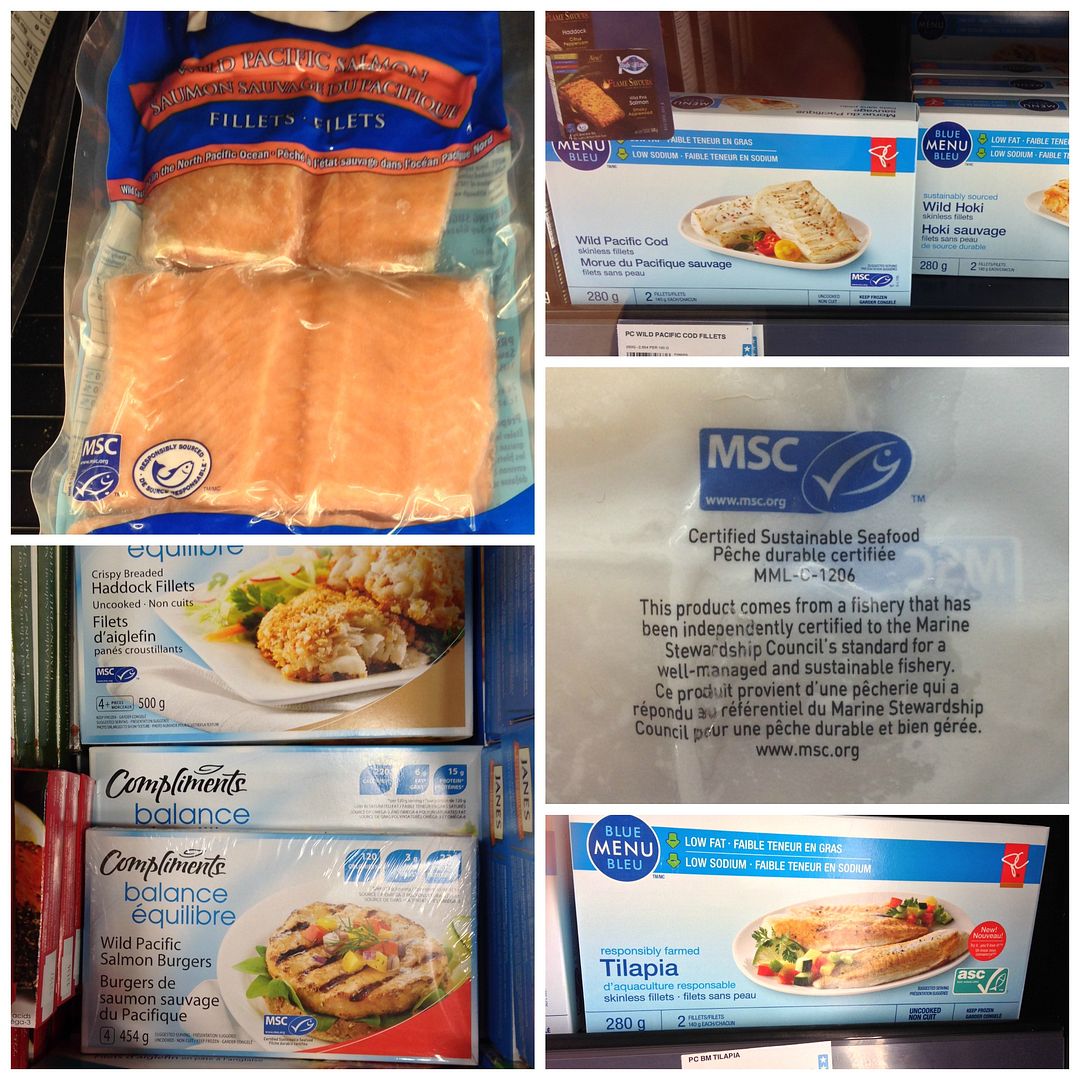 And if you want to read more, there are tons of resources available to you, such as:
The Marine Stewardship Council
Monterey Bay Aquarium Seafood Watch
Vancouver Aquarium Ocean Wise
Sea Choice
And of course, the
resources page
of the Sustainable Seafood Blog Project.
So moving on to this recipe, this curry is one of the tastiest meals I've made in a while! It may look a little complicated at first, but is actually really easy (sound familiar?)... All you have to do is sauté some veggies, throw in a little curry paste (I used red curry paste but green or yellow would work well too!), coconut milk, and a little chicken broth, then add the fish to simmer and that's basically it.
Most curries like this would be served with white rice, but to add a little more nutrition I decided to use quinoa, which I think tastes even better. The flavours in this dish all come together in such a great way, and it's a pretty healthful meal too, so you can feel good about eating it for lots of reasons!
And if you like seafood, please check out these fabulous bloggers who are also part of the Sustainable Seafood project and are posting more great recipes today!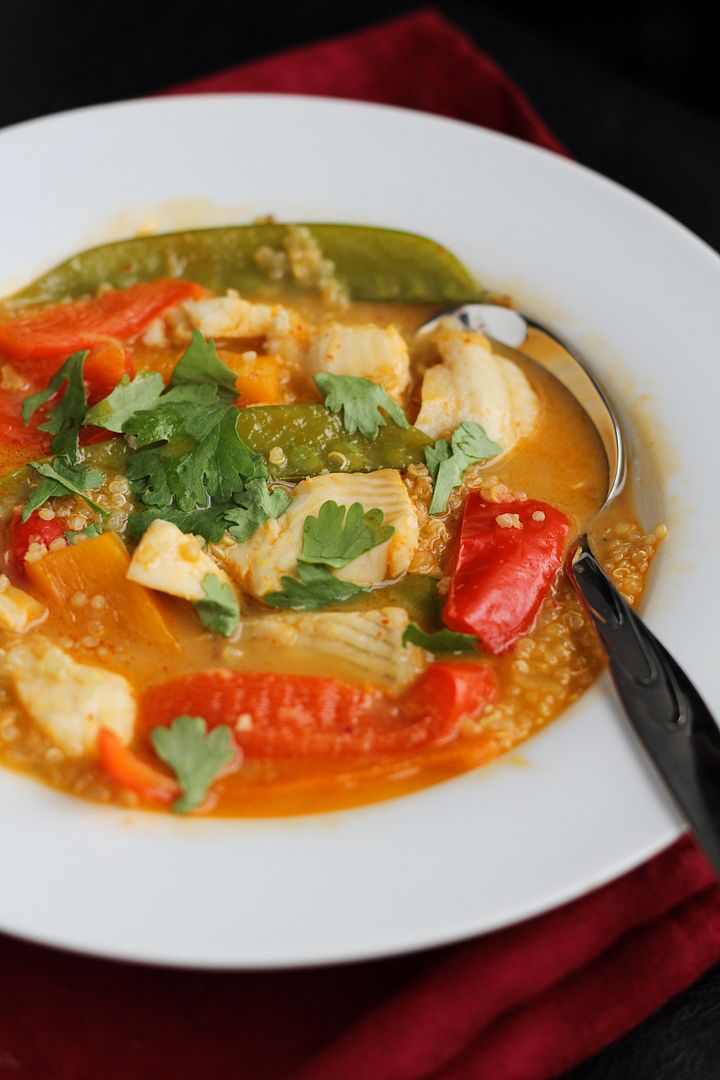 Thai Coconut Red Fish Curry with Quinoa
Makes 4 servings
Ingredients:
~2 cups cooked quinoa
2 teaspoons canola oil
1 medium shallot, minced
2 cloves garlic, minced
1 tablespoon grated fresh ginger
1 red bell pepper, sliced into 1" long slices
1 yellow pepper, sliced into 1" long slices
1 thai chili pepper, minced (optional for added spice)
2 tablespoons red curry paste
1 cup fat-free low sodium chicken broth
1 (400mL or 13.5oz) can light coconut milk
1 tablespoon fish sauce
1-1/2 tablespoons brown sugar
2 tablespoons fresh lime juice
150g or about 5oz snow peas
4-6 white fish fillets, cut into 1" pieces – choose a mild white fish that is a sustainable option for your region, such as wild Pacific cod, Wild Alaskan or Pacific halibut, or wild haddock (Canadian)
1/2 teaspoon salt
4 tablespoons chopped cilantro (optional)
Directions:
Cook a box of quinoa according to package directions – I ended up using about 1/2 cup cooked quinoa per serving which was approximately one 200g box.
Heat oil in a large saucepan over medium-high heat.
Add shallot and garlic and cook for about 1 minute, stirring often.
Add ginger, red and yellow peppers, and chili pepper.
L
et cook for 5-7 minutes, stirring occasionally, until slightly softened.
Add curry paste, stir to coat, and let cook for another minute.
Add chicken broth and coconut milk and let simmer for 8-10 minutes.
Add fish sauce, brown sugar, and lime juice, and let simmer for another 1-2 minutes.
Add fish, cover, and let simmer 5-7 minutes, until fish is cooked through (may depend on type and thickness of fish).
Season with salt.
Add about 1/2 cup quinoa to each of four bowls.
Pour curry overtop and garnish with about 1 tablespoon cilantro, if desired.
Serve warm.