As much as I love cooking, I don't like having to coordinate a bunch of dishes at once or cook multiple nights in a row, so meals that consist of one dish and make lots of leftovers are a favourite around here. And these burritos fit the bill perfectly!
I consider these a fairly healthy version of a burrito with beans instead of meat, some veggies, low-fat sour cream, not too much cheese, and whole wheat tortillas (which taste just as good as regular tortillas in my opinion!).
These also involve fairly minimal effort to make, and make six servings, which meant lots of leftovers for us! To prepare them, a mixture of black beans and kidney beans gets cooked with some onion, garlic, vegetable broth, spices, chipotle sauce, and salsa to give it lots of flavour. It's then rolled up with lettuce, tomatoes, mashed avocado, cheese, sour cream, a few pickled jalapenos, and some chipotle hot sauce for a packed and flavour-filled meal-in-one.
We ate these three nights in a row this week and liked them more each time. That may have to do with my getting much better at rolling them with more practice (the last picture was the third night's burrito which I thought looked much better than the first!)
Ryan commented on how good these are each time too and said they're way better than beef burritos, and I'd have to agree! (though I don't like beef anyway, so I'm a little biased)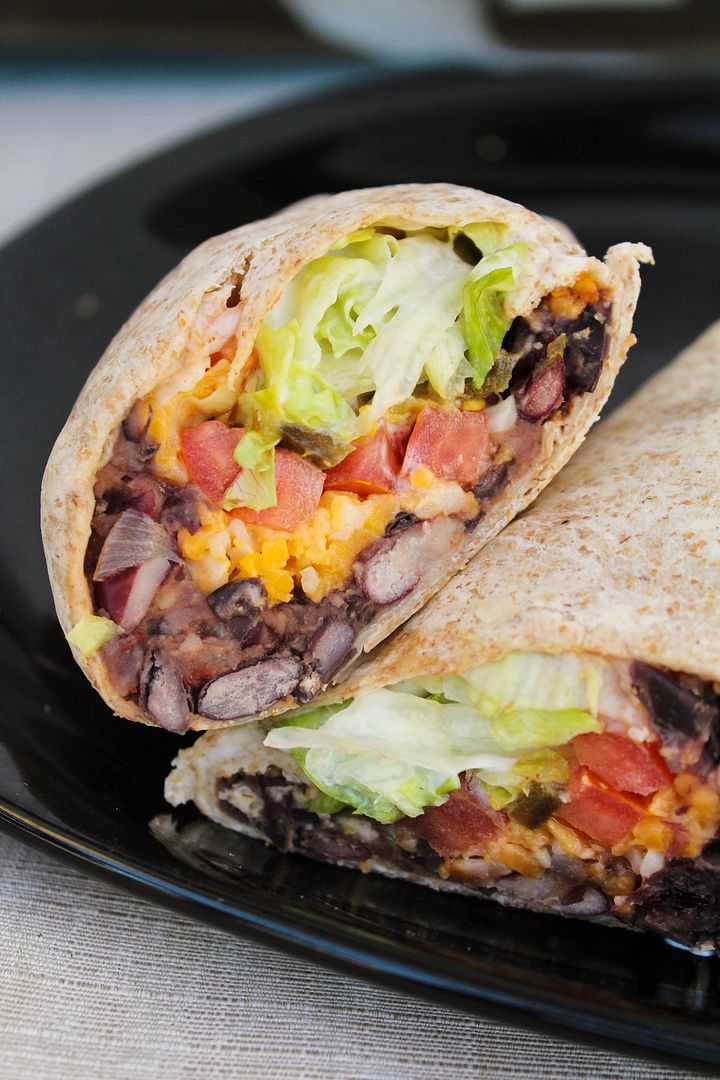 Chipotle Bean Burritos
Serves 6
Ingredients:
For the bean mixture:
1 teaspoon canola or olive oil
2 cloves of garlic, minced
1 small yellow onion, diced
1/2 teaspoon chipotle chile powder*
1/4 teaspoon salt
1/2 cup vegetable broth
1 (540mL) can black beans, drained and rinsed
1 (540mL) can kidney beans, drained and rinsed
1/2 cup chunky salsa – Mild or medium depending on your preference. You could also use a chipotle salsa for more chipotle flavour!
2 teaspoons chipotle chile in adobo
Remaining burrito ingredients:
6 large (10-inch) whole wheat tortillas
2 large or 3 small ripe avocados
~1 cup shredded cheddar or monterey jack cheese (or a blend of cheese)
3 plum tomatoes, diced
1-1/2 to 2 cups shredded iceberg lettuce
~1/4 cup pickled jalapenos, optional
~6 tablespoons low-fat sour cream
Chipotle or regular hot sauce, optional

*I get chipotle chile powder at the bulk store. If you can't find it, you can use a combination of regular chile powder and some cumin for spice.


Directions:
Heat oil in a large non-stick saucepan over medium heat.
Add onion and saute about 5 minutes, stirring often, until translucent and starting to turn golden brown.
Add garlic and saute for 30 seconds.
Add chile powder and salt and stir to coat for another 30 seconds.
Stir in vegetable broth and beans and bring to a boil.
Let simmer about 7-10 minutes, or until no liquid remains. Remove from heat and stir in salsa and chipotle sauce.
Partially mash mixture.
Warm tortillas up for about 30 seconds in the microwave, wrapped in damp paper towel, so they are easier to roll.
To form burritos, spread 1/6 of the bean mixture (so it divides evenly among 6 burritos) onto one half of the tortilla, leaving about a 1-inch border.
Top with avocado, cheese, tomatoes, lettuce, pickled jalapenos, sour cream, and hot sauce (again dividing evenly among 6 burritos).
Roll up the side closest to the filling, then fold in each end, and roll the burrito toward the empty side of the tortilla, wrapping the filling completely.
Others prefer to fold in the sides of the burrito first, then roll up from the bottom. I've also seen starting with the filling in the middle. Use whatever method works for you but make sure to roll tightly and keep the filling in!
Serve while filling is still slightly warm. I like to warm my completed burrito up in the toaster oven for a couple minutes before eating to make sure it's warm throughout.
If you have leftovers, keep everything separate. Warm bean mixture up in the microwave and then prepare burrito as before.