I'm back!
I didn't intend to take such a long absence from this blog, but my summer ended up being entirely taken over by working on my PhD dissertation, and I didn't have time to even go outside many days let alone create and photograph recipes or write blog posts. Now that I've handed it in (one step down!) I'm hoping to have a little more time for blogging!
Needless to say, most of my meals this summer consisted of quick and easy dishes, which included a lot of salads!
This bbq tofu salad was a little more time consuming because of the steps involved in preparing the tofu (pressing the water out, marinating it, and baking it), but it's worth it! I follow
Oh My Veggies' recipe for baked barbecue tofu
which is my favourite way to eat tofu. She calls it 'tofu for tofu haters' and I agree; I used to think I hated tofu until I tried it this way, so if you think you hate it too, give this a chance!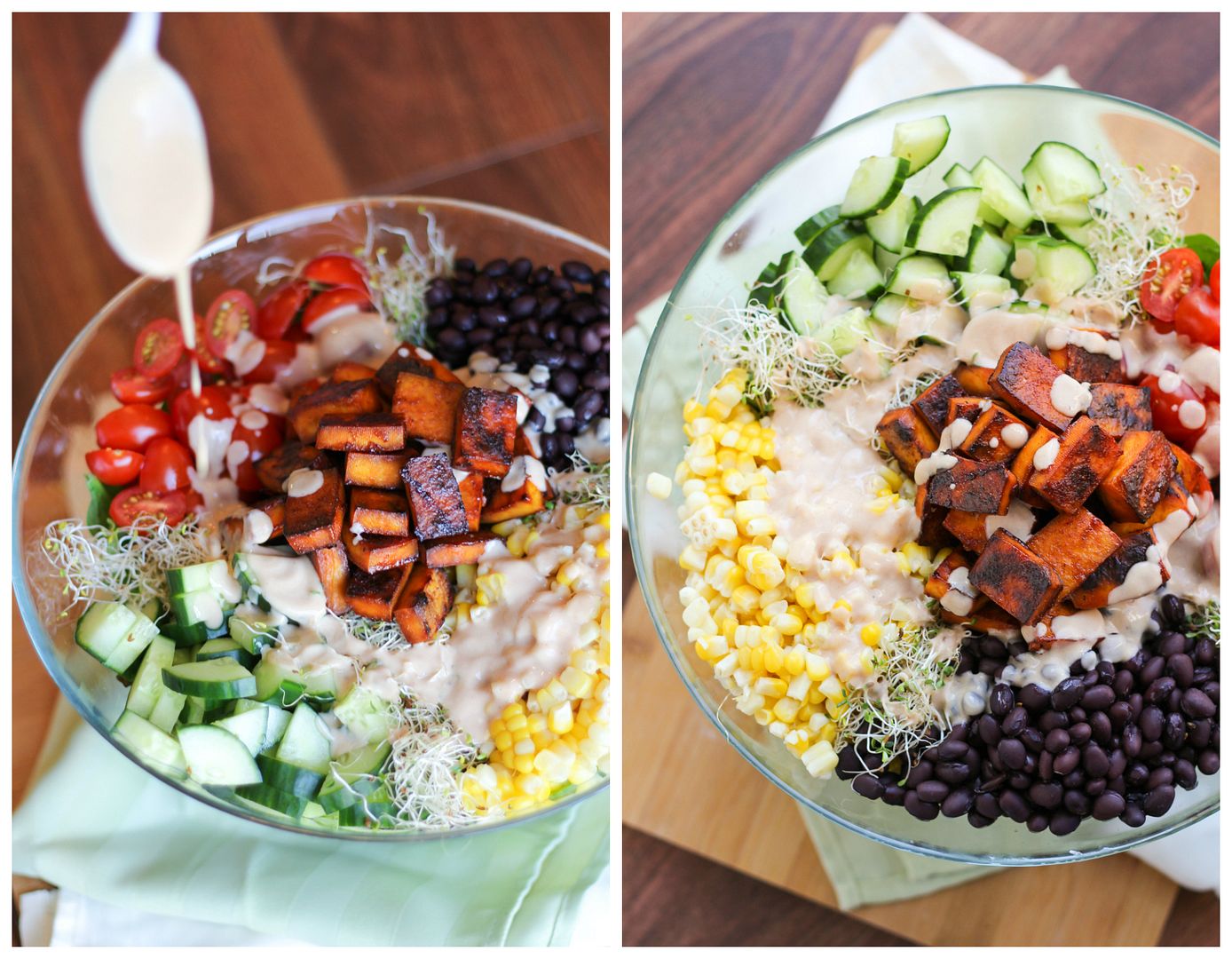 With the addition of fresh corn, tomatoes, cucumber, black beans, two types of lettuce, and sprouts, this salad has lots of crunch, flavour, and protein. For the dressing, I whisked together some low-fat plain yogurt with a bit of bbq sauce, apple cider vinegar, and a couple spices for an easy, creamy, and light dressing that complemented the tofu.
And as with most salads, feel free to add in whatever else you like! Avocado would have been great, I just couldn't find any ripe ones in time; mushrooms would work well too.
I'm hoping to share some of the other easy meals I was enjoying over the summer in a recap post later this week, then I can't believe it's already time to start thinking about fall recipes (which I admit I'm pretty excited about)!
BBQ Tofu, Bean, Tomato & Corn Salad with BBQ Yogurt Dressing
Makes about 4 main course servings
Ingredients:
For the Tofu:
1 (12-14oz) package of extra-firm tofu
1/2 cup barbecue sauce
For the Salad:
2 cobs of fresh corn or around 1 cup of thawed frozen corn kernels
1 (540mL) can black beans, drained and rinsed
1 pint grape tomatoes, halved
Half to one cucumber, chopped (I used about 3/4 of one but it depends on its size)
1 ripe avocado, chopped (I couldn't find a ripe one in time so it's not included in pictures)
1 red pepper, chopped (I've added this in later versions but it's not pictured here)
1 head of romaine or iceberg lettuce, or your desired greens
Handful of alfalfa sprouts, if desired
For the Dressing:
1/2 cup plain low-fat yogurt
2 tablespoons barbecue sauce
1/4 teaspoon garlic powder
1/4 teaspoon each salt and pepper
1.5 to 2 teaspoons apple cider vinegar (start with 1.5 and add more to taste if needed)
Directions:
If using fresh corn, cook according to your liking if desired (I boil the cobs of corn in a large pot of boiling water for about 5 minutes, rinse with cold water, then slice off the kernels).
Prepare other salad ingredients.
Whisk all ingredients for the dressing together in a small bowl, taste, and adjust any amounts to your liking. I sometimes add more yogurt or throw some mustard in. You can add a bit of water to thin it out if necessary.
Toss together all ingredients with the dressing and serve.