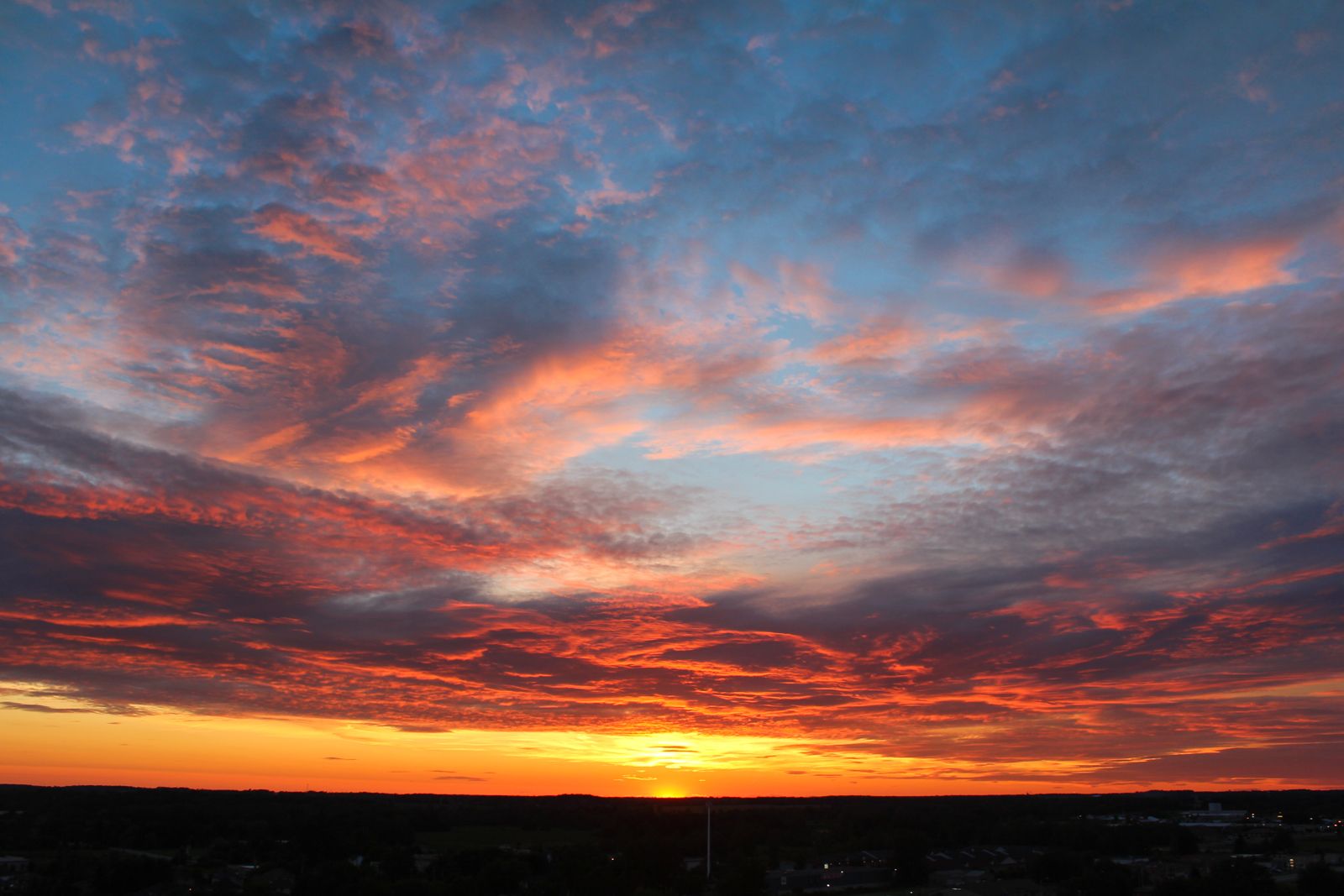 As I mentioned in my last post, I spent much of the summer working on my dissertation, so I don't have a lot to share in the way of exciting activities or elaborate dishes, but we still enjoyed lots of summery meals and treats which I thought I'd share in a combined July and August monthly recap post!
Meals like this were a staple this summer - fresh, local corn on the cob and burgers. Turkey burgers are one of the easiest meals for me to make and they're pretty healthy too. These are my favourite
buffalo turkey burgers
that we make all the time!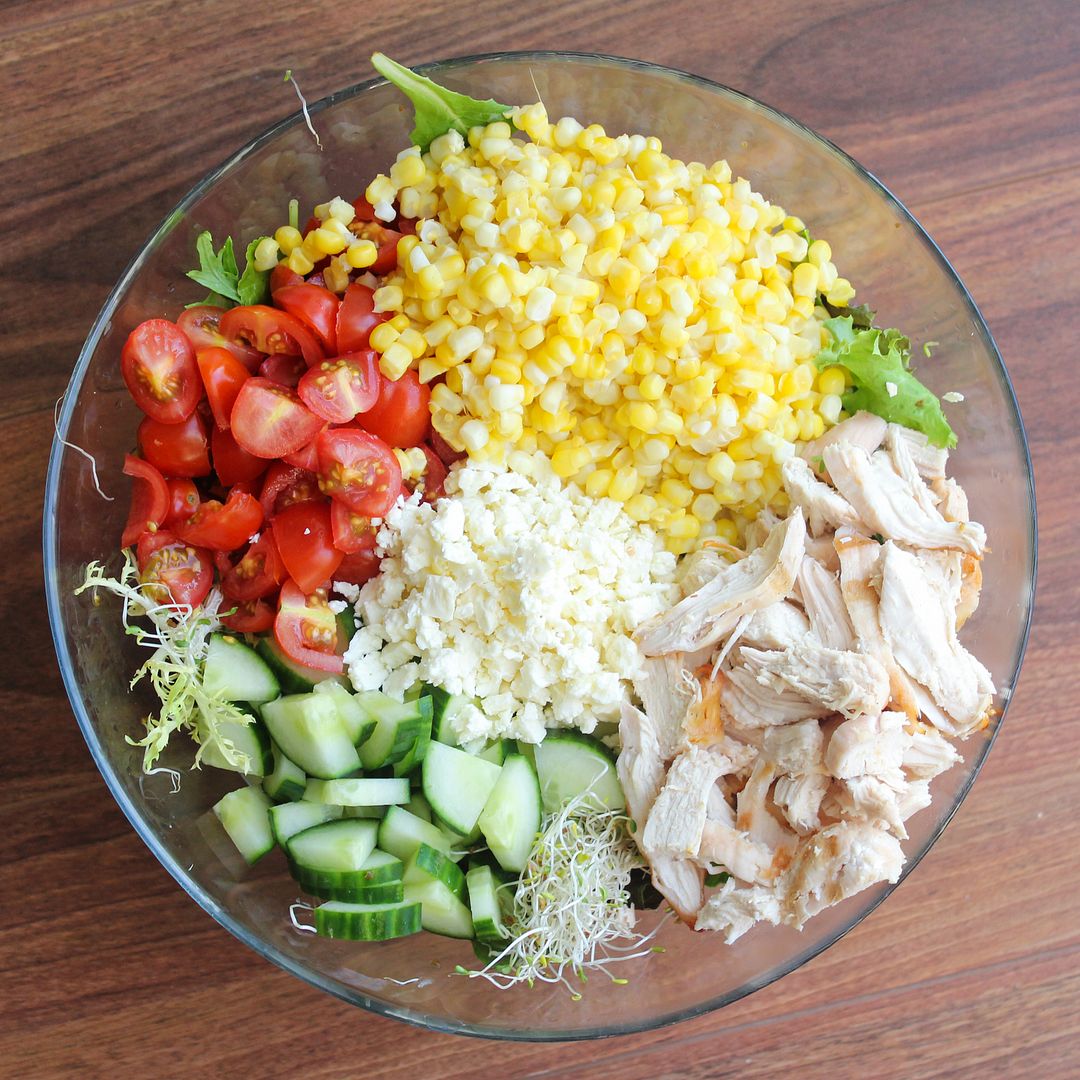 Salads are also easy to make and let fresh summer produce shine through. I love this combo of chicken, corn, tomatoes, cucumber, and feta cheese.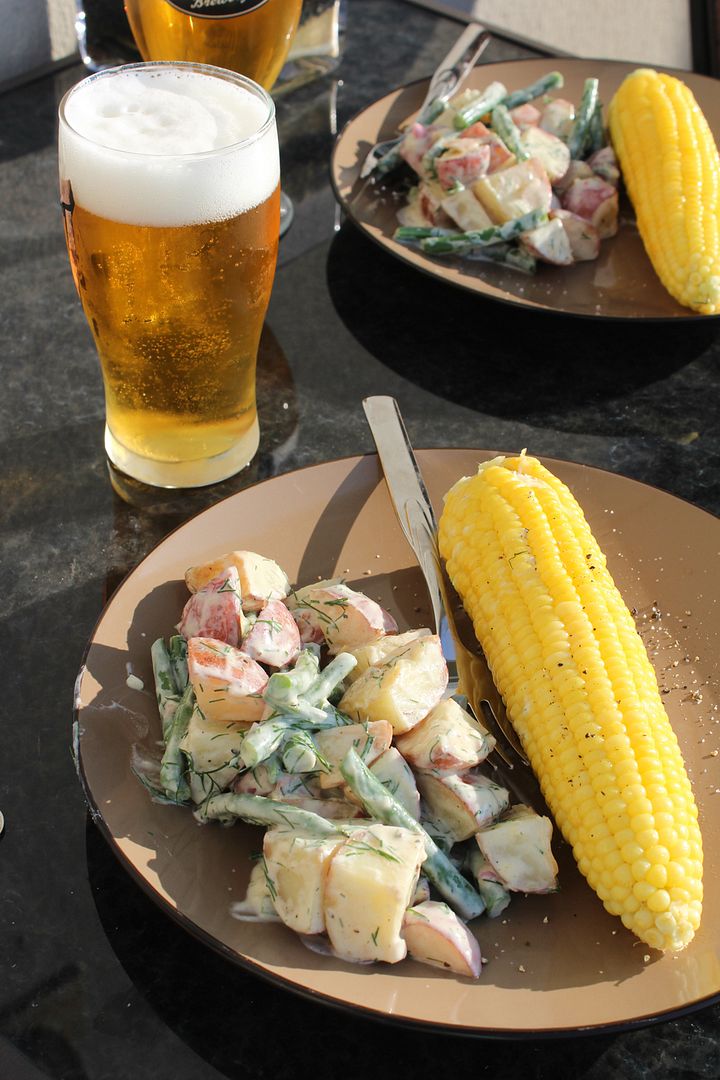 Here's another great summer meal, once again involving corn, with a variation on my
warm dijon roasted asparagus and potato salad
using dill instead of parsley and green beans instead of asparagus. I love the mustard-yogurt dressing on this in place of mayo!
When I had time to cook I tried to make something that would give us a lot of leftovers (and thus days off cooking)! I loved this quinoa casserole I threw together with what we had in the fridge one night. I just cooked a box of quinoa in chicken broth then stirred in a little tomato paste, cumin, and chili powder. Then I sauteed some onion, garlic, corn, and kale in a separate pan, stirred in black beans, tomatoes, salsa, and more cumin and chili powder (and salt and pepper), stirred it all together with some shredded cheese, transferred it to a baking dish, topped with some more cheese, and baked in the oven for about 20 minutes (15 covered, 5 uncovered) at 375. I plan on making something similar again soon so I can share it as an actual recipe!
We also loved this
baked pesto pasta from Pinch of Yum
, which gave us lots of meals! The pesto was packed with spinach, kale, and basil, then tossed with whole wheat pesto, tomatoes, and a little cheese for a healthy and filling meal!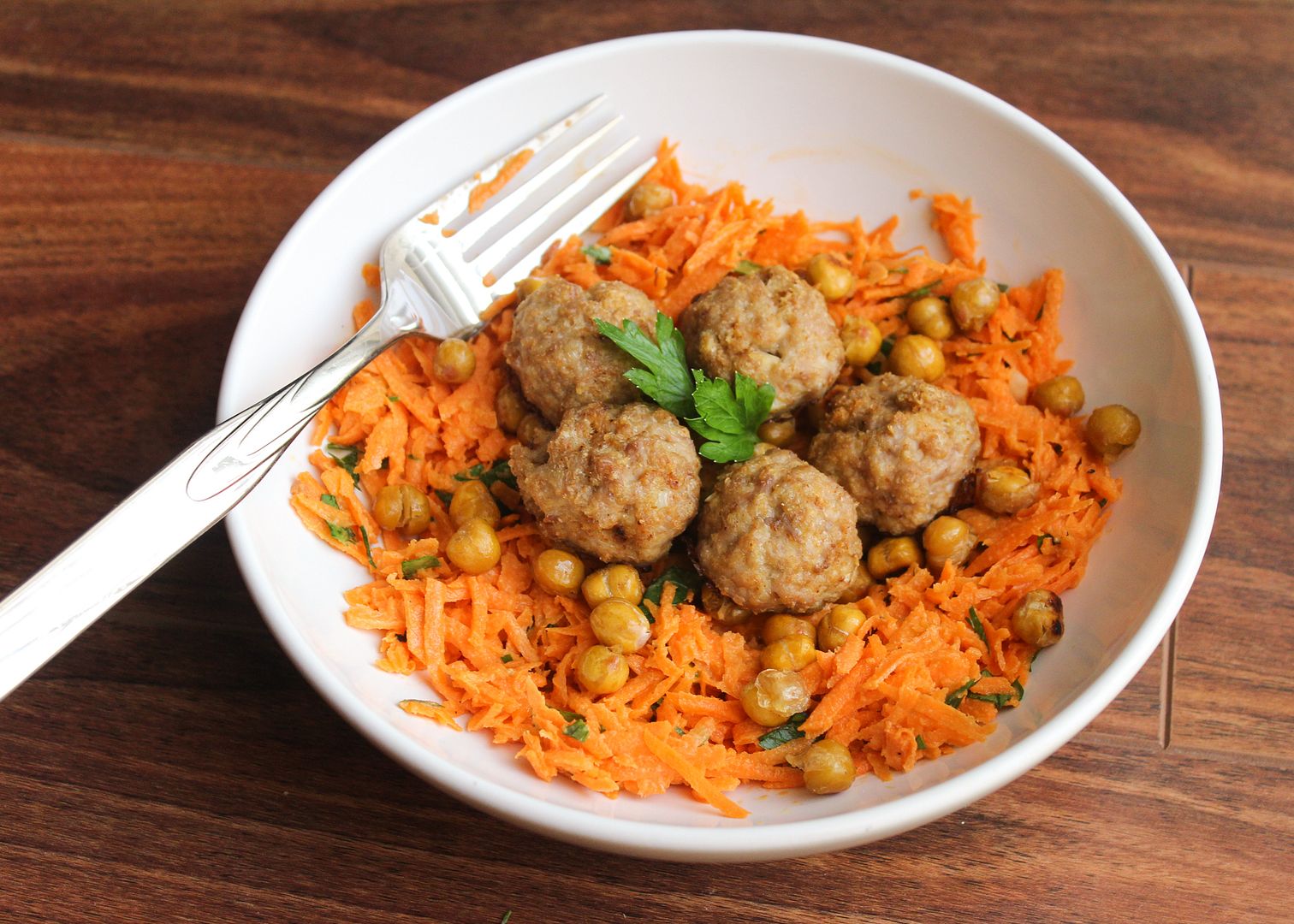 This carrot salad with a tahini dressing, crispy spiced chickpeas, and baked sesame turkey meatballs from
Smells Like Home (click for the recipe)
might sound a little weird but was one of my favourite new dishes I've tried recently. The flavours and textures all worked together so well and I loved that it was a balanced and healthy meal. I plan on making it again soon!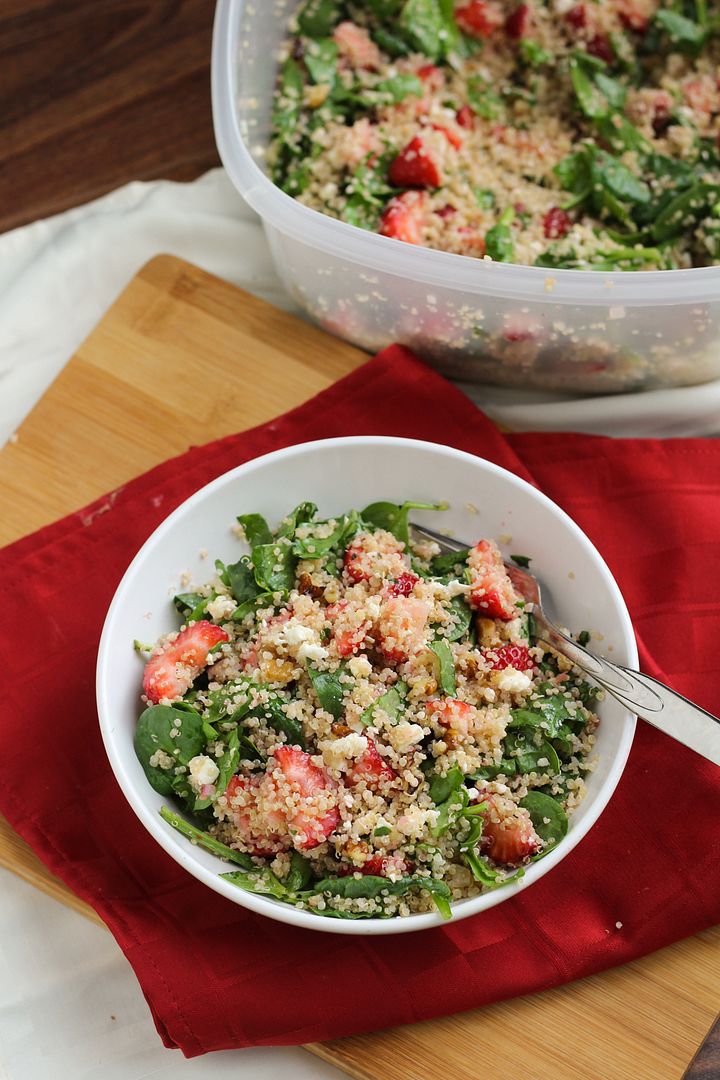 I made this quinoa salad with strawberries, spinach, feta, and pecans for a strawberry social potluck my lab held earlier this summer. It was light and tasty but I thought it needed a bit more flavour so I didn't share the recipe on here. I'll have to try again next summer; too bad strawberry season is so short!
When my whole family started to come down with colds in August, I made a big batch of vegetarian pho to try to fight it off. I haven't tried a traditional pho before, mostly because I'm not a fan of the meat that comes in it, so it was hard to compare this version but I didn't think it tasted quite right (though we did manage to fight off our colds!). If anyone has a great vegetarian pho recipe, please share!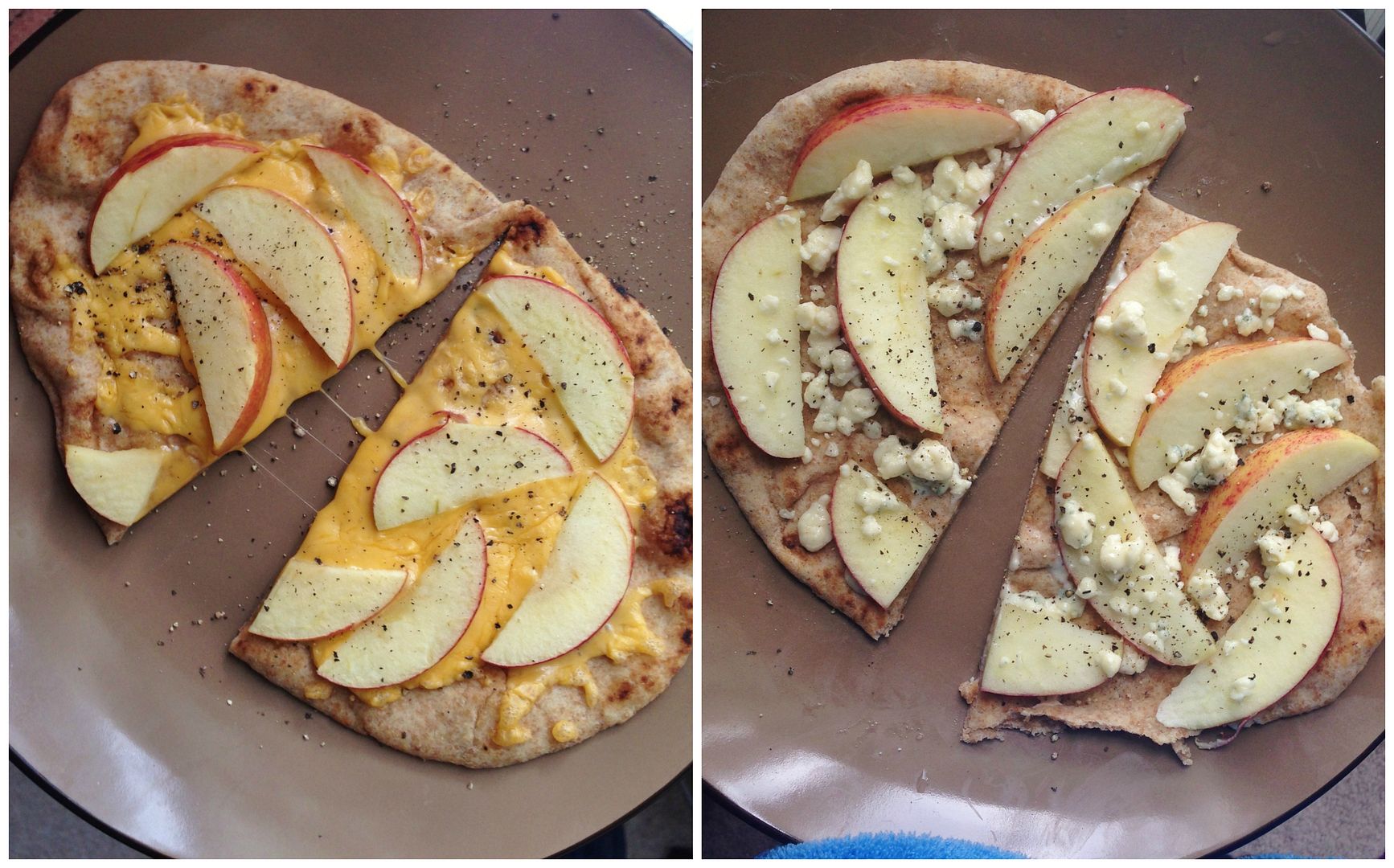 Naan pizzas are one of my go-to quick and easy light meals when I don't have time to cook. I love the combo of apples and cheese!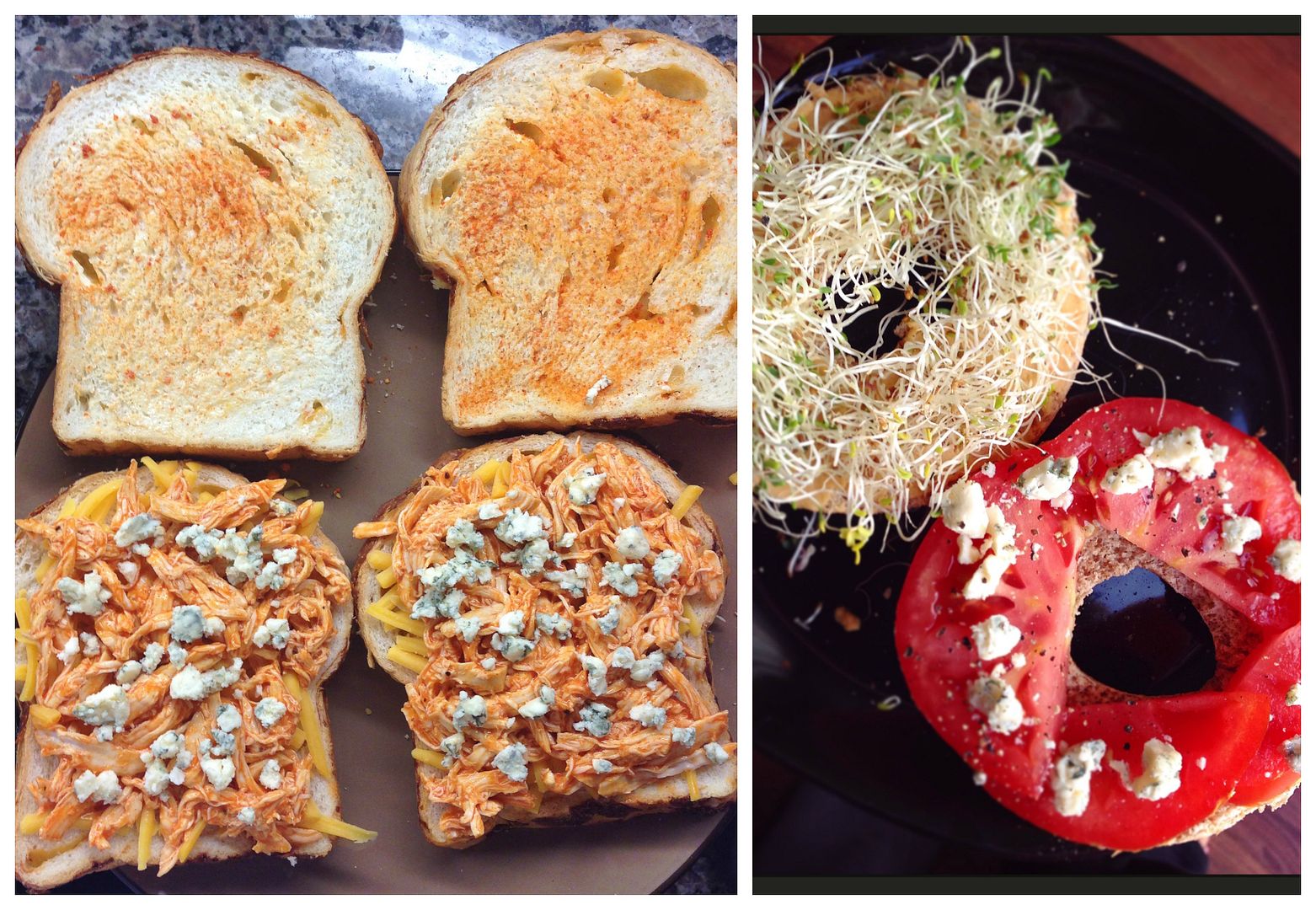 I also ate a lot of sandwiches. Pictured on the left above is a buffalo chicken and blue cheese grilled cheese, and on the right is a whole wheat bagel sandwich with hummus, sprouts, tomatoes, and a little blue cheese. Both so good!
And a breakfast version of a bagel sandwich - I follow
this method
for making a little omelette and cheese egg that fits perfectly on a sandwich with a little lettuce and tomato!
When I was working from home I drank lots of smoothies to power me through! I always start with a frozen banana, oats, and almond milk, then I'll throw in some combination of powdered peanut butter, cocoa powder, raw honey, spinach, or berries. I also love adding instant coffee for a little pick me up!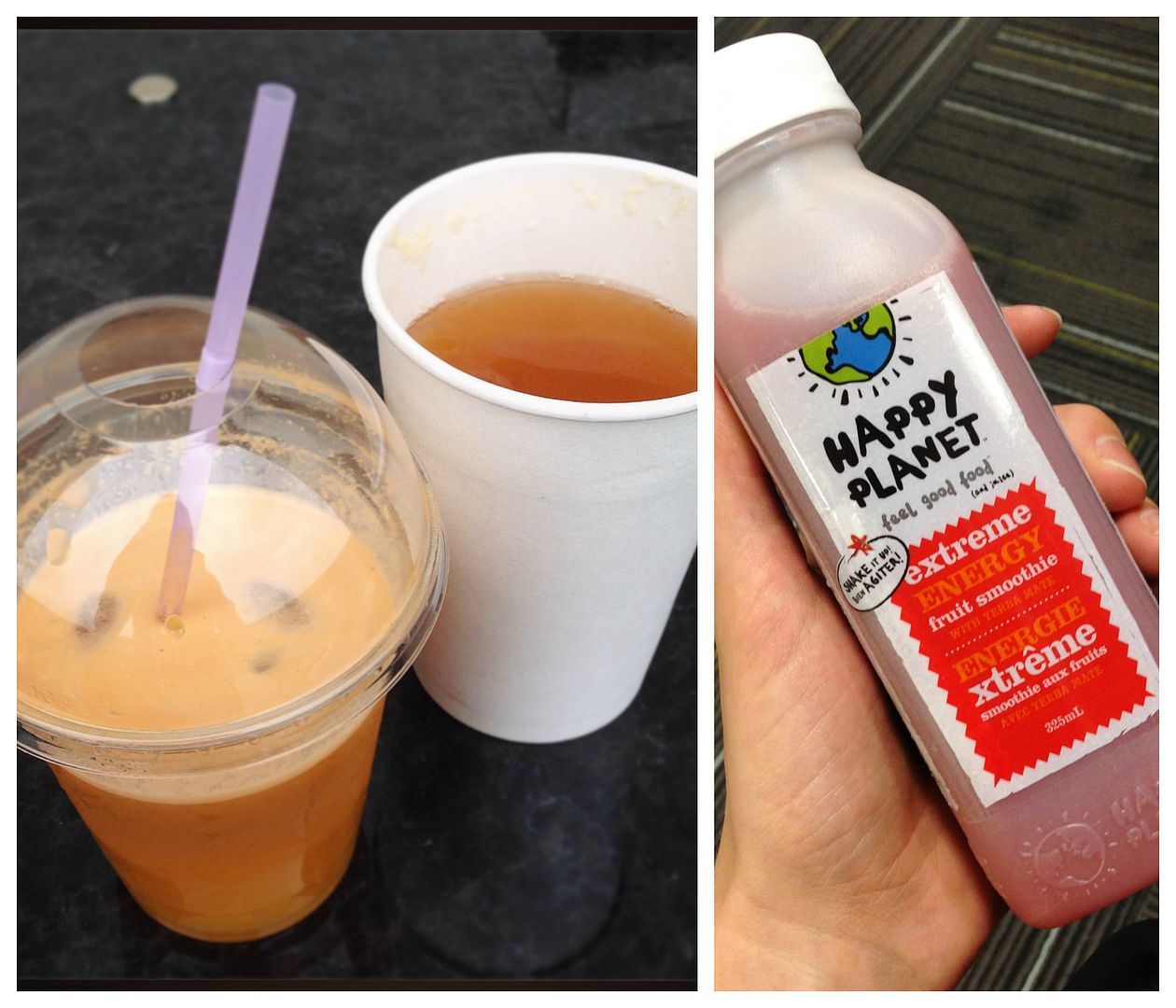 Fresh fruit juices (pictured is a beet, carrot, and cucumber juice), kombucha drinks, and fruit smoothies also gave me writing energy!
These coconut water and chia popsicles I got at Costco were a great refreshing snack!
I love
chia seed jam
because it uses so much less sugar than traditional jam and adds in the nutritional benefits of chia seeds. I only made one batch this year (using local strawberries, some raw honey, and chia seeds) but wish I'd made more!
I made a few treats for social gatherings too...
I finally used my
babycakes cake pop maker
to make some chocolate guinness cake balls using a recipe from their cookbook. No cake mix or canned frosting or having to roll the two together and put them on a stick like I've done with cake pops in the past - I loved these!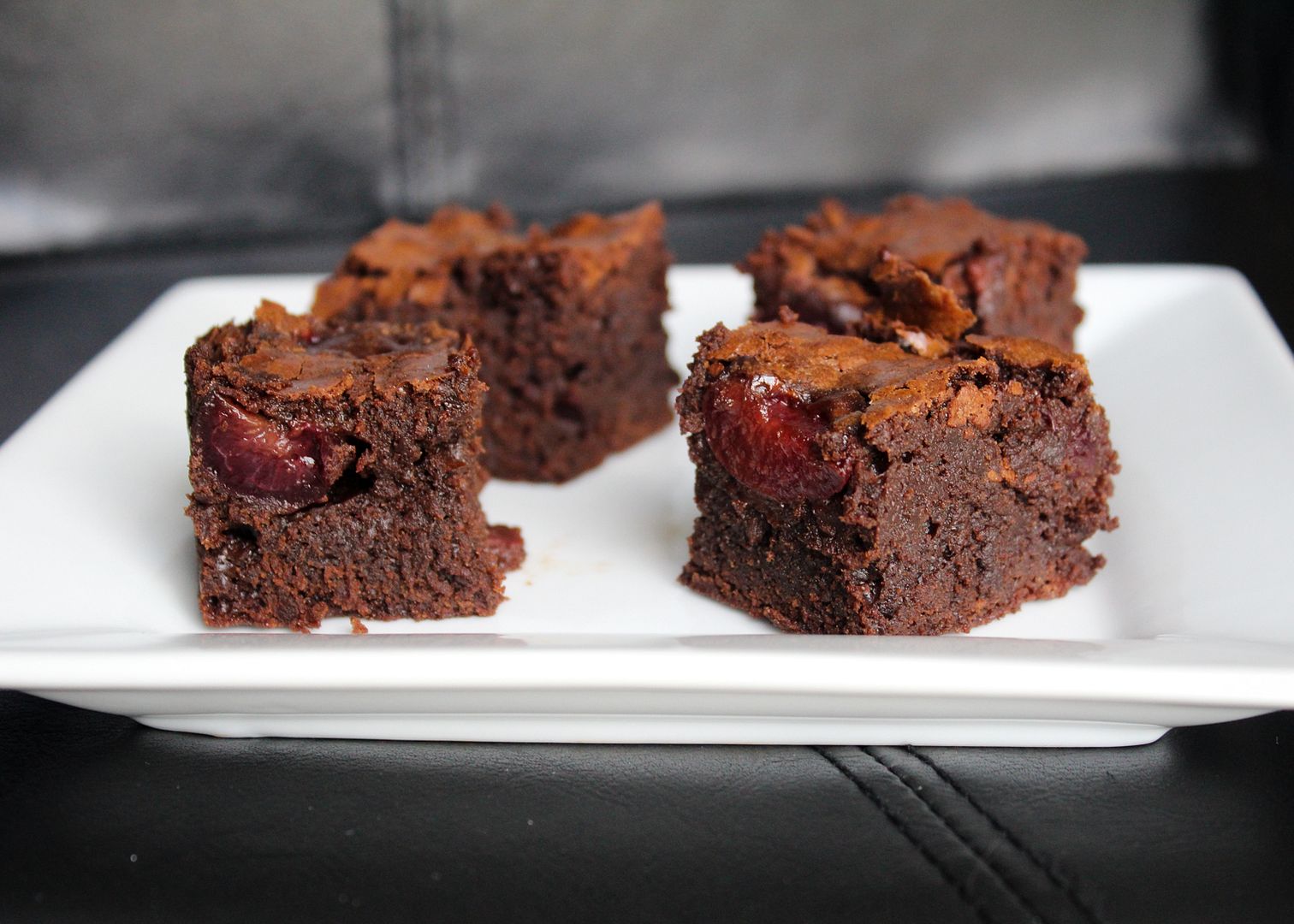 I've made these
roasted cherry brownies
in the past and made them again for an event this summer. They're rich, dense, and chocolatey but with bursts of sweet roasted cherries to balance them out.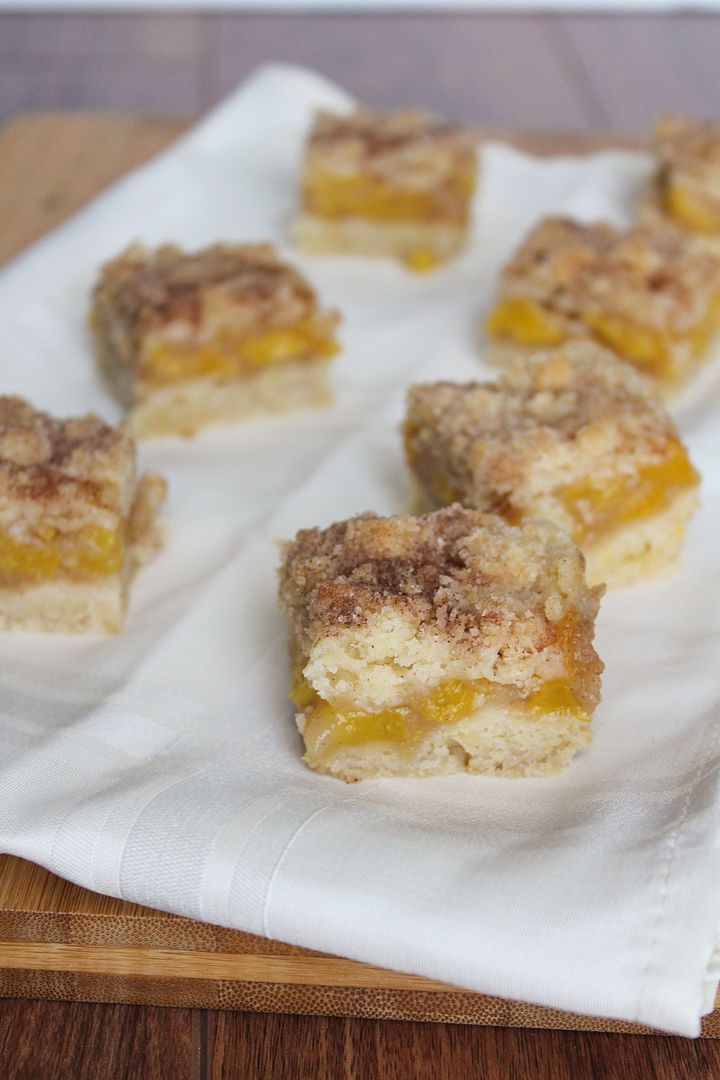 I tried these
peach crumb bars from Two Peas & Their Pod
for the first time and they were delicious (though I'd call them cake squares rather than bars). It's probably a little late in the year to be recommending them now but you should save this recipe to try for next peach season!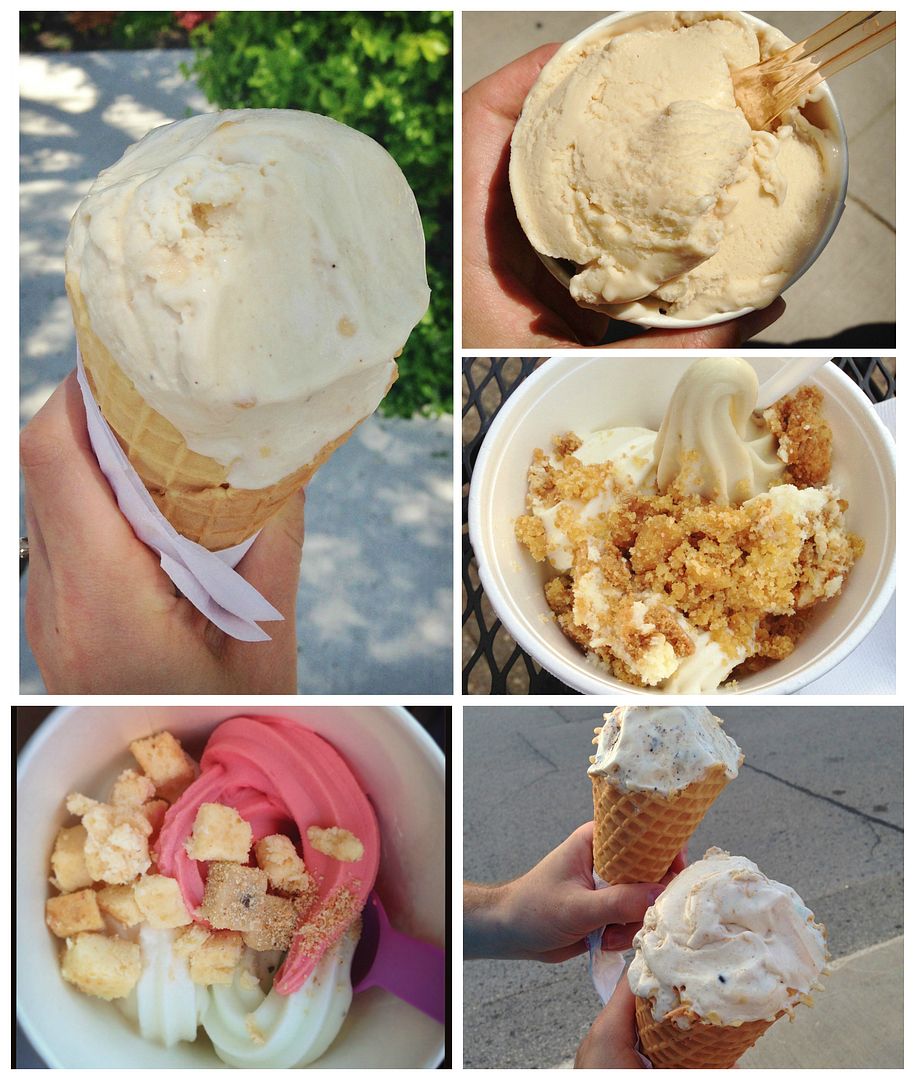 I also treated myself to lots of ice cream/frozen yogurt breaks!
I tried star trail photography for the first time one summer night and loved how it turned out. It takes a few hours to get one picture though so I didn't get another chance to try it but look forward to doing it again next summer!
Looking back on all this food makes me wish for summer weather and food to come back and stay a little longer, but I'm also excited to start working with fall ingredients now! Hope everyone had a great summer!