Somehow I always end up missing strawberry season because it seems to go by so quickly, so this year I was determined to bake at least one thing with strawberries.
We don't really want a lot of desserts around right now though, so I decided to bake something on the healthier side. And because we are only two people, I wanted something that can freeze well. Enter muffins!
I had it in my head to make peanut butter and strawberry muffins, which surprisingly I could find almost no recipes for, so I decided to make up my own. Peanut butter and jam goes together, so why not pb and fresh strawberries!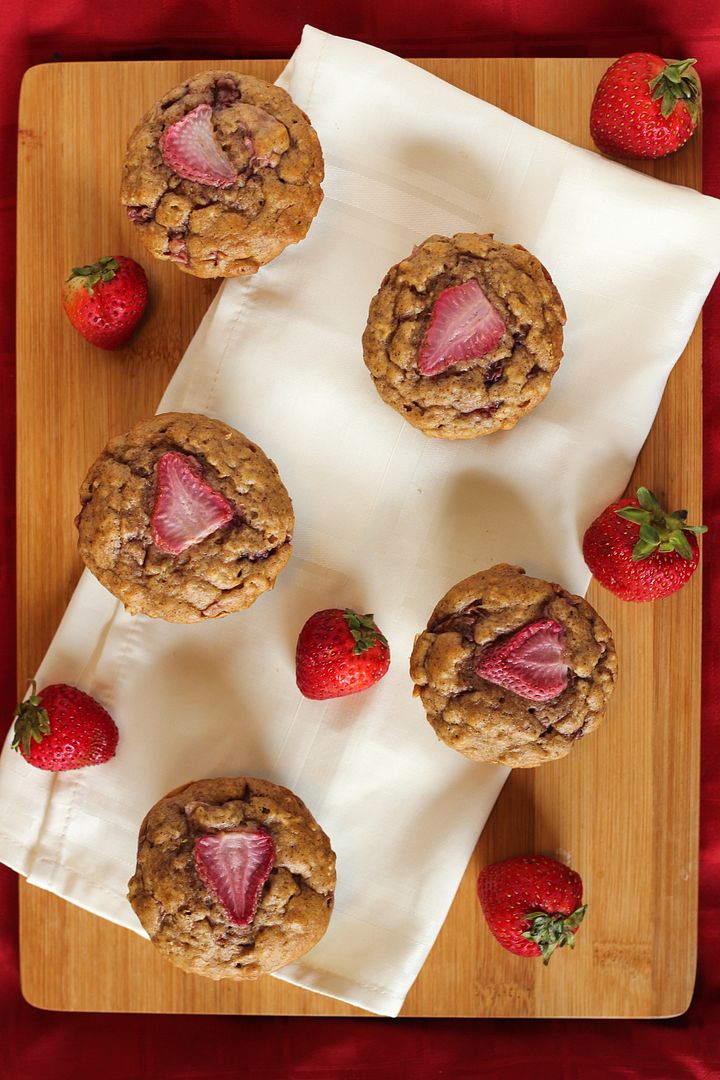 Because I wanted these to be on the healthier side, I used all whole wheat flour combined with oats, only a bit of pure maple syrup for sweetener instead of sugar, natural peanut butter, unsweetened almond milk, only a tablespoon of oil, and fresh strawberries instead of jam.
While they're not exactly low-fat because of the peanut butter, and not vegan because I included an egg (I haven't really had success with eggless baked goods in the past and don't have any problems personally with an egg being included), I still consider them a wholesome snack that is perfect for afternoon cravings as they satisfy hunger pretty well!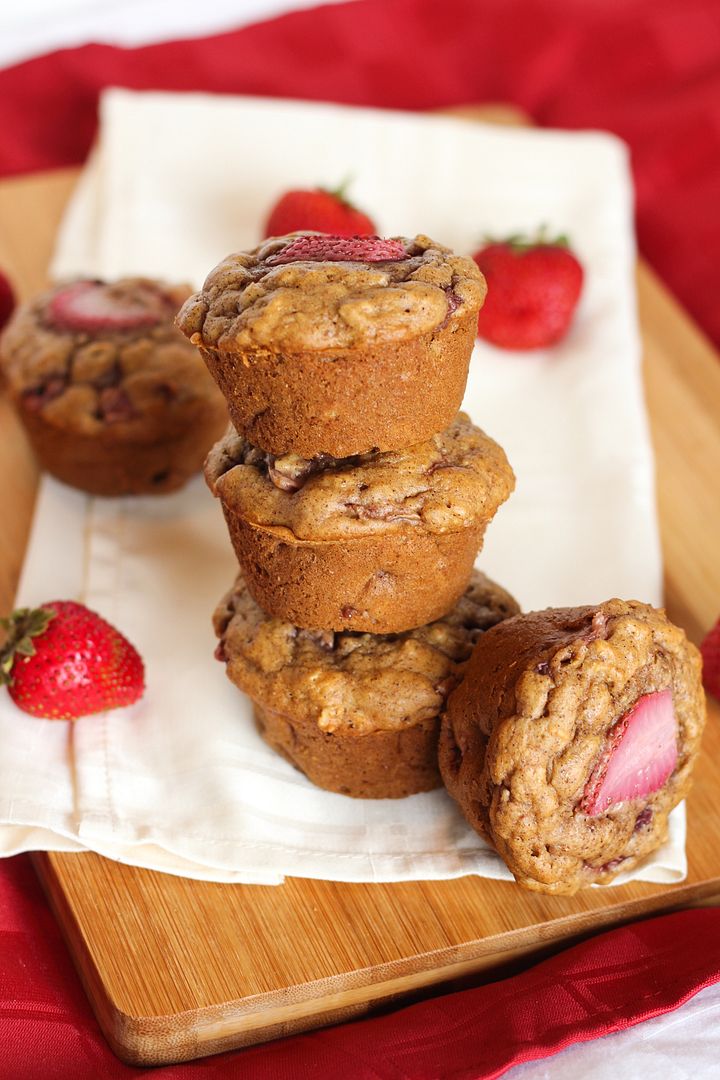 These were photographed over a day after making them, so the strawberries I had placed on top aren't looking so hot, but I assure you that these still turned out great!
I also love slathering these in chia jam for more strawberry goodness. If you've never made chia jam before, I encourage you to give it a try! It's super easy and quick to make and so much better for you than regular jam. I used the jam recipe from
these strawberry oat squares by Oh She Glows
, another strawberry recipe I'll have to try soon before the season is over!
Strawberry & Peanut Butter Whole Wheat Oat Muffins
Makes 12 muffins
Ingredients:
1-1/4 cups whole wheat flour
3/4 cups rolled oats
1 teaspoon baking soda
1 teaspoon baking powder
1 teaspoon cinnamon
1/4 teaspoon salt
1 large egg, lightly beaten
1 cup unsweetened vanilla almond milk
1/2 cup natural peanut butter, melted slightly to mix in better
1/4 cup pure maple syrup (or I used 2 T maple syrup + 2 T honey)
1 teaspoon vanilla extract
1 tablespoon extra virgin olive oil
1 cup diced fresh strawberries
12 slices strawberries for the tops, if desired
Directions:
Preheat oven to 350°F.
Spray a regular 12-cup muffin tin with non-stick cooking spray.
Whisk the dry ingredients (flour through salt) together in a medium bowl.
In a separate bowl, mix the wet ingredients until just blended (egg through oil).
Add the wet ingredients along with the diced strawberries to the dry ingredients and fold together until just combined.
Divide batter evenly among the 12 muffin cups.
If desired, add a strawberry slice to the top of each muffin.
Bake muffins in preheated oven for 18-20 minutes or until toothpick inserted in middle of a muffin comes out clean.
Let cool for a couple minutes in the pan then remove to a wire rack to cool completely.