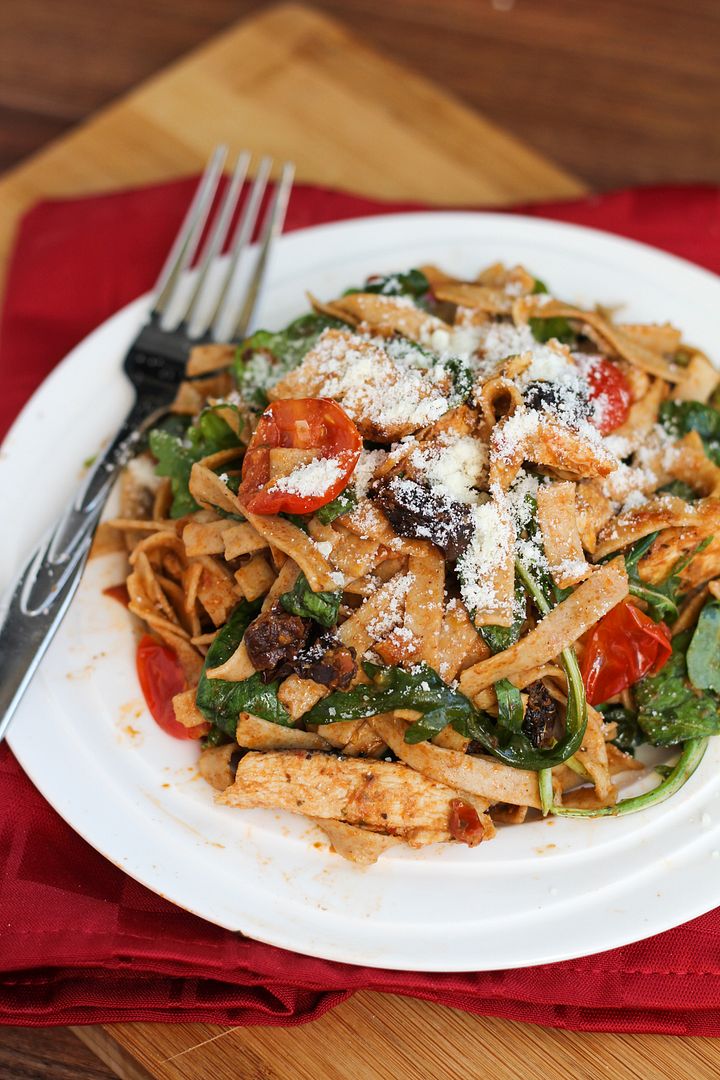 I don't buy chicken that often anymore because it's so expensive (and the cheaper stuff scares me a little) and now that I know I like tofu, I'm more likely to buy it for much cheaper. When I saw some of the "good" chicken on sale the other day I impulsively threw it in my basket, then got home and had a hard time actually thinking of something to make with it!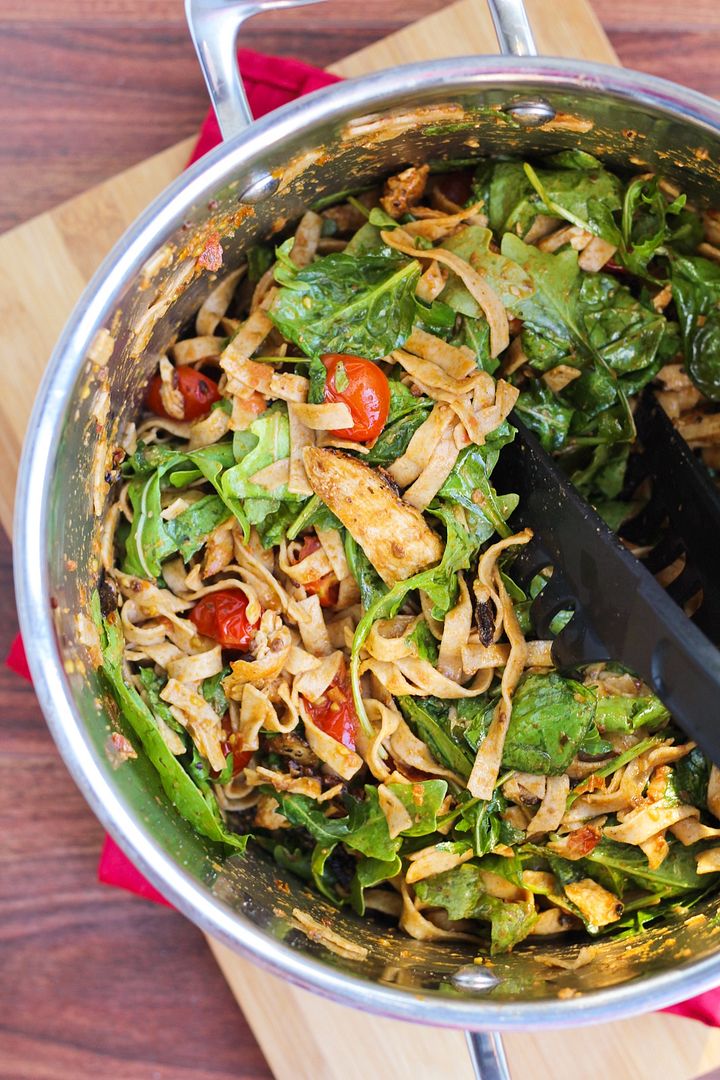 In the end I decided to go with pasta because I've been thinking about
this sundried tomato pesto dish
from Oh She Glows that I made last summer and really loved, and chicken and sundried tomatoes go together much better than any other proteins I could think of.
But since I did my grocery shopping at a small market instead of a grocery store, they didn't have any of the ingredients I needed to make my own pesto. They did, however, sell prepared sundried tomato pesto, so I went with that instead, which made this dish even easier!
They also sold this whole wheat fettucine with flax and chia, which cooked in only 3 minutes and was delicious. In the past I used
Catelli
's sundried tomato and basil spaghettini, which also goes great with sundried tomato pesto!
In addition to the pesto and chicken, I decided to add more sundried tomatoes, some sauteed grape tomatoes (cherry tomatoes would have also worked), and a bunch of spinach for added nutrition, though you could easily leave the spinach out if you're not fond of it.
All the flavours came together perfectly in a nice light-feeling summer meal. If you have the time to make your own sundried tomato pesto (and/or you want a lighter version than the storebought heavy-on-the-oil type), I still recommend
Oh She Glows' version
, though I was happy that the few minutes I saved not making my own pesto meant a few more minutes to sit outside and relax after dinner before going back to schoolwork!
Whole Wheat Pasta with Sundried Tomato Pesto, Chicken, Tomatoes, & Spinach
Serves 4-6
Ingredients:
2 boneless skinless chicken breasts
85g (3oz) sundried tomatoes – dry in a bag (not oil packed)*
1 (341g or 12oz) package of whole wheat pasta – I used fettucine
2 teaspoons olive oil
2-3 cloves of garlic, minced
1 pint grape tomatoes, halved
1/2 cup sundried tomato pesto**
5 oz baby spinach (I used a spinach/arugula mixture)
Salt and pepper
Parmesan cheese for topping
Directions:
Season chicken breasts, if desired (I used salt, pepper, and dried basil) and cook however you prefer.
I saute mine in a skillet over medium-high heat for about 5 minutes per side, let rest, then slice.
Meanwhile, bring a large pot of water to a boil.
Add sundried tomatoes and blanch for 2 minutes.
Remove with a slotted spoon, let dry, and thinly slice.
Use the same boiling water to add your pasta and cook according to package directions.
Reserve 1 cup cooking water then drain pasta.
While pasta is cooking, heat oil in a large skillet over medium-high heat.
Add garlic and grape tomatoes and sautee until softened, about 5 minutes.
Toss together the pasta, reserved cooking water, pesto, chicken slices, garlic & tomatoes, and sundried tomatoes.
Stir in the spinach so it gets slightly wilted.
Season the dish with salt and pepper if desired.
Serve hot, topped with parmesan cheese.
Notes
:
*I used dried sundried tomatoes to add to the pasta because there was already so much oil in the pesto I used, but you can use oil-packed sundried tomatoes if you prefer.
**I used storebought pesto, but you could easily make your own, lighter version, in which case you might want to use more than 1/2 cup.
Use your own judgment and preferences to determine how much pesto to add.