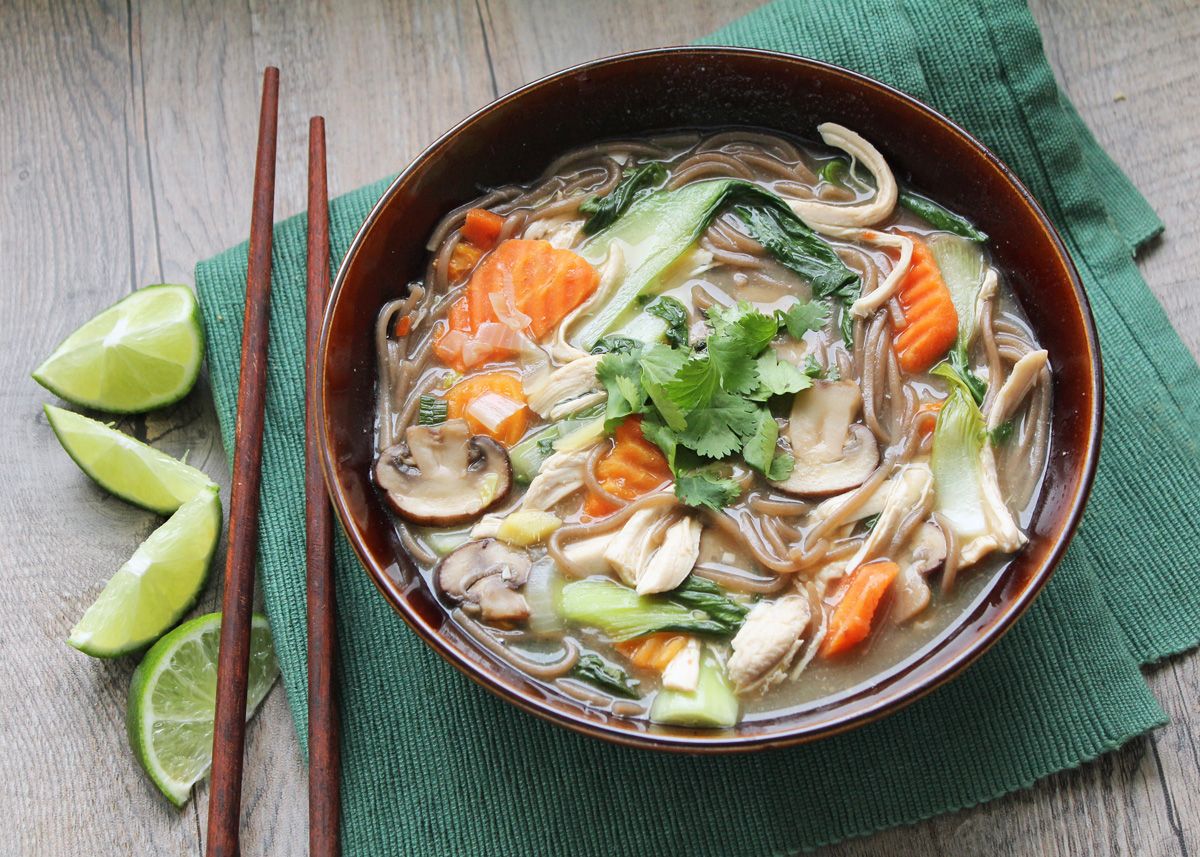 Even though it's now officially Spring and it seems like everyone's already talking about spring produce like asparagus and peas and all those bright and crunchy fresh veggies, it's hard to get into the spring mindset when this is your view out the window: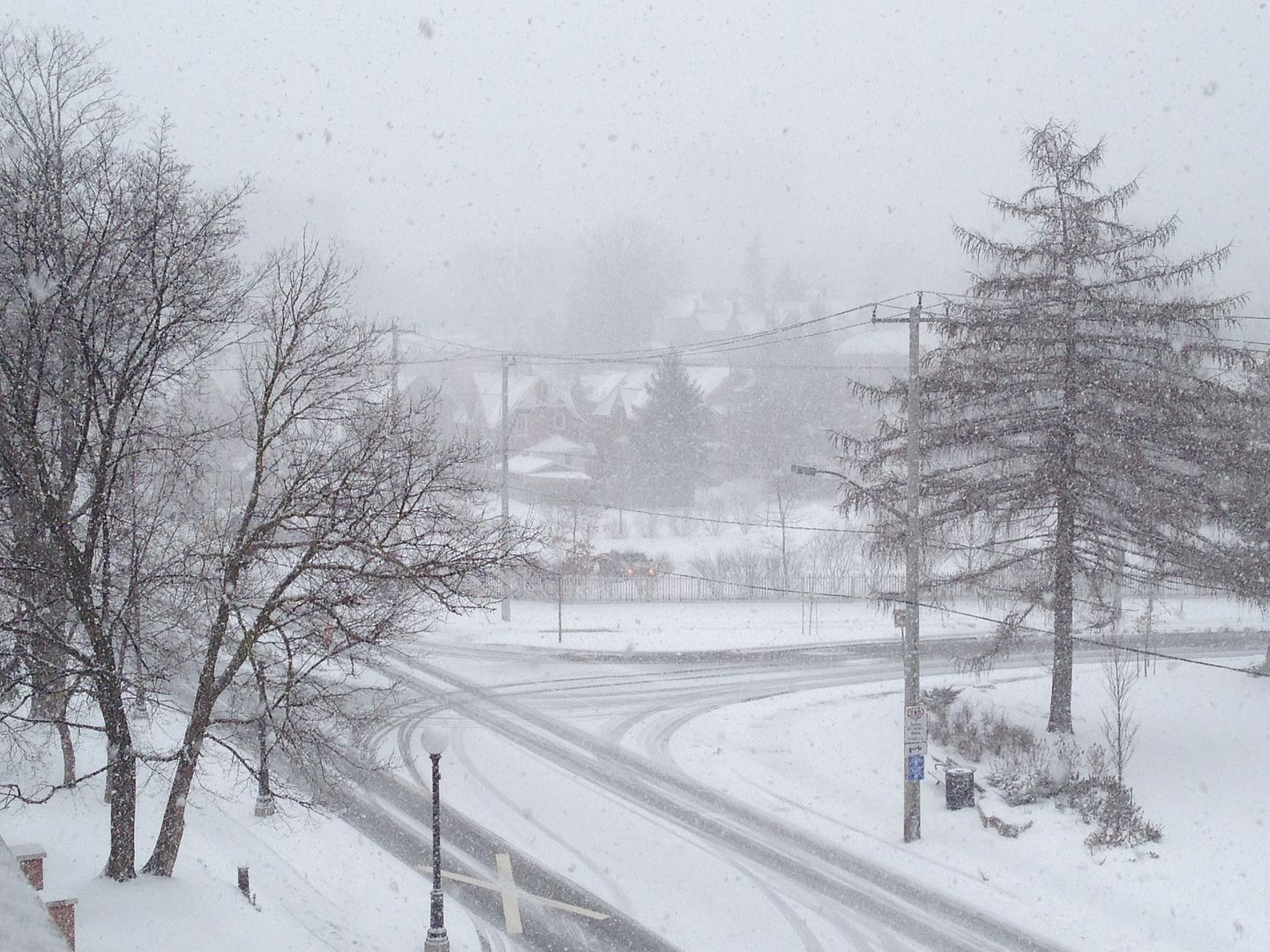 With the seemingly never-ending snow and cold, I'm naturally still craving warm and cozy comfort food. And with a sore throat signalling the start of another cold yesterday, I quickly developed a particular craving for the ultimate comfort food, chicken noodle soup.
But because I couldn't show you guys just any old chicken noodle soup, this one has a twist!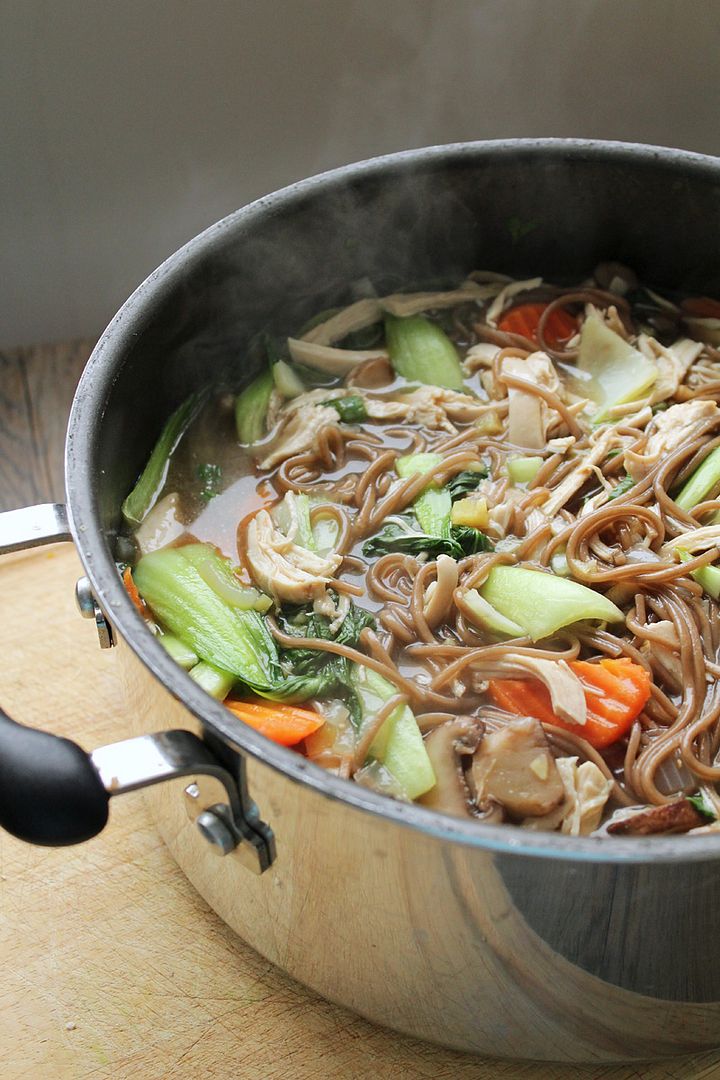 This soup takes on an Asian flavour with the addition of ingredients like mushrooms, bok choy, cilantro, fish sauce, lemongrass, and lime juice, and the use of soba noodles instead of more traditional egg noodles or other pasta. This gives the soup such a great depth of flavour that still has the comfort factor and familiar taste of chicken noodle soup but is a little more exciting!
Even better, the addition of ingredients like ginger, garlic, and spicy chiles are great for fighting off a cold (at least I hope that's what I'm telling myself!)
If you're lucky enough to live somewhere that actually felt like spring on the first day of spring, send some warm and sunny thoughts up north! In the meantime, I can't really complain when I have a giant pot of this delicious soup to keep me warm :)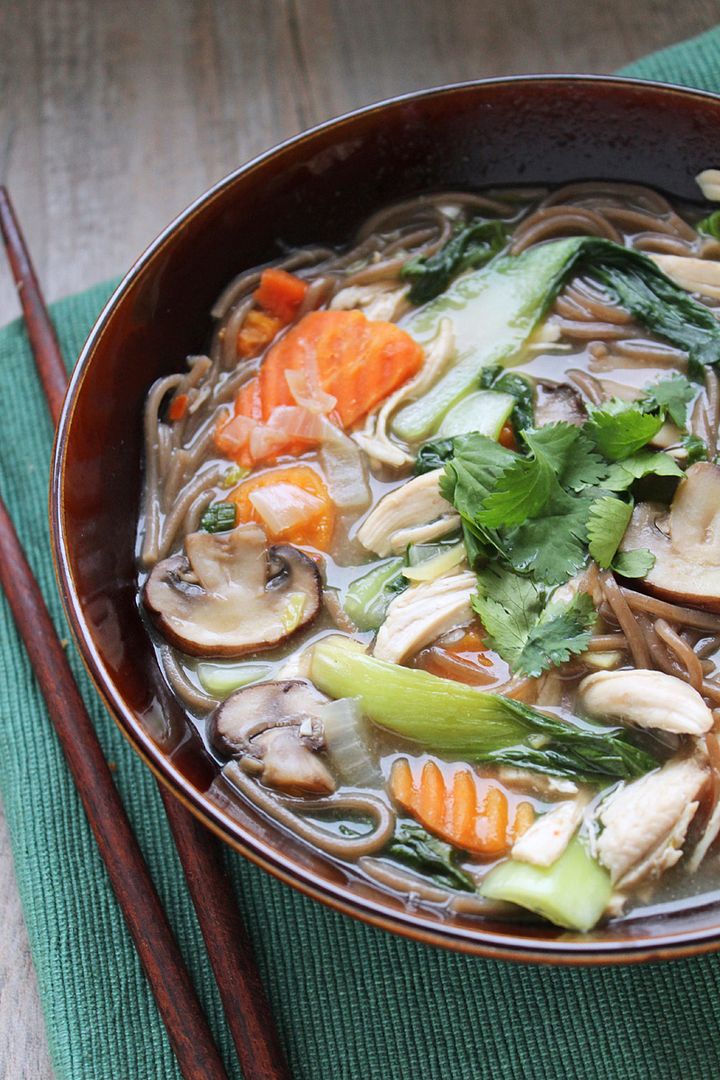 Asian Chicken Soba Noodle Soup
2-inch piece of ginger, peeled and minced
8 oz sliced mini bella or crimini mushrooms
1 large carrot, julienned (I used a couple handfuls of pre-sliced waffle cut carrots instead)
2 liters (8.5 cups) chicken broth
1/2 teaspoon crushed red pepper flakes
1 tablespoon frozen chopped lemongrass (or 2 stalks lemongrass)
2 boneless skinless chicken breasts, fat trimmed off
1/2 teaspoon chili garlic sauce (or more if you want it to be really spicy!)
4-5 heads baby bok choy, ends trimmed and sliced lengthwise
2-3 green onions, thinly sliced
Cilantro and additional lime wedges for serving, if desired
Heat oil in a large pot over medium-high heat.

Add ginger, garlic, mushrooms, carrot, and onions.

Cook for 5-7 minutes until softened, stirring often.

Add chicken broth, red pepper flakes, lemongrass, and chicken breasts.

If using a lemongrass stalk, remove the outer stalks, cut into chunks, smash, and wrap in cheesecloth – you will need to remove it before serving.

Bring to a boil, cover, and reduce heat to a simmer.

Let simmer for about 20 minutes, until chicken is cooked through.
Remove chicken breasts and set aside.

Add fish sauce and chili garlic sauce to broth and stir.

Add soba noodles and cook in the simmering broth for 5 minutes.

Meanwhile, shred chicken.
Add bok choy and shredded chicken to the pot and let cook for another 2-3 minutes, until bok choy is slightly wilted.

Remove from heat.

Stir in lime juice and green onions, and season with salt and pepper to taste.

Use a sharp knife or clean kitchen shears to cut some of the soba noodles in half, otherwise they will be difficult to divide into bowls.
Serve with additional lime wedges (I highly recommend this) and cilantro, if desired.
*Note: I used soba noodles because I have a ton of them to use up right now (and I like them!) but you could substitute rice noodles if you like. Just cook them separately according to the package directions (usually soaking in hot water), toss with a bit of sesame oil to keep them from sticking, then add to the soup at the end.