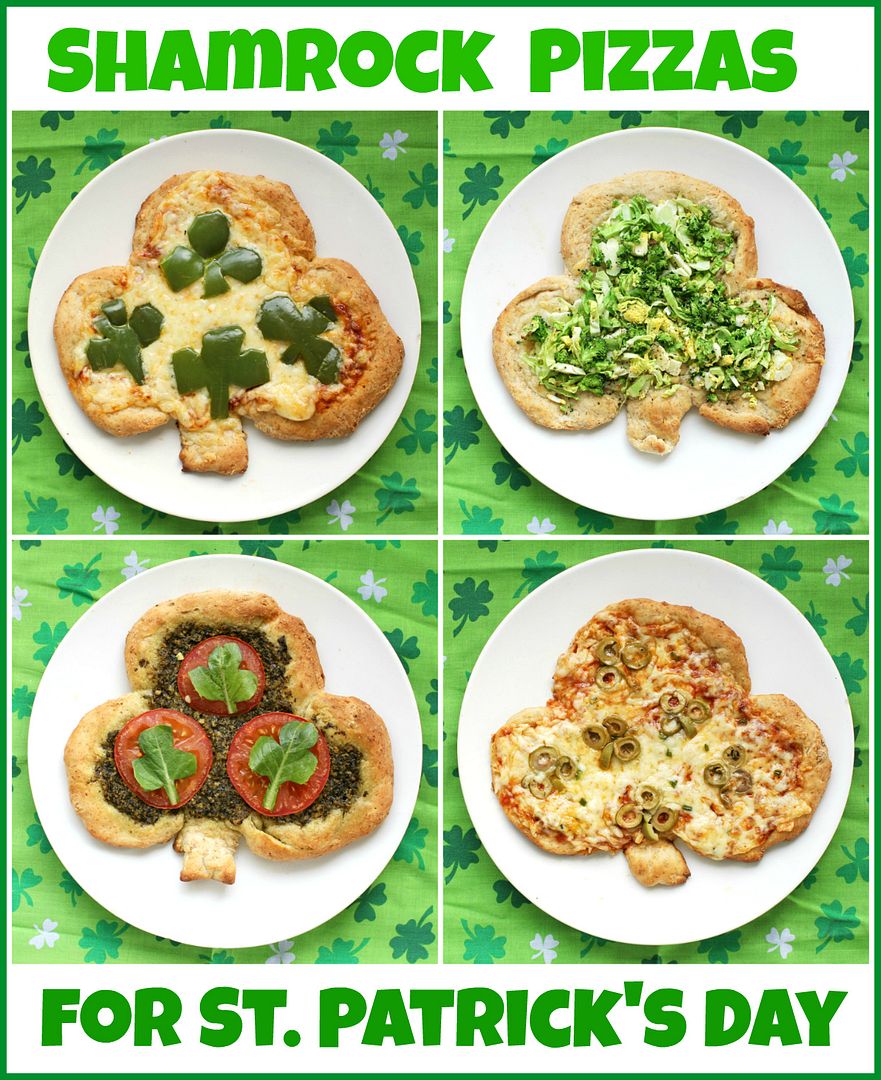 Last year, I made these
heart-shaped personal pizzas with heart-shaped toppings
for Valentine's Day, and I loved them so much that I decided to try to do the same thing for St. Patrick's Day, but with shamrock pizzas and shamrock toppings!
These follow the same method as the heart-shaped pizzas - just divide a ball of pizza dough in four, shape each piece into a shamrock, then top each one with desired St. Paddy's themed toppings, depending on individual tastes!
Let's start with the dough. You can either buy a storebought ball of dough, which is what I did with the heart-shaped pizzas, or make your own. For these ones, I made
Martha Stewart's whole wheat pizza dough
. I cut the recipe in half, which made enough to form 4 personal pizzas. I skipped the freezing step, and went ahead and baked them two at a time, for 15 minutes at 450°F. Here's my attempt at showing how to form each ball of dough (after it had risen) into a shamrock shape - it's super easy!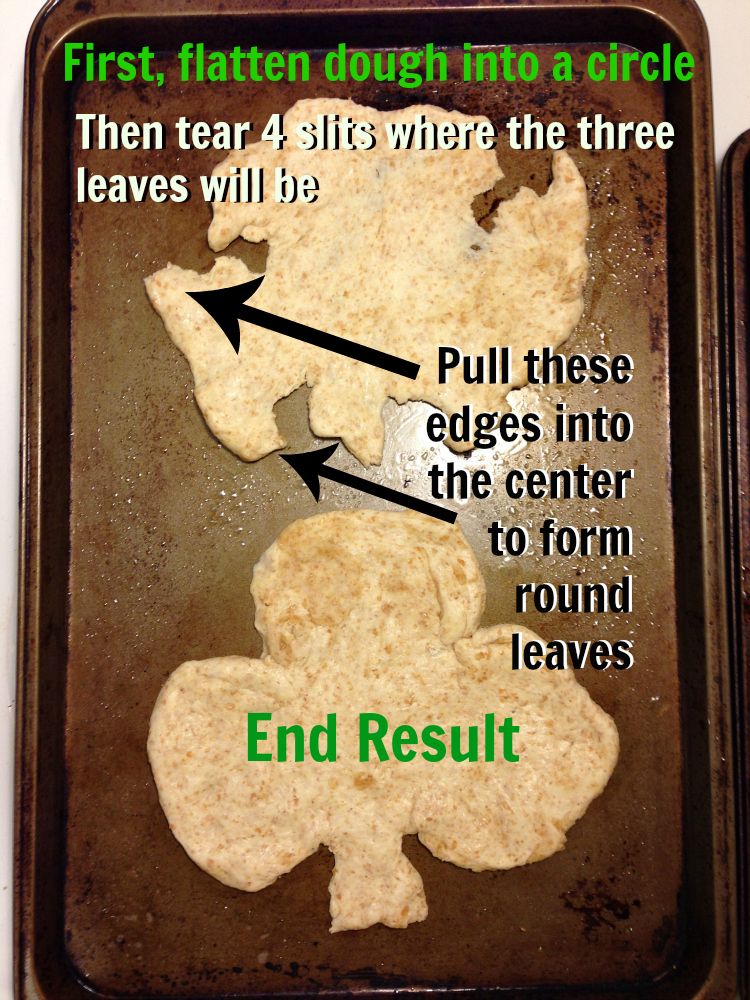 Let's move on to the toppings! I tried four different topping ideas, which I'll describe below. If the pictures are too small to read, just right click and 'view image' to see them larger.
The green pepper pizza was my favourite visually. It was a little tricky to cut the green pepper into shamrock shapes, and mine certainly weren't perfect, but you can at least tell what they're supposed to be! Just cut a green pepper in half, remove the seeds and membranes, cut each half in two, flatten your four pieces, and cut them into shamrock shapes. You won't need the whole pepper, but this gives you a little space to work with in case you make a mistake!

I thought this was my most creative idea - combining green olive slices and stems to form shamrock shapes - but the finished product didn't look quite as nice as it did before it was baked. The olives slid around a little during baking (probably because I used way too much cheese), so I had to try to put them back in place afterwards. Next time, I might just wait to place the olives on the pizza after baking so they don't get covered up by cheese and you can tell what they're supposed to be!

This one's really easy because you can just use kitchen scissors to cut a leaf of lettuce, spinach, or basil into a shamrock shape! I paired mine with a pesto spread (to keep it green) and tomatoes, and I had intended to add goat cheese but then realized I didn't have any, so just picture it on there!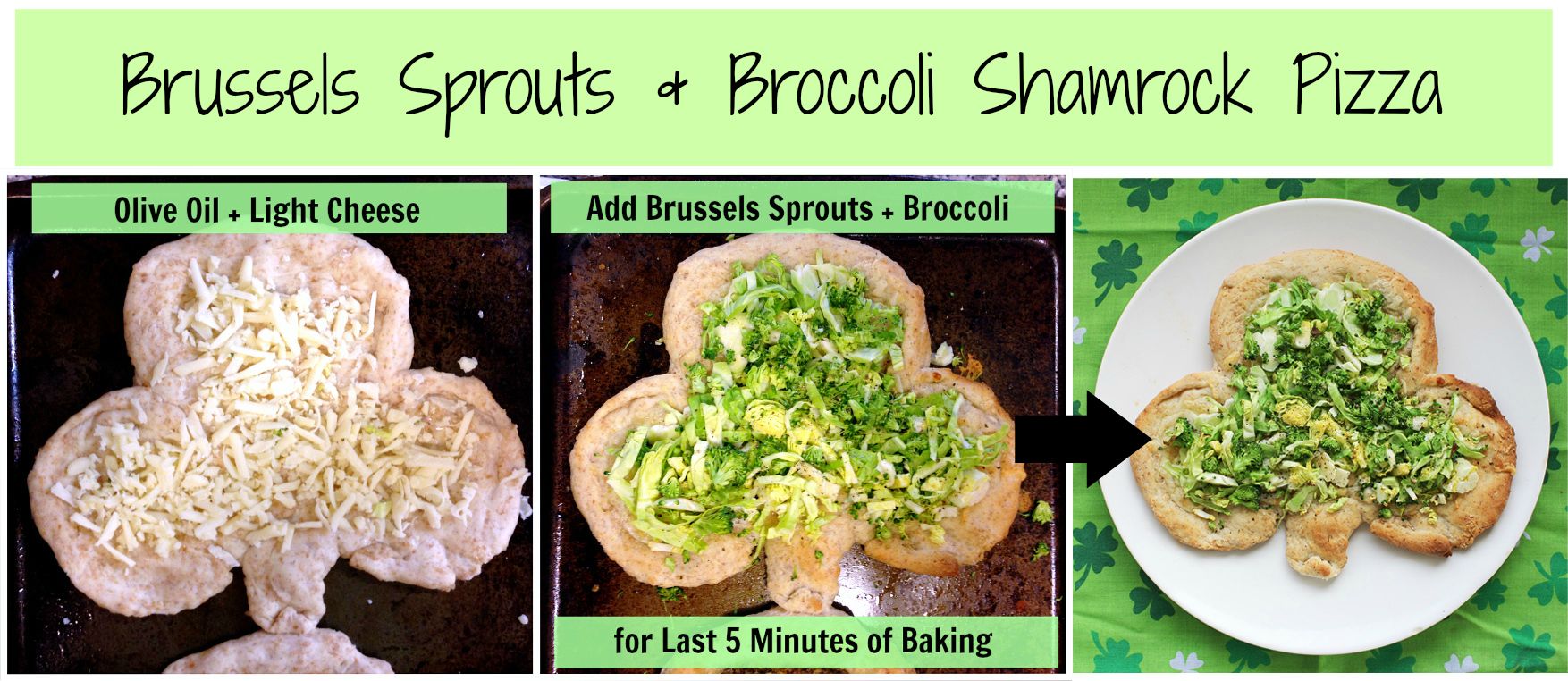 This was my attempt at a healthier pizza, and instead of using shamrock shaped toppings, I covered the whole thing with green ingredients! I spritzed the dough with olive oil, topped it with a bit of mozzarella (but gruyere would be good too), then put it in the oven for 10 minutes. Next, I added a layer of chopped brussels sprouts and broccoli, seasoned it with salt and pepper, and popped it back in the oven for 5 minutes until the greens were just starting to brown on the edges. The result was a crisp and light pizza that was actually my favourite!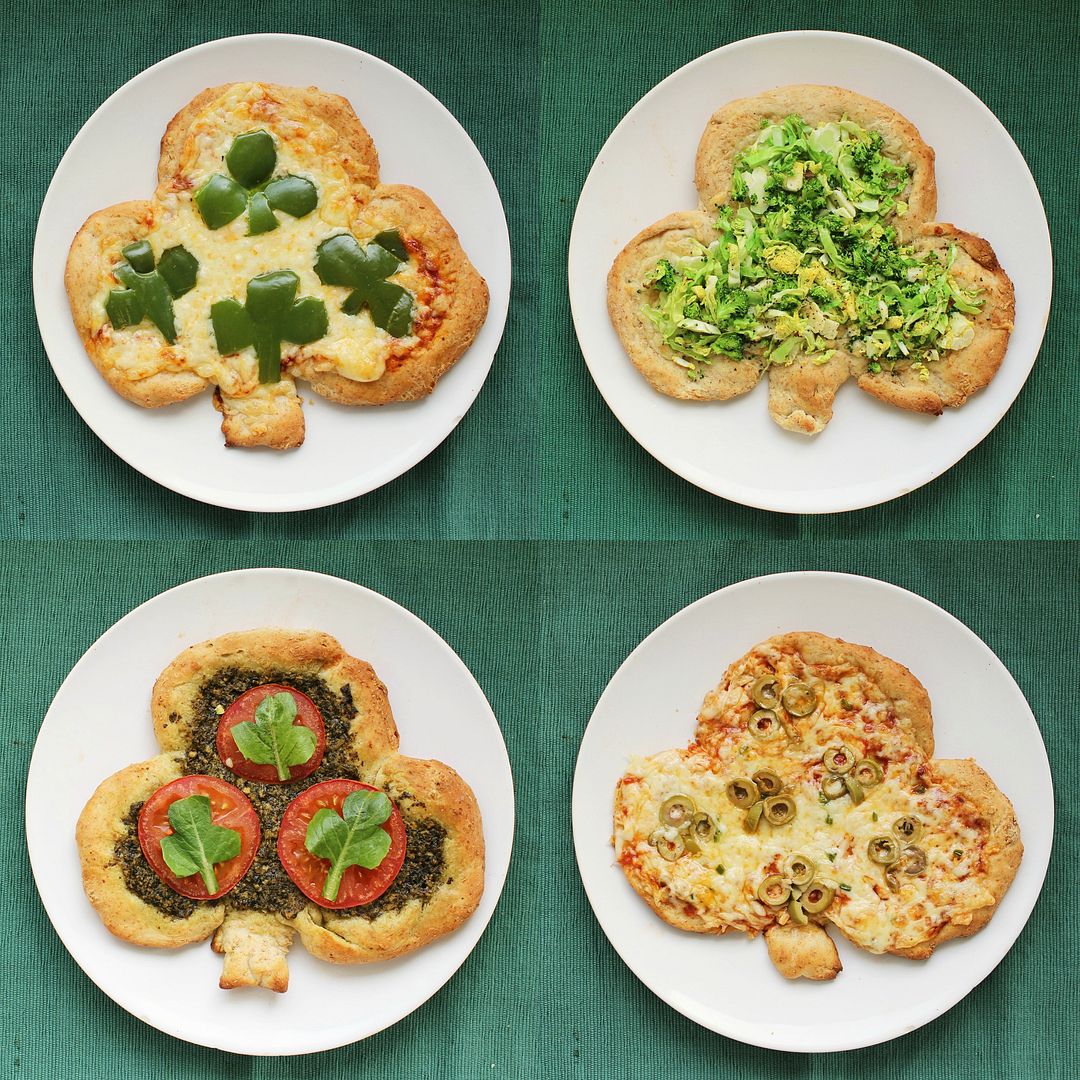 These made the perfect individual sized pizzas and I loved having a different one to eat each day for leftovers! The clover shape actually breaks perfectly into three "slices", which makes them easy to eat. If you have other ideas for green toppings that would work on these, feel free to share them in the comments!