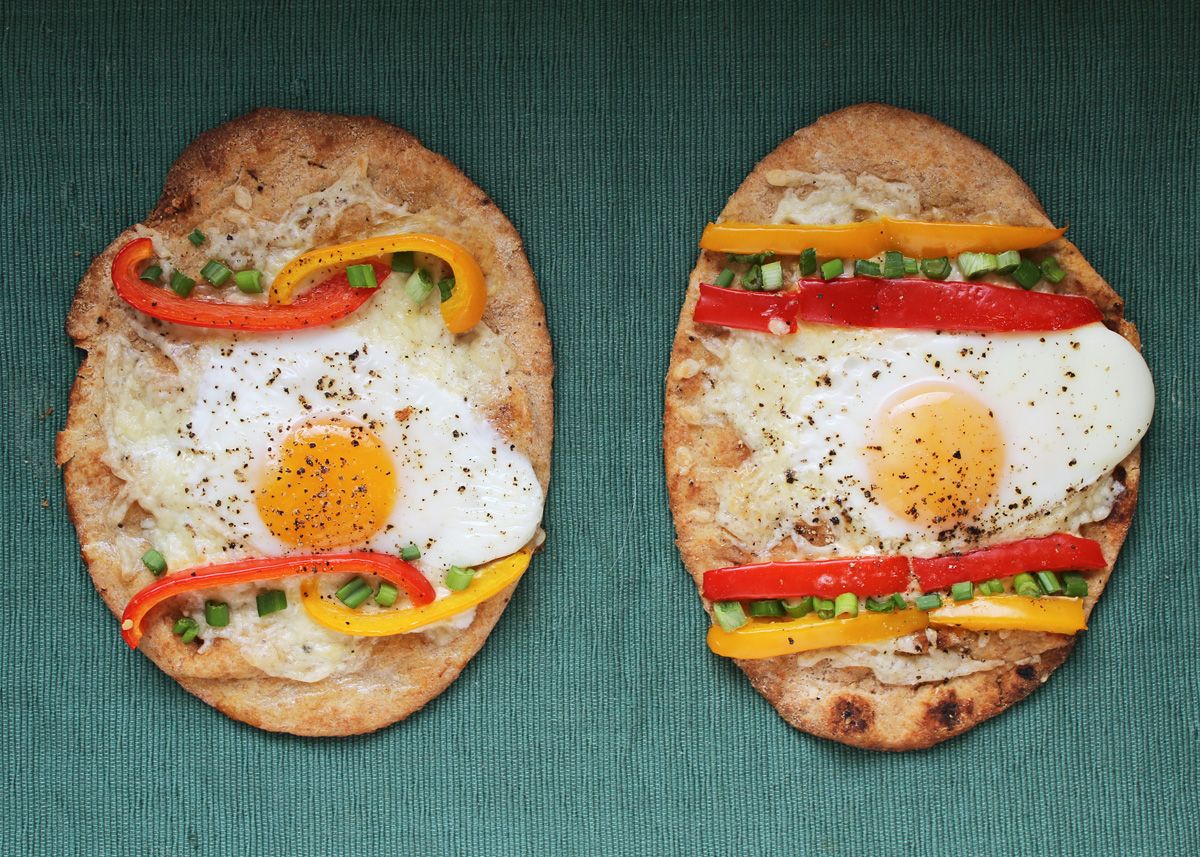 This past weekend wasn't so successful for me in the kitchen. First I attempted my first ever (vegetarian) cabbage rolls and they all completely fell apart on me, and didn't even taste that great either. Then I decided to make whole wheat dinner rolls shaped like baby chicks and bunnies. They were so adorable in my mind, and were pretty darn cute before they went in the oven, but then almost all my chicks came out headless (except for two whose heads sort of ended up growing out the sides of their bodies) and my bunnies turned out more like gremlins/Pikachus. At least these ones still tasted good, but now I have an awful lot of buns to eat by myself because I'm not going to give headless animals or gremlins to anyone else to eat!
Oh, and as a warning to others, if you've seen that picture floating around Pinterest of cute little bunny buns made with just two snips of kitchen shears, don't fall for it! I found out later (thanks to
Kelli's sleuthing
) that the picture is a fake, and the original buns are actually a Japanese pastry, so save yourself the time and effort and just make regular buns (unless you're a big Pokemon fan, then they might actually work)!
Fortunately, there was one good - no, great! - thing that came out of my kitchen this weekend, and it's still very Easter appropriate!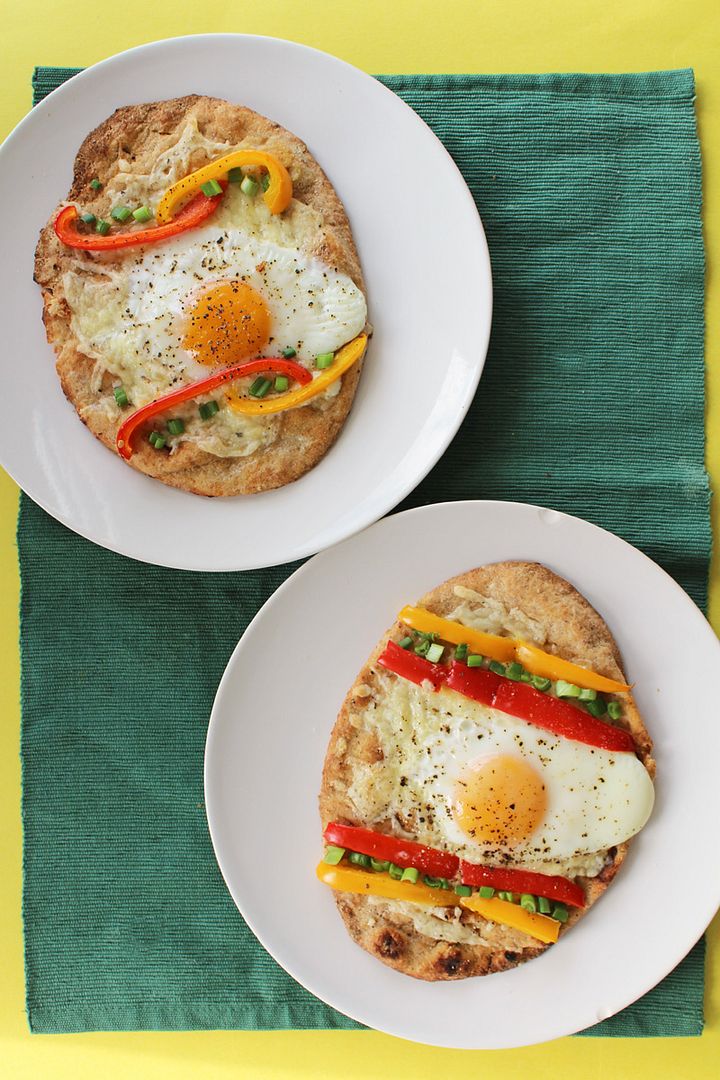 These breakfast naan pizzas are ridiculously easy to make and surprisingly tasty! I've never had an egg on a pizza before so I was a bit nervous about how it would turn out, but it cooked up beautifully in the oven and when you slice it open to reveal that runny yolk, it's pretty heavenly!
Because naans are kind of shaped like eggs and I was putting eggs on my pizza, it only made sense to decorate my naan pizzas like Easter eggs! I used peppers and green onions to make decorative patterns on my pizzas, which also made a delicious topping paired with the cheese and eggs.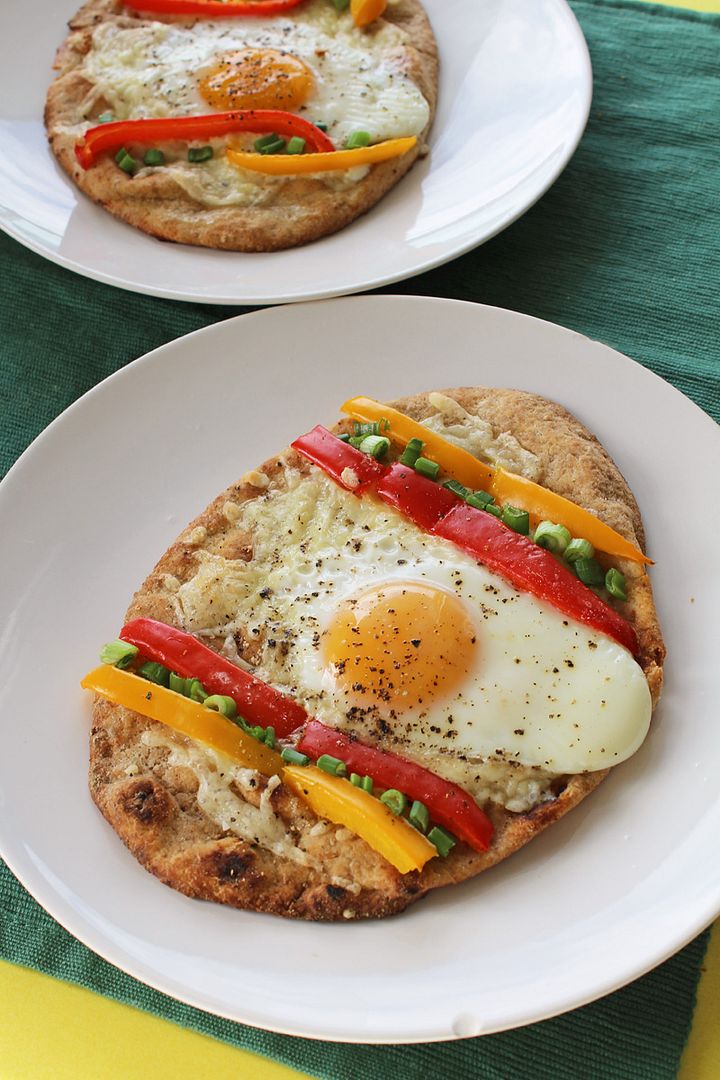 All you have to do to make these is take some storebought naan (I used whole wheat), top it with some cheese and peppers, crack an egg on top, then bake them for about 12 minutes. So easy, and you could easily double the recipe to feed your family on Easter morning. Try using different coloured peppers or other toppings like asparagus, tomatoes, or onions, to make each egg unique!
Even though they look pretty cute as Easter eggs, I know I'll be making these all year long!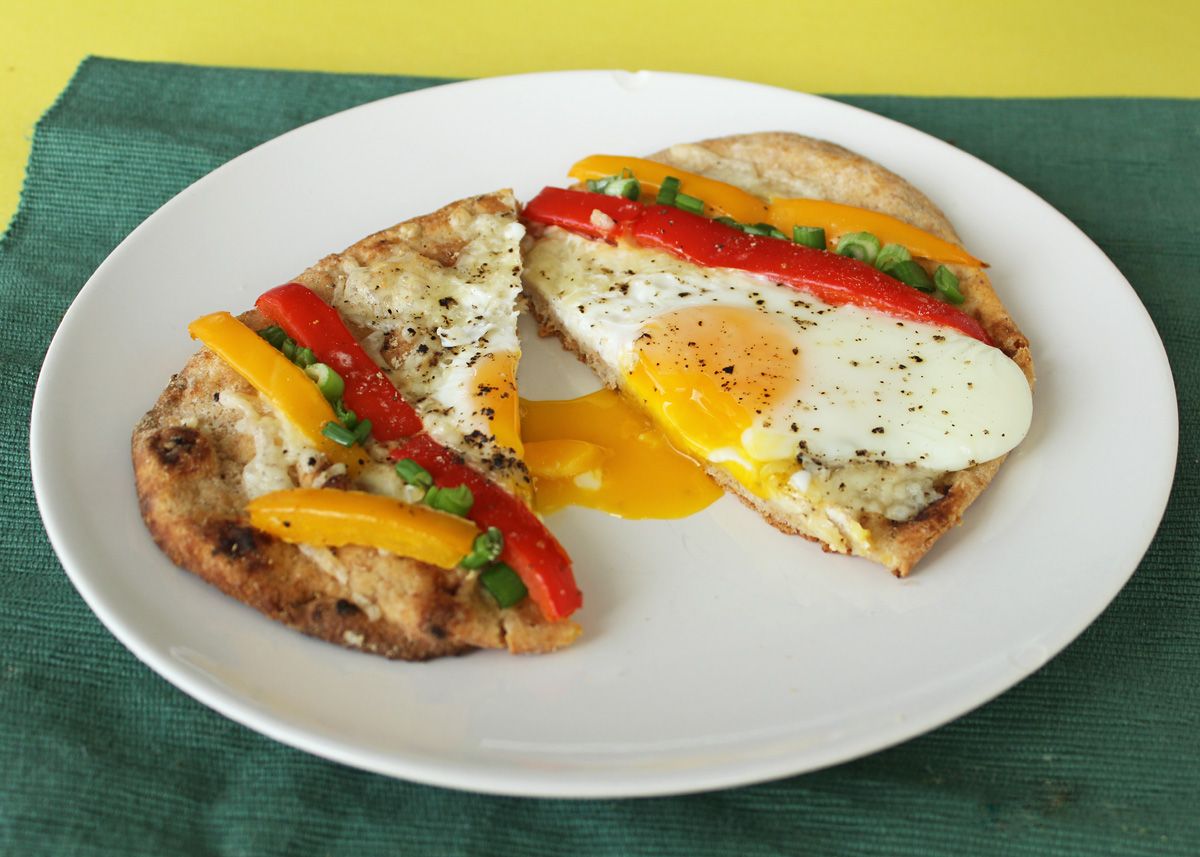 (Easter Egg Shaped) Breakfast Naan Pizzas
2 whole wheat naan breads
~1/2 cup mozzarella cheese (cheddar, pepper jack, or your favourite cheese would also work)
~2 tablespoons parmesan cheese (optional)
Bell pepper slices (red, yellow, orange, or green) – you will only need about 8 thin slices total, depending on the design you want to make
1 green onion, thinly sliced
Preheat oven to 400°F.

Spray a baking sheet with non-stick cooking spray and lay 2 naans on the baking sheet.

Cover each naan with mozzarella cheese, leaving a thin border around the edge (you may want to use more mozzarella, depending on the size of your naan – just use your best judgment).

Sprinkle with a bit of parmesan cheese.

Lay bell pepper slices in a decorative pattern to resemble an easter egg.

Crack one egg onto the center of each naan.

Season with salt and pepper.

Bake in preheated oven for around 12 minutes, until egg is set.

Sprinkle with green onion (also in a pattern, if desired) and serve immediately.
Note: Try mixing up the toppings and cheese for different flavour combinations! You could also add a light sauce on the base if you like - I've tried them with barbeque sauce which I loved!