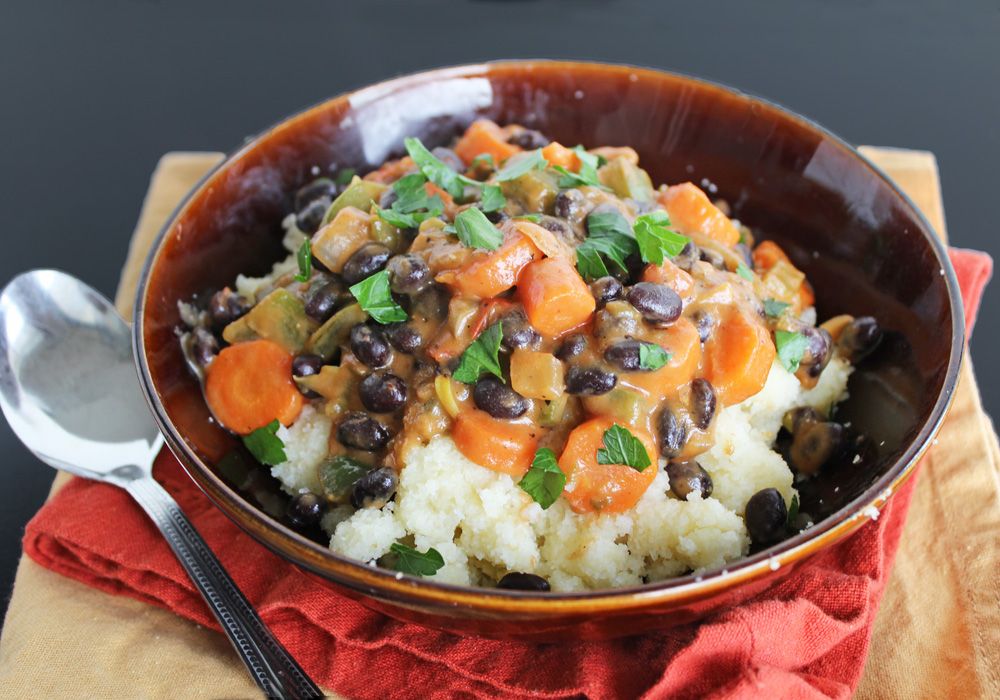 So it's been a fairly busy and stressful week here, with tons of school work I'm behind on, blog problems, knee problems, and icky weather, among other things.

And during weeks like that, it's amazing what some comfort food (and a bottle of wine) can do to help you relax in the evening!

This dish probably isn't what most people would think of as comfort food, but it's definitely one of those hearty and cozy meals that fills your belly and warms your soul, and just so happens to be one of the tastiest meals I've had in a while.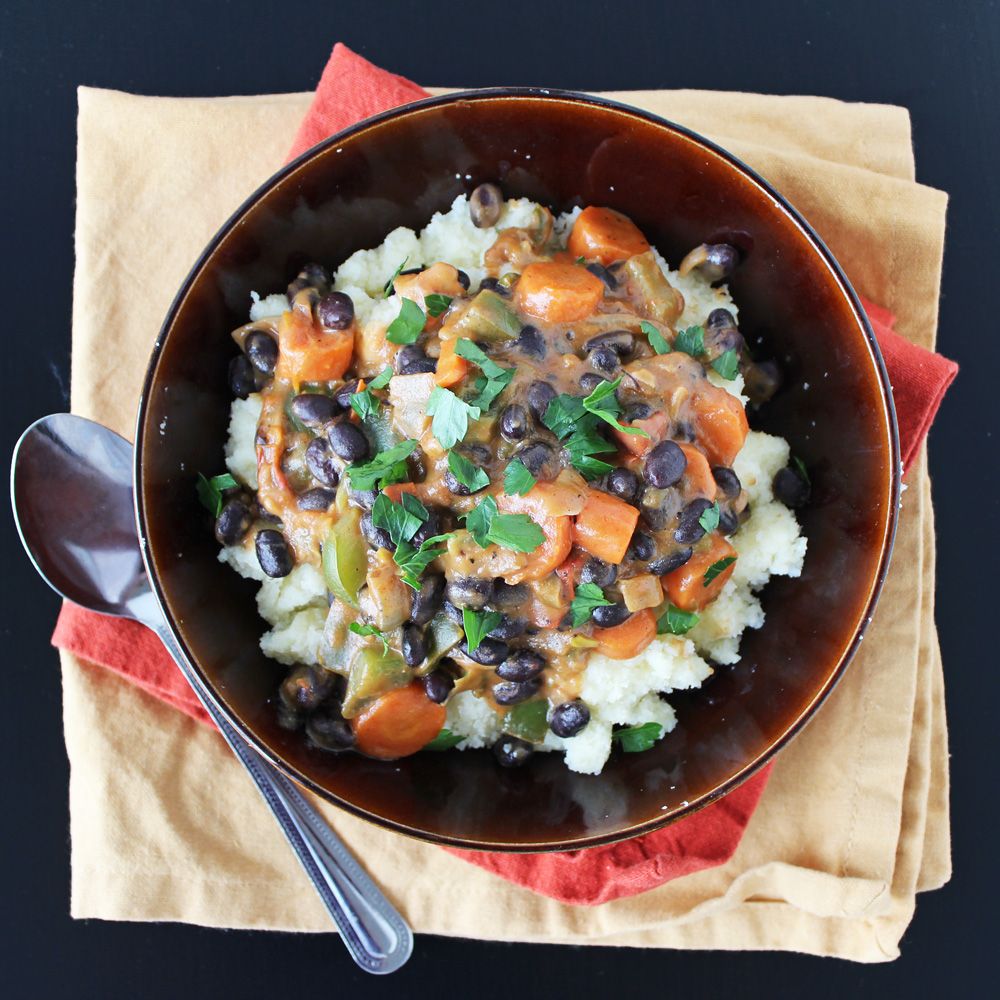 I'm sure some of you are waiting for me to explain what on earth "ugali" is, and to be honest, I'd never heard of it until I made this dish. From what I've learned, it's a starchy staple dish in several African countries. It's very similar to polenta, and is made of just white corn meal that's cooked with water to a thick, dough-like consistency (not creamy and smooth like polenta), and it's usually eaten with some sort of meat or vegetable stew. Fortunately
my sister
has been to Kenya and tried ugali a few times there, so she was able to give me some advice as I was making it and assure me that the thick texture was how it's supposed to be!
Ugali is super easy to make and also really cheap – all you need is cornmeal! (I found white cornmeal in the Mexican section of my regular grocery store). And though it's normally made with water, I used half vegetable broth to cook my cornmeal just to infuse some extra flavour into it. The consistency of the final product is so thick that you could grab a ball of it in your hand (and indeed you can use that to dip into other dishes or grab meats or veggies), and while I think it would normally be served in one big ball in the shape of a bowl, I broke mine up a bit so you could see the texture here:
The ugali makes a great base for a stew, and I paired mine with a rich and creamy peanut vegetable stew.

I added carrots, black beans, and parsley to the original recipe, so I'm not sure how authentic my stew is or if it would ever be eaten with ugali, but it was so good that I didn't care!

The finished dish was full of veggies and protein, was super filling, and just so hearty and comforting.

If you're in need of a dish to warm your soul and are looking to try something new and a little different for dinner, I highly encourage you to give this a try!
And if you like trying new cuisines, my friend Courtney just redesigned her site with a focus on ethnic vegetarian food, so go check it out at The Fig Tree!
Kenyan Ugali with Peanut Stew
1 medium yellow onion, chopped
1 green bell pepper, chopped
2 carrots, peeled and diced
1/2 a jalapeno or chile, seeds and veins removed, minced
1 can black beans, drained and rinsed
1/2 cup smooth peanut butter
1/2 teaspoon salt (optional)
Chopped parsley for serving (optional)
Heat olive oil in a large nonstick skillet over medium high heat.

Add onion and saute until softened, about 5 minutes, stirring occasionally.

Add garlic, tomatoes, green pepper, carrots, jalapeno, cayenne, and salt and pepper to taste.

Let cook for 10-15 minutes, stirring often.

Mix together the peanut butter and hot water in a small bowl until smooth.

Add black beans and peanut butter mixture to the vegetables and let cook on low heat for about 10 minutes, until thickened slightly.
Meanwhile, bring the vegetable broth and water for the ugali to a boil in a medium saucepan.

Slowly and gradually add the white cornmeal, stirring constantly with a whisk to prevent lumps from forming.

Reduce heat to medium-low and continue to stir regularly until the mixture pulls away from the sides of the pot and becomes very thick, about 10 minutes (mine took less time).

Remove from heat.
Serve by dividing ugali among bowls and spooning peanut stew overtop.

Top with parsley and season with additional salt and pepper, if desired.