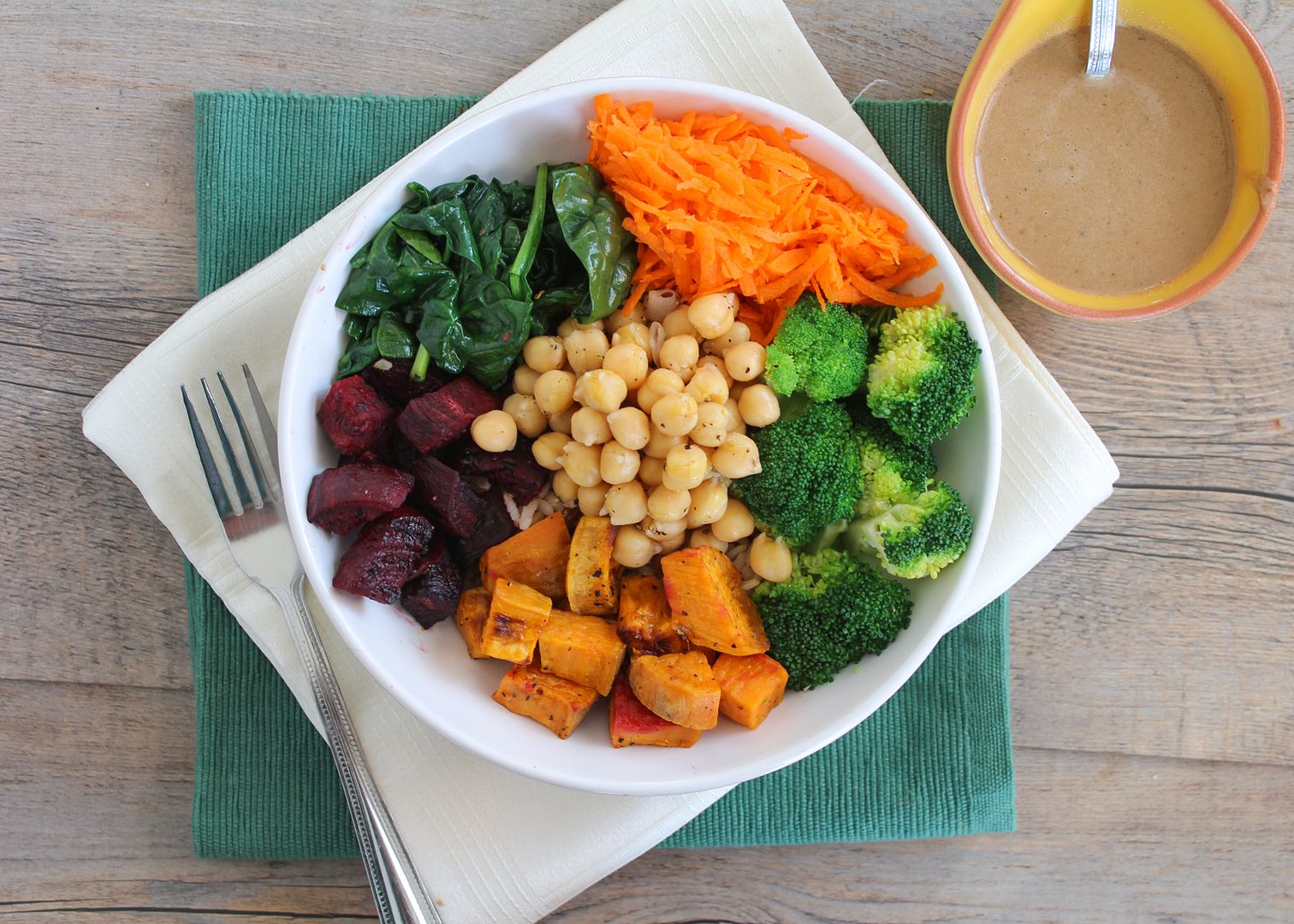 Healthy "bowls" seem to becoming more and more popular these days both across the internet and in cafes and restaurants. They have many names and variations, but the basic concept is that you combine a base of grains (like rice, quinoa, barley, etc), several different vegetables (raw or cooked), a protein or two (chicken, tofu, beans, nuts, or cheese), and a delicious sauce to tie it all together, thus giving you a complete meal in a bowl.
I find myself drawn to any healthy meal that ends in "bowl" because I love a meal with different textures, flavours, and colours that all fit together in one dish, and these bowls are easy to make super nutritious.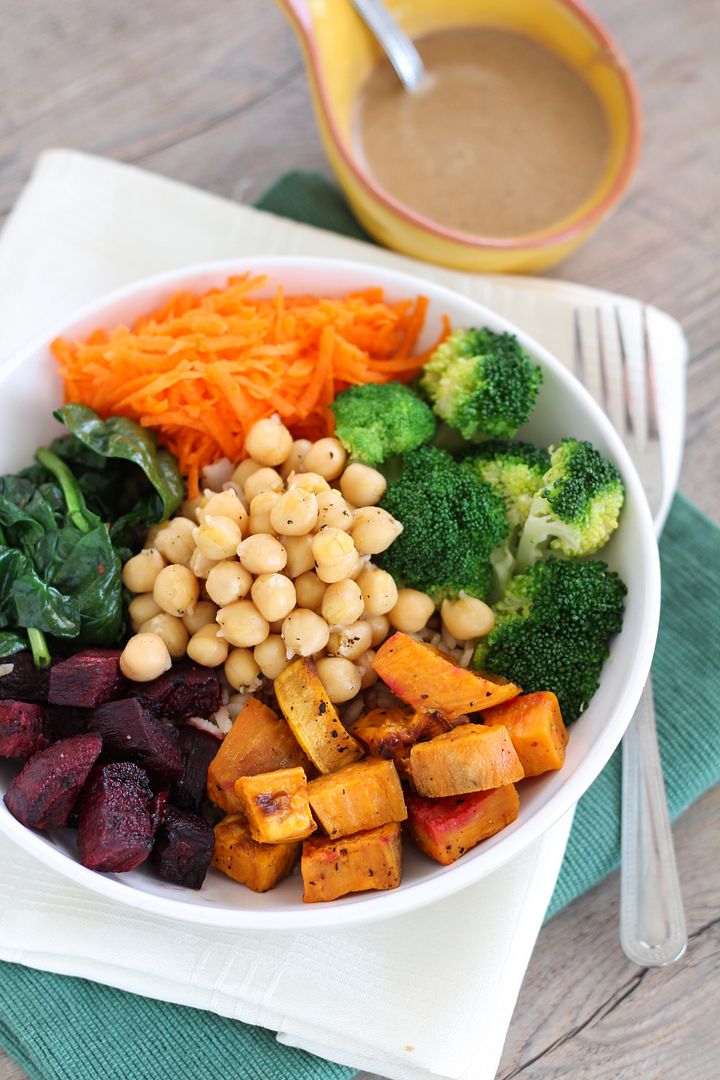 The problem with ordering them in a restaurant is that they're usually pretty expensive, and while making them at home can require a bit of effort, it's cheaper and you can make a lot so that you have delicious healthy bowls for lunches through the week!
For my version, I combined the following:
Base
- a mix of brown rice, barley, and spelt (I used a
PC blend of the three
for convenience!)
Veggies
- steamed broccoli, roasted beets and sweet potatoes, sauteed spinach with garlic, and grated raw carrots
Protein
- I forgot to include this in the picture above, but I used chickpeas
Sauce
- tahini dressing with soy sauce and sesame oil for flavour!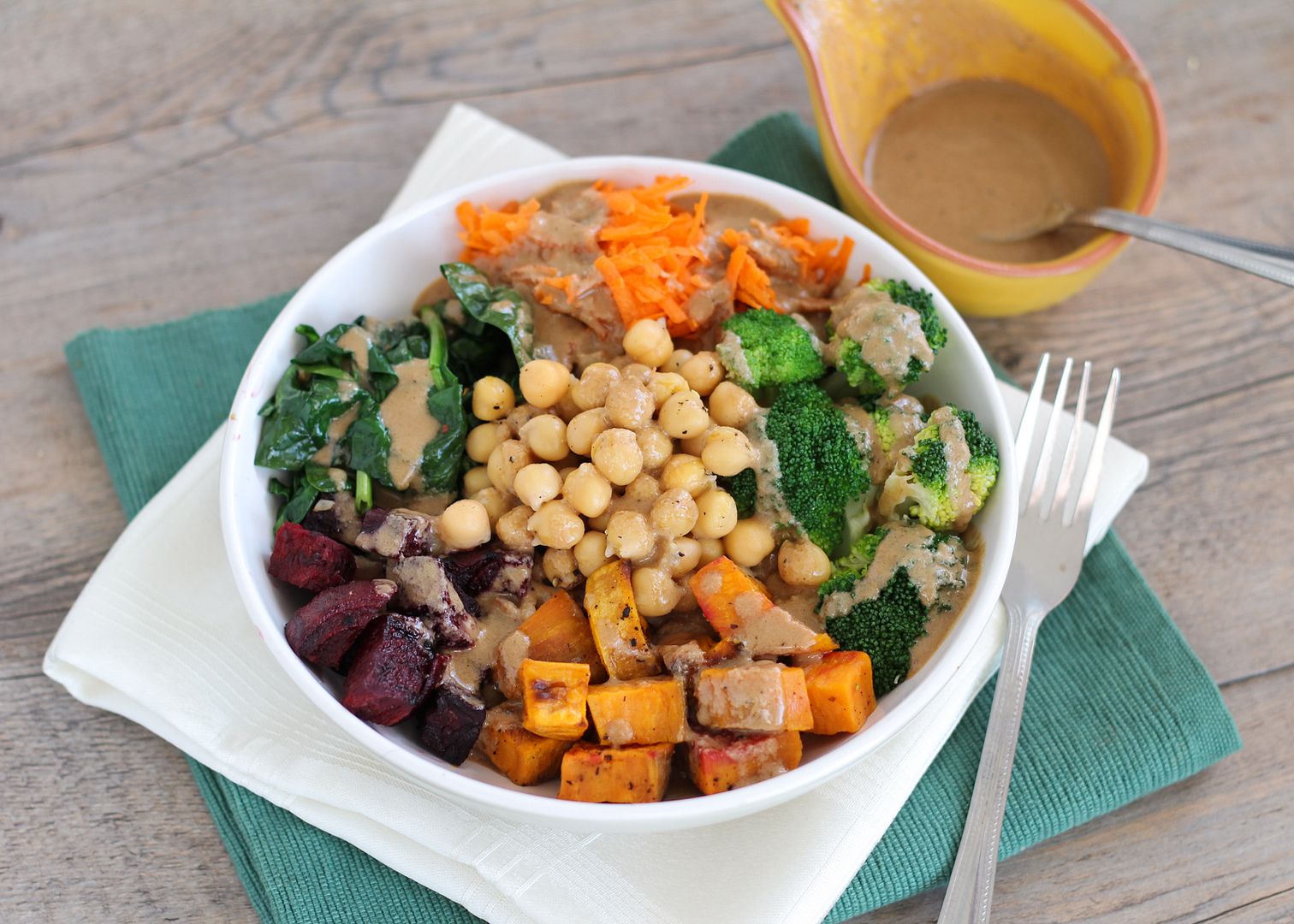 Another nice thing about these is that they're highly adaptable, so if you don't like the ingredients that I used, you can make whatever substitutions you like, as long as you maintain a variety of colour and textures!
Try using quinoa as a base if you don't like rice; substitute the chickpeas for chicken or tofu if you like; grate raw beets instead of roasting them; sautee brussels sprouts or kale instead of spinach; roast squash instead of sweet potato ... you get the idea!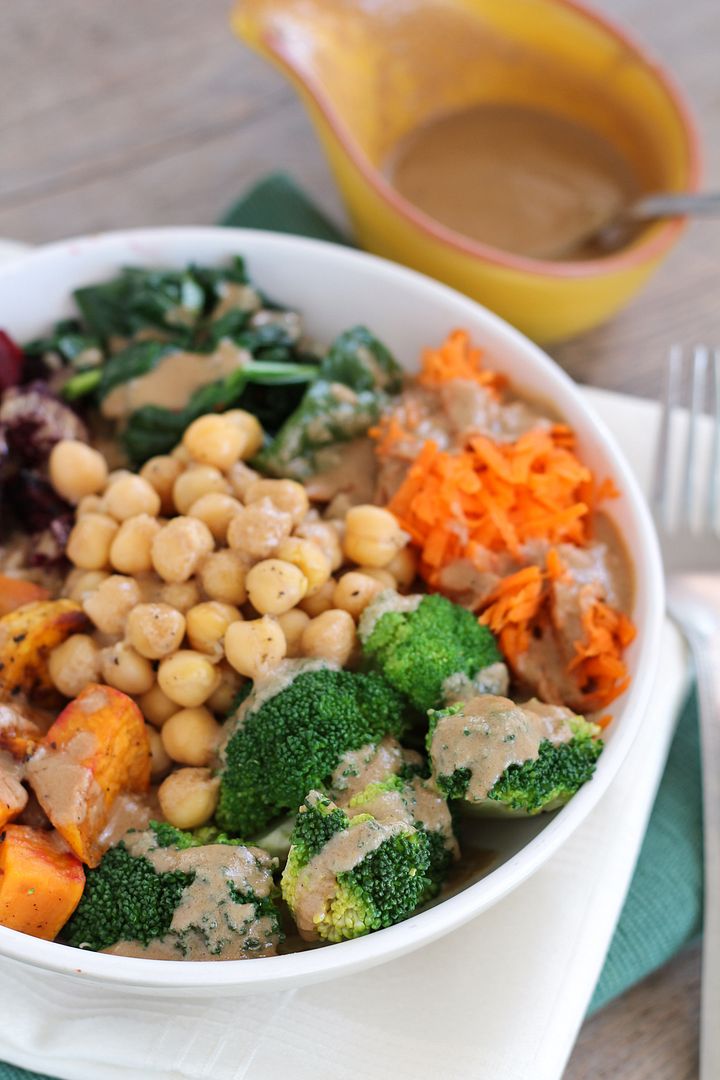 This makes a filling lunch or dinner that will leave you feeling great. If you're making enough to have leftovers (which I recommend you do!), just be sure to store the sauce separately or else it will get absorbed and leave the dish feeling sauceless, which won't be as good as sauce is the most important part!
Chickpea & Veggie Brown Rice Barley Bowl with Tahini Dressing
Makes 3-6 servings, depending on serving size
Ingredients:
For the Toppings:
~1 tablespoon olive oil
1 large sweet potato, chopped into bite-sized pieces
2 large beets, chopped into bite-sized pieces
1 head of broccoli, chopped into small florets
1 teaspoon sesame oil
1 clove garlic, minced
1 bunch of baby spinach (however much you like; I used a small container)
2 large carrots, grated (a food processor with the grater attachment works well for this!)
1 can of chickpeas, drained and rinsed
For the Base:
3-4 cups cooked brown rice and/or barley (I used a bag of mixed brown rice, barley, and spelt) or your favourite grain, such as quinoa (about 1 to 1-1/2 cups uncooked)
For the Sauce:
1/2 cup tahini
1/2 cup water
1/4 cup fresh lemon juice
1/4 cup soy sauce
2 teaspoons sesame oil
1 tablespoon + 1 teaspoon honey or agave
1/4 teaspoon each salt and pepper
Directions:
Preheat oven to 400°F.
Toss sweet potatoes and beets with olive oil, season with salt and pepper, and spread in an even layer on a foil-lined baking sheet. Roast in preheated oven for 25-35 minutes, until tender.
The sweet potatoes will likely be done sooner than the beets; just transfer them to a bowl and put the beets back in the oven.
I prefer roasting beets whole but this takes longer; if you have time, just roast the whole beet for 1 hour, drizzled with oil and wrapped in foil, then peel and chop it after.
Meanwhile, you can cook the broccoli, spinach, and your grains.
Steam the broccoli in a steamer basket over boiling water, covered, for about 2-3 minutes until bright green and tender.
Rinse with cold water and drain.
For the spinach, heat sesame oil in a large skillet over medium heat.
Add garlic and cook for 30 seconds (this is optional; you could also use a different oil if you like), then add spinach and cook just until wilted.
Remove from heat.
Cook your grains according to package directions; I cooked mine uncovered in simmering water for around 18 minutes, then seasoned with salt and pepper.
Prepare the dressing by whisking all ingredients in a small bowl until smooth.
Taste and adjust any amounts to your liking.
Note that this makes a lot of dressing and likely more than you'll need; just save any extras for another use!
Prepare bowls by adding grains to the bottom, topping with vegetables (beets, sweet potatoes, broccoli, carrots, spinach) and chickpeas, and drizzling tahini dressing on top.
Toss to coat and season with salt and pepper, if desired.
You can eat this warm or at room temperature.
If you have leftovers, you can portion out everything together into containers except the sauce - that should be kept separate and drizzled on right before eating so it doesn't get absorbed.