As a kid I used to love all the flavours of those little instant oatmeal packets that I'm sure are full of sugar and everything kids love. Now the only instant oatmeal I'll occasionally buy comes from the organic aisle, but I need to eat at least two packages to sustain me for breakfast and even then I'll still be hungry a couple hours later. I love making my own oatmeal on the stovetop, especially versions that are full of ooey gooey delicious things like bananas, peanut butter, or pumpkin. Unfortunately, I don't do this often as I'm usually in too much of a hurry or too lazy in the mornings to make anything that requires effort.
Which is why I've become obsessed with baked oatmeal lately. Sure it requires some effort to make, but you end up with a lot of leftovers that can be stored as individual servings in the fridge so all you have to do later on is reheat. Perfect for busy mornings, and also for people who don't like the mushy texture of a bowl of stovetop oatmeal, as the baked version is a lot firmer.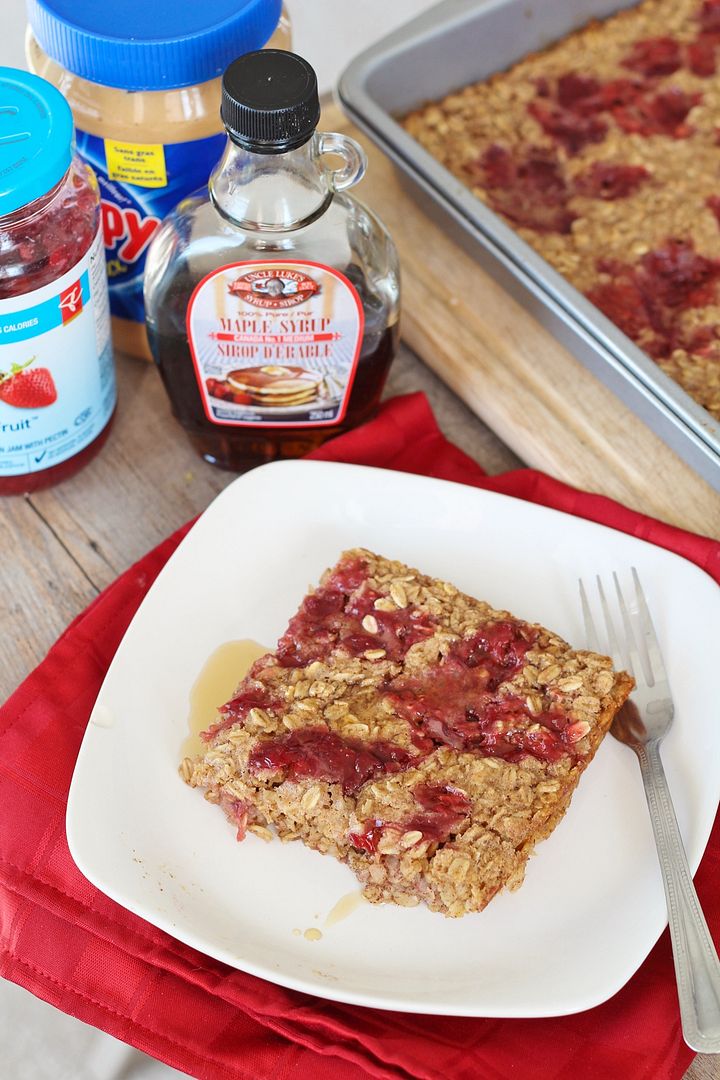 This peanut butter and jelly version of baked oatmeal is Ryan and my current favourite. It has a strong peanut butter flavour with the perfect amount of jam to sweeten it up, and it's nice and filling. It's pretty easy to throw together too - just add your wet ingredients (egg, milk, vanilla, peanut butter) to your dry ingredients (oats, a tiny bit of brown sugar, baking powder, cinnamon, and salt), drop some jam on top, and throw it in the oven. The hardest part is waiting for it to be ready!
I've made this with both grape and strawberry jam before and we love it both ways; I always try to choose a low sugar jam as I usually find regular jam way too sweet. I consider this a reasonably healthy breakfast so I don't mind eating it for several breakfasts in a row or that Ryan now asks for it all the time!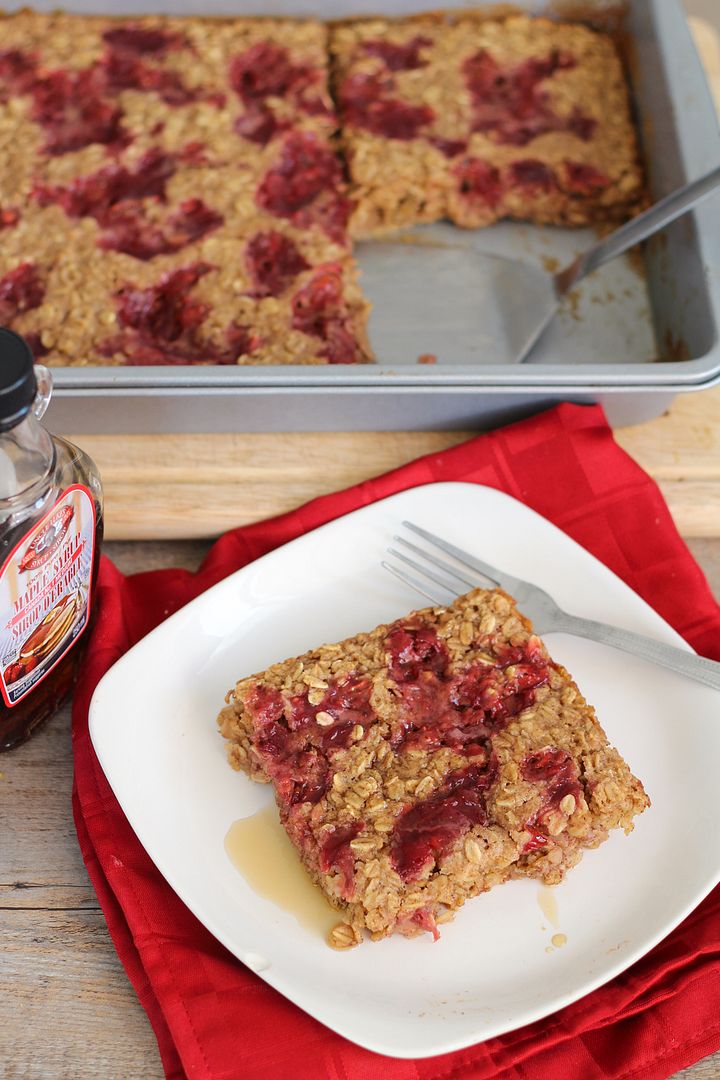 Peanut Butter and Jelly Baked Oatmeal

Makes 6 servings


Ingredients:
2-1/2 cups large flake rolled oats
2 tablespoons light brown sugar
1-1/2 teaspoon baking powder
1/2 teaspoon salt
1-1/2 teaspoons cinnamon
1 large egg, lightly beaten
2 cups skim milk or almond milk
1 teaspoon vanilla extract
1/2 cup peanut butter - I usually use regular smooth peanut butter but natural would work too if you want slightly less sugar and salt
1/2 to 3/4 cup low-sugar jam – strawberry, grape, or mixed berry all work
Directions:
Preheat oven to 350°F.
Spray a 9x13 baking pan with non-stick cooking spray.
In a large bowl, whisk together the oats, brown sugar, baking powder, salt, and cinnamon.
In a separate bowl, whisk together the egg, milk, vanilla, and peanut butter. You can warm up the peanut butter for about 20-30 seconds in the microwave first to make it more liquid so it will mix in better.
Add the wet ingredients to the dry ingredients and stir just until combined.
Spread mixture into pan and spread evenly with a spatula.
It will look like oats floating in a lot of liquid – that's normal; the liquid will all be absorbed during baking.
Drop spoonfuls of jam evenly on top of the oatmeal.
If you like, you can leave the jam in little pockets, or take a butter knife and try to swirl the jam around to cover more surface area (that's what I like to do).
Bake in preheated oven for 35-40 minutes, until edges are golden brown and middle is cooked through.
Divide into at least 6 servings and serve warm, with maple syrup if desired.
Leftovers can be stored covered in the fridge for a few days and reheated.