With Easter rapidly approaching (how is it this weekend already?!), I spent some time this past weekend trying to come up with a new Easter recipe to share. Last year I stuck with an Easter egg theme with egg-shaped
breakfast naan pizzas
and
Easter egg cheesecake bars
, but this year I wanted to do something with carrot cake, which I consider a pretty standard Easter dessert and which is one of my favourite types of cake!
It seems like a carrot cake version of everything already exists though, like
carrot cake oatmeal
,
carrot cake banana bread
,
carrot cake pancakes
,
carrot cake cheesecake
,
carrot cake whoopie pies
,
carrot cake rice krispie treats
, etc., all of which look absolutely amazing, of course. I haven't seen too many carrot cake versions of healthy no-bake balls, though, and after recently trying these
oatmeal cinnamon truffles
which I loved, I decided to make a carrot cake version!
These are super quick and easy to make, with oats, dates, and walnuts as the main ingredients, along with shredded carrots (obviously needed for carrot cake, and with a bonus of added nutrients!), and vanilla, cinnamon, nutmeg, ginger, and salt to bring out the carrot cake flavour.
The end result is a sweet treat with a taste that really reminded me of carrot cake, even though dates are the predominant flavour. I couldn't really taste the carrots, but I realized carrot cake doesn't taste like carrots either; you could always add more and adjust the ratio of other ingredients if you like though. These would be a great sugar-free snack to have around this coming weekend to help balance out all the chocolate!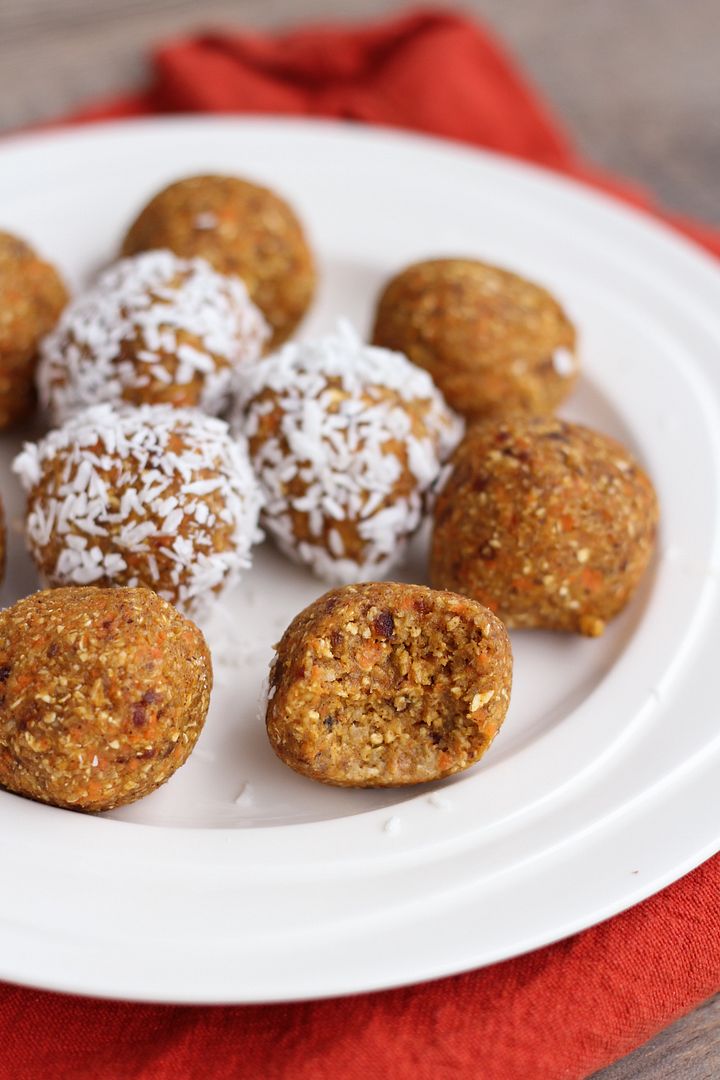 No-Bake Healthy Carrot Cake Date Balls
Makes about 18 balls
Ingredients:
1-1/2 cups large-flake rolled oats
1/2 cup chopped walnuts
1/4 teaspoon sea salt
1/2 teaspoon cinnamon
1/4 teaspoon nutmeg
1/4 teaspoon ground ginger
12 medjool dates, pits removed, chopped into pieces
1 cup grated carrot (about 2 large carrots)
1/2 teaspoon pure vanilla extract

Optional: raisins, unsweetened shredded coconut


Directions:
Add oats, walnuts, salt, cinnamon, nutmeg, and ginger to the large bowl of a food processor.
Process until the mixture resembles fine crumbs.
Remove from food processor and set aside in a bowl.
Add dates to the food processor and mix until smooth.
I added 1 tablespoon of water to help them blend.
Add the carrots, vanilla, and oat mixture back to the food processor and pulse everything until combined and sticking together.
Taste mixture and add more spices or carrots if desired.
Remove mixture from food processor and roll into balls about 1" in diameter.
Keep covered in refrigerator and let refrigerate for at least a couple hours before eating for better texture.
Options:
If desired, you can add raisins to the balls to resemble carrot cake more; the date taste is already strong and sweet though so I didn't feel it necessary.
Another option is to roll the balls in shredded coconut if you like; I'm not a huge fan of shredded coconut so I didn't do this with all of mine but it sticks easily to the balls if you wish to roll them in it.