I love making cute Halloween themed treats, and dinner ideas are even better since there are already so many sweets around this time of year. I've seen the idea of carving stuffed peppers like jack o' lanterns on several blogs before and wanted to try it for myself this year. Even though I'm certainly not the first to try these, they turned out so cute and tasty that I had to share them with you guys!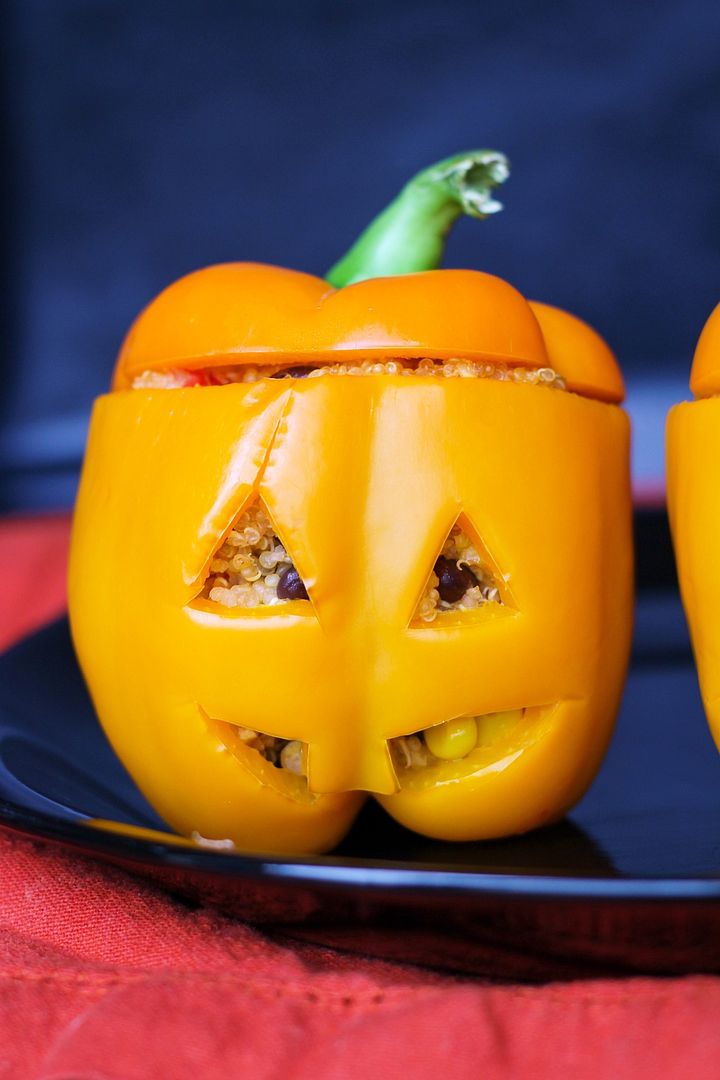 These are also really easy to make and completely customizable! Just find some orange peppers, cut the tops off and scrape out any seeds or ribs inside, then carve your jack o lantern face with a small knife. You don't want to cut out too big of holes so that the filling could escape, but even though these are a lot smaller to work with than pumpkins, I found them much easier to "carve"!
After prepping your little pumpkin lookalikes, you make your filling, stuff the insides of the peppers, and bake them to soften the peppers. I also like to parboil the peppers first to reduce the amount of time needed to soften the peppers in the oven later, which will also help save time if you're trying to make these on Halloween evening before trick or treating starts!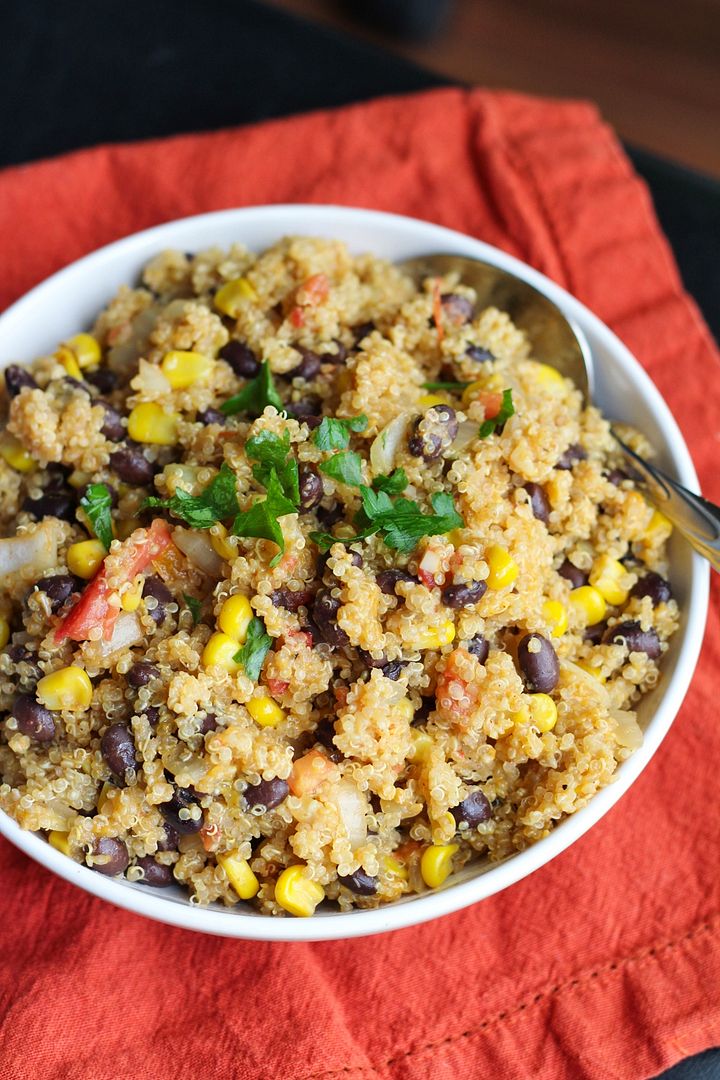 I filled mine with one of my favourite southwestern-flavoured quinoa mixtures, which is vegetarian and pretty healthy too. I cook the quinoa in vegetable broth which is important for giving it more flavour, then mix in some sauteed onion and garlic, tomatoes, black beans, corn, spices, and cheese. You could add in more vegetables like spinach or mushrooms if you like, or leave out the spices if your kids won't like them.
I'm going to a Halloween potluck tomorrow and plan on making some scary cookies so if those turn out well I'll have another treat to share later this week! Happy week of Halloween!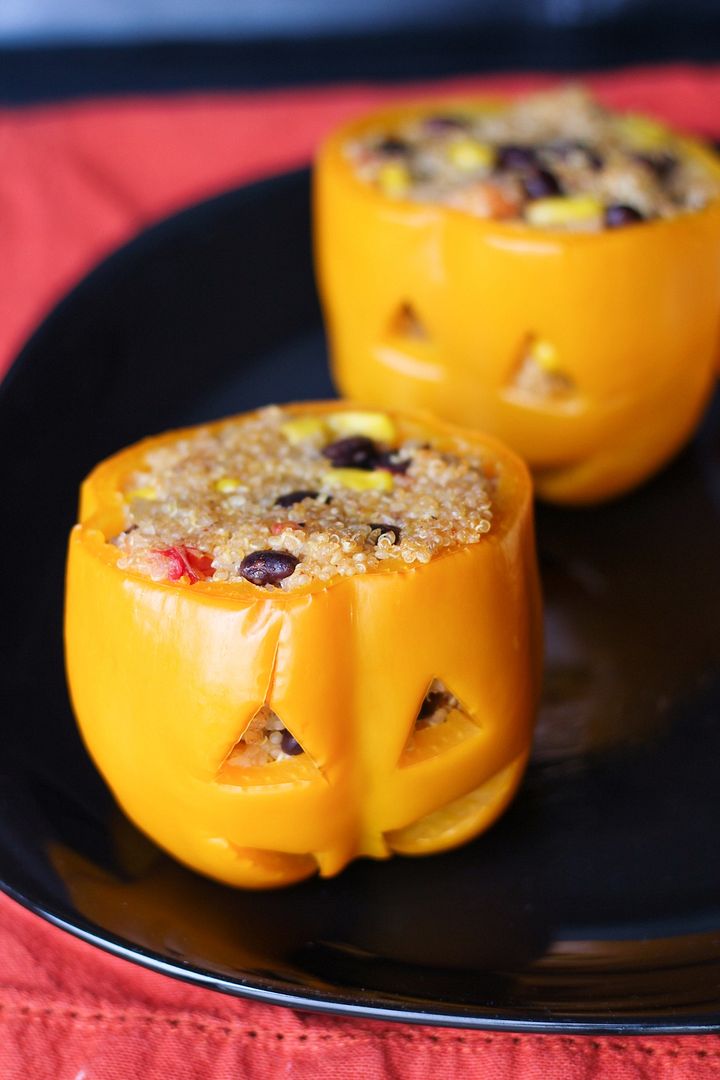 Southwestern Quinoa Stuffed Pepper Jack O' Lanterns
Serves 4-6
Ingredients:
2 cups vegetable broth
1 cup dry quinoa
4-6 orange bell peppers
1 teaspoon olive oil
1 yellow onion, diced
1 clove garlic, minced
2 small tomatoes, diced
1 (540mL) can black beans, drained and rinsed
1 cup corn kernels (thawed if frozen)
1 teaspoon cumin
1/2 teaspoon chili powder
Salt and pepper
1 cup shredded cheddar cheese (or Mexican or taco blend)
Directions:
Bring 2 cups of vegetable broth to a boil in a medium saucepan.
Add quinoa, cover, reduce heat to simmer and let simmer for 15 minutes.
Remove from heat and let sit, covered, for 5 minutes.
Remove lid and fluff with a fork.
Meanwhile, cut the tops off the bell peppers and use a knife to scrape out the remaining seeds and ribs of the pepper, leaving the pepper in tact (as seen in pictures).
Leave the tops aside if you wish to include them for presentation later.
Bring a large pot of water to a boil, with enough water to cover the peppers.
Add peppers and let simmer for about 4 minutes, until slightly softened.
Carefully remove and set aside.
Preheat oven to 350°F.
In a medium pan, heat oil over medium-high heat.
Add onion and saute for about 5 minutes, stirring often, until softened.
Add garlic and saute for 30 seconds, stirring. Add tomatoes, black beans, corn, cumin, and chili powder, and season with salt and pepper.
Stir and saute for a few minutes.
Remove from heat, stir in quinoa and cheddar cheese and mix until incorporated.
Spoon quinoa mixture into the peppers.
There should be enough to fill 6 peppers or you can really fill 4 peppers quite full, and might still have some quinoa leftover.
You could also just stop now and eat the quinoa on its own!
Leave tops off the peppers, spray a 9x13 glass baking dish with non-stick cooking spray, and place filled peppers standing up in the dish.
Cover with aluminum foil and bake in preheated oven for 25-35 minutes, until peppers are softened to your liking (I did 25 minutes as I was impatient but would have preferred 30).
Remove and serve with tops on the peppers if desired.
Eat by slicing everything up with a knife and fork and eating the quinoa and pepper together.
--------------------------------------------------------------------------------------------------

For more Halloween dinner ideas, try these:
Halloween mummy potatoes with turkey meatballs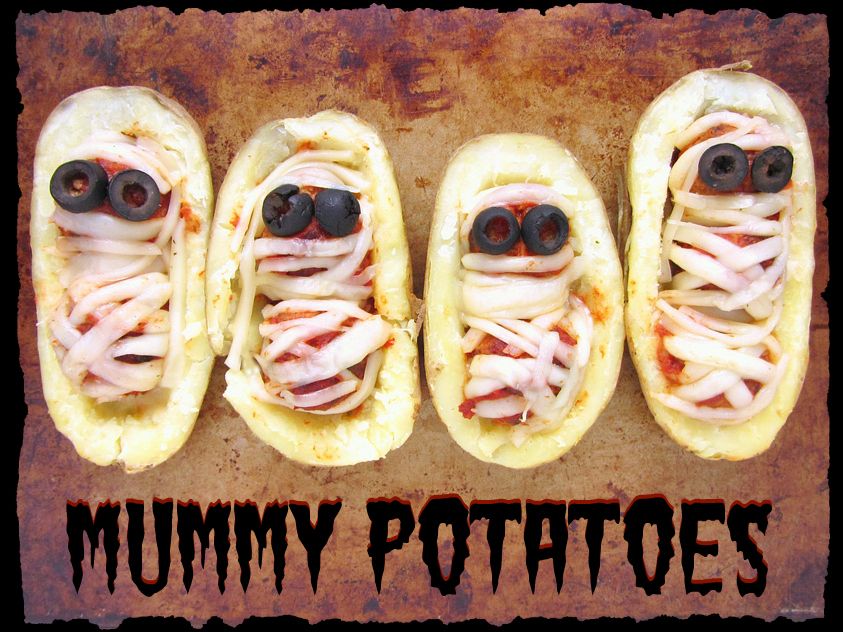 Pumpkin, chicken, & goat cheese quesadillas