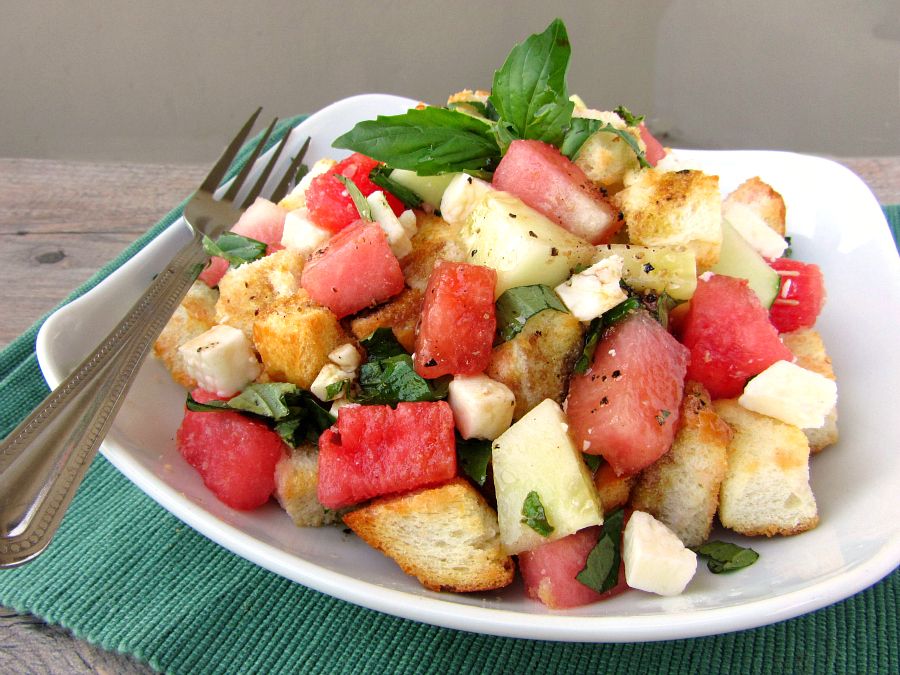 I just "returned" from a weeklong stay-cation with Ryan, hosting some wonderful guests.

It was a relaxing and fun week that involved a lot of eating out and a lot of beer drinking! And though I had a lot of delicious food and we tried a lot of amazing new beers, now that it's over I'm eager to start cooking for myself again, and am feeling like that needs to only involve fruits, vegetables, and water for at least the next week! So meals like this light and refreshing watermelon panzanella are going to hit the spot perfectly!
When I originally made this, I'd envisioned a caprese-style panzanella (bread salad) with bocconcini, basil, a balsamic reduction, and watermelon instead of tomato.

It was good, but didn't "wow" me – the mozzarella didn't provide any flavour and the balsamic reduction made the overall dish a little too sweet.

So I tried again using feta instead of bocconcini for a more pronounced flavour that would pair well with the watermelon, adding cucumber to balance out the sweetness but keep the salad crisp and cool, and changing the balsamic reduction to a balsamic vinaigrette so it wasn't as overpowering.
The second version was so much better and is perfect for summer!

I ate it as a main course but it would be great as a side dish, as long as it's not going to be sitting around for a long time, as the bread can start to get soggy.

And if you're not a watermelon fan, try this roasted summer panzanella – it's one of my sister's favourite summertime dishes and it's what first made me love panzanellas!
Watermelon Feta Panzanella
Recipe created by Once Upon a Cutting Board
Serves 1 as a main course, or 3-4 as a side dish
2 slices crusty bread (such as ciabatta), cut into small cubes (about 2 cups)
1 cup cubed seedless watermelon
1/2 cup chopped peeled cucumber
3 tablespoons chopped fresh basil
2-3 ounces diced feta cheese
1 tablespoon extra virgin olive oil
1 teaspoon balsamic vinegar
Preheat oven to 400
°
F.

Spray cubed bread with cooking oil (or toss with a drizzle of olive oil), spread on a baking sheet, and bake in preheated oven for about 5 minutes, until crispy (but not hard all the way through).
Combine bread with watermelon, cucumber, basil, and feta in a medium bowl.
Whisk the olive oil and balsamic vinegar in a small bowl, and season with salt and pepper.

Drizzle dressing over the salad and toss to evenly coat the ingredients.

Note that this amount of dressing won't be too noticeable in flavour, so you can use a bit more if you like, but your bread could get soggy if there is too much dressing, so I liked only a small amount.
Serve immediately so the bread does not get soggy!