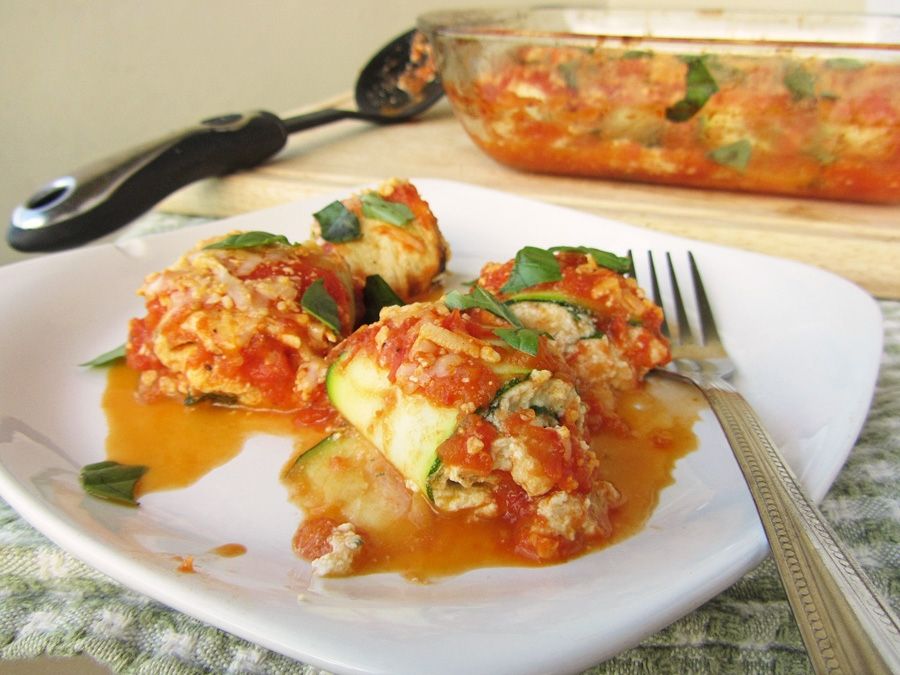 What is involtini you ask?
Good question, and one that even after much Googling, I'm not 100% sure I know the correct answer to.
You see, involtini are little roll-ups common in Italian cooking, that are usually made of a thin slice of meat rolled around a filling and baked with a sauce, but can also be made vegetarian using eggplant instead of meat.
The confusion lies in the fact that 'rollatini' seems to have the same definition.
According to
Wikipedia
, rollatini and involtini are actually the same thing – the dish is called involtini in Italy but over here it's called rollatini.
That seems to clear things up except that rollatini recipes seem to more often be made with eggplant and that eggplant also seems to often be breaded.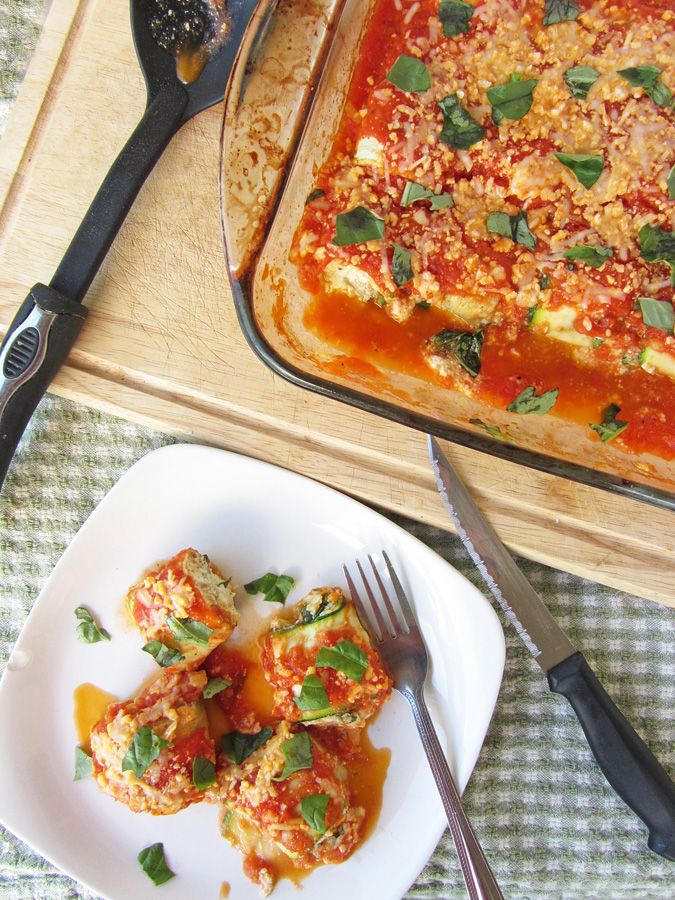 And now I've gone ahead and made things even more confusing for you by throwing zucchini into the mix!
I rolled up thin slices of eggplant and zucchini around a seasoned ricotta filling, then baked them in an easy homemade tomato sauce topped with parmesan cheese.
They're comforting and warm while being light and summery at the same time, with flavours reminiscent of eggplant parmesan or lasagna.
Whether or not this should be named involtini or rollatini may be up for debate, but I don't care because all I know for sure is that they're really tasty!
I couldn't decide which I liked better.
This was the eggplant roll-up – a bit more classic and comforting tasting: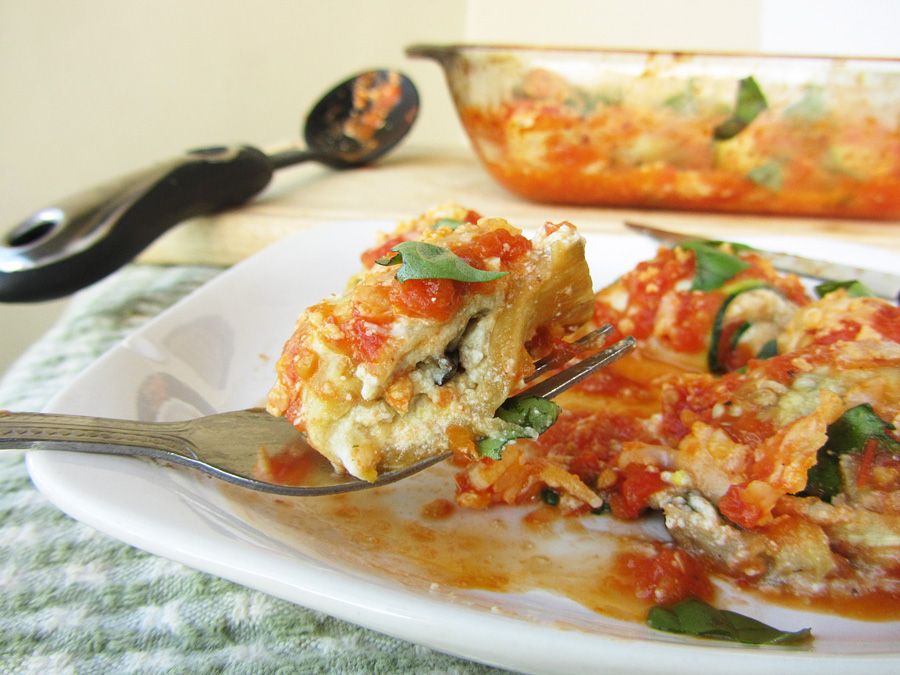 And the zucchini version is pictured below – it was more fresh and light tasting and looked a little prettier!
Have you heard of involtini/rollatini before? I'm curious to hear what you call it!
Eggplant & Zucchini Involtini with Ricotta Filling and Easy Tomato Sauce
Serves 4 (four involtini each)
1-1/2 pounds ripe tomatoes, roughly chopped
1/2 tablespoon balsamic vinegar
300g (~10oz) light ricotta
1/4 cup grated parmesan cheese
1/4 cup breadcrumbs (I used Italian seasoned breadcrumbs)
Sprinkle of chopped basil
Preheat oven to broil and adjust oven rack to top third of oven.

Slice the eggplant and zucchini lengthwise into thin (1/4-inch thick) slices, producing 16 slices total (8 of each, if desired). I also sliced the skin off my eggplant slices because I'm not a big fan of the skin, but it's not necessary if you don't mind it.

Line a baking sheet with foil and spray with cooking spray.

Lay eggplant and zucchini slices on the baking sheet and sprinkle with salt and pepper.

Broil for about 3-5 minutes per side, flipping over before broiling the other side.
Note
– with my zucchini, I just used a vegetable peeler to very thinly slice the zucchini, and didn't bother pre-cooking it.

This resulted in a firmer texture, so if you prefer that, you can skip the broiling step for the zucchini.

I recommend broiling the eggplant though.
Meanwhile, prepare the tomato sauce by adding all ingredients (olive oil, tomatoes, garlic, balsamic, salt and pepper) to a medium saucepan, bringing to a boil, then reducing heat to a simmer and simmering for 15 minutes.

Remove from heat and let cool, then transfer to a food processor and puree.
Prepare the filling by mixing all ingredients (egg to pepper) together in a large bowl.
Reduce oven heat to 375
°
F.

Pour about a third of the tomato sauce into the bottom of an 8x8 glass baking dish.

Spread 2 tablespoons of ricotta mixture onto each eggplant and zucchini slice, then roll up like a jelly roll.

Place rolls seam side down into the baking dish, and top with remaining tomato sauce.

Sprinkle with 1/4 cup parmesan cheese, then bake for 25 minutes.

Sprinkle with fresh chopped basil and serve.