Happy Labour Day! As you all probably have much more exciting plans than me today (unless you consider a day of report-writing fun), I'll keep today's post short!
These quesadillas are a twist on one of my favourite easy dishes from last summer,
peach and brie quesadillas
, making them a little heartier with the addition of chicken and barbeque sauce, inspired by these
chipotle peach bbq chicken quesadillas
. I kept them simple using storebought bbq sauce, so they can be thrown together in no time!
I wasn't sure how the barbeque sauce and peaches would work together, but they turned out so good - I think it's hard to go wrong with quesadillas! The sweetness of the peaches balances out the barbeque sauce, the cilantro adds a fresh bite, and the brie cheese mellows everything out and of course keeps the quesadillas together. I still love the sweeter
peach and brie
version, but these are a nice change for a more substantial dinner that's still easy and fun!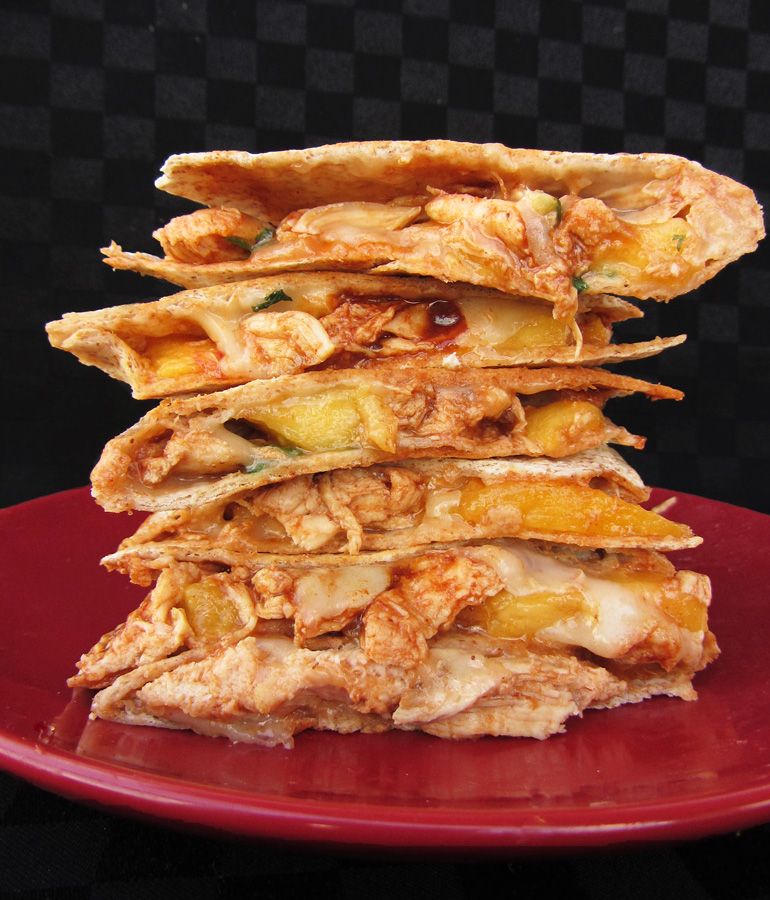 BBQ Chicken Quesadillas with Peaches and Brie
Serves 2-4 (makes 4 quesadillas, which can each be cut into 3 wedges, for 12 wedges)
2 chicken breasts, cooked and shredded
1/4 cup bbq sauce (I used storebought tequila lime bbq sauce)
4 large tortillas (I used whole wheat)
2 ripe peaches, peeled and thinly sliced
2 tablespoons chopped cilantro
Combine chicken and barbeque sauce.

Season with salt and pepper, if desired (I season my chicken breasts before cooking).

Divide brie cheese, chicken, peaches, and cilantro among the 4 tortillas, only layering them on half of each tortilla.

Fold the other half of the tortillas over to form half circles.
Heat two large non-stick skillets over medium heat and spray with non-stick cooking spray.

Place two folded quesadillas in each skillet and cook for about 2-4 minutes, until crispy and golden brown on one side, then flip and repeat on other side.

Serve warm.
Note: I've also tried these with monterey jack cheese instead of brie and they were just as good, so feel free to try a different cheese if you don't have any brie!