Summer is drawing to a close - we're still having great weather here, but this week I've noticed a lot more leaves on the ground and students on campus, which usually signifies the start of fall to me! I still have a ton of great summer recipes that I haven't shared yet, so today I wanted to do a round-up of some of my favourite recipes that I've tried this summer from other blogs, along with some meals that I don't need recipes for. I worry I'll forget about them if I don't post them, and it's not too late for you guys to try them yourselves!
I'll try to keep my descriptions of each dish as short as possible so this post doesn't get too long! First up:
Fresh Corn Saute with Coconut Milk and Sriracha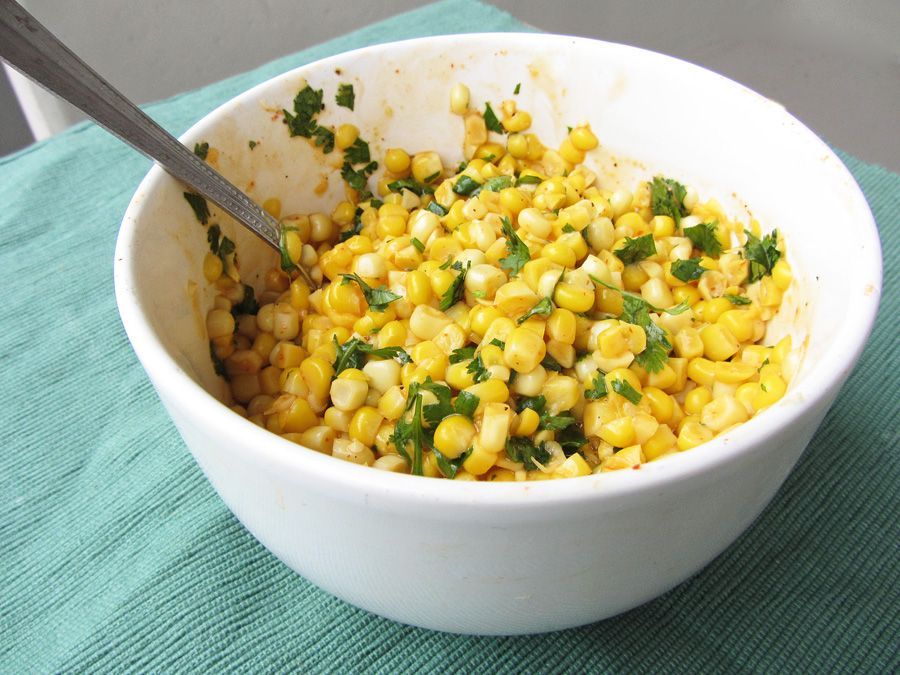 This is a really easy side dish that's a fun twist on the way you probably usually eat corn. It's a little bit sweet and a little bit spicy and a lot of delicious! Get the recipe over at
Oh My Veggies
- I added some chopped cilantro which I thought went really well with the other flavours.
Corn and Goat Cheese Quesadillas with Salsa Verde
These were one of my favourite things I ate this summer, and I'm quite disappointed that I only just discovered them this week! They're ridiculously easy to make - the filling is just fresh corn, goat cheese, storebought salsa verde, and cilantro (the original recipe called for green onions). So there's tangy, sweet, and spicy all going on in an ooey gooey quesadilla - so good! I'm sure it goes without saying but you have to be a goat cheese lover to like these, as goat cheese is the predominant flavour, but I LOVE goat cheese! Get the recipe from
Cooking Light
.
Corn Pizza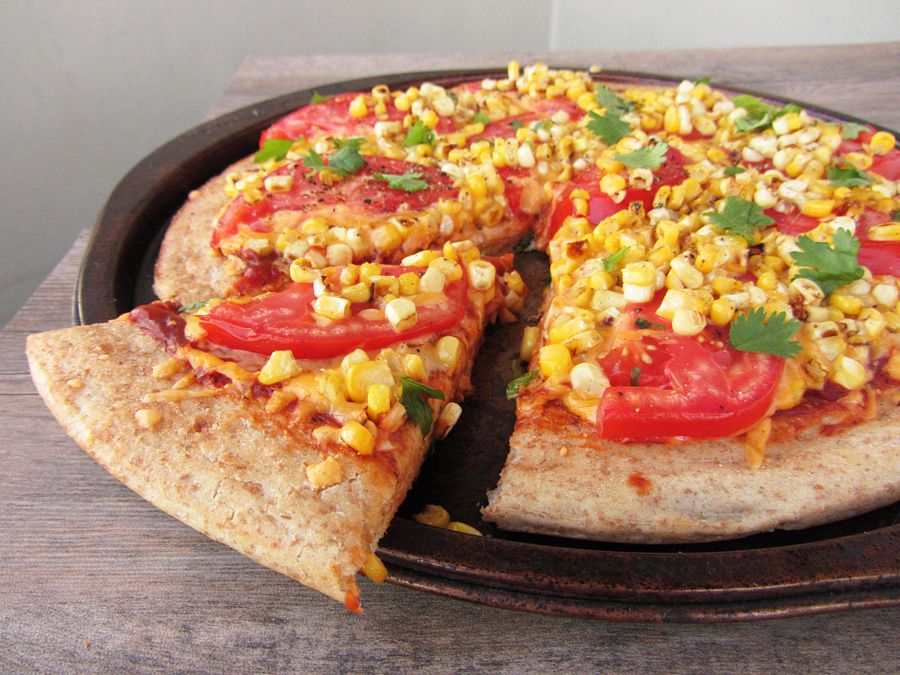 In case you can't tell, I ate a LOT of corn this summer! One of my favourite ways to eat it is on pizza - I used to think it was weird, and you might too, but trust me, once you try it you will be putting corn on all your pizzas! The particular pizza pictured above was a cheddar, tomato, corn, and cilantro pizza I threw together on one of those storebought pre-made pizza crusts. I went in the grocery store after school one day looking for a ball of dough to make pizza but they were all out, and I didn't have time to make my own, so I had to buy this one. It looked like cardboard and tasted like cardboard, but the toppings were delicious!
Roasted Corn and Jalapeno Hummus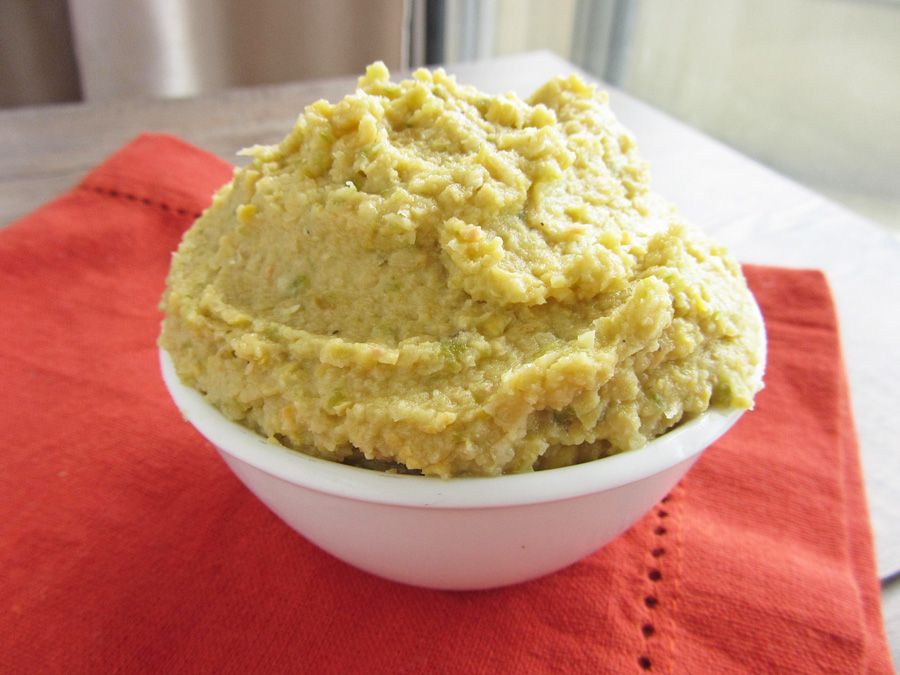 Keeping with the corn theme, this might be my new favourite hummus! It's really spicy but so good that I ended up eating most of it with my fingers (clean fingers, don't worry), though I did manage to save some of it to make
hummus kale chips
, which are now my favourite kale chips. The recipe is from
How Sweet It Is
- the only changes I made were to roast a whole cob of corn along with the jalapenos to save time, and I threw in some lime juice too. If you're looking for a unique summer hummus (and like spice!), give this a try!
Tomato Sandwiches (and Corn Soup)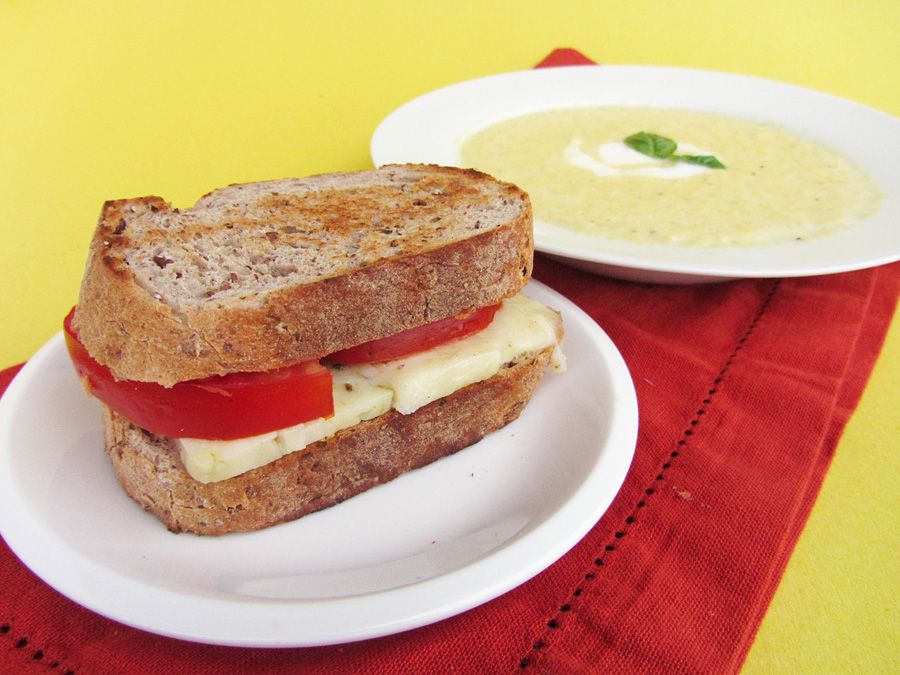 Along with corn, I was on a bit of a sandwich kick this summer! One of my favourite things to eat in the summer is a simple tomato sandwich, which tastes amazing with fresh tomatoes, preferably from a garden if you have one. The sandwich pictured above has some pepper jack cheese on it, and was served with a corn soup I made by literally just dumping some corn and milk in a pot, cooking, pureeing, and seasoning it - and it was delicious! Amazing how fresh summer produce can make the simplest meals taste good!
Tomato and Avocado Sandwich
This is my favourite sandwich of all time - just mashed avocado (seasoned generously with salt and pepper) and fresh tomato slices on toasted bread. I eat this all year round, but it's especially good when tomatoes are in season! It's also pretty filling from the avocado, so it makes for a great lunch or light dinner with minimal effort.
Chicken Sandwich with Roasted Tomato Jam, Mozzarella, Arugula, and Fresh Tomatoes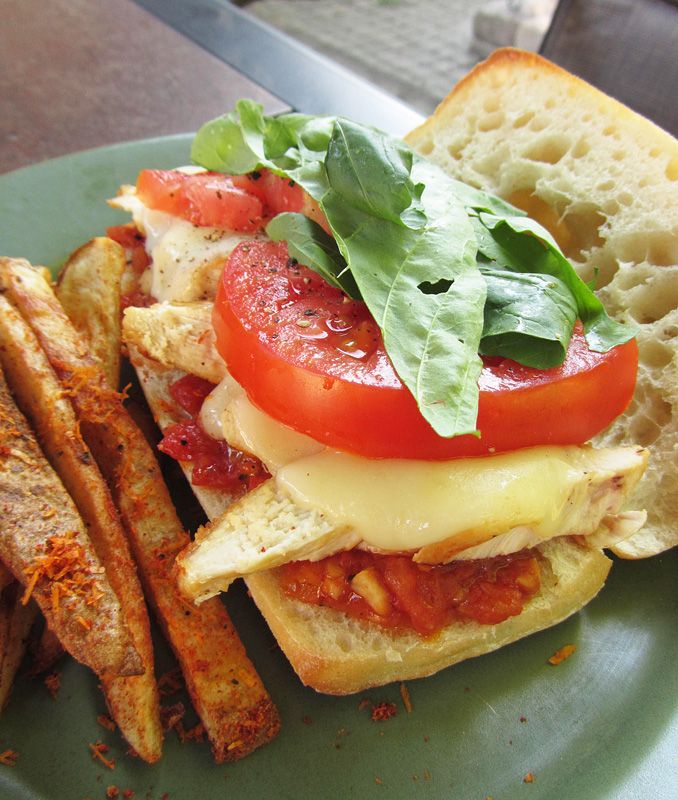 It's hard to go wrong with chicken sandwiches - this particular version has sliced grilled chicken, melted mozzarella cheese, fresh tomatoes and arugula, and a roasted tomato "jam" made by roasting tomatoes with some garlic, olive oil, and seasonings for about an hour. I loved the combination of the roasted tomatoes and fresh tomatoes, and while these sandwiches were pretty messy, they were quite tasty! You can get the recipe for the tomato jam from
Rock Recipes
.
Lightened Up Sundried Tomato Pesto
My sister and I made this dish for my parents one night and they couldn't stop talking about how much they loved it. The sundried tomato pesto is really flavourful, and when combined with sauteed cherry tomatoes and more sundried tomatoes, it makes for a really great pasta dish. We even found sundried tomato & basil flavoured spaghetti, which paired perfectly with the sauce! Get the recipe from
Oh She Glows
.
Summer Vegetable Gratin
This gratin is packed full of summer vegetables (tomatoes, red pepper, zucchini (or use summer squash), and eggplant), combined with a bit of cheese and topped with breadcrumbs. It tasted really good, but my only problem was that the recipe called for 3 eggs, and the gratin ended up being more of a breakfast dish because the eggs were very noticeable. I should have read the comments on the
recipe
first because many reviewers said the consistency was more like a quiche. I still really enjoyed it even if it wasn't what I was quite expecting though, and I loved that it had quinoa in it for added protein. I would definitely make this again without the eggs!
And Now, Some Not-So-Great Summer Dishes
While I enjoyed a lot of great food this summer, not every recipe made the cut. I thought it would be fun to share a few dishes that I didn't deem blog-worthy, to prove that I am selective in choosing which recipes to share with you (only the ones I really like!), and remind ourselves that we can't expect every dish we make to come out perfect!
Pea Soup
I made this soup earlier in the summer when peas were in season. I thought I could look past the hideous swamp green colour if the soup tasted really good, and at first it did, but after a few bites I started to get really grossed out. I'm not sure what it was, but I tried a few more times to eat the leftovers and just couldn't do it - it's hard for me to throw out food but it had to be done with this soup!
Hawaiian Stuffed Sweet Potatoes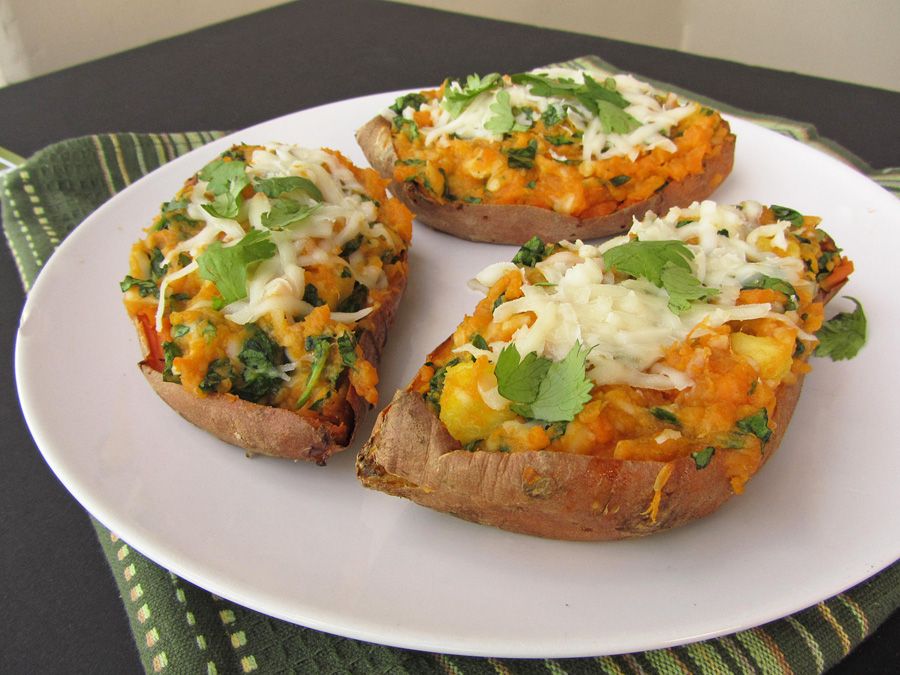 I thought these were going to be really great - I combined coconut milk, pineapple, cilantro, and mozzarella cheese into a baked sweet potato, thinking everything would work really well together. But it just didn't - I can't put my finger on exactly what went wrong here, they just didn't work. I still ate them all, but didn't enjoy it very much!
Coconut Corn and Edamame
I tried to do a spin on the spicy coconut corn saute I mentioned above by adding edamame for some protein, but the edamame ended up just dulling the bright flavours of the dish. I'll stick to the
original version
from now on!
Mexican Chayote Squash Salad
I bought chayote squash for the first time this summer, and decided to use it in a Mexican-inspired salad. I marinated the squash in a lime juice mixture, then tossed it with tomatoes, black beans, avocado, olives, jalapeno, and cilantro. I thought it would be super flavourful, but it ended up being kind of dull and the dressing was too watery. Plus the chayote releases this sticky sap when you cut it, which I didn't know about beforehand, and my hands felt tight and sticky and icky for at least a day. I'm glad I tried something new, but I don't think I'll be buying chayote again anytime soon!
Cherry, Goat Cheese, and Almond Quinoa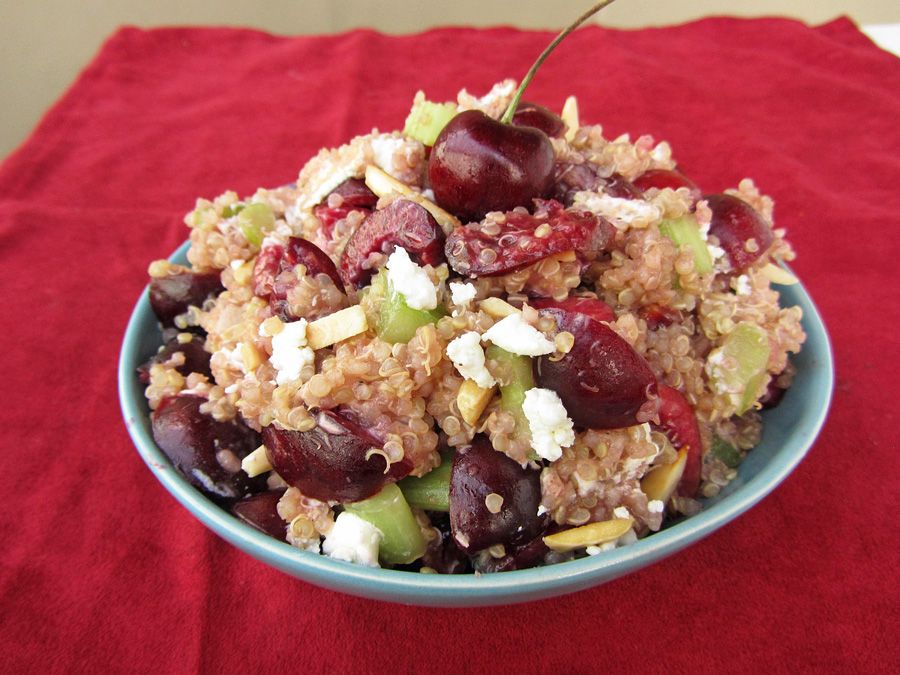 I wanted to come up with a unique quinoa dish this summer and decided to combine cherries, celery, goat cheese, and almonds into a quinoa salad. It was alright, but something that I couldn't put my finger on was either missing or not working in this dish. Fortunately, my
breakfast quinoa
experiment using cherries, chocolate, and almonds was a big success!
Alright, now that I've gotten that out of the way, I think I'm ready to start buying apples, squash, and pumpkin! I'll still enjoy summer produce while it's available, but you can expect to start seeing some fall recipes on here soon!