If given the choice between pie and cake, I'd choose pie every time.
Buttery pie dough wrapped around a creamy or fruity filling is just so much more appealing to me than cake and icing (not that I don't love a good cake!).
Surprisingly though, there are very few pie recipes on my blog - apart from
mini pies
and a
frozen peanut butter pie
, both of which aren't really the type of thing that comes to mind when you hear the word 'pie'.
I guess it's because I usually make cake when there's a celebration, and if I'm making a dessert just for fun, I usually make cookies or bars because they're easier to transport and share with others.
Pie just doesn't seem to fit in anywhere!
But when I saw the autumn fruit pie with ginger crumble topping in this fall's
Food & Drink
magazine (a wonderful magazine that's free at the LCBO, which is where us Ontarians go to buy our alcohol), I knew I had to make it.
I love apple pie, but I also love unusual twists on classic desserts, so I loved that this version added pears and ginger!
I also liked that this pie was deep-dish, so I went out and bought a deep dish pie pan just for it.

But then on the day I wanted to make it, I already had a ton of stuff to do so I decided to use a storebought frozen pie crust instead.

I chose one that specifically said 'deep dish pie crust' on the box, but when I opened it up at home, it looked the exact same as a regular pie crust.

When I placed it in my deep dish pie pan to compare the size, it only went halfway up the sides of the pan.

Why do they call it deep dish if it's not deep at all!?
Since at this point it was too late to make my own dough, I ended up cutting apart and piecing together two of the so-called deep dish pie crusts (thankfully there are two in a box) into one true deep-dish crust, and placing it in my pan.

At least the pan I bought came in handy!

So if you're worried about the same thing happening to you, I'd recommend just making your own pie dough – it's really not that hard and probably would have taken me less time than it did to piece together the two frozen ones!
Despite that little setback, this pie turned out wonderfully.

The pears and ginger add a nice little twist to an apple pie without taking it too far from the classic apple pie flavour we all love.

I was a little worried that the ginger would be overpowering, but it was actually quite subtle.

I almost would have preferred a stronger ginger flavour, but others thought that it was just right.
Based on how quickly this pie disappeared (and everyone complained about only getting one piece, myself included), I think I need to start making pies more often!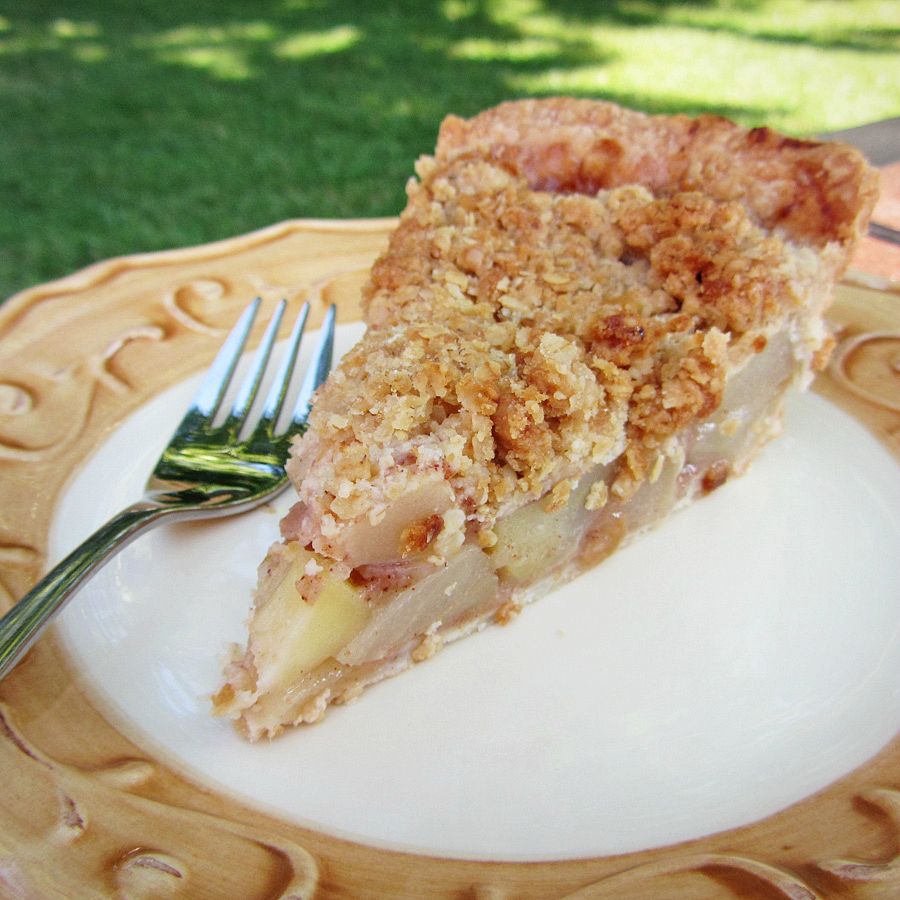 Autumn Fruit Ginger Crumble Pie
Slightly adapted from
Food & Drink
, Autumn 2012 (issue not yet online)
1 deep dish 9-inch pie crust
3 cups peeled and sliced cooking apples (about 2-3 apples)
3 cups peeled and sliced just-ripe pears (about 3 pears)
3 tablespoons fresh lemon juice
1/3 cup packed brown sugar
1/4 cup all-purpose flour
1/2 teaspoon ground ginger
1/4 cup all-purpose flour
3 tablespoons packed brown sugar
2 tablespoons finely chopped crystallized ginger
1/3 cup unsalted butter, cut into small pieces
Preheat oven to 450
°
F.

If using a storebought deep dish frozen pie dough, allow to thaw 10-15 minutes before you're ready to fill and bake the pie.*

Otherwise, you can prepare your favourite pie dough recipe, roll it into a deep-dish pie pan, and chill while preparing the filling.
Place apples, pears, and lemon juice in a large bowl.

Add the brown sugar, flour, ginger, cinnamon, and nutmeg, and toss everything together until fruit is well coated.

Transfer filling and any juices to the prepared pie shell, spreading it evenly and packing gently.
Prepare the crumble by mixing oats, flour, brown sugar, and ginger in medium bowl, and cutting in the butter with a pastry cutter or fork until the mixture clumps together.

Sprinkle crumble over the fruit.
Place pie on a baking pan to catch any drippings and bake in lower third of oven for 15 minutes or until pastry edge looks cooked.

At this point, I wrapped a thin strip of aluminum foil around the edge of my pie to prevent the crust from burning.

Reduce oven heat to 375
°
F and bake for another 50 minutes or until juices are thick and bubbling and topping is brown.

Remove from oven and let cool completely before slicing.
This pie is great at room temperature, but I preferred it warmed up.
*Note: I bought a Tenderflake deep dish pie crust, but it was not as deep as a standard deep dish pie pan.

I ended up transferring the dough to a deep dish pie pan, then cutting dough from the second crust in the box and pinching it together with the other dough so that I had enough crust to fill the pan.