Yesterday we had a baby shower for a coworker, and because everyone put a lot of hard work into it, I wanted to share the results with you guys! I also had a pretty hard time coming up with food ideas before the shower, so maybe this will help inspire anyone in a similar position!
The picture above is the food table at the shower (which was held in the lounge in our building on campus). One of my coworkers who organized the shower did a fantastic job setting everything up and making it all look pretty with coordinating colours! We didn't know the gender of the baby so we went with teals, yellows, and greens, which we thought were pretty gender neutral. The shower was held in the afternoon at work, so we didn't need a ton of food for everyone.
I was in charge of two desserts. First up were these mini baby rattle cupcakes (apologies for the photos in this post, most were taken quickly with my phone):
I got the idea for these cupcakes from
Betty Crocker
, and I think they turned out pretty well! I have no idea if they actually resemble a rattle because I can't recall ever seeing a rattle in real life (I've had limited experience with babies), but I thought they were still cute!
To make the rattle cupcakes, I used a mini carrot cupcake recipe from
Food Network
, tinted some of the cream cheese frosting yellow and left some white, and decorated them with a few different types of sprinkles. It used 4" lollipop sticks for the rattle handles and gummy candies for the end of the rattle, then tied a ribbon around the middle of the lollipop stick. It was pretty hard to get the lollipop stick through the cupcake liner, so I had to pull a bit of the liner down, use a sharp toothpick to poke a hole through, then insert the lollipop stick and kinda smoosh the liner back to the cupcake.
I loved that these were just a one or two bite dessert so people could save room for other food, and the cupcakes tasted really good. I actually had a minor disaster making them because after I'd spooned all my batter into the liners and was about to put them in the oven, I licked some batter off my finger and thought that it tasted really bad. I started thinking back to what went in them and realized that I completely forgot the sugar! So then I had to spoon all the batter back out of the liners into a bowl, mix some sugar in (which is totally against every baking rule), and put it all back in the liners. This was at the very beginning of my 5 hour night of baking, so it didn't set the tone very well! But they still worked out, so I was thankful!
Moving on to my second dessert which was much more time consuming than the first, here's my attempt at baby cake pops:
This idea came from the queen of cake pops,
Bakerella
, so obviously mine didn't turn out nearly as good as hers, but I was still proud of them because this was only my second time making cake pops!
If you want to make these, be prepared to set aside a big chunk of time - they're not too difficult, but very time consuming. I would have loved making them if I had help from someone, but it can be a bit of a pain to do it all by yourself! To make these, I followed the general cake pop directions that can be found on lots of other sites, like
Bakerella
,
Love from the Oven
, or
The Kitchn
, for example. There are some really detailed tutorials out there with lots of tips and tricks, so if you're making cake pops for the first time, I recommend reading advice from at least a few sources first.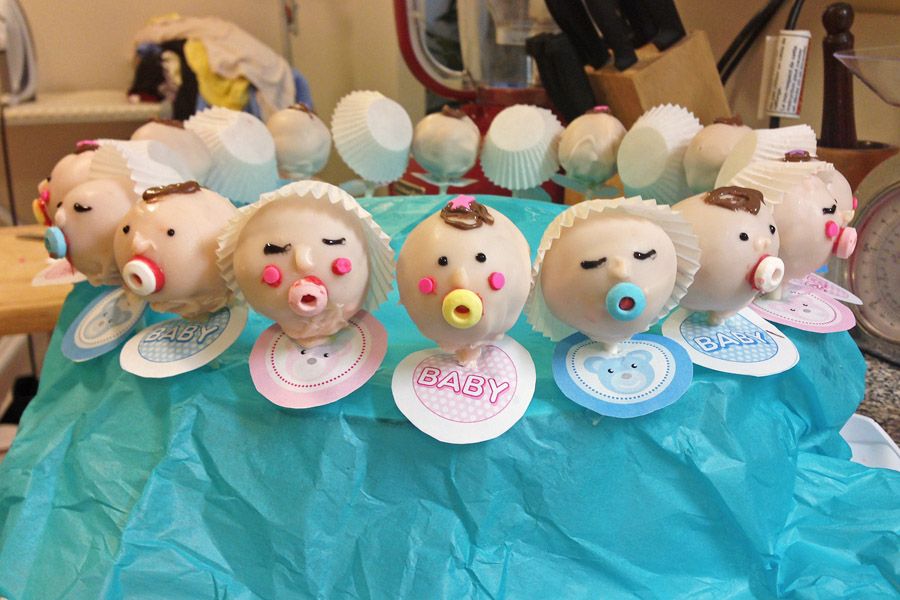 For these ones, I used a storebought cake mix but mixed in some of the cream cheese frosting from my cupcakes instead of using storebought icing. I've used it before and in my opinion it makes already sweet cake pops just way too sickly sweet. After rolling the cake into balls and inserting the lollipop sticks, I dipped them in melted candy coating that was mostly white with a few red wafers mixed in to get a light pink colour. I used that same coating for the babies' noses, black decorating gel for the eyes, melted chocolate for the hair, mini muffin liners for the bonnets, confetti sprinkles for the cheeks, and candy from a candy necklace for the soothers.
Bakerella
also includes a printout for the baby bibs, which I thought added a nice touch.
I think these were worth the effort in the end - everyone really loved the looks of them. Tastewise, I still found them to be pretty sweet and I definitely wouldn't want to eat more than one, but I think this is a matter of personal preference and how big of a sweet tooth you have!
My favourite part of the baby shower was this watermelon baby carriage:
I can't take credit for the idea for this - if you Google 'watermelon baby carriage' you'll see that tons of people have made this before us. I also can't take credit for making the carriage - it was a joint effort between a few people and all I really had to do was make the baby's head (the best part!)
When I first suggested that we make this, I thought it would be a ton of work, but it was actually really easy! We followed this great
video
for carving the watermelon, then added in a baby using an apple for the head, blueberries for the eyes (inserted with toothpicks), a lettuce leaf for the bonnet, and a soother which I just carved a little hole into the apple for and inserted. The carriage handle and wheels were also attached with toothpicks, then we just filled the watermelon and plate with a variety of fruit. We used a watermelon that was on the smaller side, which I think worked out really well because the baby's head didn't look way out of proportion, as I've seen in some other photos on the web.
The carriage was a big hit and also provided a healthier option amongst all the desserts, so I'd highly recommend it!
Lastly, we made a punch that we floated a few rubber duckies in - I thought they added a nice touch!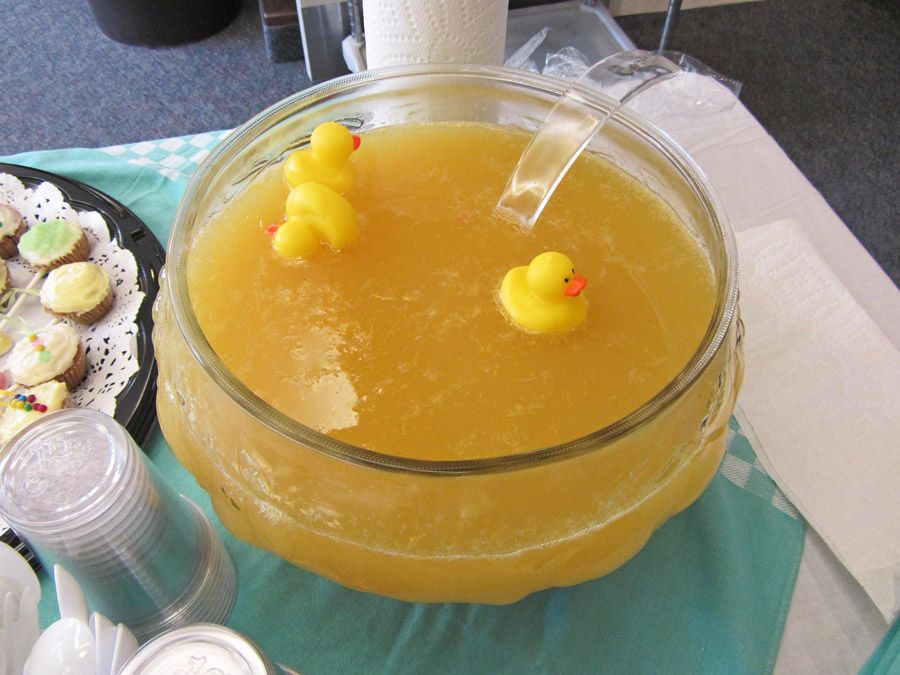 Overall the baby shower was a success and we all had a lot of fun preparing it. I don't think I'll be making any more cake pops for a while though!