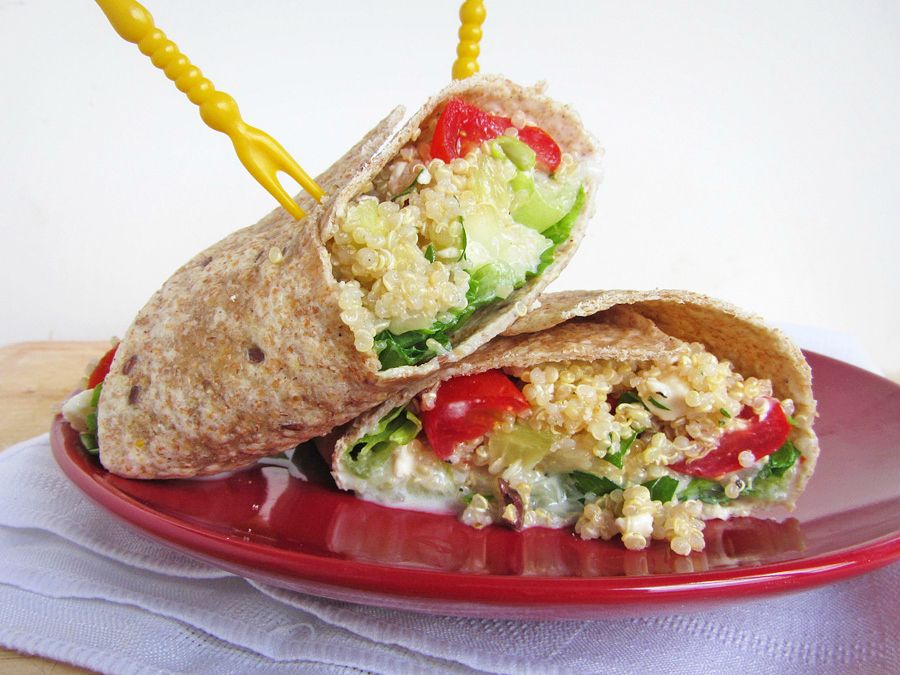 I knew this was something I'd want to repeat often for a healthy, protein-filled lunch, so I started thinking of other versions that I could make to change things up a little. Since I loved this Greek quinoa with cucumber, tomatoes, olives, and feta (which I've talked about in my summer quinoa recipe roundup), I decided to use it in a wrap combined with an easy tzatziki sauce.
I already knew the quinoa on its own was delicious, but combined with a cool and creamy yogurt sauce, crisp lettuce, and a whole wheat tortilla wrap, it's even better – plus its more filling this way, making it a great healthy option for lunch or dinner.
I don't recommend making the wraps too far ahead of time because the tzatziki could make the wraps soggy, but I found that making a wrap in the morning and eating it for lunch was still fine – just make sure you lay the lettuce down first before the sauce to protect the tortilla from getting soggy!
I hope you all have a great weekend!

I'll be back on Monday for a great giveaway for my Ontario readers, so be sure to stop back then!

And now that it's official Fall, I'll have plenty of fall recipes coming your way soon!
Greek Quinoa Wraps with Tzatziki
1 medium English cucumber
1-1/2 cups nonfat plain yogurt or plain Greek yogurt
1 cup chopped peeled cucumber
1 cup halved grape tomatoes
1/4 cup pre-sliced kalamata olives
1/3 cup crumbled low-fat feta cheese
2 tablespoons red wine vinegar
1/4 teaspoon ground pepper
Optional: Add red onions for more crunch (I just don't like red onions), or chickpeas for more bulk


6 twelve grain or whole wheat tortillas
Peel the cucumber, cut it in half lengthwise, and scoop out the seeds.

Grate the flesh into a strainer, sprinkle with salt, and let sit for 20 minutes.

Use your hands or a paper towel to squeeze out as much liquid as you can from the cucumber.
Add the cucumber to the yogurt.

If you have time, you can strain the yogurt through a cheesecloth for a couple of hours first to drain out some of the water and thicken it, but I don't bother.

Add lemon juice, mix everything together, and season with salt and pepper to taste.

Keep in refrigerator until ready to use.
Bring 2 cups of water to a boil in a medium saucepan.

Add quinoa, cover, and reduce to a simmer for 15 minutes.

Remove from heat and keep covered for 5 minutes.

Remove lid, fluff with a fork, and transfer to a large bowl to let cool.
Meanwhile, mix the cucumber, tomatoes, olives, parsley, and feta together in a medium bowl.

In a separate small bowl, whisk together the olive oil, red wine vinegar, salt and pepper for the dressing.
Add the cucumber mixture to the quinoa and toss together.

Drizzle the dressing overtop, and mix to coat.

Season with additional salt and pepper if desired.
Lay a lettuce leaf in the center of each wrap.

Top with tzatziki sauce and quinoa, wrap, and serve.