It seems that this time of year seems to divide people into two camps: those who are already dreaming of pumpkin pie, apple cider, cozy sweaters, and all those warm and fuzzy things that go along with the fall season, and those who are not yet ready to say goodbye to warm weather, long days of sunshine, and abundant fresh summer fruits and veggies.

I definitely fall into the latter camp; as much as I love fall, I always feel like summer's way too short and I haven't fit in enough peach/tomato/blueberry/corn/basil/etc. goodness yet!
I also feel like I have a ton of summer recipes still to share with you guys and I'm running out of time to do so, so I'm trying to switch from two to three posts per week over these last few weeks of summer.

So because I've spent more time than usual on blogging this week and also seem to have WAY more schoolwork than usual this week, I'm going to keep today's post fairly short!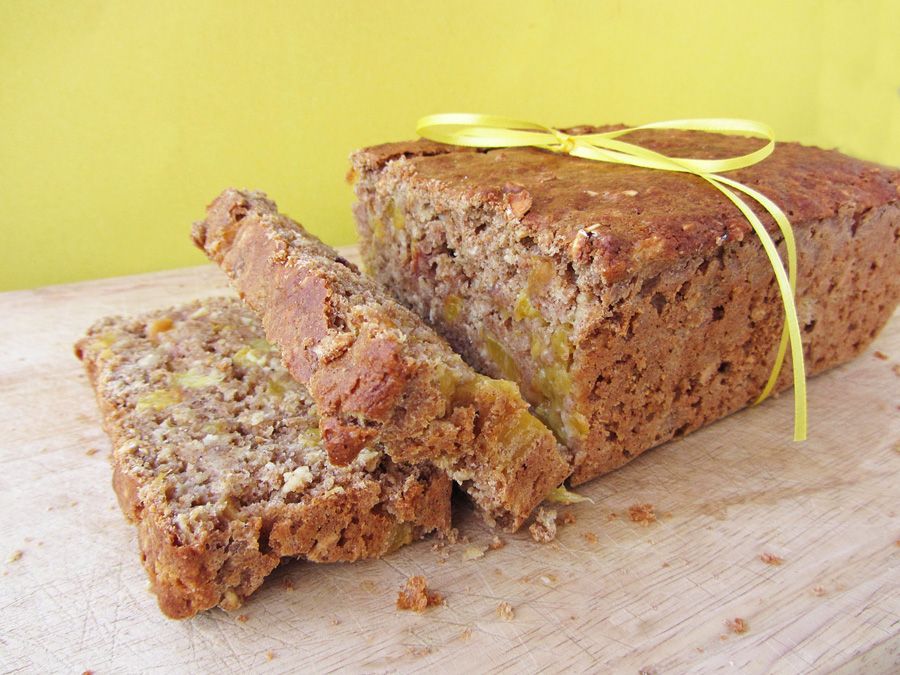 This is a dense, hearty bread with bursts of sweet peaches and hints of warm spices throughout, so it's perfect for this transition period from summer to fall.

It's also pretty healthy, made with whole wheat flour and oats, non-fat yogurt, and only 2 tablespoons of oil.

I've been loving eating it for a snack every day this week just on its own, but I think it would be amazing toasted with fresh peach jam too!
Whole Wheat Peach Oatmeal Bread
2-1/2 cups whole wheat pastry flour
1/2 cup packed brown sugar
1 tablespoon baking powder
1 cup old fashioned rolled oats
2 cups diced ripe peaches (from about 3 peaches)
2 large eggs (I used Omega 3 eggs)
1 cup plain non-fat yogurt
2 tablespoons vegetable oil
1 teaspoon pure vanilla extract
Preheat oven to 350
°
F.

Line a 9 x 5 inch loaf pan with parchment paper and spray with cooking spray.
Whisk together the dry ingredients (flour through oats) in a large bowl.

Add the diced peaches and stir to coat the peaches.

In a separate bowl, whisk the eggs, yogurt, oil, and vanilla extract.

Add the wet ingredients to the dry ingredients, stirring until just evenly moistened.
Pour the batter into the prepared pan and bake for 50-60 minutes, until a toothpick inserted in the center comes out clean.

Let cool in the pan for 10 to 15 minutes, then remove and let cool completely on a wire rack before slicing.