Sorry for the lack of activity over the past week; I've been keeping busy with family visits and a few birthdays! Today is both my dad and dad-"in-law"'s birthday, and last Wednesday was
my twin sister
and my birthday!
I love occasions that give me an excuse to bake something special and I had assumed that I would have at least a couple of dessert recipes to share with you by this week, but unfortunately things didn't go quite as planned. I made two different desserts for my birthday week - cupcakes and a cake - that sounded so good when I planned them out in my head, but neither turned out quite how I wanted. But instead of getting frustrated that the recipes I'd spent time and money on planning and had such high hopes for didn't end up being "blog-worthy", I decided to look past their minor flaws so I could still enjoy them with my family, and then turn them into a blog post by talking about what I learned from each baking experience!
I also think it's nice to point out once in a while that I make lots of mistakes in the kitchen just like everyone else, and I only share recipes on here that I really love!
First up were these lemon blackberry cupcakes. I love lemon and berry desserts and try to take the opportunity to use them in my birthday desserts because it's one of the few events in the year where I can choose to make something completely suited to my tastes without worrying about what others would like (i.e. no chocolate!)
I decided to turn this
lemonade layer cake
from Cooking Light into cupcakes, then fill them with blackberry curd and top them with blackberry cream cheese frosting. Unfortunately, every component had minor flaws (in my eyes anyway). The blackberry curd had a slightly chalky taste; I'm the only one who seemed to notice it and I'm not sure what it was from - maybe adding cornstarch? If anyone has an idea on what might have caused that, I'm all ears! I then mixed some curd into a cream cheese frosting, but the frosting wasn't stiff enough to be piped so I had to just spread it on, making them not as pretty as I'd hoped. I think this was because I tried to reduce the amount of butter and sugar in the frosting - next time, I'll just stick with a recipe. Finally, the lemonade cake didn't taste quite lemony enough for me, and it ended up being too dense for a cupcake. I should have known this would happen because there are a ton of comments on the recipe from people saying the cake was too dense, but for some reason I had thought I would still like it because I usually like dense cake. Unfortunately, dense doesn't really work in cupcakes, which people expect to be light and fluffy, and these almost tasted eggy too - in retrospect, I should have realized the recipe called for too many eggs.
Despite these flaws, I still really enjoyed eating them and everyone else told me they liked them. So I'm determined to revisit this idea with improvements one day!
(side note: I received the little cupcake stand in these pictures as a birthday gift from my sister - isn't it adorable?!)
Next up I decided to make a frozen yogurt cake using my favourite frozen yogurt flavour, caramel coconut blondie. I dreamed up the perfect cake in my head: a browned butter blondie base, caramel coconut blondie frozen yogurt for the cake, and a coconut whipped cream topping with caramel sauce. Sounds delicious, right?
Unfortunately, it didn't work out quite as I'd imagined. The browned butter blondie base smelled amazing coming out of the oven and I was sure that I was on the right track, so I proceeded to freeze the base, top it with the frozen yogurt, and freeze the cake. Then I planned on topping it with a
coconut whipped cream
that my sister was making for her birthday pie, along with a storebought caramel sauce.
What I ended up with when I went to serve it was a rock hard frozen crust that was nearly impossible to cut through, topped with rapidly melting frozen yogurt. I guess a frozen blondie isn't the best choice for a cake base to begin with, and after doing some reading, I realized that frozen yogurt is a lot softer and melts faster than ice cream, so by the time you wait for the blondie base to soften up, the top part is too soft.
Once again, this was completely edible and tasty, and my family still told me they liked it (and ate it all happily), but we're also lucky the crust didn't go flying across the room as we were all trying to cut through it! In the future I'm going to keep my frozen yogurt for eating on its own and only use ice cream with standard cookie crumb crusts for ice cream cakes!
The good news is that I do have one shareable recipe for you in this post! My sister and I got to choose our birthday dinner (as we do every year year) and this year we decided on this
Thai chicken & jicama salad
which my dad has made in the past and we've all loved. This time, he served the chicken on the side and omitted the fish sauce so the salad was vegetarian. It's so light and refreshing, and even though it snowed that day (!), we all loved it! My sister also made some mango fresh rolls with peanut dipping sauce as a side - yum!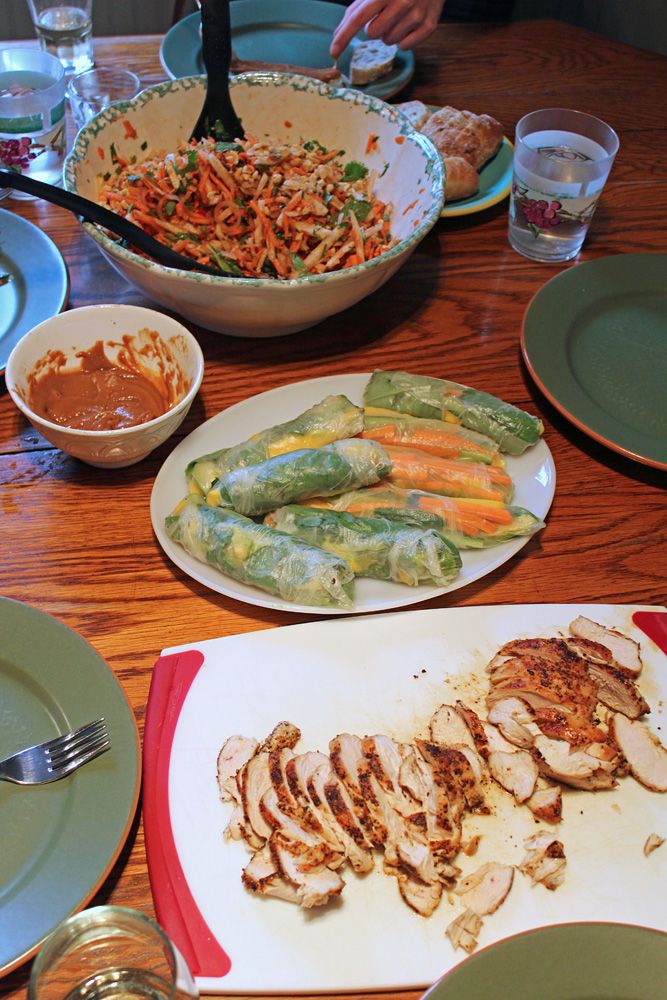 In addition to my frozen yogurt cake, I treated myself to a few other frozen yogurt treats this week thanks to free birthday coupons I've signed up for! From left to right below are a coffee frozen yogurt with coffee crisp, coconut frozen yogurt with strawberries, and caramel & vanilla frozen yogurts with a bunch of mix-ins. All so good!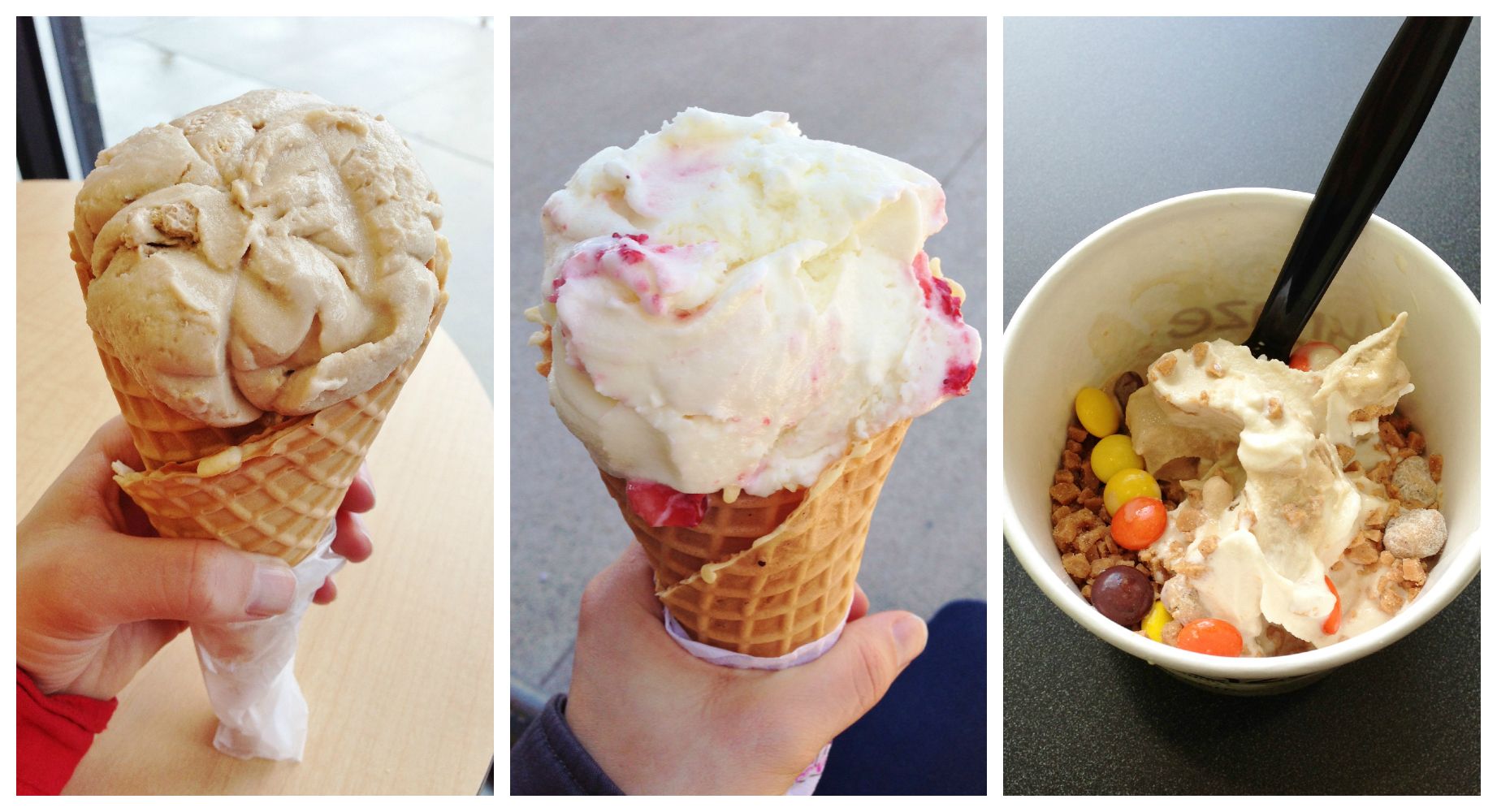 My sister wrote about her birthday treats
here
; she had a few problems with her birthday dessert, a frozen mango pie, but it was still tasty too!
Tonight we decided to leave my dad's birthday cake in the very capable hands of our mom to avoid another baking failure! And hopefully I'll have a successful recipe to share with you by the end of this week!