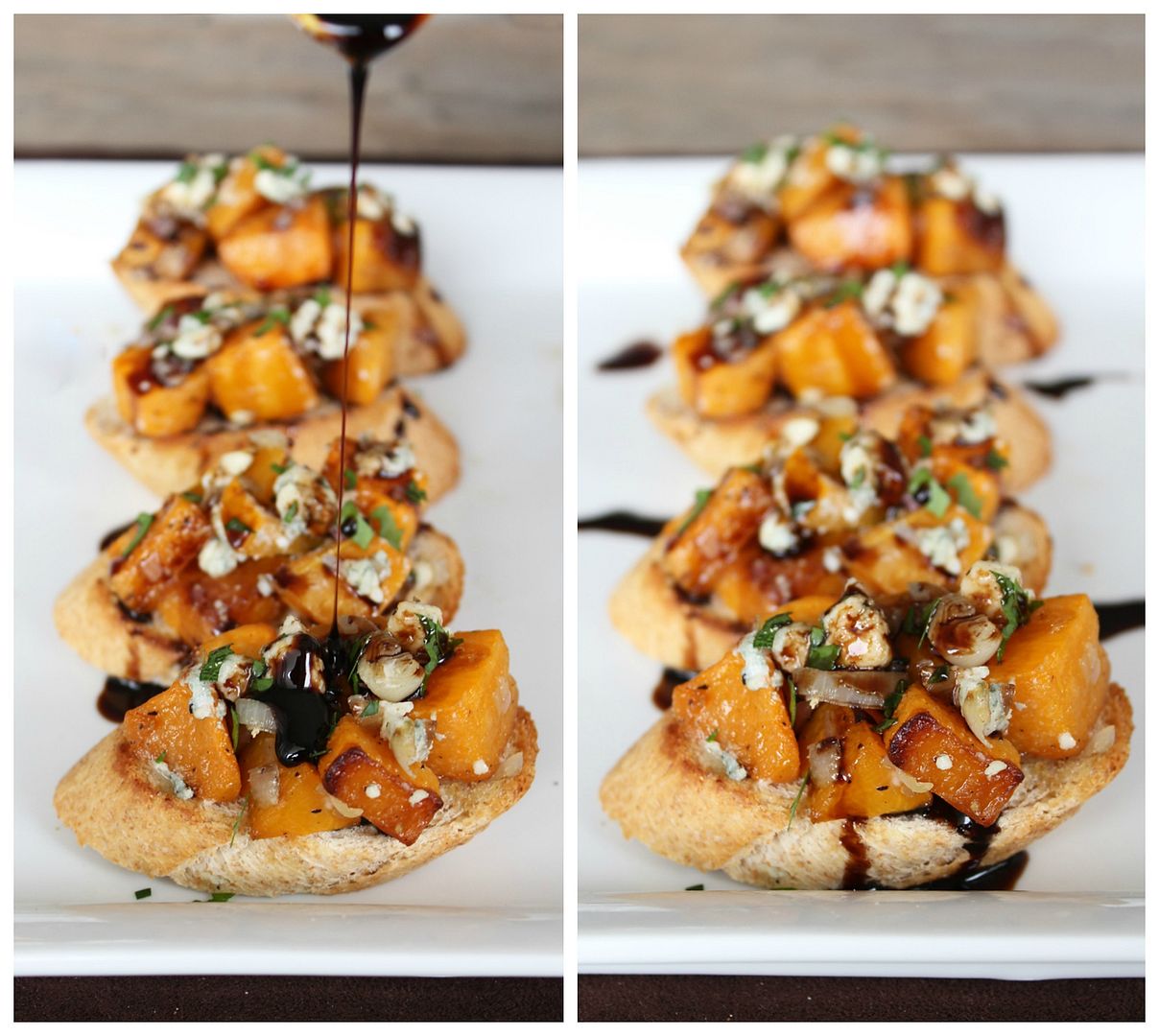 So I promise this is the last time I'll complain about snow on here (especially because I know a lot of people have even worse weather right now), but it was practically a blizzard on my way to school yesterday!
It was actually a very beautiful and peaceful falling snow; I would have loved it in November-December and tolerated it in January-February, but it was just hard to appreciate in April! I need the snow to stop so the already too short season for spring vegetables here (in Ontario) doesn't get any shorter!
But while I'm (impatiently) waiting, I'm at least happy to extend the season of delicious winter ingredients like butternut squash a little further. And using squash atop crostini not only feels light enough to help transition my meals into Spring, but also makes for what is probably my new favourite appetizer!
This was my first time pairing squash and blue cheese together and the combination worked so well together! I wanted to add caramelized onions because I thought that would make the flavour combination even better, but to keep things on a smaller scale I sauteed some minced shallots instead, which worked even better. Add a drizzle of balsamic reduction to bring it all together and you have an elegant and flavourful appetizer that would be a unique addition to any party! Or if you want to make this into a meal for yourself and don't love crostini, the squash and blue cheese mixture on its own was delicious and would taste amazing mixed into a salad with a balsamic dressing.
It's looking much better out today so fingers crossed I'll have a Spring recipe to share next week! :)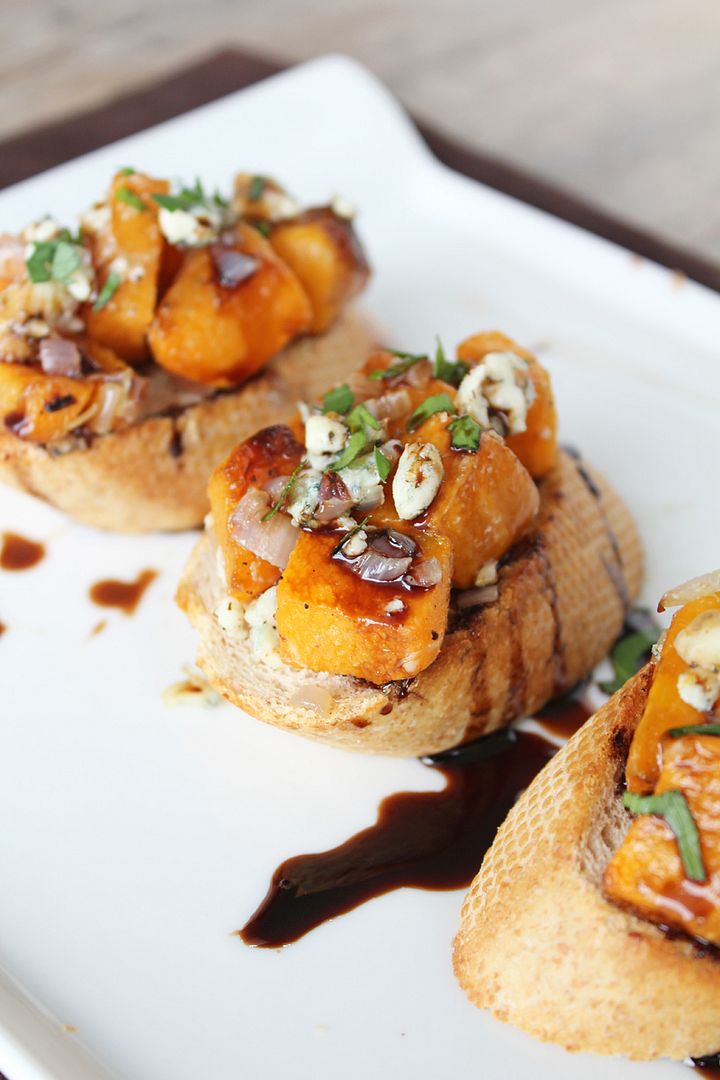 Butternut Squash & Blue Cheese Crostini with Balsamic Reduction
1 pound butternut squash cubes, about ½-inch wide
2 tablespoons olive oil, divided
~1/4 cup balsamic vinegar
1 whole wheat baguette, sliced diagonally into about 10 slices (you may not use the whole loaf)
1 to 1.5 ounces blue cheese, crumbled
Preheat oven to 400°F.

Toss butternut squash cubes with 1 tablespoon olive oil and season with salt and pepper.

Spread on a foil-lined baking sheet and roast in preheated oven for 25-35 minutes, until tender and cooked through.
Meanwhile, add balsamic vinegar to a small saucepan and bring to a boil.

Let simmer until reduced to only about 1 tablespoon – it should be thicker and syrupy.

Remove to a small bowl to let cool.
Heat remaining olive oil in a medium skillet over medium-high heat. Add minced shallot and cook until golden brown, stirring often, about 5 minutes.
Once squash is done, leave oven on, and spray baguette slices with cooking spray.

Set on baking sheet and let toast in oven for about 3-5 minutes, until crispy.
Meanwhile, mix squash with shallots and blue cheese in a large bowl.
Assemble the crostini:

Spoon the butternut squash mixture onto each toasted baguette slice.

Drizzle with balsamic reduction and serve warm or at room temperature.
Note: I added a tiny amount of minced parsley to add some green on top of the crostini for visual purposes, but basil would probably work well too if you like!