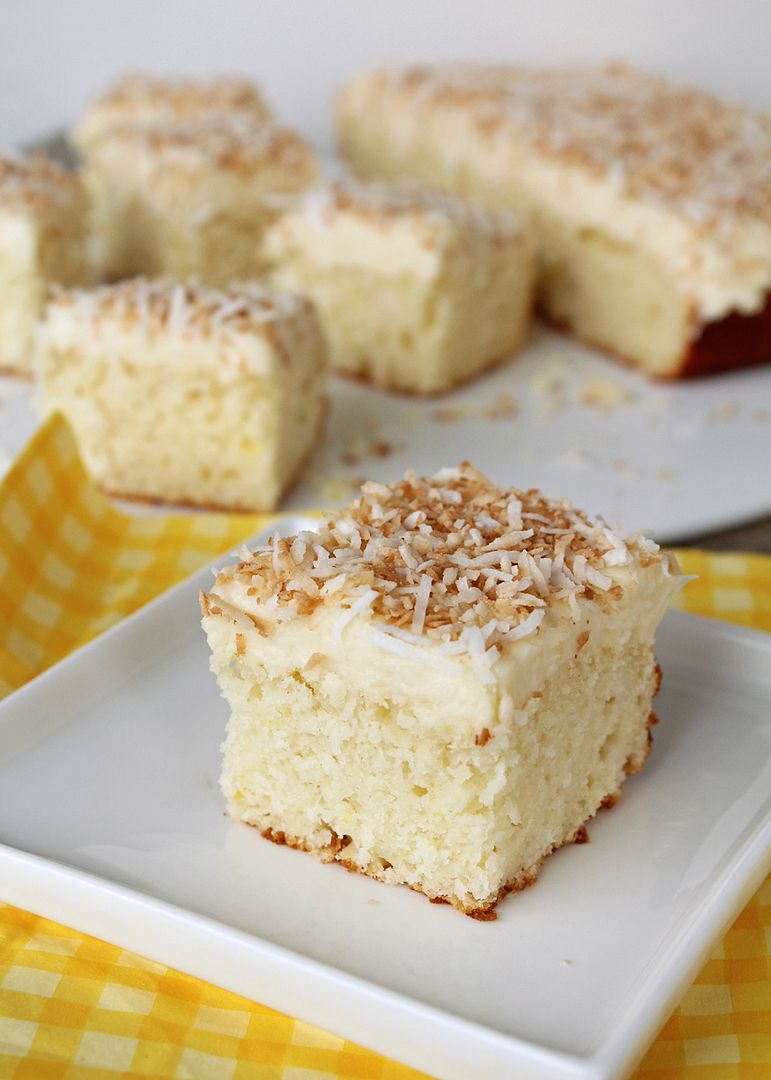 The sun has finally come through shining here the past few days, but for those who are still buried in snow, and for all of those affected by the events in Boston this past week, I'm sharing this bright and light lemon yogurt cake with coconut cream cheese frosting to help spread some warm and sunny thoughts.
This is a simple snack cake made of a dense lemon yogurt cake base topped with a coconut cream cheese frosting and some toasted coconut flakes. I tried to lighten it up a bit from the original recipe by reducing the oil and sugar, and the texture still came out great and I loved how the lemon and coconut flavours shone through and complemented each other. This is a great spring cake to make and share with others to spread the sunshine :)
Lemon Yogurt Snack Cake with Coconut Cream Cheese Frosting
Makes one 9x9-inch cake, about 16-20 squares
Ingredients:
For the Cake:
1 cup plain low-fat Greek yogurt
1/3 cup vegetable oil
1/3 cup fresh lemon juice
2 teaspoons grated lemon zest
1/2 teaspoon vanilla
3/4 cup sugar
2 large eggs
2 cups all-purpose flour
1 tablespoon baking powder
1/2 teaspoon salt
For the Frosting:
8 oz cream cheese (reduced fat, if desired), at room temperature
1/4 cup unsalted butter, at room temperature
1-1/2 cups icing sugar (use 2 if you want it sweeter)
1/2 teaspoon vanilla extract (or coconut extract, if desired)
1/2 cup sweetened shredded coconut
1/2 cup sweetened shredded coconut, toasted for topping
Directions:
Preheat oven to 350°F.
Line a 9x9-inch baking pan with parchment paper on the bottom.
Mix the "wet" ingredients together with a whisk until well combined: yogurt, oil, lemon juice, lemon zest, vanilla, sugar, and eggs.
In a separate bowl, whisk together the dry ingredients: flour, baking powder, and salt.
Add the dry ingredients to the wet ingredients and stir until just combined.
Spread mixture into prepared baking pan and even out with a spatula.
Bake in preheated oven for 30-35 minutes, until a toothpick inserted in the middle comes out clean.
Remove from oven and let cake sit in pan for about 10 minutes to cool, then transfer cake to a wire rack to cool completely.
Meanwhile, prepare frosting.
Beat cream cheese and butter until smooth, about 2-3 minutes.
Add icing sugar and beat until combined.
Add vanilla and coconut and beat until just combined.
When cake has cooled, frost the top with the frosting.
It should
make a thick layer.
Toast the additional 1/2 cup of coconut in a dry skillet over medium heat until golden brown.
Sprinkle overtop frosting.