I was planning on posting a new recipe today, but my family made such great food for Easter dinner on Sunday that I had to share it instead!
While I used to look forward to Easter morning as a kid, when I would find the basket of chocolate that the Easter bunny left me then go on a search for the eggs we dyed, now I look forward to Easter evening, when I get to eat a delicious meal with my family. The Easter bunny has evolved over time too, from leaving me chocolate bunnies to chocolate flavoured tea!
Here are some of the delicious things I enjoyed on Easter:
Starting with appetizers, my aunt put together a fruit tray with yogurt dip. What made this better than any other fruit tray I've had was that she served it with coconut Greek yogurt - yum! I highly recommend using that as a dip for your next fruit tray!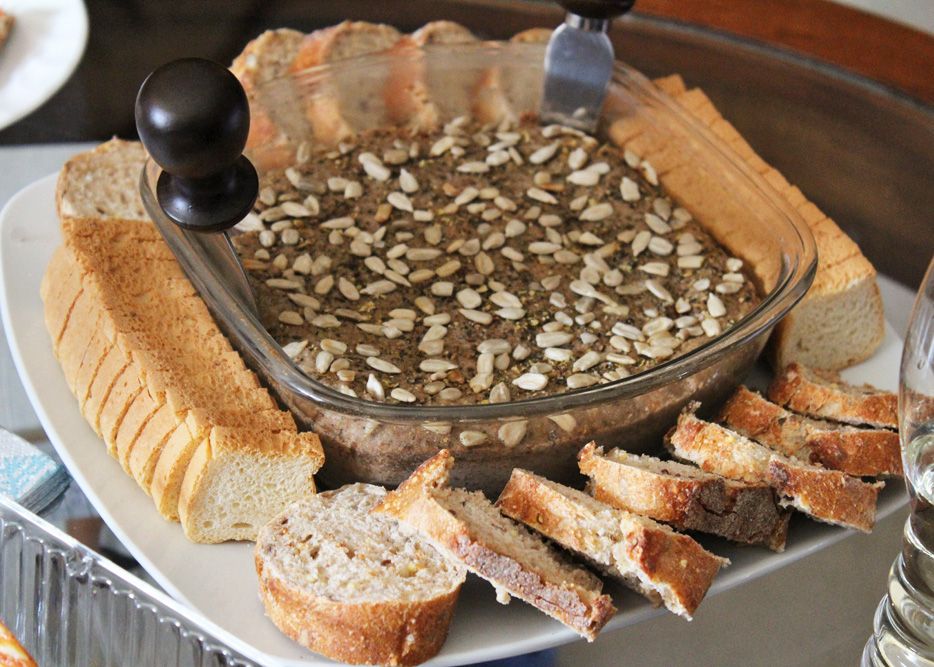 The most popular appetizer was this herb crusted peppercorn lentil-nut pâté that my sister
Genevieve
made. I haven't had pâté in ages and now it kind of grosses me out, but this vegetarian pâté had the same light, mousse-like texture as the meat version, but tasted so much better - and it was healthy! Everyone (meat-eaters included) loved it, and there was still a lot leftover because the recipe makes a ton! The recipe can be found at
The Lunchbox Bunch
.
My contribution to the appetizers was deviled eggs, because you can't have Easter without eggs! The ones pictured above were spicy southwestern deviled eggs from
Southern Living
, with pickled jalapenos and spices mixed in to the filling, and fresh jalapeno and paprika sprinkled on top. I went a little too heavy with the paprika sprinkling, but everyone really liked them!
Unfortunately, my second type of deviled egg wasn't as successful. I made
guacamole deviled eggs
(pictured below) which sounded like a great combination, but something just wasn't right about them. Maybe I made them too far before serving time, maybe I shouldn't have added garlic to the guacamole, or maybe it was just too hard to get past the look of green eggs - I'm not sure, but I had to take these away from the table after a couple people tried them and didn't really like them (myself included)!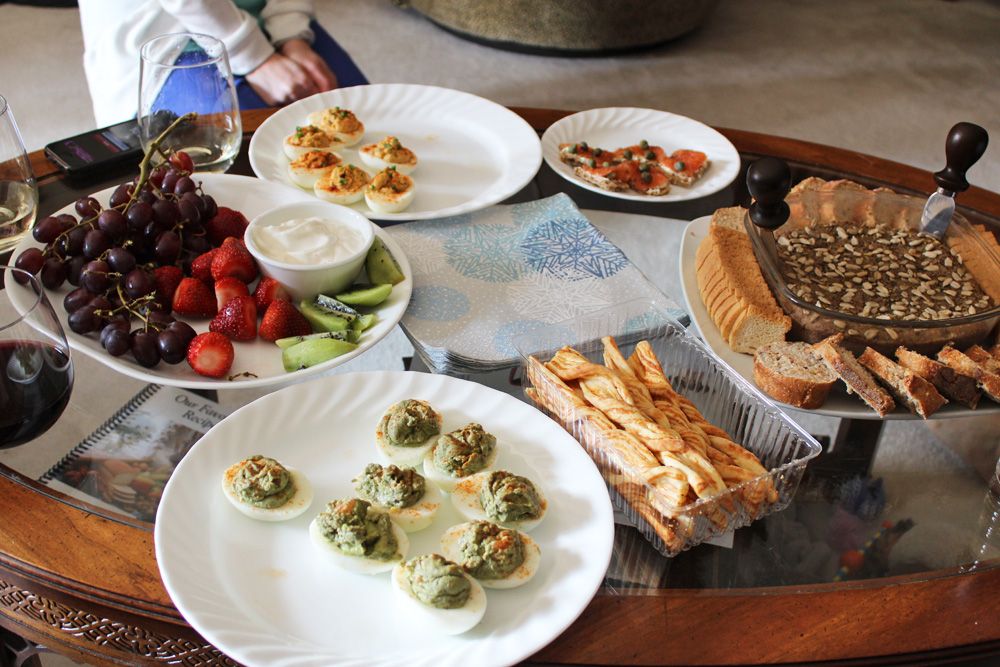 I also put together some smoked salmon on rye crisps with chive cream cheese and capers, pictured at the far end of the table above. I didn't make much because I wasn't sure how people felt about smoked salmon, but they disappeared pretty quickly!
For the main course, there was of course ham. The bottom picture above was my cousin's complete dinner plate - we thought it was hilarious!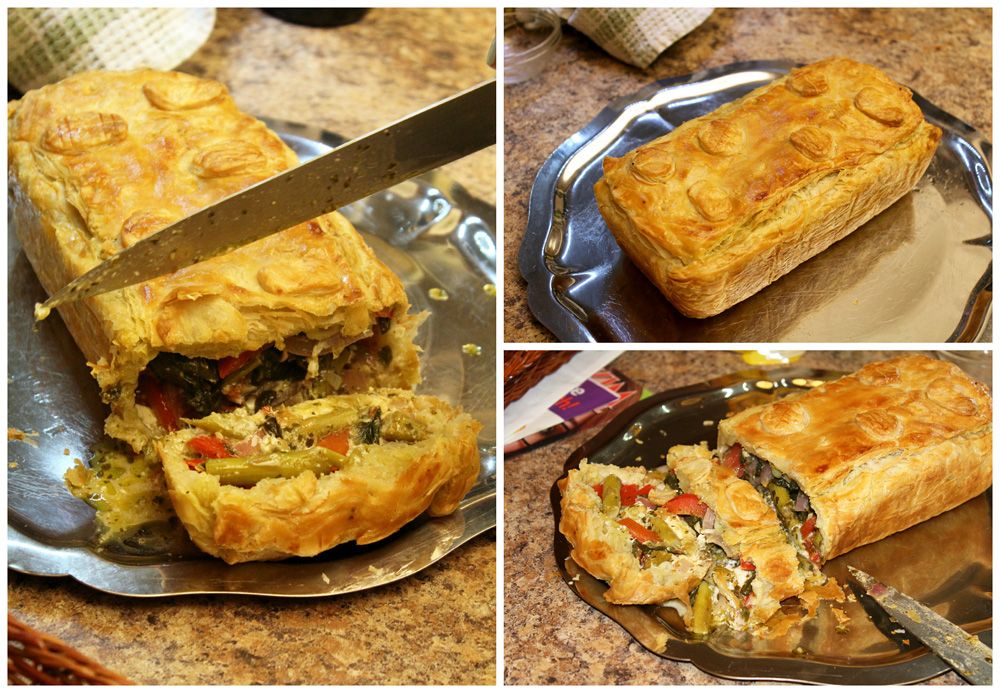 For the vegetarian main course, my older sister made a vegetables wellington redux from
Vegetarian Times
, which had a filling of vegetables, pesto, and goat cheese wrapped up in puff pastry and baked in a loaf pan. I wish I took pictures of it in better lighting, but it was really delicious and everyone (again, meat eaters included) loved it. My sister even made little decorative Easter eggs on top - so cute! I'd definitely recommend this as a vegetarian main course for a family gathering; my sister just noted that she reduced the amount of goat cheese in the filling, and that you have to make sure you completely wet the edges of the puff pastry with egg to help pinch the seams together.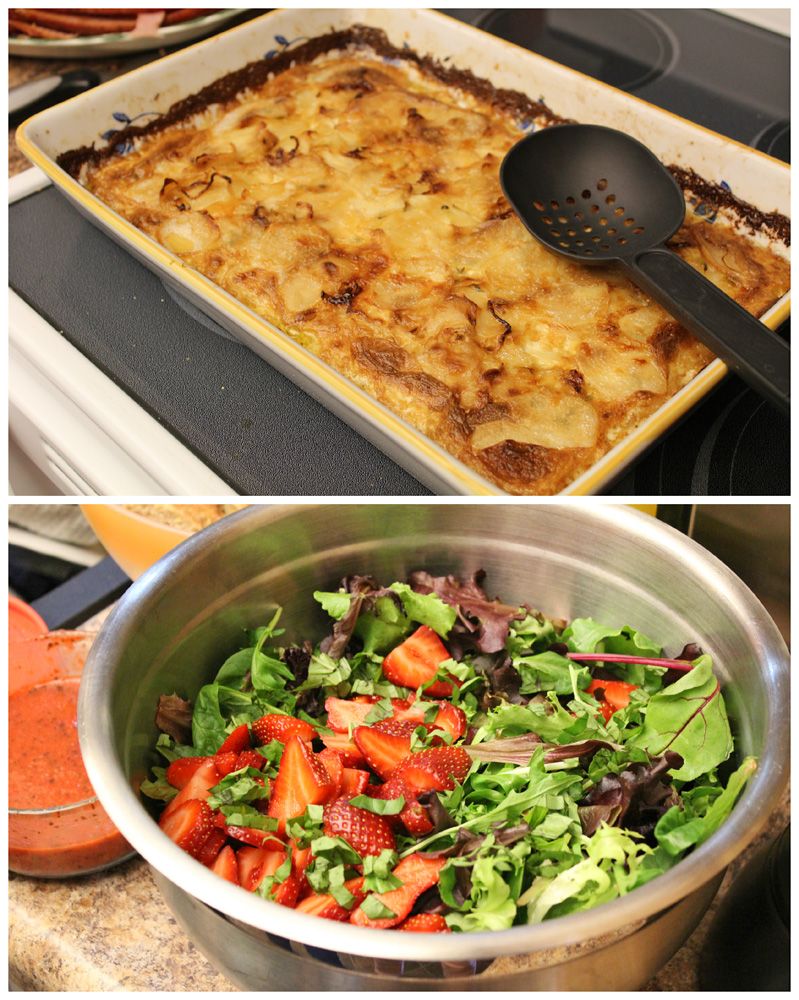 For side dishes, my mom made scalloped potatoes, which we usually have at every holiday meal. I think scalloped potatoes might be my favourite potato dish; it's too bad that they're also the least healthy, though that's probably the reason I love them so much!
My sister made a salad with mixed greens, strawberries, toasted coconut, toasted almonds, basil, and a strawberry basil lemon dressing from
Oh She Glows
. I took a picture before it had many of the components in it, but it was really good!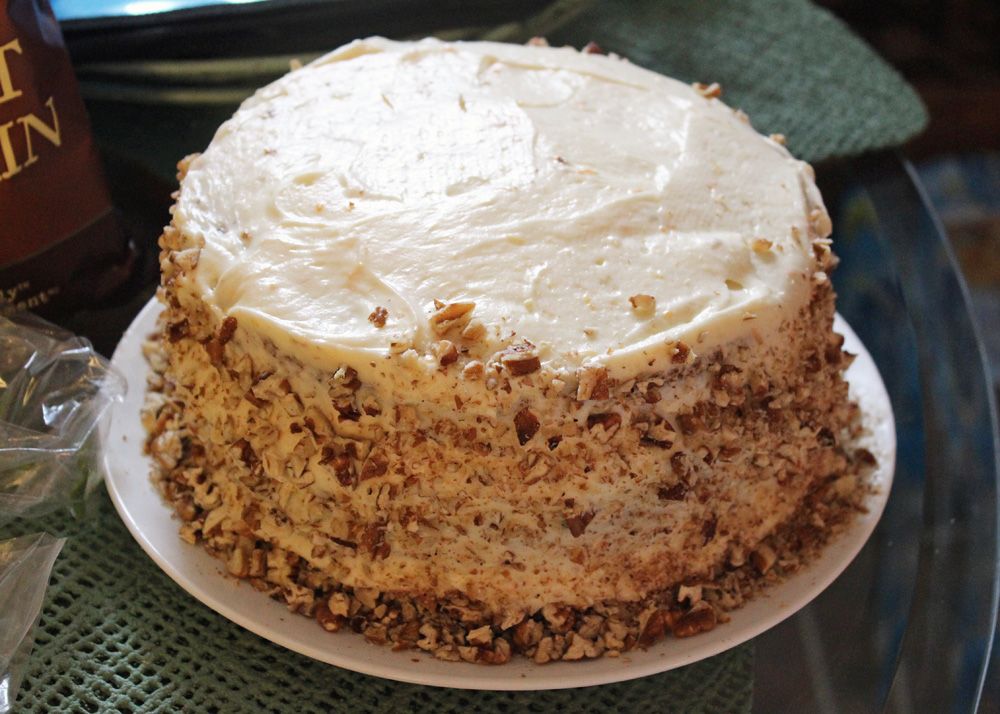 For dessert, my aunt made the Italian Dream Cream Cake from the
Looneyspoons
cookbook. I didn't get a picture of the beautiful layers inside, but it had lots of coconut, cream cheese, and pecans. This cake has made an appearance at a few family gatherings now because everyone always requests it!
Moving on to other treats that filled my day, my dad bought my sisters and I each one of these Easter nest cream puffs from the market. The filling was to die for!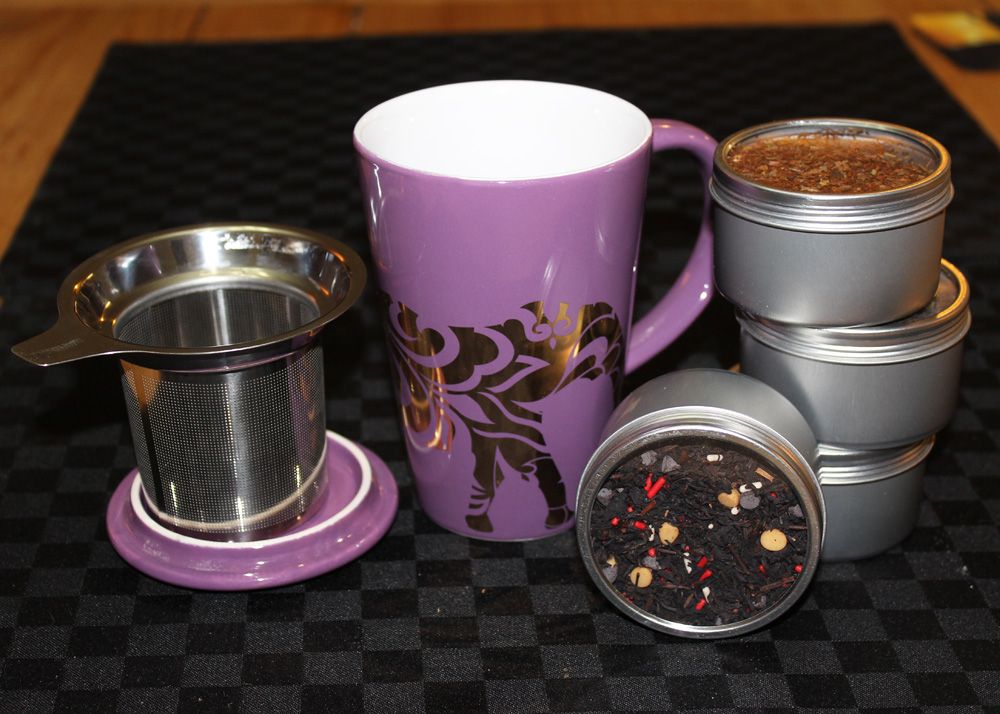 My parents also gave us a set of different chocolate flavoured teas from
David's Tea
to share, and each of us got a mug that comes with a tea infuser and lid. I already have one of these mugs at school and love it - the tea infuser fits the mug perfectly and is easy to clean, the lid keeps the team warm and then catches all the drippings from the infuser when you remove it. Now I have a second mug to keep at home which is perfect, and I love the elephant design on this one. And I can't wait to try all our new teas - they have actual chocolate chips in them!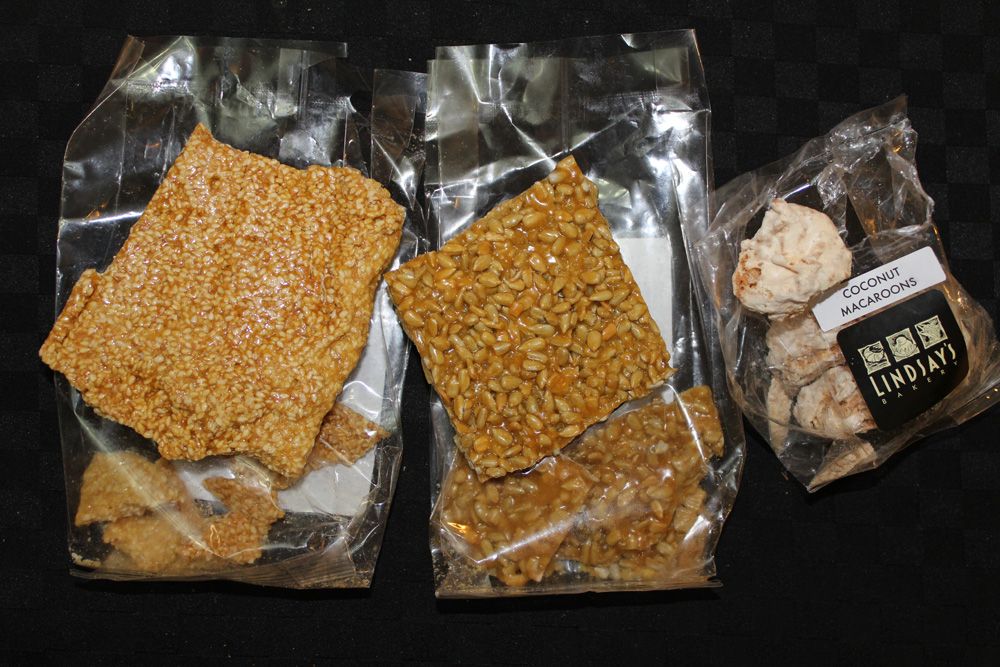 My aunt and sister gave Gen and I even more treats - sesame and sunflower brittles and coconut macarons. My family has learned by now that I don't like eating chocolate bars much, so I get much more delicious things! I love both the brittles and was surprised by how much I liked the macarons too. I've always thought I don't like macarons but now I want to try making them myself - I know they're really challenging but I like challenges!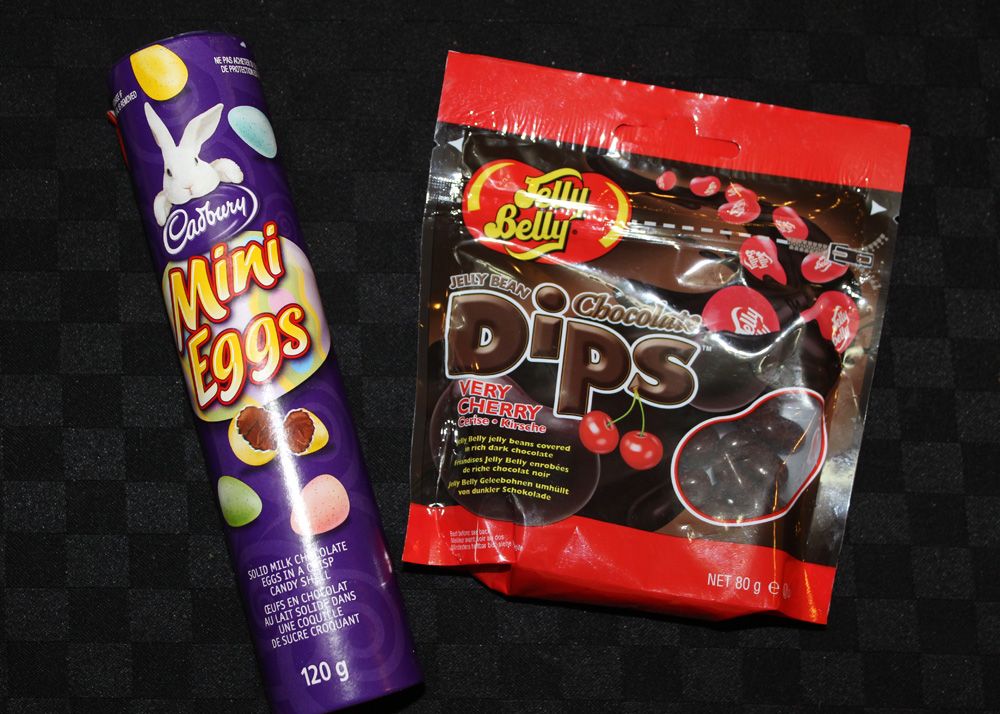 And of course there were a couple of the usual Easter treats! I've always had a soft spot for mini eggs and jelly bellies :)
Hope you all had a great weekend! I'll be back later this week with a new recipe - I was worried about delaying it into April because it's a squash recipe, but seeing as there's once again snow on the ground this morning, I don't think it's a problem!