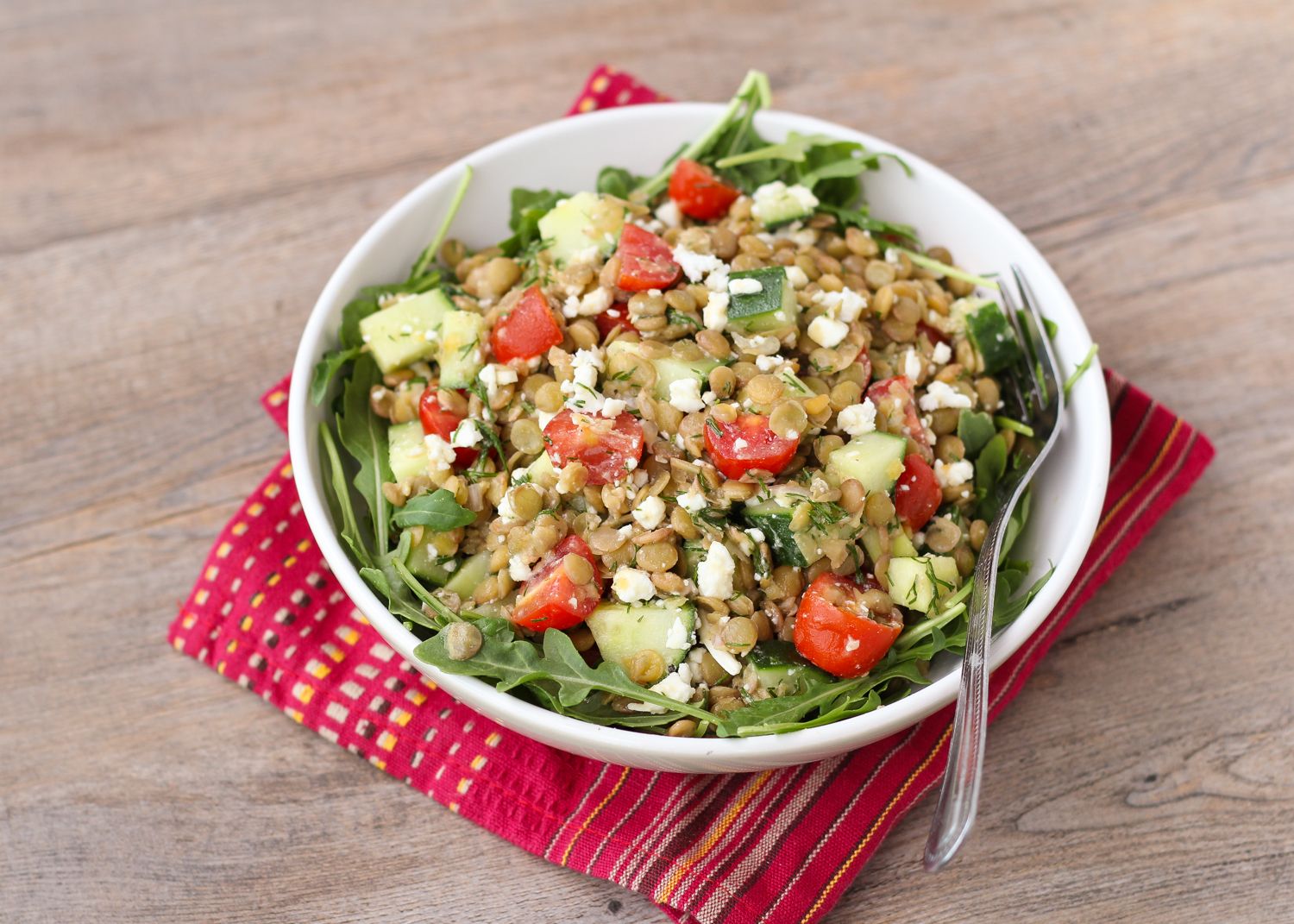 As I mentioned in my recap of
things I made and did in July
, I was recently reminded of how much I love lentil salads when I tried a recipe from
My New Roots
.
Not only are they easy to make and highly adaptable to different flavours and ingredients, but they usually make a lot of leftovers that are great for packing filling lunches, plus they're super healthy – lentils are low in fat and really high in protein and fiber.
So as soon as I finished all the leftovers from the last lentil salad I tried (and there were a lot of leftovers!) I immediately made a new one, and I'm going to try to keep this up as much as possible, considering I now have three giant bags of lentils in my cupboard to use up!
While the last lentil salad I tried was heavily spiced, this time I wanted something more bright and summery.
I knew I wanted to use lemon and dill, so when I came across a recipe for a lemony lentil salad with dill and feta from
Eating Well
I knew I was on the right track.
Of course, I can never seem to leave a recipe alone, so I made a few changes, starting with using dry lentils instead of canned lentils (canned are still fine, but if you're concerned about sodium then it's best to use dry - I use them because they're cheaper and easy to cook).
I also used shallot instead of red onion, added a clove of garlic, used more cucumber and replaced the red pepper with cherry tomatoes, and for the dressing I added a bit of honey for sweetness, reduced the lemon juice (it's still very lemony!) and reduced the olive oil from 1/3 cup down to 2 tablespoons, which was plenty of oil for me.
I loved the balance of the lemony dressing with the salty feta, along with the bright flavour of dill and the crunch of summer veggies.
I threw a handful of fresh arugula into each serving to make it more salad-like and also cut the strong lemon flavour down to just the right amount (so I recommend this step!)
I hope you guys love lentils as much as I do, and if you think you don't, perhaps it's time to give them another try!
Lemony Lentil Salad with Dill & Feta
Makes 4-6 servings
Ingredients:
1-1/4 cups dry brown or green lentils
1/4 cup fresh lemon juice (from about 1 lemon)
1/3 cup chopped fresh dill
2 tablespoons minced shallot
1 clove garlic, minced
2 teaspoons Dijon mustard
1/2 teaspoon honey or agave
1/4 teaspoon each salt and pepper
2 tablespoons extra virgin olive oil
1-1/2 cups chopped cucumber
1 cup chopped grape or cherry tomatoes
3/4 to 1 cup crumbled feta cheese
Arugula for serving
Directions:
Combine lentils with about 3.5 cups of water (enough to cover them by a couple of inches) in a medium or large saucepan.
Bring to a boil, cover, reduce heat to a simmer, and let simmer for 15-20 minutes until tender (but not mushy!).
Remove from heat, drain, and rinse with cold water to cool.
While lentils are cooking, prepare dressing by whisking together the lemon juice, dill, shallot, garlic, mustard, honey, salt, and pepper in a small bowl.
Slowly add the olive oil until combined.
Toss cooled lentils with the dressing.
Mix in the cucumber, tomatoes, and desired amount of feta and toss to combine.
Season with additional salt and pepper, if desired.
Serve in bowls with a big handful of arugula added to each, if desired.