I leave for a conference in Japan tomorrow, and as with any trip, the most important thing I've researched beforehand (I haven't done much preparation for this trip) is what the food will be like!
I don't have a lot of experience with Japanese food outside of sushi, and even the sushi rolls I normally choose are more like Western versions of sushi (yes I like California rolls, sorry sushi purists!).
So I decided to buy a few Japanese ingredients I haven't tried before – specifically, miso and ponzu sauce - and use them in a dish before I left, and this is what I came up with!
I've always wanted to try miso (a thick, salty soy paste), but whenever I see it I talk myself out of it because it's kind of expensive and I'm never sure what to do with it.
I'd also never tried ponzu, but from the description – like a citrusy soy sauce – I knew I'd like it.
I considered using them in some sort of soba noodle salad, but I've eaten lots of soba noodles before (I love them!), so I decided to go with something a little different and use the ponzu as a marinade and glaze for salmon, and the miso in a dressing for a simple slaw on the side.
Because I've been pretty busy the last few days, I tried to keep things as simple as possible, making an easy 2-ingredient ponzu and ginger marinade for the salmon along with a 3-ingredient glaze of ponzu along with rice vinegar and orange juice to lighten it up.
For the slaw, I cheated and used a storebought bag of coleslaw mix (but feel free to make your own), and then played around with a dressing until I reached a combination of flavours - trying to balance out the salty miso with rice vinegar for acidity, honey for sweetness, and some fresh orange juice to lighten it up - that I liked.
The whole dish didn't take long to prepare and I ended up loving it so much!
The ponzu and orange juice glaze gave the salmon such a great flavour that was similar to soy sauce but not quite as rich and salty, and the marinade made the salmon so tender.
The slaw was also really flavourful, though perhaps almost a little too similar to the taste of the salmon for them to be served together with no other side dish to cleanse the palate.
Next time I think I'd either add in another simple side like mashed potatoes (even though that's
not Japanese at all, but then the salmon and slaw might not really be either!), or serve the ponzu salmon alongside a brighter and lighter orange slaw like
this one
.
Nevertheless, I still loved both components, and they were a great way to get me looking forward to trying some real Japanese food soon!
I'll be sure to take lots of pictures of anything I try so I can share it when I get back!
And if you have any suggestions on things to eat or look for there, feel free to share! Tips on vegetarian restaurants/food would be especially welcome for my sister who will be traveling with me!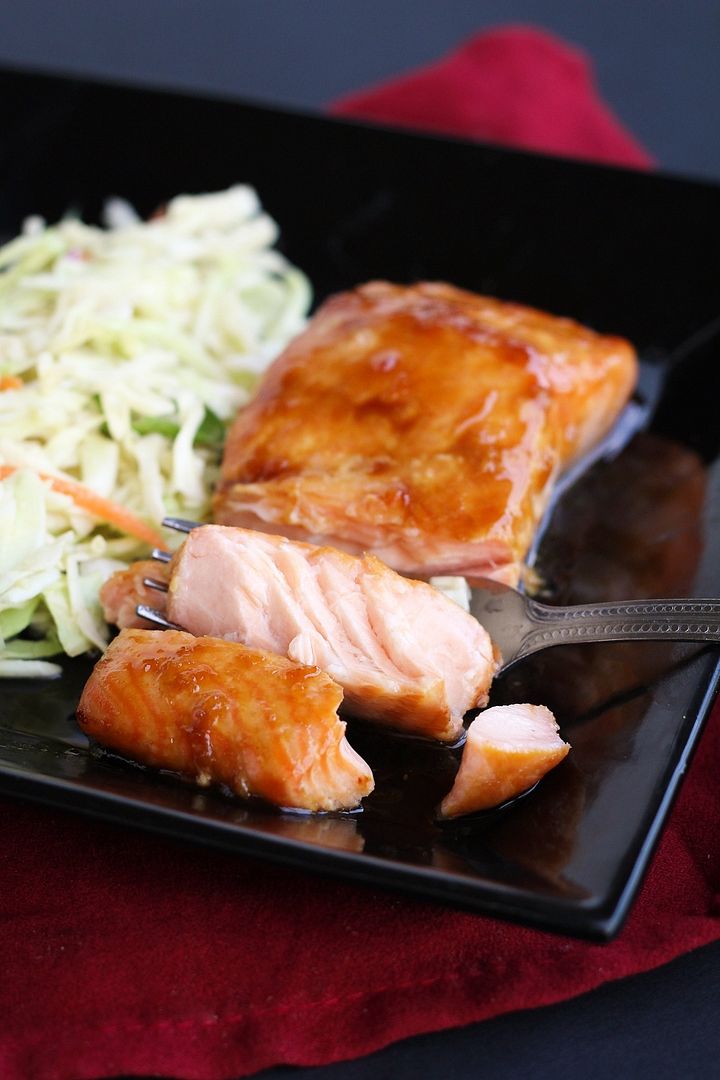 Ponzu Glazed Salmon with Miso Slaw
Serves 2
Ingredients:
For the Salmon:
2 fresh salmon fillets (about 3-4 ounces each)
2 tablespoons ponzu sauce
1 teaspoon grated fresh ginger
For the Ponzu Glaze:
2 tablespoons ponzu sauce
1/4 cup fresh orange juice
1/2 teaspoon rice vinegar
For the Miso Slaw:
3 cups prepared coleslaw mix (or make your own using cabbage, carrots, red pepper, cucumber)
1 tablespoon white miso
1 tablespoon water
2 tablespoons fresh orange juice
1/2 teaspoon honey
1/2 teaspoon sesame oil
1/2 teaspoon ponzu sauce
2 teaspoons rice vinegar
1/2 teaspoon grated ginger
Directions:
Add salmon fillets, 2 tablespoons ponzu, and 1 teaspoon grated ginger to a ziplock bag.
Seal and rub the sauce around to make sure salmon is coated, then place in refrigerator to marinate for 30 minutes.
Preheat oven to 425°F.
Meanwhile, prepare miso slaw.
Add miso, water, orange juice, sesame oil, ponzu, rice vinegar, and ginger to a small bowl and whisk to combine.
Taste and adjust any amounts to your liking.
Add coleslaw and toss to coat.
Refrigerate until ready to serve.
Once salmon has marinated and oven is ready, transfer salmon to a foil-lined baking sheet (skin side down, if skin is attached), and roast for 10-14 minutes, until tender.
Meanwhile, prepare the ponzu glaze by adding the 2 tablespoons ponzu, 1/4 cup orange juice, and 1/2 teaspoon rice vinegar to a small saucepan.
Bring to a boil, then reduce to simmer and let simmer until sauce is thickened and reduced by about half (about 5-7 minutes).
Brush on cooked salmon.
Serve salmon alongside slaw.
*Note: You might want to add in another more plain side dish (like a carb) to balance out the flavours.