I apologize that I haven't been able to share a recipe post in a couple of weeks now! I thought I would have plenty of downtime in Japan for blogging, but it turned out I barely even had time to email my family at night - not that I'm complaining, because it meant I was keeping busy there and seeing lots of sights! Now that I'm home though, I'm so excited to be able to get back into a routine, including blogging and cooking for myself again!
I had
a lot of great food in Japan
, but considering I didn't know all the ingredients that went into my meals (or sometimes what my meal even was), it's nice to be able to make my own meals now where I can control exactly what goes into them. And with summer flying by, all I've been wanting to throw into my meals lately is tons of summer veggies! I also caught a pretty bad cold in Japan that I've been suffering through all week, so I knew as soon as I got back that I wanted to make a summer soup.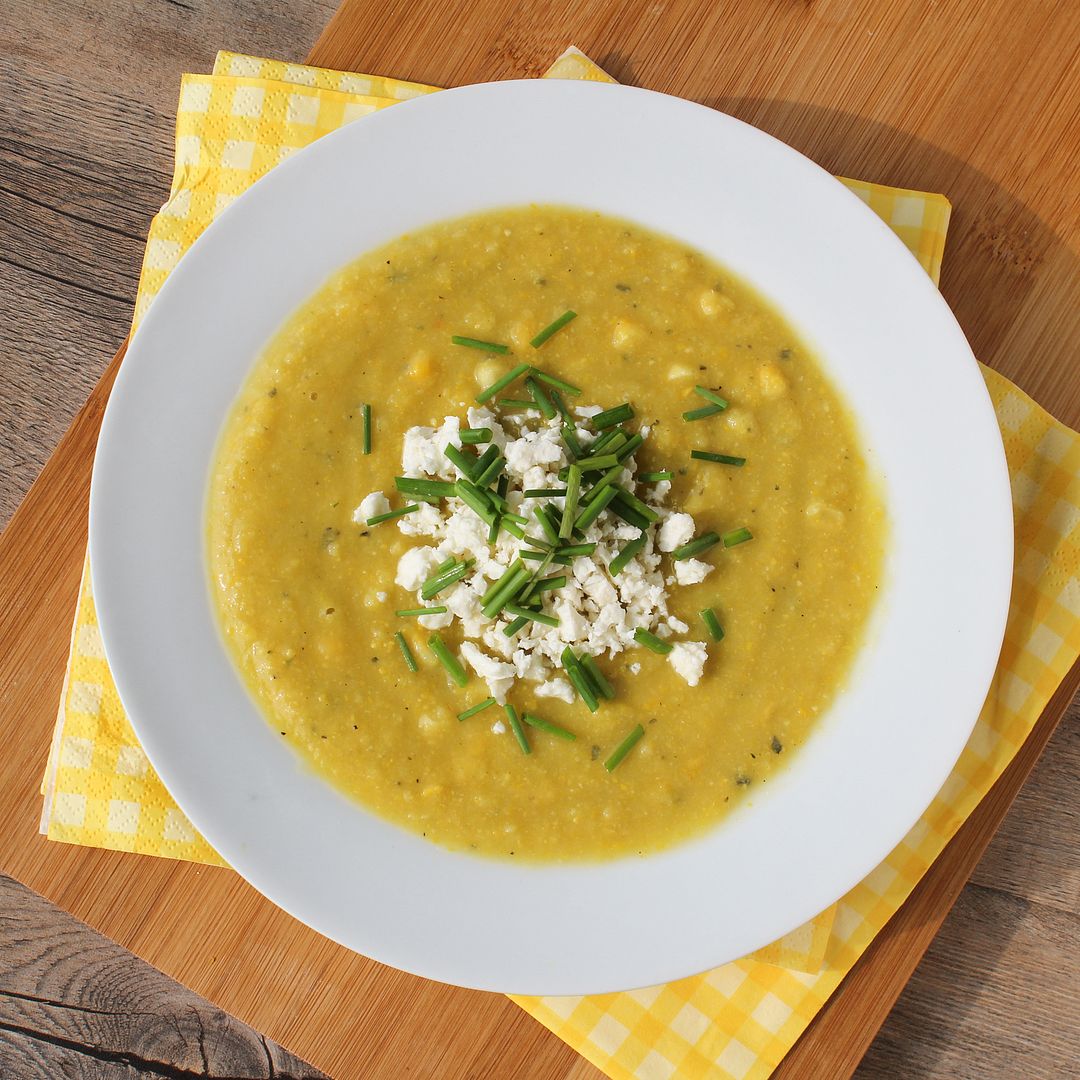 I'd bookmarked this
golden summer squash and corn soup
from Eating Well (one of my favourite recipe sources) a while ago, so I knew this was the perfect opportunity to finally make it. The soup is pretty simple - basically you sauté some onions and summer squash, puree them with vegetable broth, add some fresh corn, and top with feta and chives. I made a few changes to the original recipe, like using veggie broth instead of chicken, onion plus garlic instead of shallots (mostly because I didn't have any), adding some jalapeno for spice and an extra cob of corn to be pureed with the squash, and using dried basil and fresh chives as the herbs (but you can use whatever you like).
This soup was bright and summery but warm and comforting at the same time. I especially loved the chunks of feta, which sounded like a strange addition at first, but surprisingly worked pretty well. While this hasn't exactly helped my cold this week, it definitely satisfied my craving for a fresh homemade summer meal!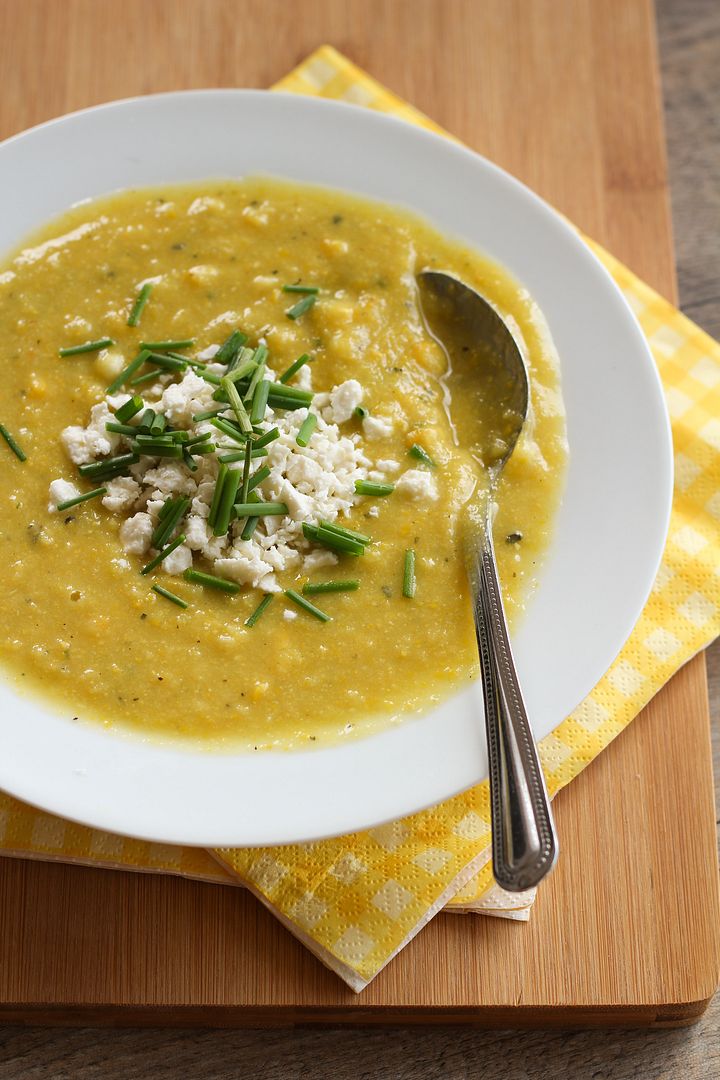 Summer Squash and Corn Soup with Feta & Chives
Makes 4-6 servings
Ingredients:
1 teaspoon olive oil
1 medium yellow onion, peeled and chopped
1-1/2 pounds yellow summer squash (the ones that look like zucchini) (about 3 medium squash), chopped
1 clove garlic, minced
2 ears of fresh corn, kernels removed (divided)
3 cups vegetable broth
1/2 teaspoon dried basil
1/2 teaspoon salt (or more, to taste)
1/4 teaspoon pepper
1/2 a jalapeno, minced (or a whole pepper for more spice)
2 teaspoons lemon juice
~1/4 cup chopped chives
~1/4 cup crumbled feta cheese
Directions:
Heat oil in a large saucepan over medium heat.
Add onion and cook until softened, 3-5 minutes, stirring often.
Add squash and cook until it starts to soften, about 5 minutes, stirring occasionally.
Add kernels from one ear of corn along with the garlic, stir, and cook another 3-5 minutes, stirring occasionally.
Add vegetable broth, basil, salt, and pepper, bring to a boil, reduce heat to a simmer and let simmer about 5 minutes.
Transfer mixture to a blender in 3 batches, being careful not to fill the blender too high as the mixture will be hot.
Puree each batch until smooth, transferring the pureed portions to a separate large measuring cup or bowl as you go.
Once everything has been pureed, return it all to the saucepan over medium heat.
Add the remaining corn along with the jalapeno, and let simmer gently for another 5 minutes.
Remove from heat and stir in the lemon juice.
Add additional seasoning to taste at this point.
Serve warm and top each portion with about 1 tablespoon each of feta and chives (or more, if desired).