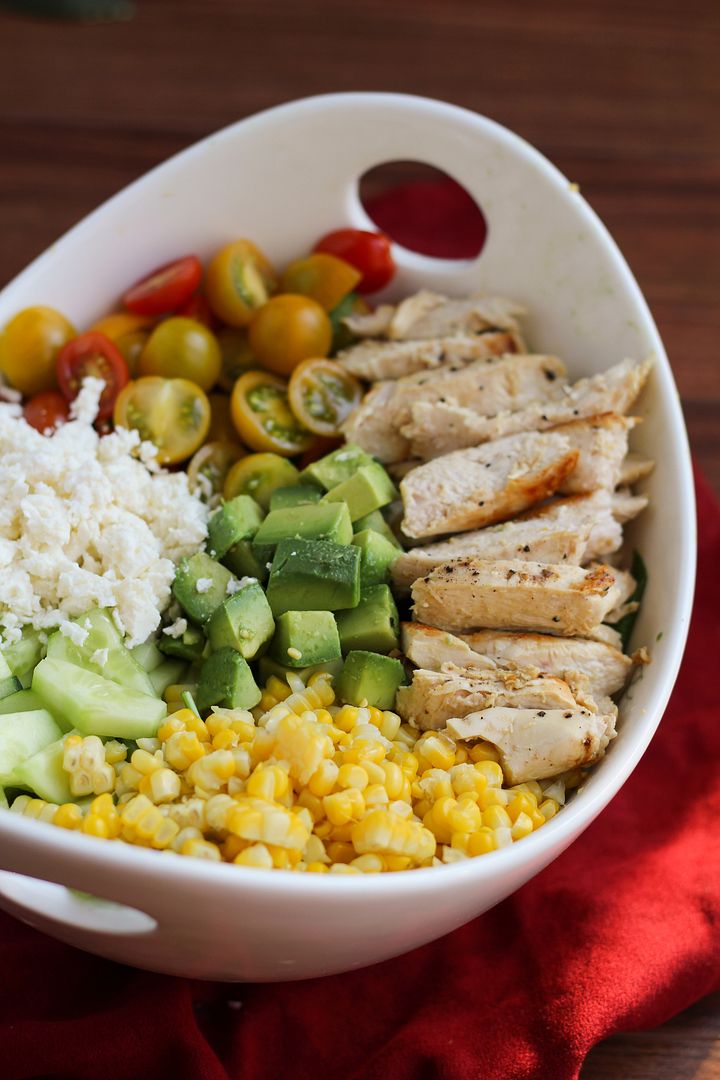 It's been another stressful week with my schoolwork not going at all how I want it to, and with the summer rapidly flying by, my boyfriend and I decided we needed to take a little road trip this week to get away and clear our minds (and enjoy the summer!). So we took a short overnight trip across the border to Michigan, where we did some shopping and exploring and later went out for dinner and a few drinks. We both love Michigan craft beer so it was nice to be able to enjoy some of it on tap for a change!
Of course, after overindulging in beer and some not-so-healthy food, we both wanted something light and nutritious for dinner the day we returned. And because all I could think about was stuffing my face with a bowl full of vegetables, it didn't take long for me to run over to the market and grab everything I needed for a big fresh summer salad. It hit the spot perfectly!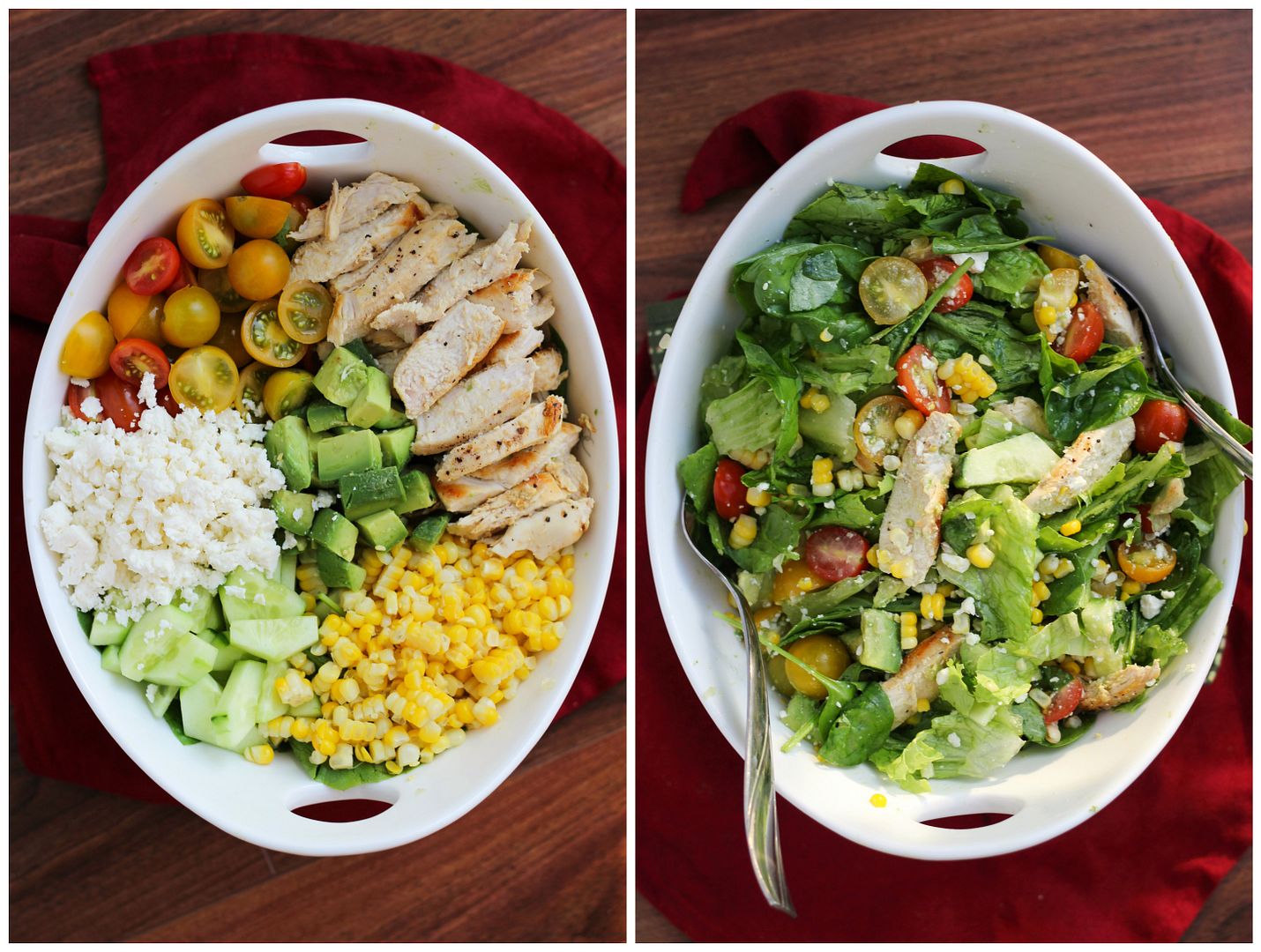 This salad celebrates fresh summer produce and includes pretty much all of my favourite things to eat. I started with a bed of romaine and spinach as the base, which I topped with sliced chicken breast, a mix of local cherry and grape tomatoes, fresh corn, crisp cucumber, creamy cubes of ripe avocado, and a bunch of crumbled feta. And because I wanted to keep things as simple as possible, I tossed it all in a storebought light balsamic vinaigrette.
I feel a little silly posting this salad because it really doesn't require a recipe - I didn't measure any of the ingredients and just threw everything in the bowl in what looked like good proportions to me. But we both loved the combination of ingredients in this salad so much that I had to share it with you guys!
I wrote out a rough guide to what I did anyway, but really you can just use any amounts you like - and the more the better!
I also feel a little silly because last summer I shared this
summertime chickpea chopped salad
(which I also loved) and it's super similar to this one, but I can't help it, I love summer salads! And fresh veggies like tomatoes and corn won't taste this good for much longer, so it's best to eat as much of them as you can while they're around - enjoy!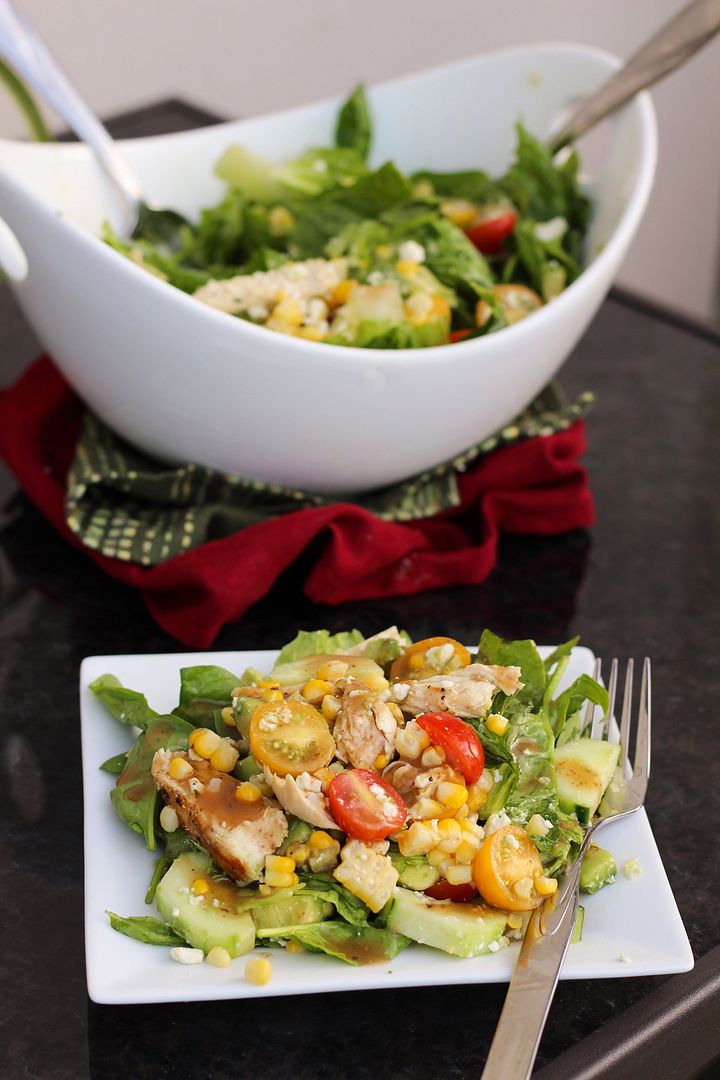 Summer Salad with Chicken, Corn, Feta, Tomato, Cucumber & Avocado
Serves 2-3 as a main course
Ingredients:
2 boneless, skinless chicken breasts, cooked and sliced or shredded
2 ears of fresh corn
Desired amount of greens – I used about 6 large romaine leaves plus 4 big handfuls of baby spinach
1 ripe avocado, peeled and diced
Half to one English cucumber, peeled if desired, and chopped
Desired amount of cherry or grape tomatoes, halved – I used about half a pint
Crumbled feta cheese – adjust amount to your own liking – I like lots!
Salad dressing – I used a storebought light balsamic vinaigrette, but any vinaigrette or light Italian, ranch, or yogurt dressing would work
Directions:
Cook corn however you like to eat it – i.e. roasted, grilled, or boiled.
I cooked mine in a large pot of boiling water for 6 minutes.
Once cooled slightly, use a large knife to slice off the corn kernels (a
bundt pan works well
for this).
I cooked my chicken breasts on the stovetop at the same time as the corn.
Meanwhile, prepare all other salad ingredients.
Toss everything together in a large bowl to combine and adjust any ingredient amounts according to your own liking.
Toss with just enough dressing to coat (I added my dressing to individual servings).
Enjoy!