Before I get into today's post, I just wanted to say a quick thank you for all the lovely comments and well wishes you guys gave me on my first
blogiversary
! You all made my day and I'm so excited to begin Year 2 of Once Upon a Cutting Board! And to start it off, I have not one but five delicious quinoa recipes to share with you!
I've been eating a lot of quinoa this summer, so I thought it'd be fun to do a little round-up of some of my favourite quinoa salads I've tried recently. As I'm sure you already know, quinoa is a very versatile seed that's full of nutrition and makes a great base for so many different flavour combinations. Quinoa is high in protein (with all the essential amino acids), low in fat, and full of vitamins and minerals, plus it's easy to cook and tastes great!
If you're looking for a light and healthy vegetarian main course or side dish to enjoy this summer, give one (or all) of these salads a try! Each of the recipes below are from other bloggers, so for each one I'll link to the original recipe and add my comments and notes about any changes I made. I won't bother describing how much I loved each salad because I loved all of them!
1)
Mexican Quinoa Salad with Creamy Avocado Dressing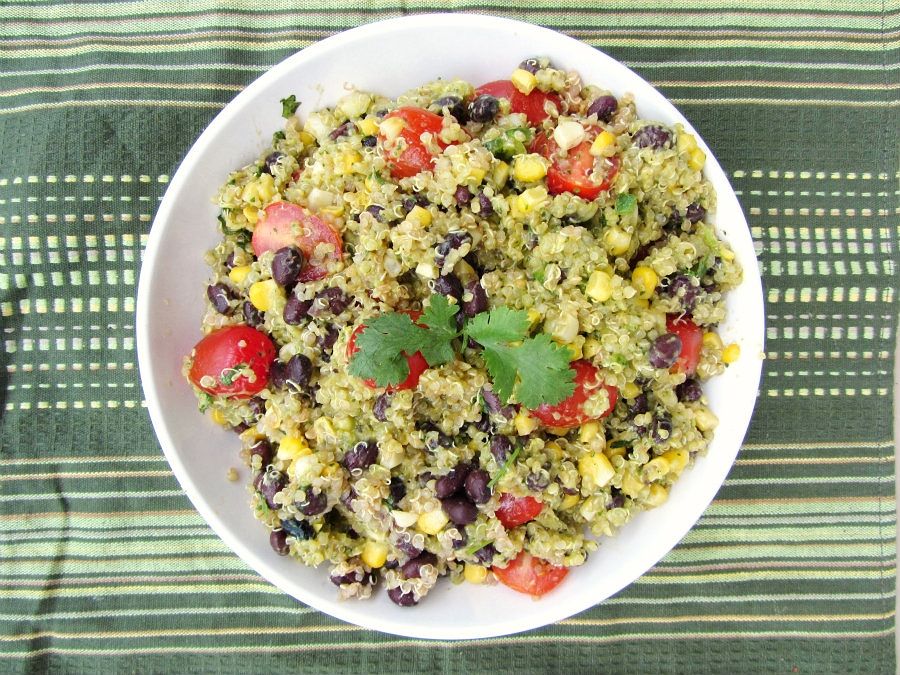 Comments:
I love using fresh corn and tomatoes in the summer and with the addition of black beans, jalapeno, cilantro, spices, and avocado, this makes a really flavourful Southwest-style salad with a nice little kick of spice. It's full of nutritious ingredients and is quite filling with the avocado dressing. The thick dressing does make the salad clump together a little instead of being light and fluffy, but it infused it with a great flavour and made it easy to form the quinoa into pretty little cakes for a fancier presentation! (see picture below)
My Changes:
I used fresh corn instead of canned corn and I left out the green onions (just because I don't like them!)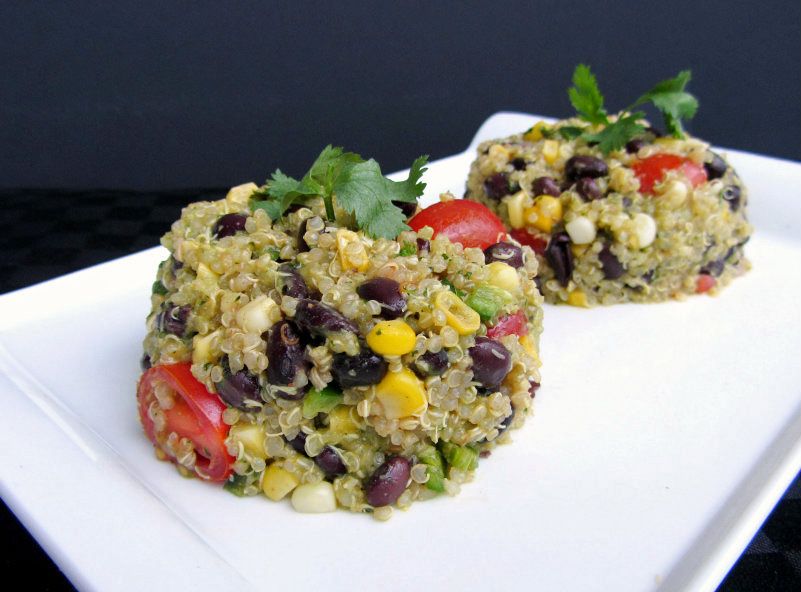 2) Watermelon, Feta, & Mint Quinoa Salad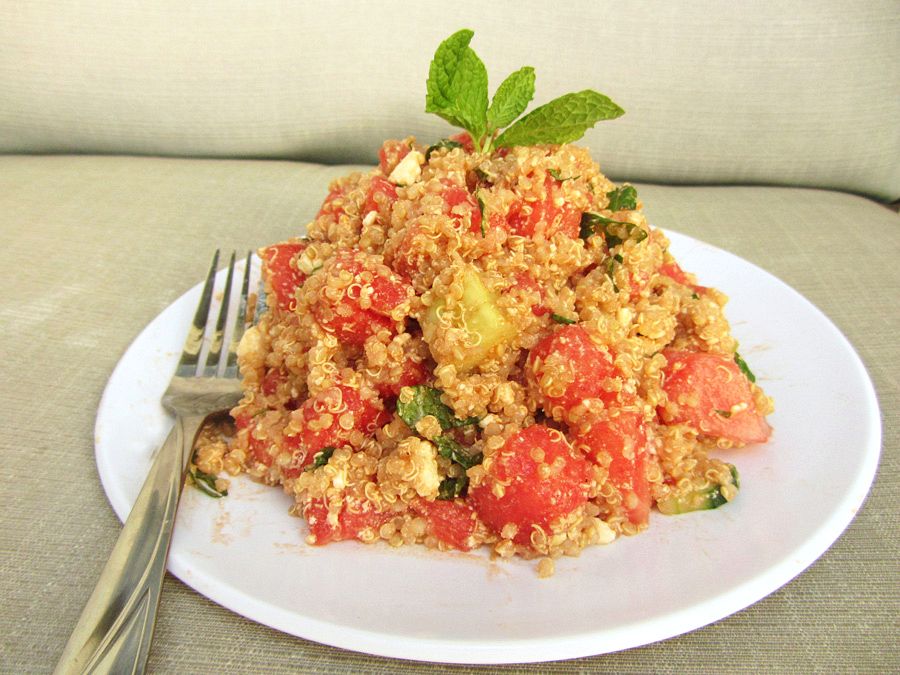 Recipe:
The combination of watermelon, feta, and mint has appeared all over the web! I used this combination to make up my own recipe, but you could follow some of the various recipes that are already online, like at
How Sweet It Is
,
Annie's Eats
, or
Cookin' Cowgirl
Comments:
If you like the combination of watermelon, feta, and mint, then you'll love this! I didn't really measure anything for this salad - I just made a big batch of quinoa and threw in what I thought to be an appropriate amount of cubed watermelon, crumbled feta, chopped cucumber, and mint leaves, and tossed it with a balsamic vinaigrette (olive oil, balsamic vinegar, salt, and pepper). The result was a light and refreshing salad with a good mix of sweet, salty, and minty flavours! I'm actually not that crazy about mint, so next time I'd use basil instead so it's not too overpowering, but if you love mint then go for it!
3) Greek Quinoa Salad
Recipe:
Two Peas & Their Pod
Comments: This is just like a traditional Greek salad but with protein-packed quinoa as a base instead of lettuce. I usually love anything that has feta cheese in it so I knew this would be good, but it really exceeded my expectations and all the components worked together so well. This would make a great potluck dish because everyone is familiar with Greek salad, but this way it's in a form that's easier to transport and serve and can last a lot longer without worrying about wilted greens!
Changes:
I left out the red onions because I don't like them, and I added a handful of chopped parsley, which I would highly recommend! I also used sliced olives instead of whole olives so they would be more evenly distributed throughout the quinoa (I used 1/4 cup sliced olives).
4) Berry Almond Quinoa Salad
Recipe:
Oh She Glows
Comments:
This quinoa salad is different from the others in this list because it's more on the sweet side with berries as the main component and maple syrup in the dressing. This definitely isn't a bad thing though, it actually makes the dish really versatile because you could easily eat it for breakfast, lunch, snacks, dinner, or even dessert! The vinegar and lime juice in the dressing do cut the sweetness a bit, but if you want to make it more on the savoury side, you could probably add a fresh herb like basil or mint to the quinoa. My
sister
has made this dish several times in the past and brought it to a potluck once where it was very popular, so if you have any summer potlucks or picnics coming up, this would be a great addition!
Changes:
I didn't have strawberries or cherries on hand when I made this so I used a combination of blueberries and raspberries and it was delicious! I think you could easily use any berries you like with this.
5) Pesto Quinoa with Roasted Tomatoes
Recipe:
Big Girls Small Kitchen
Comments:
I saved this one for last because it was my favourite quinoa dish I've tried yet! I could not stop eating this and cannot wait to make it again. The quinoa is tossed with an amazing pesto vinaigrette and combined with warm roasted tomatoes and little cubes of mozzarella that make this taste like such a comforting yet summery dish. I loved warming up my leftovers so the mozzarella would start to melt throughout the quinoa - so good!
Changes:
I used grape tomatoes instead of cherry tomatoes, and added some raw halved grape tomatoes in addition to the roasted tomatoes in order to have more textural contrast. I also added a bit of water to the pesto vinaigrette to thin it out a little, and I unfortunately had to leave the avocado out because mine hadn't ripened on time to use it in this dish, but I think this dish would be even better with the addition of the avocado!
More Summer Quinoa Salads
Here are a few more great looking quinoa salads that I haven't gotten to yet but are on my list to try!
Quinoa guacamole salad
from Chasing Some Blue Sky
Quinoa salad with roasted tomatoes, broccoli, and feta
from Smells Like Home
Cheesy zucchini quinoa
from Running to the Kitchen
Mango blueberry quinoa salad with lemon basil dressing
from Veggie Belly
Grilled corn and cheddar quinoa
from How Sweet It Is
Summertime quinoa salad
from The Fig Tree
What's your favourite quinoa recipe for summer? Let me know in the comments, I'm always looking for new combos to try!