If I had to choose my favourite of all the summer berries, I think I'd have to pick raspberries. I'm pretty sure there's no better taste than a sweet, plump, fresh local raspberry that you let melt in your mouth because you want to hold on to the flavour as long as you can. I picked some up at the farmer's market a couple of weeks ago that were the best tasting raspberries I've ever had! Of course, there was a special price if you mixed and matched three different berries, so I grabbed some blueberries, and on a whim, I decided to try out some cherries.
I've always thought that I didn't like cherries and have always avoided them, but after I tried one, then another, and another, I realized they're pretty darn good! I think that all this time that I thought I didn't like them was because I associated them with that artificial cherry taste and those overly sweet maraschino cherries from the top of ice cream sundaes. Real, fresh cherries, however, remind me a lot of plums, which I love!
I immediately started thinking of ways to pair my raspberries and cherries together and came up with these delightful crumb bars!
Fruit crumb bars are one of the easiest desserts to make and are such a great way to highlight the wonderful flavours of summer fruits and berries in a light and summery dessert. And all you have to do is make one sweet buttery dough that you use for the base and topping, then sandwich a gooey layer of sweet berries or fruit in between. In this case, the middle layer was made up of cherries and raspberries, which is surprisingly a combination that you don't see a lot in recipes. I don't know why, because they worked so well together!
These bars turned out even better than I'd hoped! I could have eaten the whole tray myself, but I decided to share, and everyone else loved them too. Not only do they taste great, but they look stunning with their gorgeous deep red colour from the cherries and raspberries, and they're so easy to make!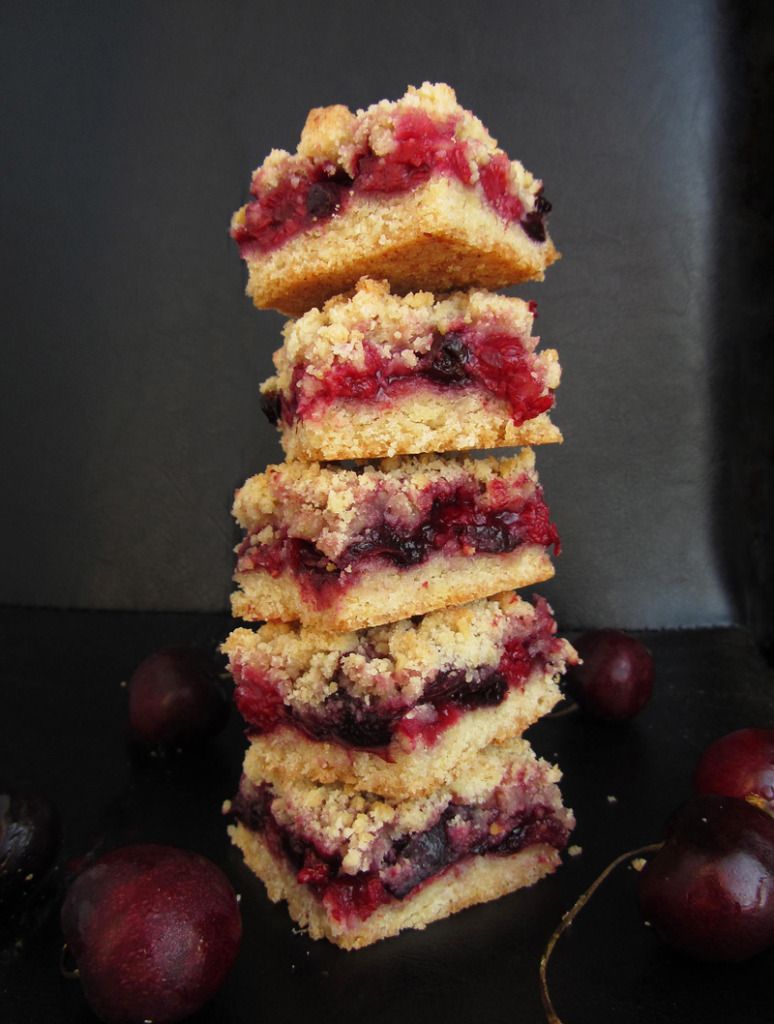 I only made an 8x8 pan of bars, but the original recipes I based this on were made in a 9x13 pan. Sometimes cutting bars in half this way doesn't work because an 8x8 pan isn't exactly half of a 9x13 pan, but in this case it worked fine, so if you want to feed more people then you can easily just double the recipe below and bake them in a 9x13 dish.
I'm so sad that raspberry season is ending so quickly after it began here, but if you can't find good raspberries anywhere, I think these would be just as great with a cherry-blueberry filling, or cherry-peach, or peach-blueberry! The combinations are endless, and there's still plenty of time left of summer to try them all out :)
Raspberry Cherry Crumb Bars
Makes 16 squares in an 8x8 pan
1 cup chopped fresh cherries (pits and stems removed)
1-1/2 teaspoons cornstarch
1-1/2 cups all-purpose flour
1/4 cup packed brown sugar
1/2 teaspoon baking powder
1/2 cup unsalted butter, cut into small pieces
1/2 of a large egg (whisk one egg in a bowl then divide in half and use only half)
1/2 teaspoon vanilla extract
Preheat the oven to 375
°
F. Line an 8x8 pan with parchment paper or aluminum foil and spray with non-stick cooking spray.
In a medium bowl, combine the cherries and raspberries with the sugar and cornstarch, and toss to coat. Set aside while you prepare the dough.
In a large bowl, whisk together the flour, sugars, baking powder, and salt. Add the butter and use a pastry cutter or food processor to mix in until coarse crumbs form.
In a small bowl, whisk together the egg and vanilla. Add the egg mixture to the dough and mix until combined (using a fork, spoon, or your hands).
Press half the dough into the bottom of your prepared pan, patting it down evenly in one layer. Spread the berry mixture evenly over the dough. Crumble the remaining dough overtop. Bake in preheated oven for 35-40 minutes, until dough is golden brown. Let cool completely before cutting into bars.