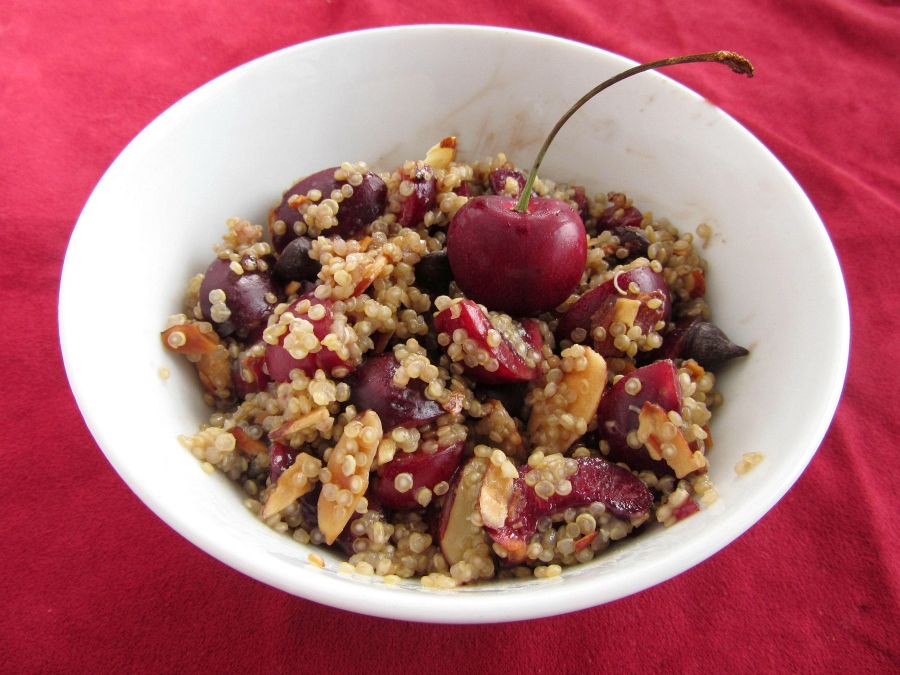 First off, sorry for the lack of blog activity lately! I brought my laptop (aka my only computer) in to get fixed the other day because it was heating up a lot and the fan was always running so loudly that I couldn't even bring it to meetings anymore. I thought it would be a quick fix and I'd get it back at the end of the day, but it turns out it's in much worse shape than I thought and it had to be sent away for up to two weeks! I tried not to overreact too much when they told me that, but for a person who is on their laptop pretty much every single second of the day and depends on it for everything, it's hard to see it taken apart into little pieces and sent away, and to be left with no computer! Luckily I was able to get a backup of what was on there today so I can steal Ryan's computer for a bit to write up a quick blog post so you guys don't think I forgot about you!
Because I can only type at a fraction of my normal speed on an unfamiliar keyboard, I thought today would be a good day to share a quick and easy recipe. And since I just shared five ways to use quinoa in a healthy summer salad, I thought it would be fun to follow that up with a healthy, summery way to eat quinoa for breakfast!
Breakfast quinoa is kind of like oatmeal, but with more protein and less mushiness. Cooking the quinoa in vanilla almond milk gives it a sweet and nutty flavour, and it's very hands-off so you can easily prepare it on a weekday morning while you're getting ready for work. Combine it with fresh cherries, crunchy almonds, and a tiny bit of dark chocolate chips to add the perfect bit of sweetness, and you have a pretty amazing breakfast!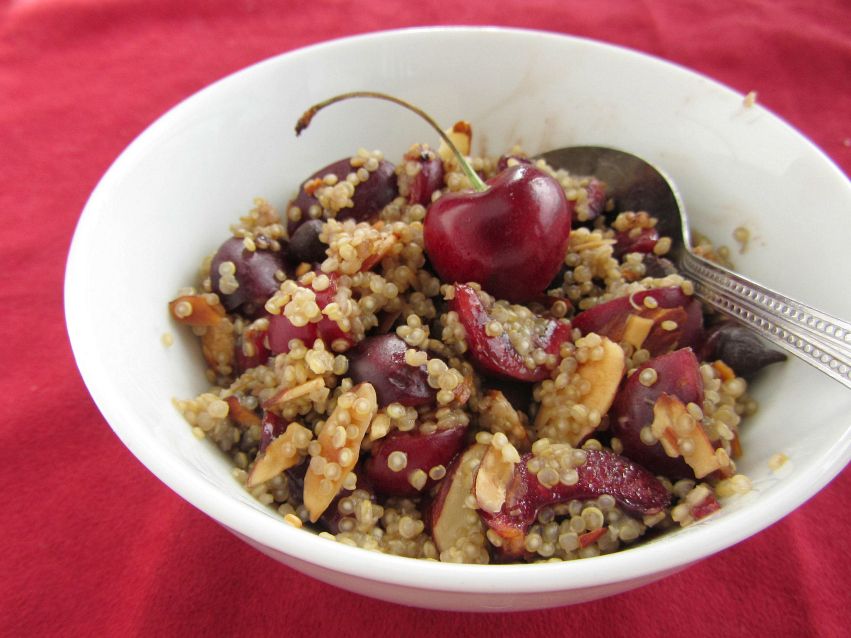 Chocolate Cherry
Almond Breakfast Quinoa
Recipe by Once Upon a Cutting Board
1/2 cup vanilla almond milk (or unsweetened milk + sweetener of choice)
1/2 cup pitted quartered cherries
2 tablespoons sliced or slivered almonds
1 tablespoon dark chocolate chips
Bring milk to a boil in a small saucepan.

Add quinoa, cover, reduce to a low simmer, and cook 15 minutes.
Meanwhile, toast almonds in a dry skillet over medium heat until golden brown and fragrant, which should only take a few minutes.
Remove quinoa from heat, keep covered, and let sit 5 minutes, until milk is absorbed. If you are using unsweetened milk, you may wish to add a bit of sweetener at this point (to taste, you could use agave, honey, or brown sugar), then recover and let sit 5 minutes.
Add cherries, almonds, and chocolate chips to the quinoa, stir, and serve warm.