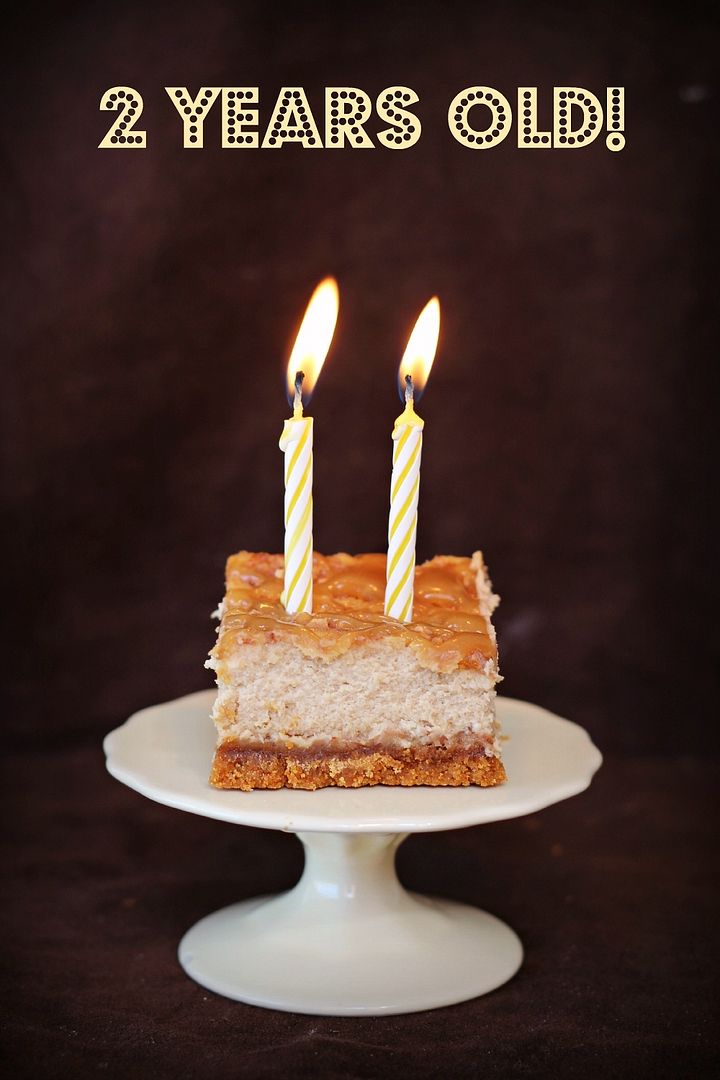 It's my second blogiversary!
Well, technically it was yesterday, but due to a minor disaster with my planned dessert and my subsequent freak out, I'm celebrating a day late.
I spent a long time trying to choose the perfect dessert for a two year anniversary/birthday.
I wanted something cupcake-like because I feel like cupcakes are worthy of a celebration, but I had a hard time thinking of a recipe idea considering I'm actually not the biggest cupcake fan.
So when I remembered these
raspberry swirl cheesecake cupcakes
based on a Martha Stewart recipe I thought I'd found the perfect solution; mini cheesecakes baked in a cupcake pan – perfect!
I decided to use a chocolate crust and a cherry swirl instead of raspberry, so I went out and spent a lot of money on cream cheese (cream cheese is expensive here – almost $4.50 each if you can't get it on sale) and cherries, and went to work making my little cheesecakes Tuesday night.
They looked beautiful coming out of the oven, but when I took them out of the fridge Wednesday morning, I discovered that they were still mushy with an almost pudding-like texture (see picture below). I'm not quite sure what went wrong, but I suspect it may have had to do with the fact that I was making these late at night and somehow got it in my head that halving a recipe for 32 cheesecakes meant I should make 12. Don't judge!
I was so sad to not only have wasted my time and money, but that I wouldn't have a dessert ready for my blogiversary. I considered just skipping the celebration because I've been super busy with school this week anyway, but I thought about it and realized that if there's one thing that the last two years of blogging have taught me, it's that things won't always go as planned, but instead of giving up or getting upset, you just have to keep moving forward and things will often turn out just as well if not better (and you usually learn something along the way too).
If I gave up every time a recipe didn't work out the first time; if I worried too much about losing readers every time I was too busy to share a post one week; if I cried every time an anonymous person left me a mean comment; if I criticized myself every time I compared myself to bigger and prettier blogs; then I would have quit a long time ago.
The truth is I love my little space I've built on the internet, I love having a motivation to try new things in the kitchen every week, I love the warm and friendly comments I receive from my amazing readers, and any of the failures and criticisms I've experienced along the way have all helped me to learn and grow.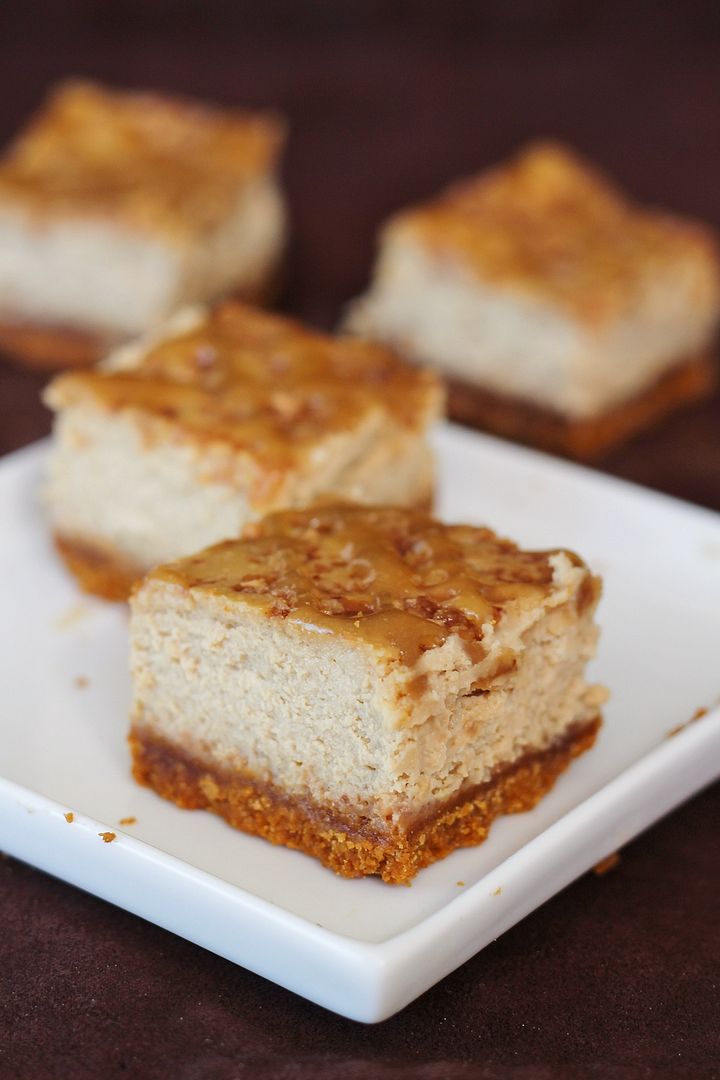 So I picked myself up and went for a new dessert. Still cheesecake-themed, but using a recipe I know works as a base this time, and going with new flavours that I know I love - caramel and coffee!
These creamy cheesecake bars have a standard graham cracker crust, but with toffee bits melted over the crust and sprinkled on top of the cheesecake, espresso mixed into the cheesecake, and a drizzle of caramel sauce overtop, giving them a lovely caramel latte flavour. I'm so, so glad I pushed forward and made these because they may be one of my new favourite cheesecake bars!
And what goes better with caramel latte cheesecake than a caramel latte or frappuccino – or any of your other favourite Starbucks drinks! To celebrate my blogiversary and give back to my loyal readers in a small way, I'm giving away a $30 gift card to one of my favourite places in the world, Starbucks!
I'm trying something new with this giveaway and using Rafflecopter, which many of you are likely familiar with, in an attempt to make things easier on all of us. Just use the widget below to enter and let me know if you have any problems - Canada or US entries only please. The giveaway will close Monday July 29th, 2013, at midnight EST and I'll contact the winner soon after that, so be sure to use a valid email address/Facebook account. The e-gift card will be sent by email, so please make sure you have a working email account and access to a printer if you win!
(the rafflecopter will load immediately below this sentence; if you have a slow internet connection like the ridiculously slow one at my office today, just wait for it to appear!)
a Rafflecopter giveaway
Thanks for celebrating with me and for reading this blog – I truly appreciate all of you!
Oh and by the way, it's also my twin sister Genevieve's blogiversary at
Vanilla & Spice
today! If you haven't checked out
her blog
before (it's full of healthy vegetarian recipes), be sure to stop by and say hi!
Caramel Latte Cheesecake Squares
Makes one 8x8 pan; 16-20 squares depending on how you slice them


Ingredients:
For the Crust:
1-1/2 cups graham cracker crumbs
2 tablespoons light brown sugar
2 tablespoons all-purpose flour
1/8 teaspoon salt
1/4 cup unsalted butter, melted and cooled
1/2 cup toffee bits
For the Cheesecake:
16 oz (2 bricks) cream cheese, softened
1/3 cup brown sugar
1/4 cup granulated sugar
2 large eggs
1/4 cup sour cream
2 teaspoons vanilla
1 tablespoon instant espresso
1/4 cup toffee bits
For the Caramel Sauce:
1 tablespoon unsalted butter
1/4 cup brown sugar
1 tablespoon milk
1/4 teaspoon vanilla extract
Directions:
Preheat oven to 325°F.
Line an 8-inch square baking pan with aluminum foil, leaving a few inches of foil draping over the sides of the pan (which will help with removal later).
Make the crust: Whisk together the graham cracker crumbs, brown sugar, flour, and salt in a medium bowl.
Pour the melted butter over the mixture, and stir together with a fork until all crumbs are moistened.
Transfer the mixture into the prepared pan and press evenly to form the crust.
Bake in preheated oven for 12-15 minutes, until crust is beginning to brown. Remove from oven then pour the 1/2 cup of toffee bits in an even layer over top, pressing down lightly. Transfer to a cooling rack to cool for about 20-30 minutes.
Meanwhile, prepare cheesecake filling.
In a large bowl or bowl of an electric mixer, beat the cream cheese until smooth, about 3 minutes.
Beat in the two sugars until well combined, about 1 minute.
Beat in eggs one at a time, fully incorporating each egg into the mixture. Beat in sour cream until just combined.
Mix the vanilla extract and instant espresso together in a small bowl, then add to cheesecake mixture and mix until combined.
Pour cheesecake mixture over cooled crust, then sprinkle 1/4 cup toffee bits evenly on top (I used a bit more to fill in some gaps). Place in middle rack of the preheated oven and bake for 40-45 minutes, until edges are set but the middle jiggles slightly (as a whole) when you shake the pan.
Transfer to a cooling rack and let cool to room temperature, about 2 hours.
Transfer to a refrigerator (I don't cover mine) to cool completely, for at least 4 hours or preferably overnight.
Meanwhile, prepare caramel sauce by adding the butter and brown sugar to a small saucepan. Bring to a boil over medium-high heat and cook 1 to 2 minutes, until slightly thickened. Slowly stir in the milk and continue to simmer until thickened slightly. Remove from heat and stir in the vanilla extract.
Transfer to a small container and set aside until cheesecake has cooled to room temperature.
Drizzle caramel sauce over the cheesecake (I transferred mine to a small ziplock bag and snipped off the corner to drizzle with more accuracy) before refrigerating it (you could also do this step the next day after it has
been refrigerated). *If you already have storebought caramel sauce at home and wish to use it instead, that would work fine too - I didn't have any so it was easier for me to just make some, which only takes about 5 minutes.
Slice cheesecake into bars.
Keep refrigerated.