This past weekend, my family got together to do some cherry and blueberry picking, which was my first time berry picking in years (when you don't have a car, berry fields are kind of inaccessible). Fortunately, blueberries and cherries are probably the easiest things to pick - no prickly thorns to watch out for and no crouching down getting your shorts covered in berry stains. It was crazy hot out, but it was pretty nice ending up with bags full of fresh berries with fairly minimal work involved.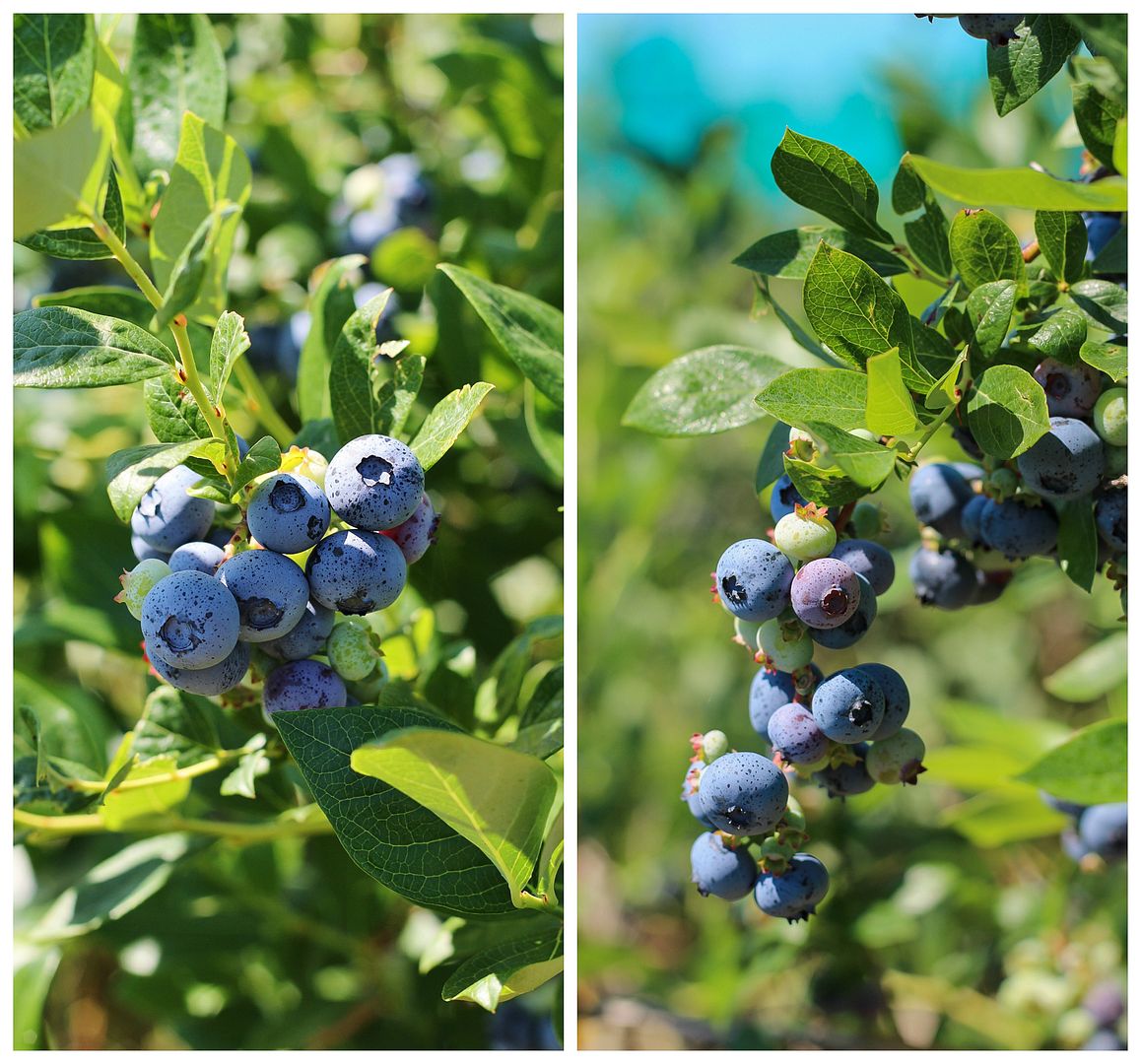 Of course, I now have a ton of blueberries to eat, but that's not going to be much of a problem for me because they're one of my favourite berries to eat on their own. If you like your blueberries more in dessert form (or if you just love blueberries in any form), this is the dessert for you!
I love crisps and cobblers because they're such the perfect summertime dessert - they can be thrown together quickly and with minimal dishes, there's only one dish in the oven to worry about, they highlight summer berries, and they're a fairly light tasting way to end a meal out in your backyard on a summer evening.
Which is exactly how we enjoyed this blueberry maple cornmeal cobbler on Saturday night.
And because I made this for my family to enjoy, I didn't style and photograph it the way I normally would for a blog post, making sure I have optimal lighting, accessorizing with napkins, and cleaning up the sides of my bowl from berry stains. Instead, what you see is exactly what we saw before we all devoured our servings.
The only difference you may see in your own version is that your biscuit topping will probably be a bit puffier because unlike me, you probably know how to follow recipe directions. I realized only 15 minutes after I had put the cobbler in the oven that I completely forgot to add baking powder to the biscuit dough. I had a minor little meltdown thinking it would turn out to be a disaster, but luckily, it still turned out wonderfully!
I had reduced the amount of sugar in the blueberry filling and added pure maple syrup (plus some cinnamon) for flavour, and I loved the hint of maple in the sweet, warm berries. I also loved the crunch of cornmeal in the topping that paired so well with the blueberries, along with the crunch from the turbinado sugar on top that also added a lovely sparkle to the dish! The original recipe called for forming biscuits and placing those on top, but I just dropped my dough across more evenly so every piece could have some of the delicious cornmeal biscuit dough with it!
The only thing missing from the servings pictured was vanilla ice cream - I didn't think to add it when I first served it but it would have been the perfect addition to cool down and cut the sweetness of the filling a bit. My sister tried some of the leftovers with ice cream and assured me that it was the way to go - so make sure to serve this with ice cream (and don't forget the baking powder)!
Blueberry Maple Cornmeal Cobbler
Serves 6-8
Ingredients:
1 teaspoon unsalted butter at room temperature, for greasing the baking dish
Filling:
3 dry pints (2 pounds) fresh blueberries
1/2 cup sugar
3 tablespoons cornstarch
1/4 teaspoon salt
1 teaspoon cinnamon
2 tablespoons fresh lemon juice
1/4 cup pure maple syrup
Biscuit Topping:
1-1/4 cups all-purpose flour
1/2 cup fine cornmeal
2 tablespoons sugar
1 teaspoon baking powder
1/2 teaspoon salt
1/2 teaspoon cinnamon
1/2 cup cold unsalted butter, cubed
1 cup cold heavy cream
1 tablespoon turbinado sugar
Directions:
Preheat oven to 375°F.
Butter a 2 or 3 quart glass baking dish.
To make the filling, wash and drain the blueberries and place in a large bowl.
In a small bowl, whisk together the sugar, cornstarch, salt, and cinnamon.
Toss with blueberries to coat.
Pour in the lemon juice and maple syrup and stir to combine.
Transfer to the prepared dish, using a flexible spatula to scrape down the bowl and get all the juices.
To make the biscuit topping, whisk together the flour, cornmeal, sugar, baking powder, salt, and cinnamon in a large bowl.
Add the butter and use a pastry cutter or your fingers to cut in the butter until the mixture reaches the texture of large crumbs. Pour in the cream and stir just until the mixture comes together (it will be wet).
Drop the dough by large pieces on top of the blueberries, leaving some gaps.
Sprinkle turbinado sugar on top.
Transfer to preheated oven and bake for 45 minutes, or until biscuits are golden and filling is bubbling in the middle.
Serve warm, but let servings sit for a few minutes before eating as the filling will be very hot!
Serving with ice cream will help with this too (and is highly recommended). Leftovers w
ill keep for a few days at room temperature, covered with a tea towel.