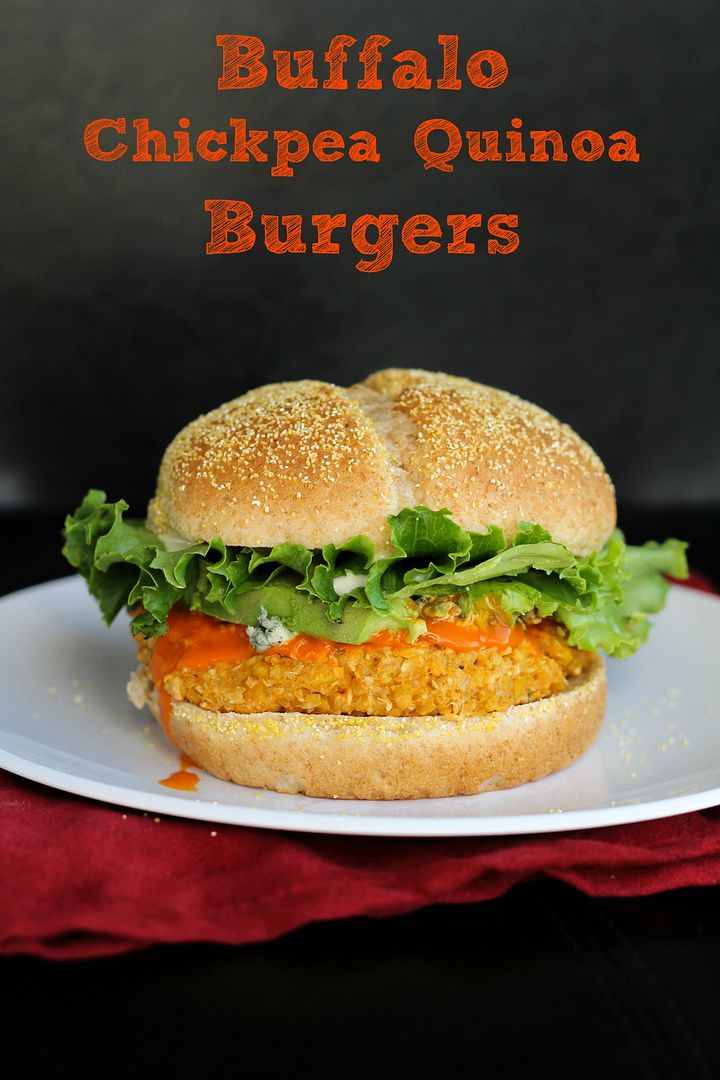 When I made these
lemon & feta chickpea quinoa burgers
for my boyfriend Ryan and I last month, I was worried that he wouldn't even be willing to try them because he doesn't eat a lot of veggie burgers and isn't the biggest lemon fan.
Fortunately, he not only tried them, but actually quite liked them!
Of course, he commented that they'd be much better if I'd made them with buffalo or chipotle sauce instead of lemon though.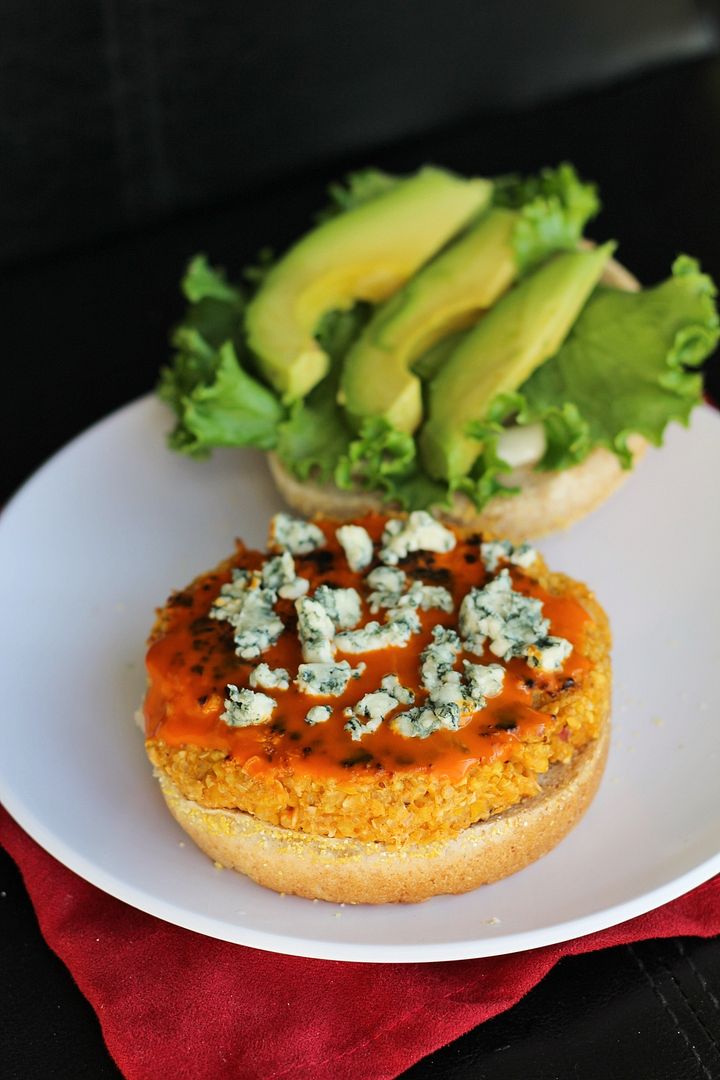 I love all things lemon but I'm also a big buffalo sauce fan, so I decided to give Ryan's "manlier" version a try.
We love these
buffalo chicken burgers
, but finding a protein-packed vegetarian substitute to replace them with once in a while was a pretty good idea.
Turns out he knew what he was talking about, because I think I liked these even better than the lemon version!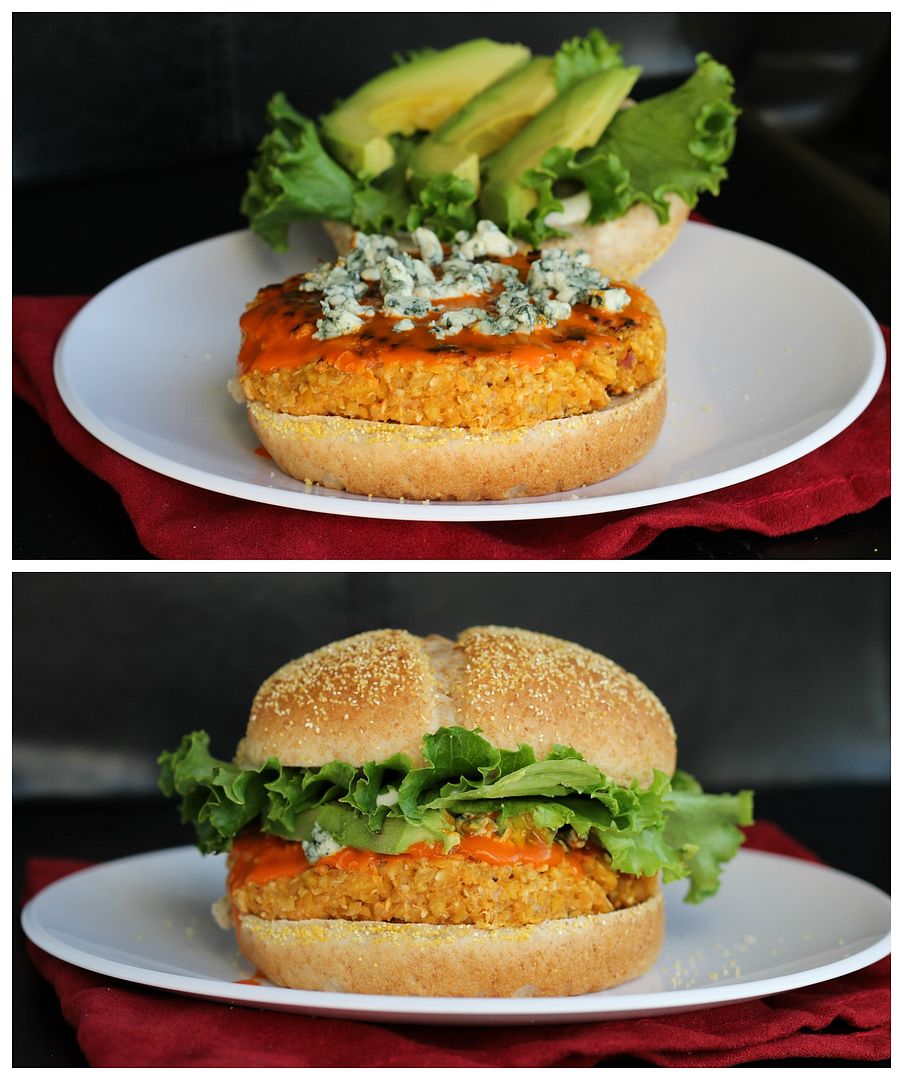 I used the same combination of chickpeas and quinoa as the base of the burger; with shallots and garlic added in for flavour and crunch; oats, breadcrumbs, and an egg to bind them; and buffalo sauce mixed into the patty and served on top for maximum buffalo flavour.
Combined with some blue cheese, lettuce, and avocado as toppings, these were hearty and full of flavour, and we both loved them!
Lesson learned: I should perhaps start listening to my boyfriend's ideas more often.
Just don't tell him I admitted that :)
Buffalo Chickpea Quinoa Burgers
1 (540mL) can of chickpeas, drained and rinsed
1 large egg, lightly beaten
5 whole grain hamburger buns
Ripe sliced avocado (optional)
Bring 1/2 cup water to a boil.

Add quinoa, cover, reduce heat and let simmer 15 minutes.

Remove from heat and keep covered for 5 minutes.

Fluff with a fork and let cool slightly.
Meanwhile, add chickpeas to the bowl of a food processor or mini chopper and pulse until they are broken down into crumb-sized pieces.

Transfer to a large bowl.

Add oats to same food processor and pulse a few times to break them down into fine crumbs (but not a powder).

Add to chickpeas in large bowl.

Add to the bowl the shallots, garlic, buffalo sauce, egg, salt, and pepper.

Add the cooked quinoa.

Mix everything together with a large fork until well combined.

If mixture is still too wet to form patties, add the 1/4 cup of breadcrumbs (or enough to hold the mixture together).

Divide and shape into 5 patties.
Heat a non-stick skillet over medium-high heat and cook patties for about 4-5 minutes per side.
Assemble burgers by placing patty on bun, topping with additional buffalo sauce, a bit of blue cheese (be careful not to add too much so it's not overpowering – I though the amount I used (in the pictures) was too much), lettuce, and avocado or tomato if desired.