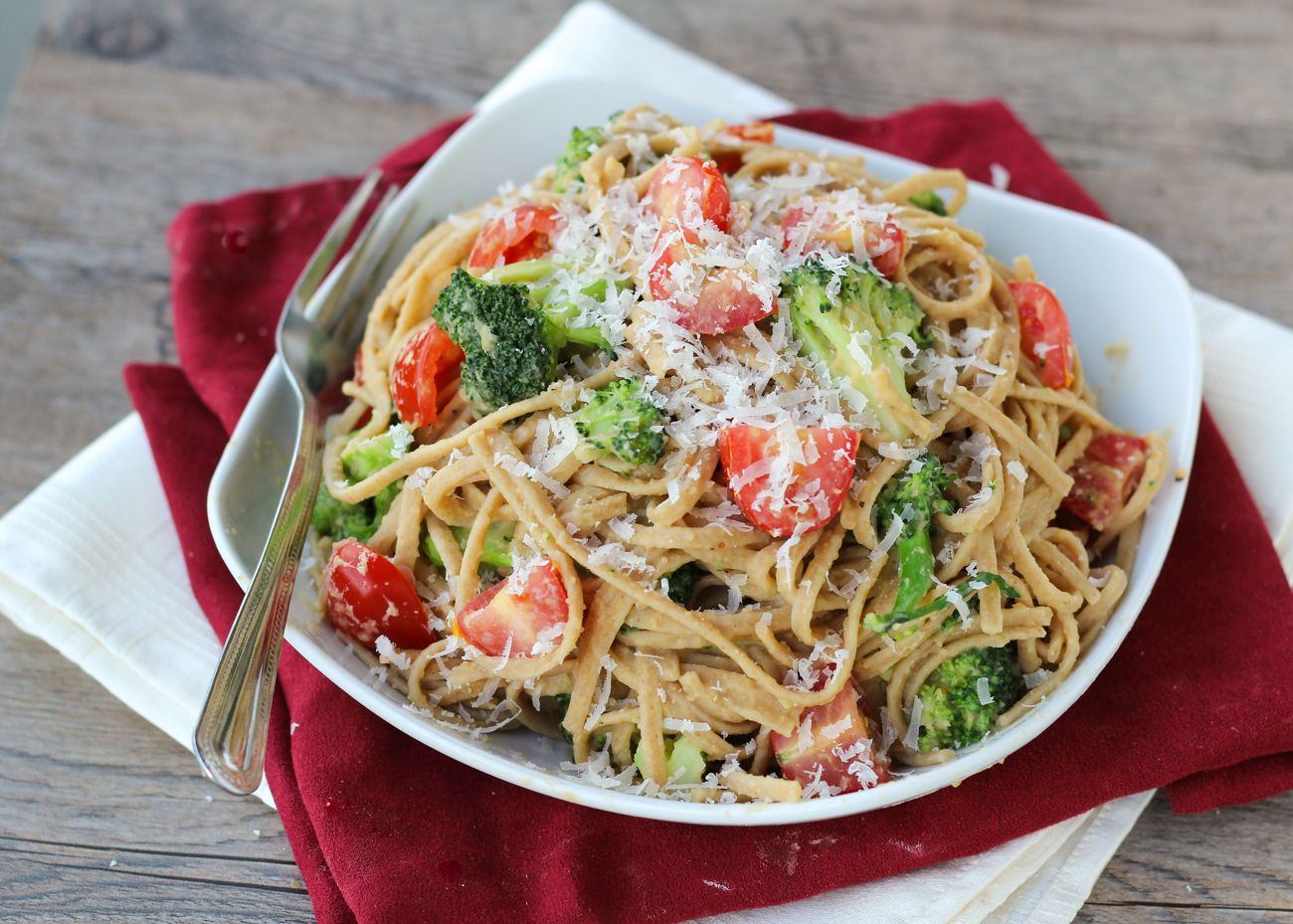 I got back from my little vacation up north almost a week ago now and somehow I still haven't cooked a meal for myself yet.

Usually I'm dying to get back to cooking my own meals when I return from a trip, but this time I've been too busy to go grocery shopping or plan a meal and have therefore been eating a lot of peanut butter and jam sandwiches (thankfully I froze some fresh blueberry chia jam before I left) over the last week!

But seeing as I used up the last of my frozen bread today, I think tonight I'll finally force myself to go shopping and make some food to get me through the rest of the week!
One of my go-to meals when I need an inexpensive and healthy meal that will give me leftovers for lunches through the week is this chickpea pasta.

A sauce that's made out of chickpeas may sound a little weird, but it tastes so good!

I want to say it tastes like a white wine cream sauce but I'm sure someone who regularly eats cream sauces will disagree, so I'll just say that it's hard to guess it's a chickpea sauce (unless you're looking closely at the texture, which is of course a little chunkier than a cream sauce).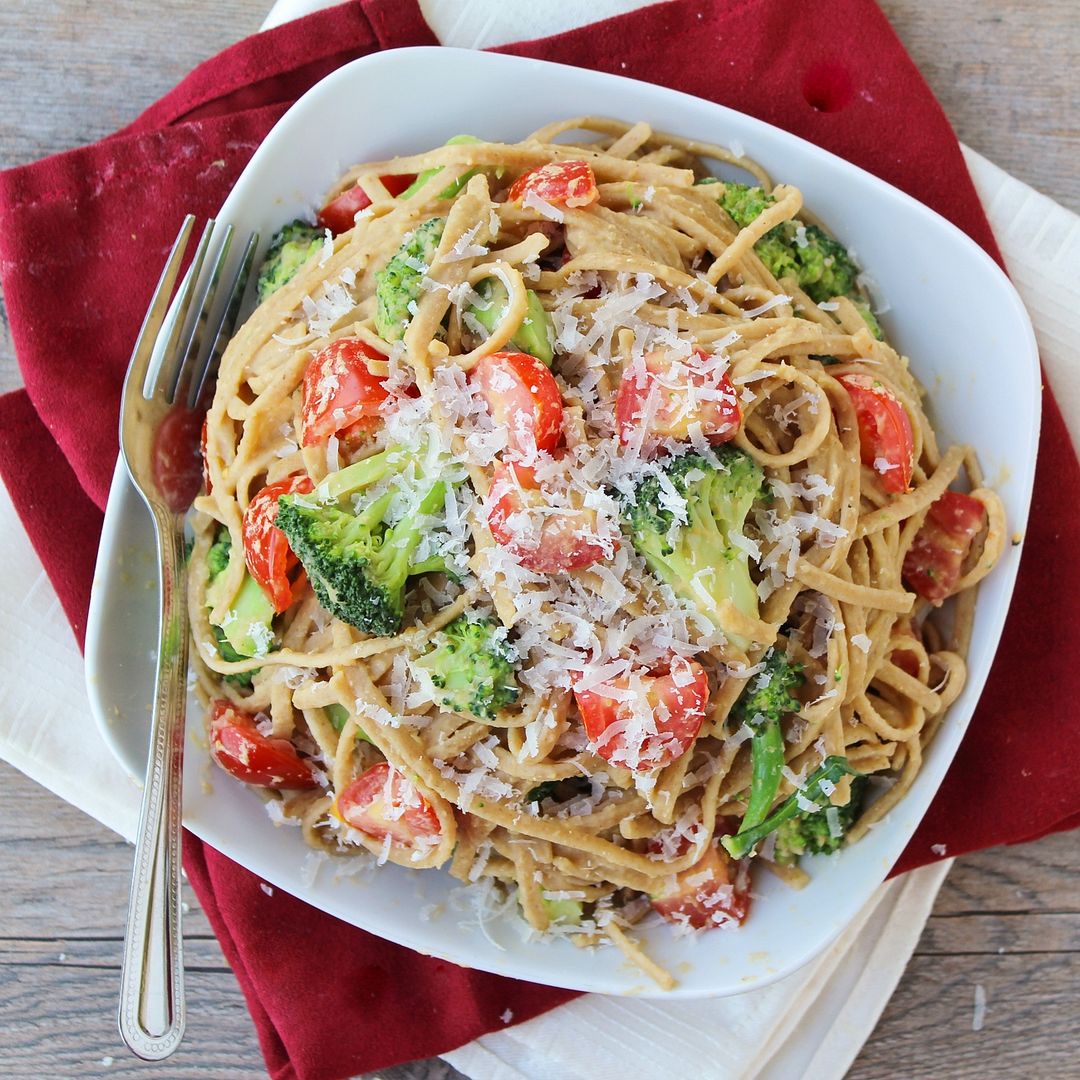 I've adapted this Cooking Light recipe over several meals to my own liking, so that in my version I eliminate the raw garlic as I don't think it's needed, add cooked onion to the sauce for more flavour, use vegetable broth instead of chicken (not just to make it vegetarian but because I think it tastes better in this dish), and I add broccoli and increase the amount of veggies.

I also like to use whole wheat pasta and have tried shells, rotini, and linguine – they all work.

Feel free to use whatever vegetables you want too – mushrooms, zucchini, peppers, leafy greens – they'd all be great if you want to boost the nutrients even more.
With the protein in the chickpea sauce, this makes a great vegetarian meal that will fill you up to power you through the rest of the work day, which, along with coffee, I will definitely be needing this week!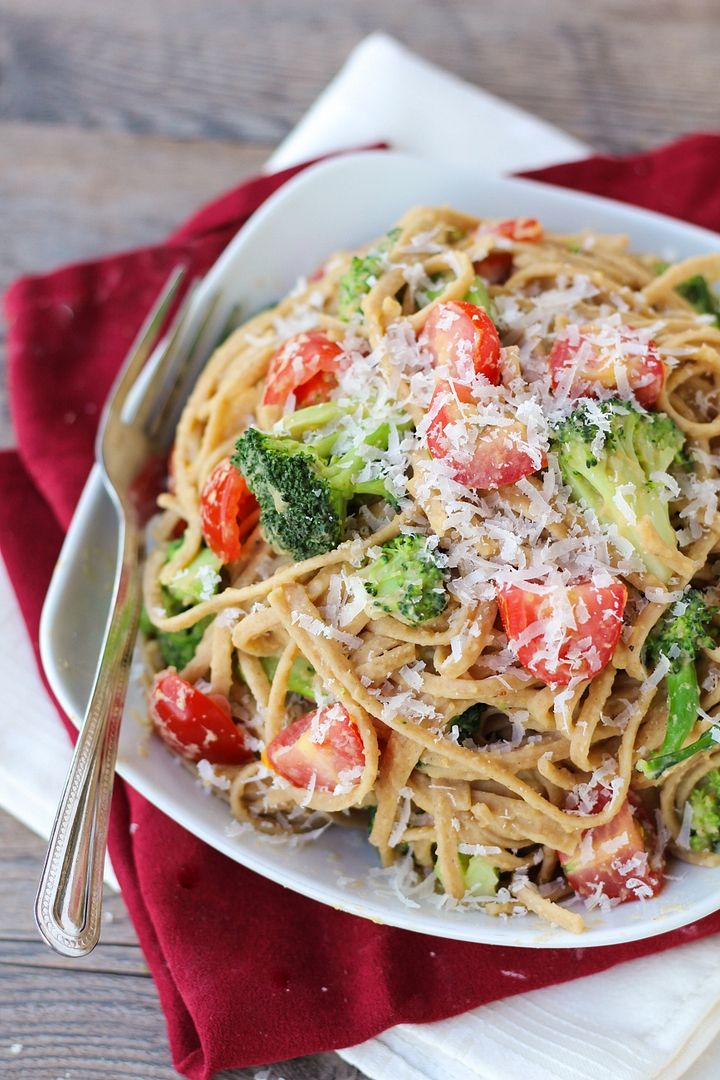 Whole Wheat Pasta with Broccoli, Tomato, & Chickpea Sauce
Adapted from
Cooking Light
Serves 4-6
Ingredients:
1 tablespoon olive oil
1 small onion, chopped
3 cloves garlic, minced
3/4 teaspoon kosher salt
1/4 teaspoon red pepper flakes
1 (540mL) can chickpeas, drained and rinsed
1-3/4 cups vegetable broth
375g (one box) uncooked whole wheat pasta (any type works)
1 head of broccoli, chopped into florets
1 pint grape tomatoes, halved
1-1/2 tablespoons fresh lemon juice
Grated parmesan cheese for topping
Salt and pepper for extra seasoning
Directions:
Heat oil in a large saucepan over medium heat. Add onion and sauté until softened, about 4 minutes, stirring often. Add garlic and stir for another minute. Add salt, red pepper flakes, chickpeas, and vegetable stock. Bring to a boil, cover, reduce heat, and simmer 15 minutes.
Meanwhile, cook pasta in salted boiling water according to package directions. During the last few minutes of cooking, place broccoli in a steamer and set covered over the boiling water until bright green. Drain broccoli and pasta, reserving 1/4 cup of the pasta water.
Place chickpea mixture in a food processor. Add lemon juice and reserved pasta water and blend until smooth. Season with additional salt and pepper if desired.
Combine chickpea sauce, pasta, broccoli, and tomatoes in a saucepan or large bowl and toss to combine. Serve warm, topped with grated parmesan cheese. Season again with salt and pepper if needed.