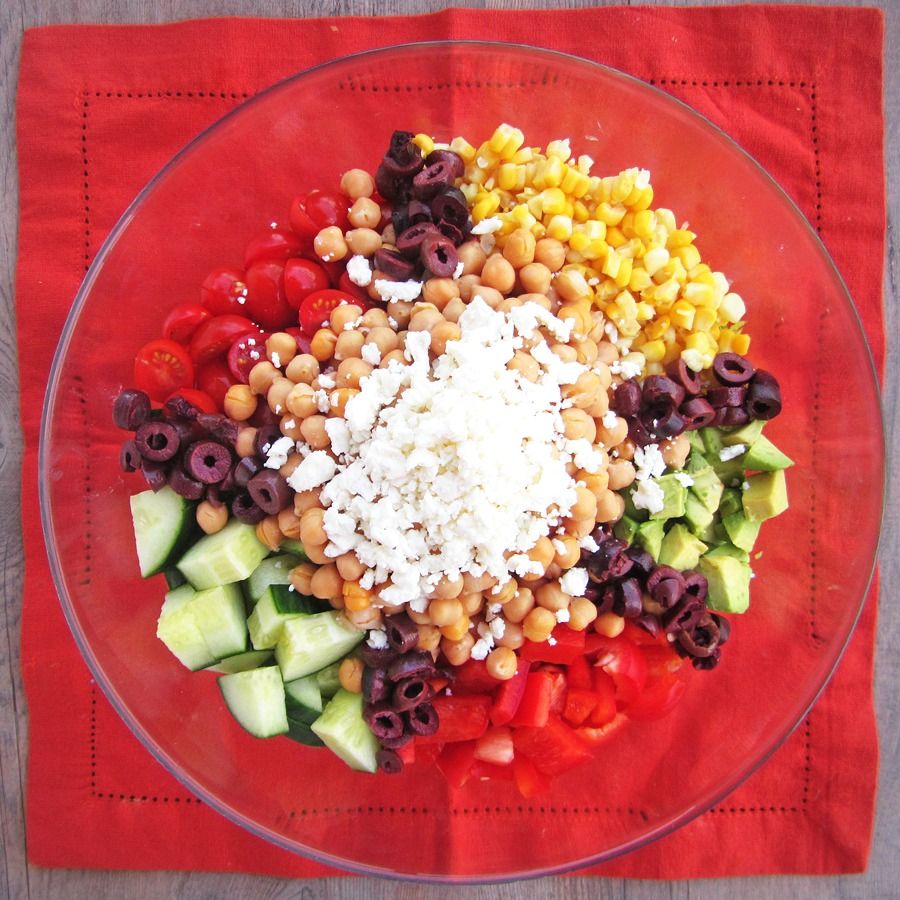 Remember when
I told you
about the stay-cation I took a couple weeks ago where I ate at restaurants every night and drank lots of beer and then swore I'd only eat salad for the next week? Well I stayed true to my word and this is what I ate for pretty much the whole week. I would have loved this even if I hadn't overeaten the previous week, and I would have kept eating it forever if I hadn't needed to try other recipes - it was so good!
I don't think I've ever actually had a chopped salad before, but I'd seen them on a couple of blogs lately - like this
chicken chickpea version
from Ambitious Kitchen and this
chicken and blueberry version
from How Sweet It Is - and started craving one so bad! I actually had to research what exactly a chopped salad is before I went ahead and made my own version, and apparently it just means that all the ingredients are chopped to about the same size. You'd think I'd have figured that out by the name 'chopped salad', but I had to be sure!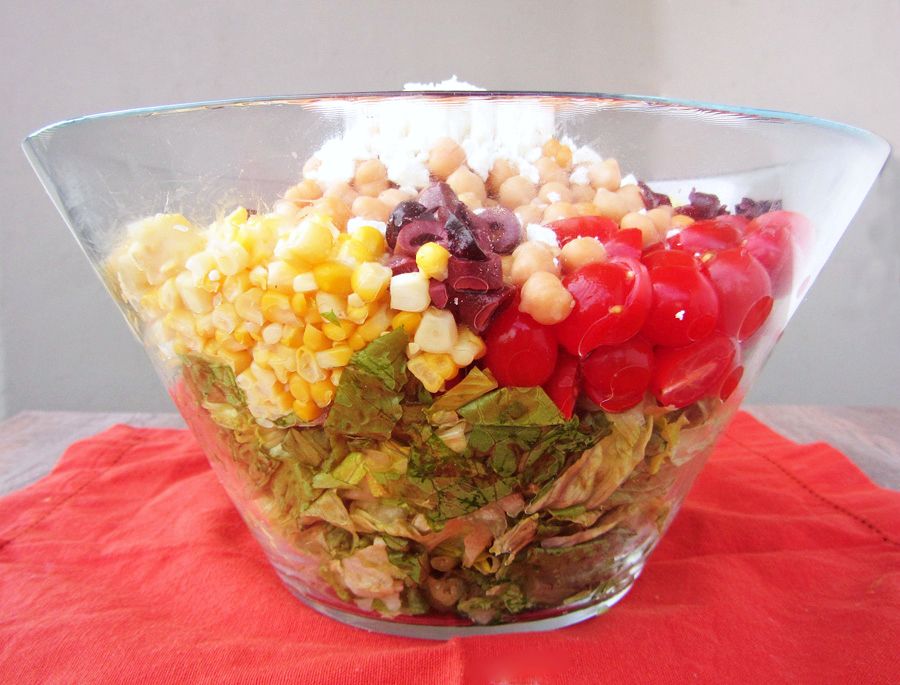 So I decided to go ahead and make a healthy vegetarian version with chickpeas as my main protein; lots of summery ingredients like corn, tomatoes, avocado, cucumber, and red pepper; some olives and fat-free feta thrown in for added flavour; and I tossed it all in a light vinaigrette.
I loved how with the lettuce being the same size as the other ingredients, you don't end up with huge pieces of lettuce and nothing else. Every bite was full of ingredients and every bite was different - I loved the bites with creamy avocado, I loved the bites with sweet corn, I loved the bites with salty olives, I loved the bites with nutty chickpeas ... you get the idea - I loved every bite!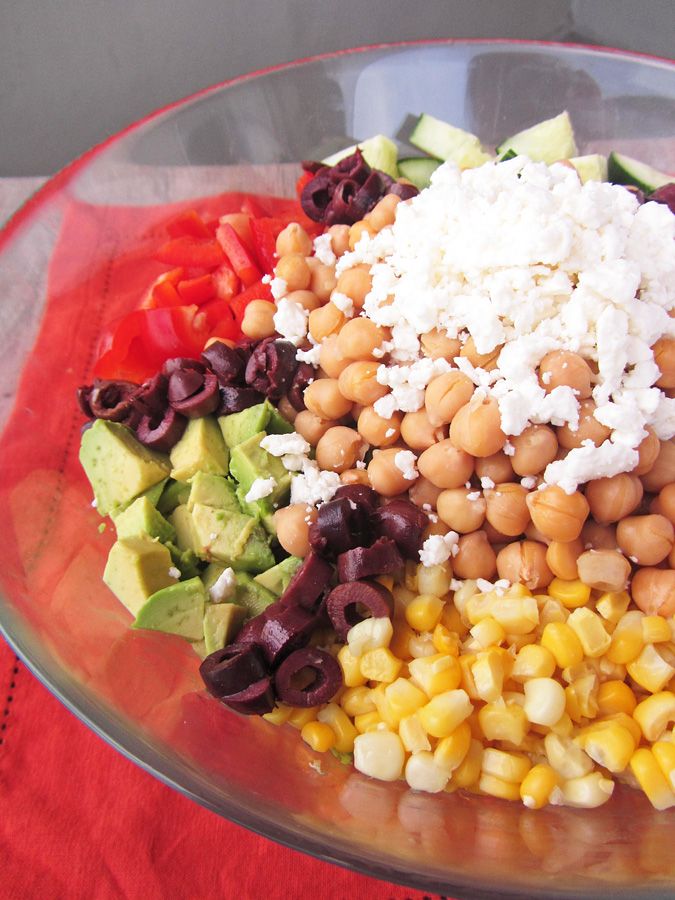 You can easily change this up to include any ingredients you like, or change the dressing to give it a completely different look and taste. If you prefer creamier dressings, it would probably be great with a ranch dressing, or try a bbq dressing like Monique from Ambitious Kitchen used in
her version
. The possibilities are endless - I think I could eat this for every meal over these last few weeks of summer and not get sick of it!
Healthy Summertime Chickpea Chopped Salad
Serving size will vary, but I'd guess this serves around 6 as a side dish or 3 as a main dish
Ingredients:
For the Salad:
1 head of romaine lettuce
1 can chickpeas, drained and rinsed
1 cup halved grape tomatoes
1 red bell pepper, chopped (about 1 cup)
1/2 a large cucumber, chopped (about 1.5 cups)
2 ears of corn, cooked and kernels removed (about 1 to 1.5 cups)
1 ripe avocado, diced
1/4 to 1/3 cup pitted sliced kalamata olives, if desired
1/3 to 1/2 cup light feta cheese (I used fat-free)
Desired amount of your favourite salad dressing.
I used the following:
For the Dressing:
1 lime, juice and zest
3 tablespoons olive oil
1 clove garlic, minced
1 tablespoon honey
Salt and pepper to taste
*Please note that all amounts are approximate and can be adjusted to your liking!
Directions:
Wash the lettuce and dry well.
Stack a few leaves of lettuce on top of each other, cut into about 5 pieces lengthwise, then chop into small pieces across the width.
Repeat with remaining lettuce so you have small, 1/2-inch sized pieces of lettuce.
Transfer lettuce to a large bowl.
Top with chickpeas, grape tomatoes, red pepper, cucumber, corn, avocado, olives, and feta.
Keep ingredients separate if desired for serving, or you can toss them all together if you prefer.
Whisk together all dressing ingredients in a small bowl.
Toss with salad to combine or leave separate to mix into individual servings.