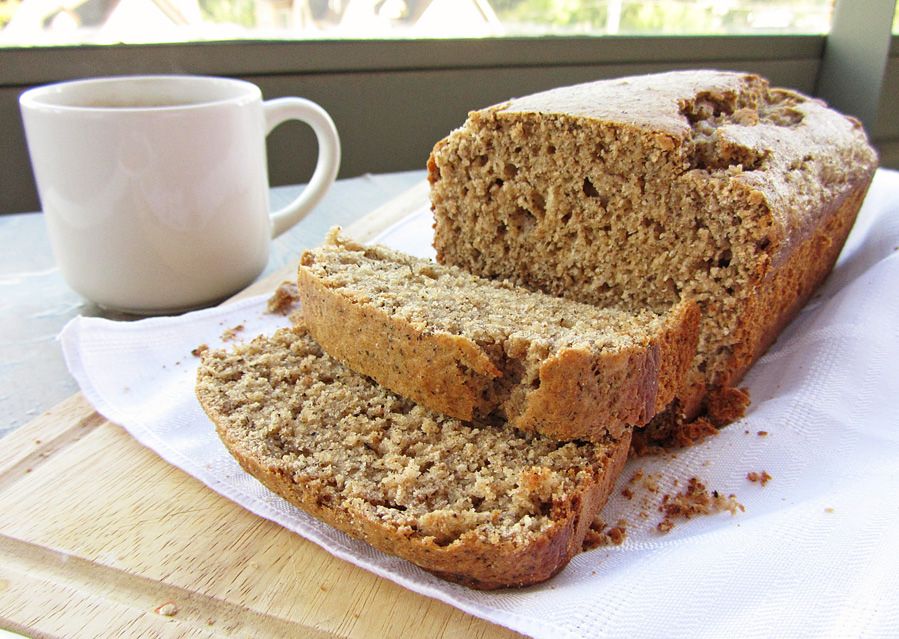 On Monday I got hit with a cold at full force ... I don't want to complain too much because I know a cold is to be expected around this germy time of back-to-school, but normally I get a few days of warning signs first. You know that little tickle in your throat that tells you a cold is on its way and you'd better start taking vitamins like crazy to try to lessen its blow? This one came with no warning signs, just the whole works right from the start - sore throat, runny nose, sinus congestion, fluctuating body temperature, I'm sure you all know the drill!
It doesn't help that I have a crazy amount of work to get done this week, which is hard when I'm so tired because my stuffy nose just does not want me to get any sleep! So, in my efforts to rid myself of this cold as quickly as it came on, I have been taking lots of vitamins, eating lots of fruits and veggies, and drinking a TON of tea!
And what goes better with a cup of tea than a delightful tea cake!
This healthy-ish and not-too-sweet loaf contains the actual contents of three bags of earl grey tea, steeped in a bit of milk, along with some warm spices and vanilla so the smell and taste of the end product really remind you of earl grey tea. I've been snacking on this with every cup of tea (which is probably not a good thing considering how much tea I've been drinking), and it's especially good warmed up or toasted. You could probably even change up the tea and spices to any flavour you like - a chai bread would be really nice too!
Even if all my tea drinking doesn't chase away this cold, at least it's given me an excuse to eat lots of tea cake :)
Earl Grey Vanilla Tea Loaf

Note: This loaf has a light and delicate crumb, much more like a cake than more dense and moist banana bread-like loaves. If you want to add to the subtle citrus notes of the Earl Grey tea, you can add a splash of lemon juice to the loaf.


3 bags earl grey vanilla tea
1 cup whole wheat pastry flour
2 teaspoons baking powder
Preheat oven to 350
°
F.

Line the bottom of an 8-1/2 by 4-1/2 inch loaf pan with parchment paper and spray with non-stick cooking spray.
Add the milk to a small saucepan and empty the contents of the tea bags (snip off the tops first) into the pan.

Heat over low heat, stirring occasionally, until the milk is warm and tea begins to steep.

Turn off heat and set aside.
In a large bowl, whisk together the flours, baking powder, salt, cardamom, nutmeg, and cinnamon.

In a medium bowl, combine the oil, sugar, yogurt, eggs, and vanilla.

Stir the milk and tea mixture into the wet ingredients.

Pour the wet ingredients into the dry mixture and fold together with a flexible spatula until just combined (do not overmix).
Pour the batter into the prepared pan and bake in preheated oven for 40-50 minutes or until a tester inserted in the middle comes out clean (mine was just slightly overdone at 45 minutes so you might want to check on it at 40 minutes first, though the exact time will depend on your oven).

Cool completely on a wire rack before slicing
.